Did you know that in 2020, more than 100 Chip sellers obtained an online millionaire status?
The print-on-demand (POD) business model is responsible for the growing number of new online millionaires each year. Discover what it's like to access the best-selling products online on the only all-in-one ecommerce platform that takes care of everything for you.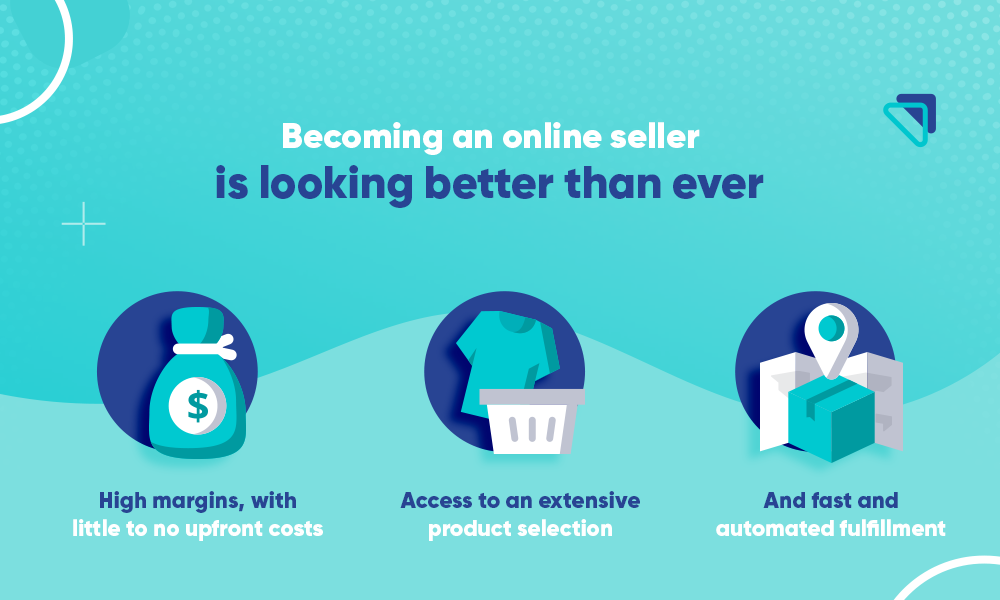 Whether you want to sell clothes online or place incredible artwork on trendy accessories, Chip is the platform for you! Reinforce your digital marketing strategy and become Chip's next success story by following the seven habits of highly effective POD sellers!
1. Create a custom domain store
Host your ecommerce store on a custom domain, a unique, branded URL where your customers can easily find you. As a result, you'll increase your customer's trust, boost your website's discoverability, and improve your branding strategy. Find out Why You Need a Custom Domain with Chip.
Strengthen your brand identity
The first time a potential customer arrives at your ecommerce store might be the only shot you get to convert them into a paying customer, so make your brand memorable from the get-go! Also, check out some pointers on How to Design Your Custom Domain Homepage.
Conquer the ecommerce universe
If you consider yourself an entrepreneur, starting your online business in the age of ecommerce is the best course of action. Sustain your business growth with a digital marketing strategy that prioritizes acquiring new customers and delighting current ones.
Become besties with search engines
Google's algorithm PageRank measures the importance of web pages and determines the number and quality of links that point to your website. There are many factors that will increase your webpage's likeliness, and having a custom domain is definitely one of them.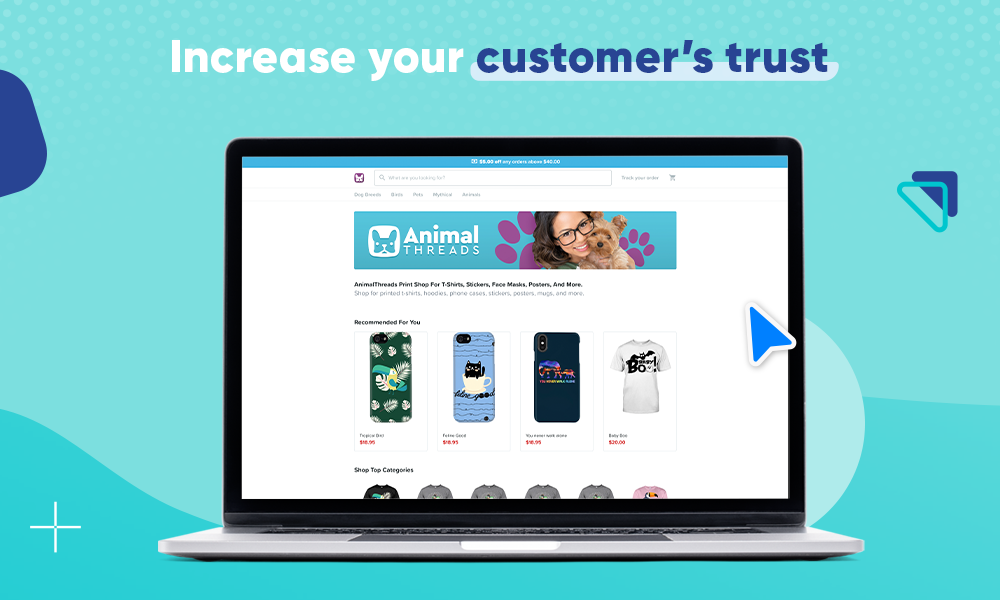 2. Focus on a niche market
Niche audiences are a gold mine; bonus points if you're one of them. Identify your niche by focusing on a group with similar passions and interests. By the way, be sure to check out our 10 Print-on-Demand Niche Market Ideas blog post to get many profitable ideas!
Creativity is always the answer!
Put yourself in your customers' shoes, and for a moment, think like they would do. Then, appeal to your customer's worldview through creative artwork. Add designs that resonate with your audience, and you've got yourself a loyal customer base.
Test ideas, trial and error is the way
Don't be afraid to experiment! A/B test with your artwork, and launch best-selling print-on-demand products with style variations. Study your customers' buying patterns and preferences and see what works and what needs to be rethought.
Email marketing is your best friend
Building an email list has become a top priority for successful sellers, and it turns out that it works exceptionally well on niche audiences. So, get your first Email Marketing Campaign running ASAP. Trust us when we say that Email Lead Capture pays!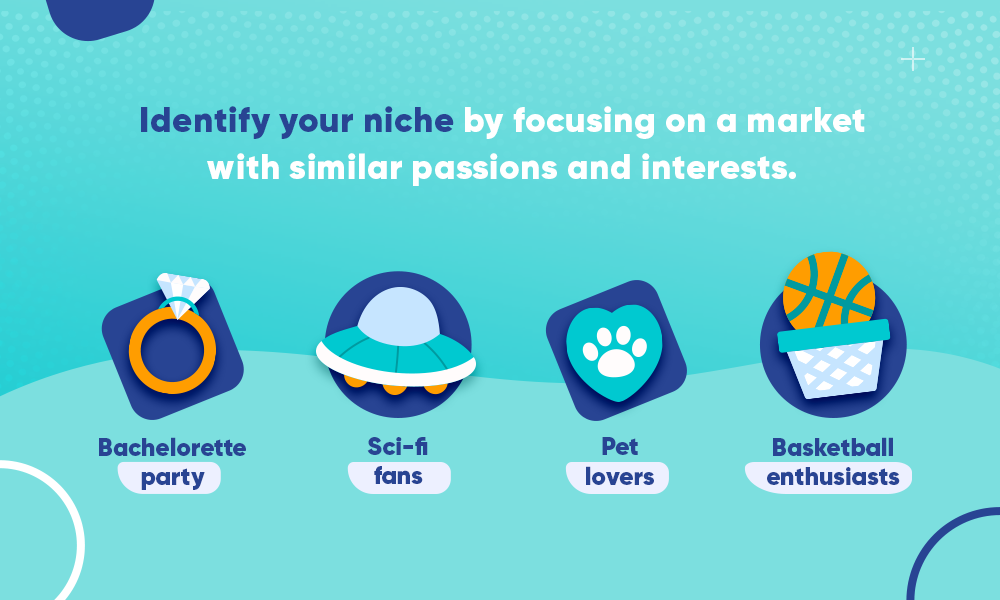 3. Research market trends
Trends appear overnight, so move fast. Keep yourself updated with what's going on around your niche audience. You can scroll through sites like Google Trends or TrendHunter to get inspired.
Keep a close eye on your competitors
Time to stalk! Follow them on social media and map out an overview of your closest competitors. Also, don't underestimate the power of a scan of their strengths and weaknesses. Benchmarking will help you identify the areas of your business you can improve.
Do NOT overlook your product selection
Do you know what products your potential customers are looking for? Is it apparel? Accessories? Home & Living? Make sure you are choosing the ideal products for your niche. Need a hand? Check out our How to Choose a Product to Sell blog post.
Go big on selling opportunities!
Planning is key! Get yourself an ecommerce holiday calendar and mark every single selling opportunity for you to plan in advance. Get clear on which products you will be offering, by which dates, and prepare relevant designs for each holiday season.
Take a look at some of Chip's insightful selling guides for inspiration: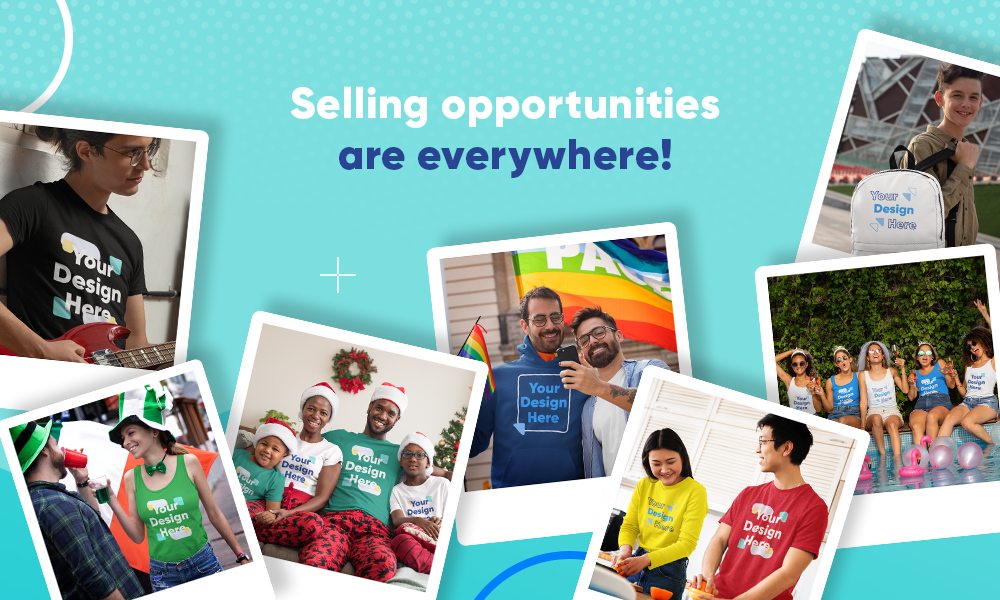 4. Update your store periodically
Keep your ecommerce store looking fresh! Add best-selling print-on-demand products, include seasonal products, and release new designs. Nourishing current customers will increase your Average Order Volume!
Don't shy away from special offers
We all love a good sale! Sometimes all your potential customers need to become actual customers is a little motivation. Learn how you can Sell More with Coupons and add Upsells to elevate your customers' shopping experience.
Personalization, personalization, personalization!
Your customers are tired of generic designs; let them add a unique touch to their order. Experiment with Product Personalization with Chip because even the best-selling print-on-demand products need that little extra something. Here's How to Set up Product Personalization in your ecommerce store.
Sell high-quality designs
When it comes to achieving the ultimate printing quality, it all comes down to knowing the specs. Get familiar with our Artwork Design Guide, and watch how great artwork meets high-quality printing!
Also, you don't have to be Picasso to sell art online. Check out our How to Create Artwork Like a Designer blog post to create your next best-selling masterpiece!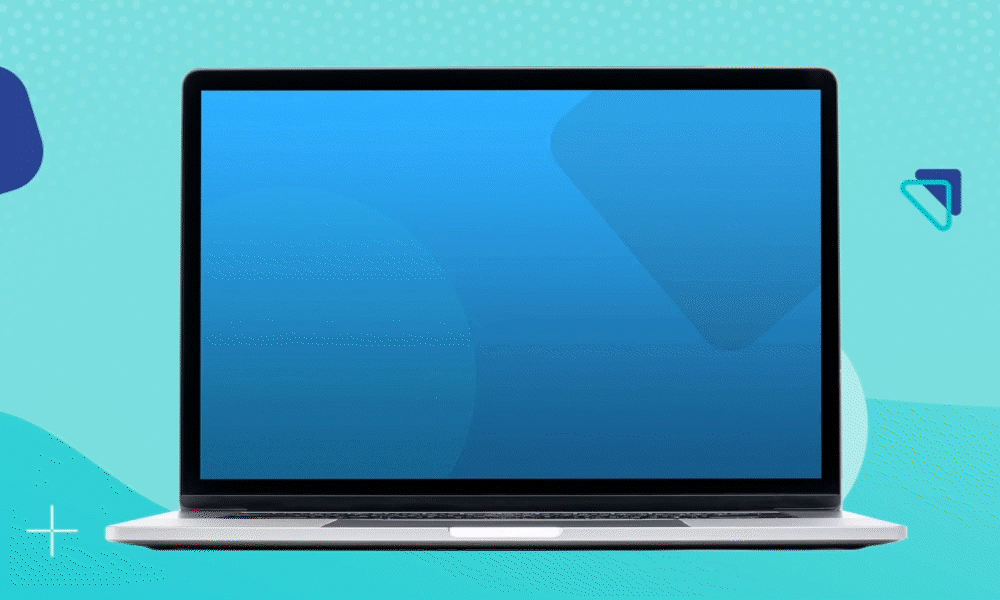 5. Think SEO-friendly
If there is actually such a thing as a healthy website, Google and other search engines will determine this. Dive into our SEO 101 blog post and implement these SEO best practices within your digital marketing strategy to increase the quality of your website's organic traffic.
Prioritize keyword research
When naming your products and writing product details, keyword research goes a long way. Find out how your customers are looking for your product. You'll want to learn How to Optimize Your Campaign Details and Custom Navigation and Tags to increase your page's ranking.
Make FAQ Google-friendly
Address any questions that may arise within the customer's purchase flow. Include queries that can help the customer when researching a product, when they're about to buy, and when they're done completing their purchase. For example:
When will I receive my product?
Can I pay with PayPal?
Where can I request a refund?
It's most likely that customers won't go directly to your webpage to get their questions answered, they'll look them up on Google and that's why your Frequently Asked Questions (FAQ) must be Google-friendly. More on How To Create Google-Friendly FAQ.
Content is king, don't ever ignore this fact!
Attract, engage, and retain your audience by creating quality content consistently. Share content your audience loves through blogs and your business's social media profiles. Relevant and entertaining content linked to your website will drive profitable customer action.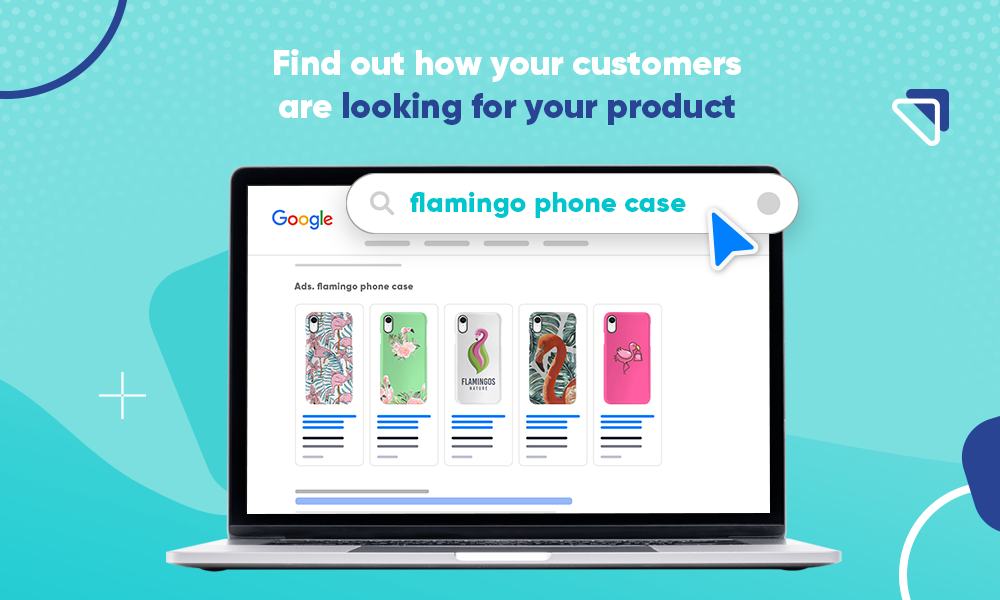 6. Advertise on social media
Today, over 3.6 billion people use social media globally, and it's the fastest-growing advertising medium. Social media and ecommerce have become the perfect couple! So, for entrepreneurs who are wondering how to sell online, today's your lucky day as we've got a few ideas.
Use lifestyle mockups
Capture your potential customer's attention from the first impression! Seeing is believing, especially online. Showcase how your products will look in real life through powerful photography.
Target the right audience
Conduct market research to learn about ideal customer behavior, buying triggers, and overall motivations. Once you've done that, it's time to tailor your award-winning marketing pitch!
Run ads ahead of relevant selling opportunities
Get your best images ready, write compelling copy and CTAs and start running ads at least a month before the grand event. Six to eight weeks would be optimal, but it all depends on your campaign objective and budget.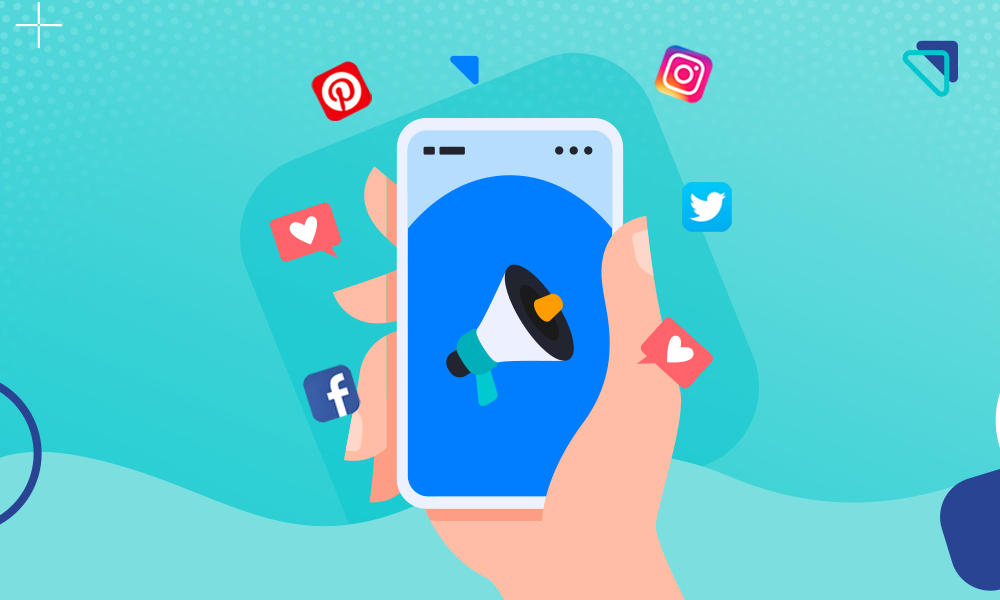 7. Track and optimize ad campaigns
Experiment with ads on different platforms. It's important to keep in mind that no social media platform will cover all your marketing needs, so make sure that you define what success looks like on each one before jumping to conclusions.
Install social media tracking pixels
Pixels work by tracking people's actions after viewing or engaging with your ads on the platform. Use them on your business Facebook, Pinterest, TikTok, and Twitter accounts.
Learn how to set up your tracking pixels:
Pay attention to conversion tracking
Maximize your digital marketing strategy efforts by measuring your return on ad spend with conversion tracking. Using tools like the Facebook Conversion API is great to discover new buyer insights. Check out our What is Facebook's Conversion API? blog post.
Practice ad optimization
Monitor your sales in relation to your ads. You can pivot and adjust accordingly to find your products' right audience. Each social media platform has its rules, and these change all the time, as is the case with Facebook. Learn more about The Impact of iOS 14.5 on Facebook Advertising.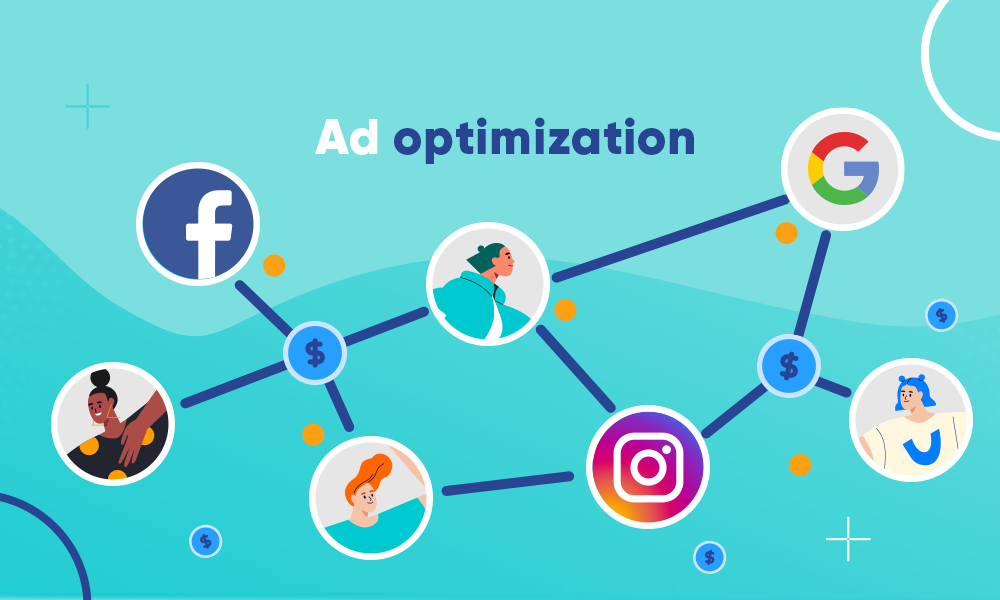 Start selling!
Now that you know the seven habits of highly effective print-on-demand sellers, nothing can stop you! Check out our product catalog and find the best-selling products online, get your ecommerce business running, and let Chip take care of the rest.