Chip makes it easy for anyone to sell their own custom merchandise designs. There are no minimums and no risks. You could sell one item or 1,000 items—either way, you keep the profits! Chip is completely free to use. Keep reading to learn how to get started.
Free Artwork Gallery
If you'd like to make some tests before uploading your own designs, you can access here to download free artwork to help you create your first campaign.
Step 1: Select your products
Go to dashboard.chipchip.com/manager and click "Launch campaign." You'll be directed to the campaign creation page, on which you'll select the products from our catalog that you'd like to feature in your campaign.
Pro tip: You can access our entire library of products, learn base costs and shipping prices, see design templates, and more in our Product Catalog.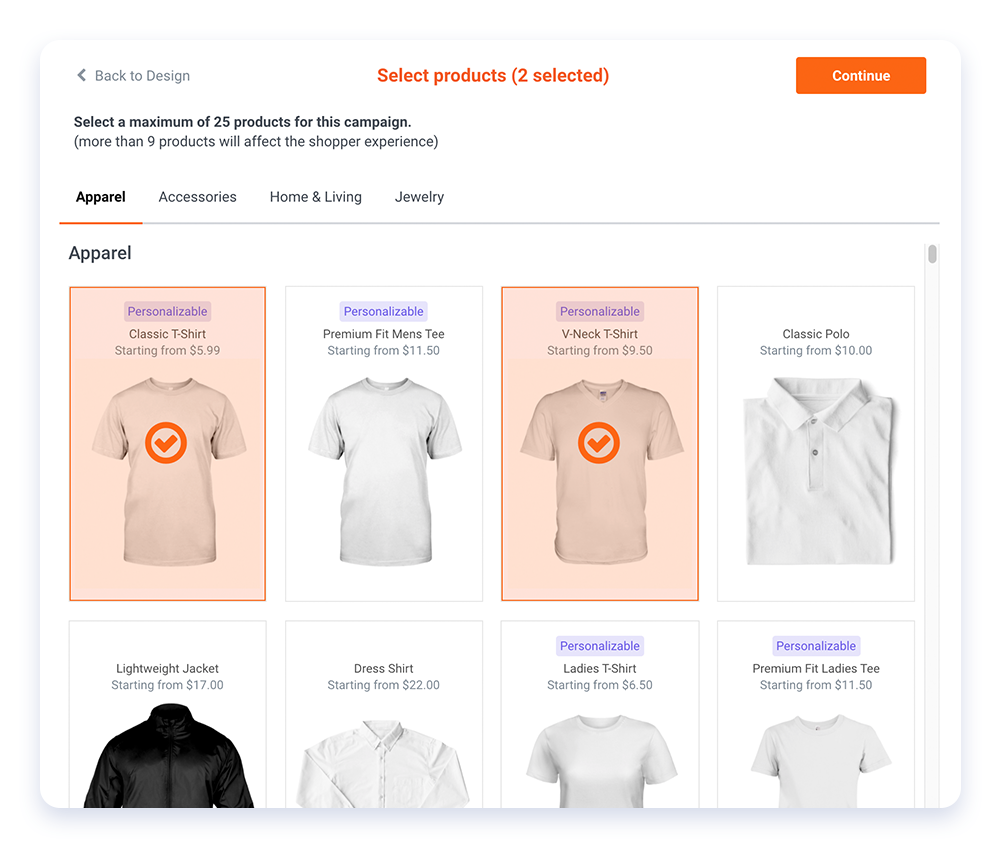 Step 2: Choose product colors
Each product has a variety of color choices, and you can select as many colors as you'd like for no additional cost! Once you've selected your colors, click "Done."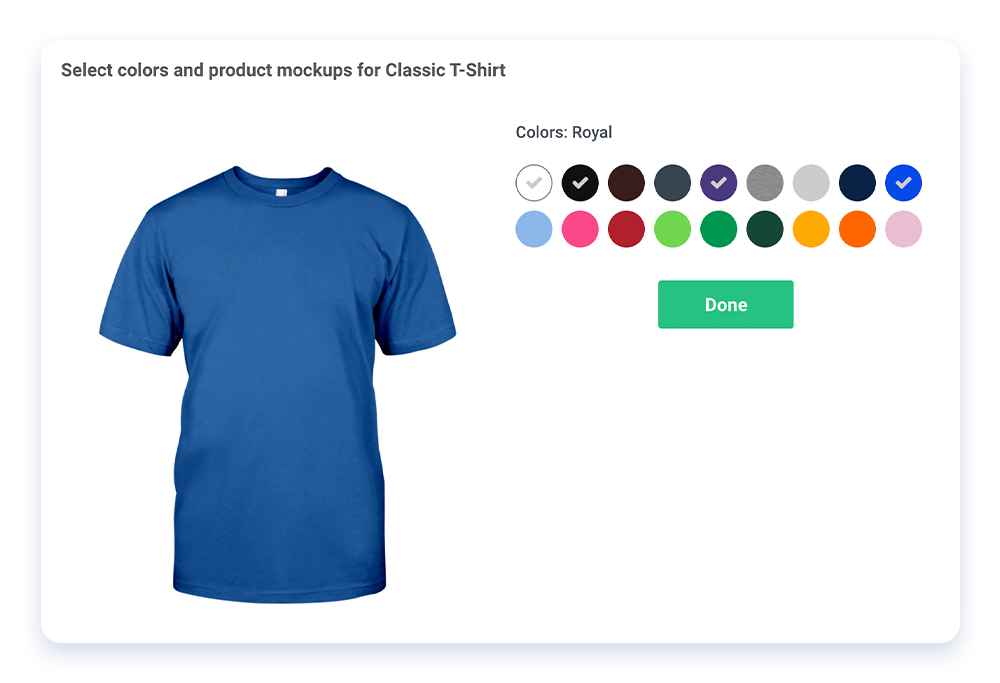 Step 3: Upload your design
Click "Upload file" to select the artwork you want for your product. Move and resize the design until you've found your desired placement. You can add more products by clicking "Add product" on the left. Click "Continue" once you are satisfied with your products and design placement.
With our Product Personalization tool, you can give buyers the chance to customize their products with unique text. As a seller, you can select the "T" icon to create a text box with label and text fields. After, you can style the text with fonts, colors, and alignment. Learn more here.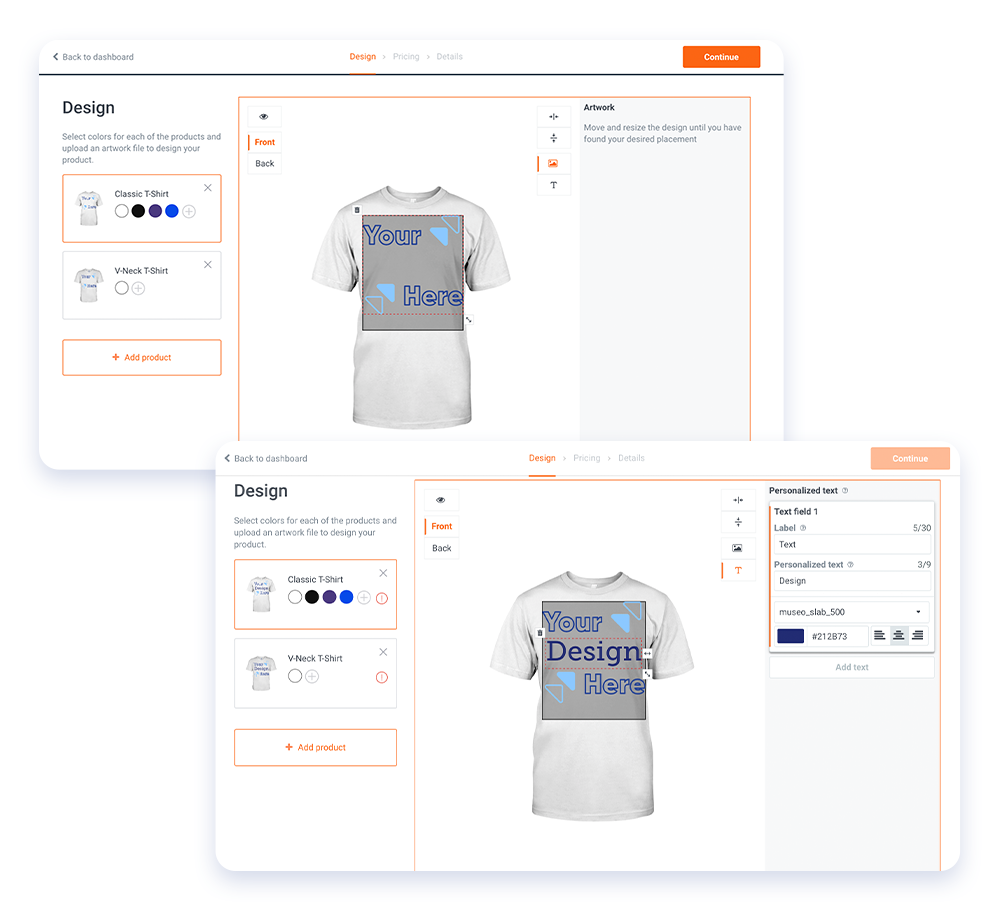 Q: What type of format is needed to upload a design?
A: We support .png files with a minimum DPI of 150.
Step 4: Set your pricing
On the Pricing page, you can set the price of your products. Under "Sale price," enter your desired price. Changing the sale price affects your product's profit margin, which you can see under "Profit / Unit."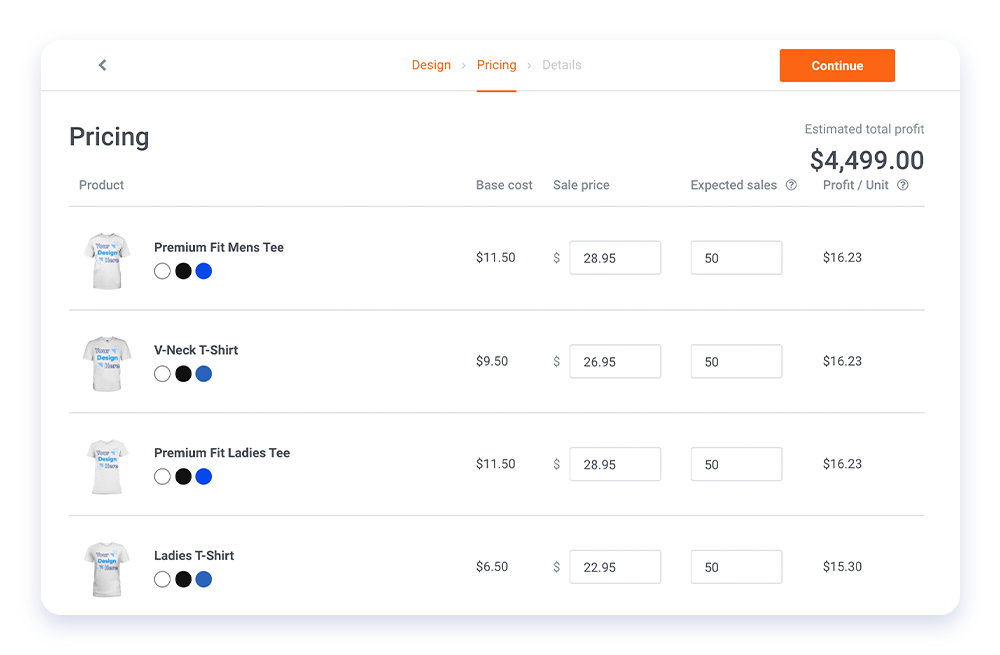 Q: How many products do I need to sell before making profits?
A: There are no minimum order requirements. You will receive profits even if your campaign makes only 1 sale.
Step 5: Create your campaign details
Finally, set a campaign title and description for your customers to see. You will need to add a custom URL for your campaign to go live. If don't you want your campaign to show up on search results or in the marketplace, click "Private" under "Visibility."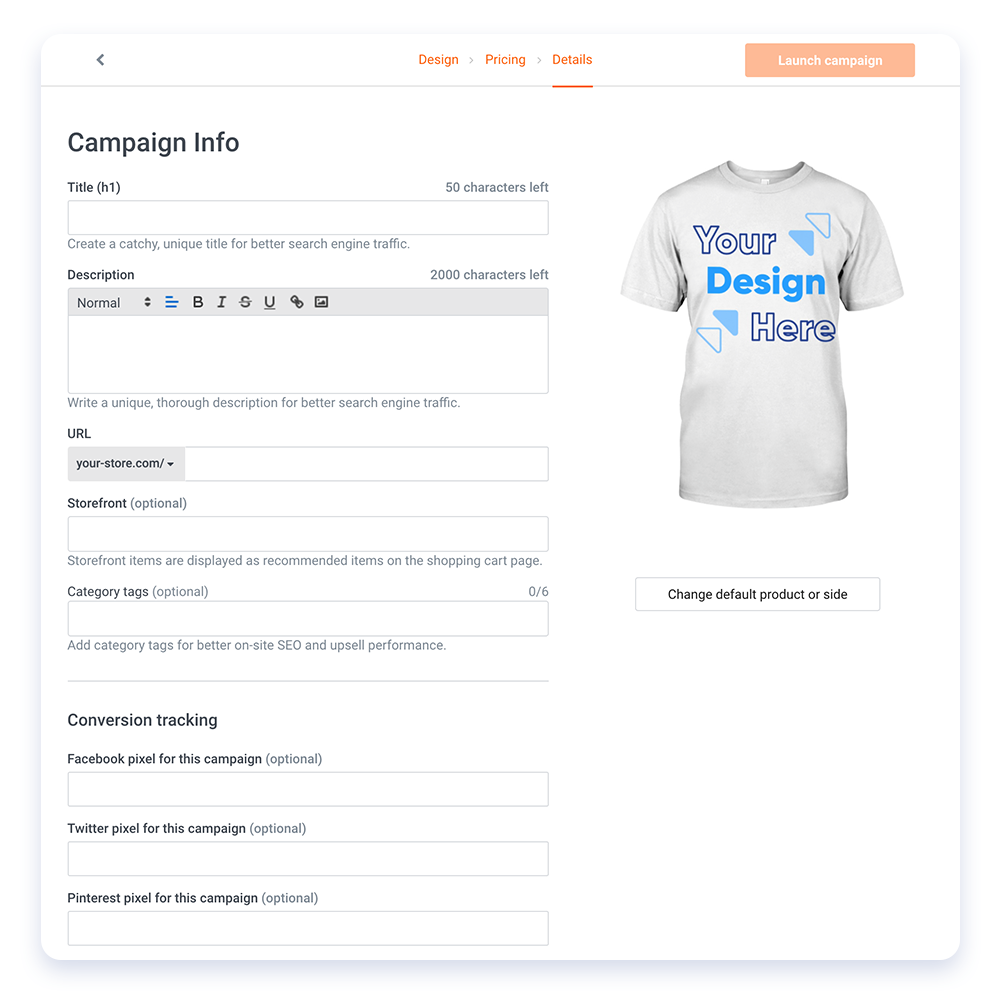 Q. What does it mean to "upsell" and how does it work?
A: Chip offers five ways to "upsell" your campaigns to increase sales. With upsells, buyers are shown discounted campaigns that they can add to their cart before (or after) checkout.
Step 6: Launch your campaign
To officially publish your campaign, click "Launch campaign." If you're not signed in, you'll be directed to a login page. You can also click "Sign up" if it's your first time on our website (don't worry, it's 100% free).
Your campaign is now officially live and up for sale! We handle all the payment processing, fulfillment from printing to shipping, and customer service, so you can focus on building your business.
Congrats! In just six simple steps, you've created your very own campaign with Chip.