After selecting the products and colors and uploading your artwork, getting your campaign details right will help customers make purchases more confidently.
Let's break down each section to learn about which product details and order policies you should be including and which you're better off avoiding.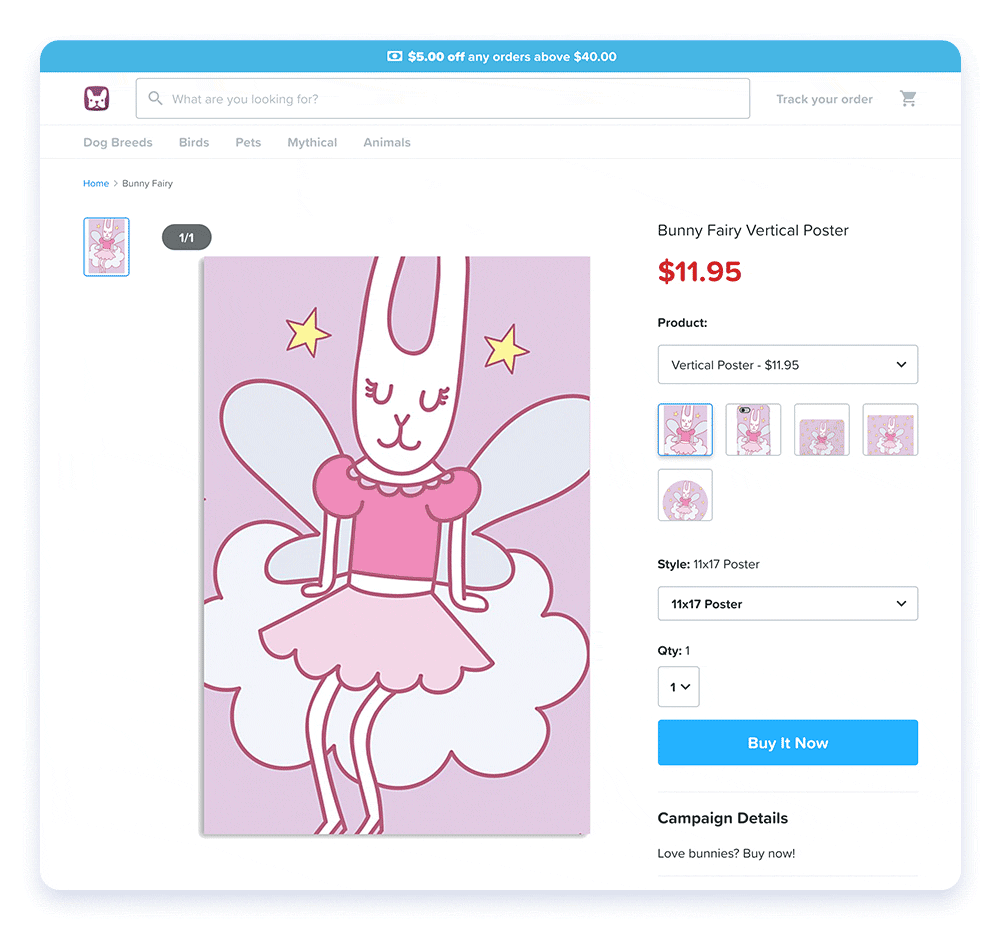 Campaign Title
Let's name your campaign!
Place the most relevant and popular keywords (by search volume) at the beginning of the title, and don't forget to include your brand's name.
Your campaign title shouldn't exceed 50 characters. Title tags should be unique to every page and read like a sentence - not just a list of keywords.
Example: Gifts for Dog Moms - Your Brand
Campaign Description
Your campaign description can be up to 2,000 characters long. This means you can get as creative and as explanatory as you want. Include keywords, and ensure the description reads like a sentence and not just an influx of keywords. A campaign description should be easy to read and tell the potential buyer what your campaign is about.
Share product specifications or campaign details such as payment information, shipping method, disclaimers, and any additional information that a customer could find valuable. Don't forget to include the names of the products you'll be selling in your campaign description!
Example:
Get the best gifts for animal lovers for any occasion. Shop awesome dog shirts, pet mugs, pink hoodies, phone cases, custom tote bags, and so much more.
Send Dog Pics is probably the best design ever. Everybody loves dogs!
100% Designed, Shipped, and Printed in the U.S.A.
Safe and secure checkout.
SEO Tip: Optimize your campaign title and description by including high-volume keywords, so they're SEO friendly and customers can more easily find your store. Your page's ranking on search engines will thank you later!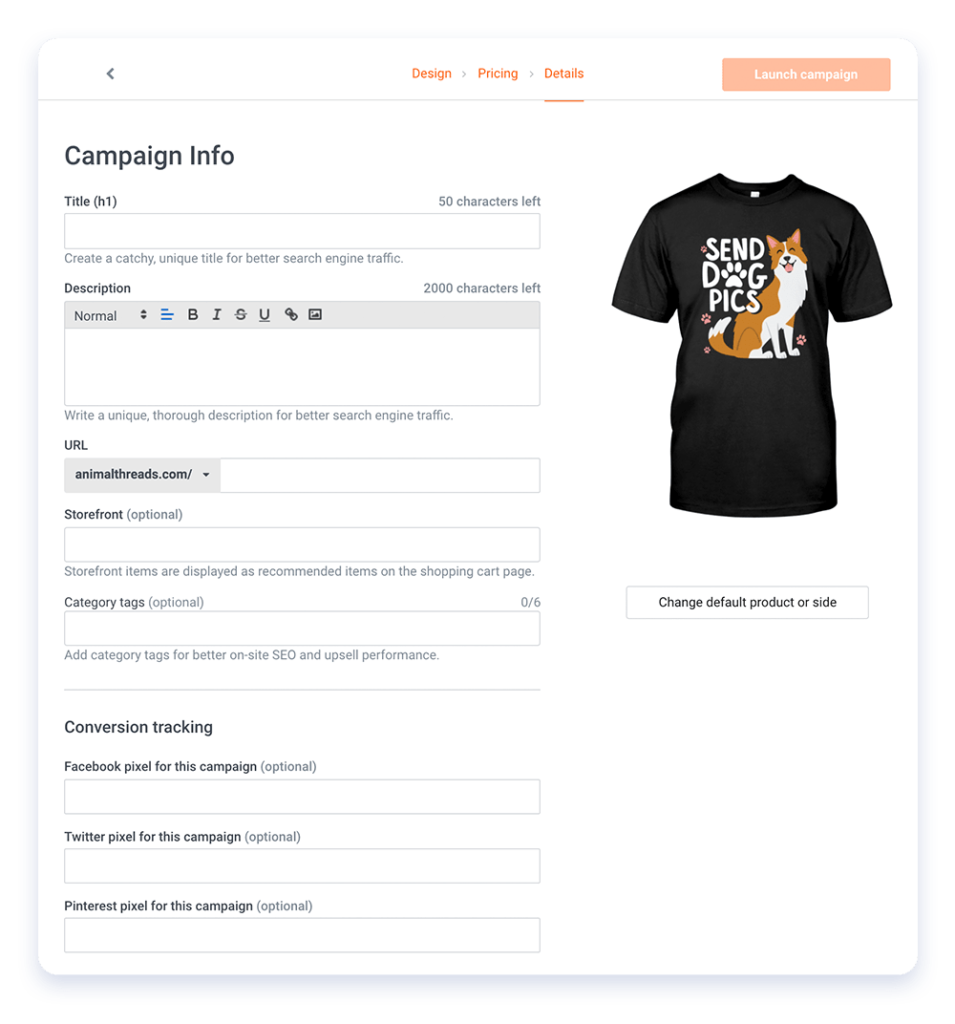 URL
Customize your URL, again, using relevant keywords when possible. Don't make your URL too long, and you can omit words like "a," "the," and other articles that would lengthen it.
Example: Your-store.com/gifts-for-dog-moms
Add a campaign to a storefront
If you have similar campaigns, you can bundle them together in a storefront.
Example - a storefront can include the following campaigns:
Dog Lover Gifts
Cool Animal Lover Shirts
Gifts for Dog Moms
Learn more about How to Create a Storefront.
Category Tags
Adding category tags will help customers navigate your store more easily and find similar products to those that were already looking to buy. For example, you can name your tags by themes, trends, fashion styles, etc.
Example tags: Motivational, Home Goods, Animals, Travel, Astronomy
Set up Social Media Pixels
Sharing and advertising your campaign on social media will certainly give your products way more exposure.
Make sure you track your ad conversions by installing Facebook, Twitter, Pinterest, TikTok pixels.