Who doesn't love coupons? Nowadays, people are always looking for digital coupons when shopping online. Coupons make people feel special and valued as customers, and digital coupons are one of the best marketing incentives for driving conversions and encouraging a purchase.
Here, we'll discuss the ins and outs of Chip's Coupons, including our stackable and coupon code features.
How It Works
Step 1 – Create your coupon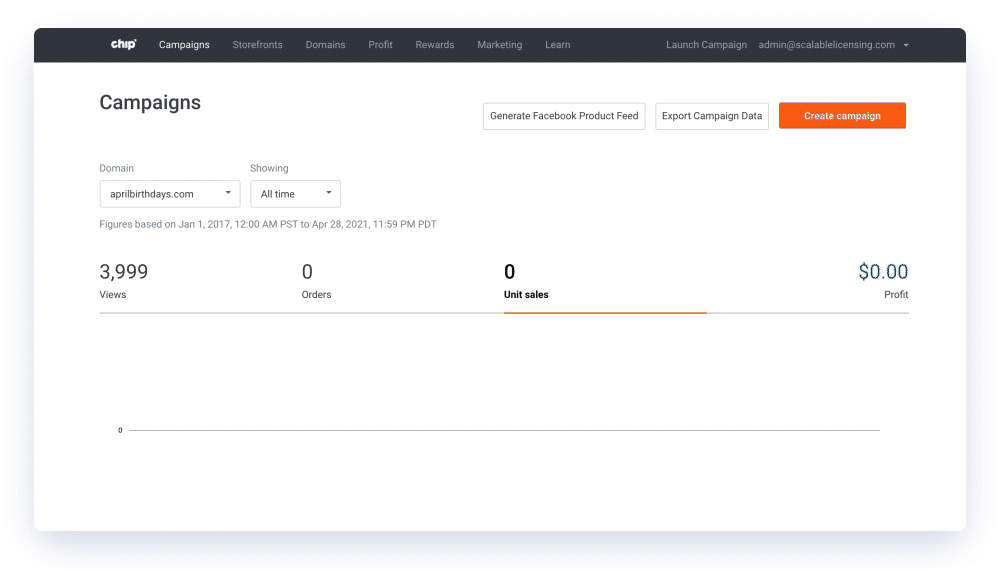 Sign in. Stay on the "Campaigns" page. Scroll down.
Find the campaign that needs a coupon. Click its "Details."
Click "Coupons" in the navigation bar.
Click "Add Coupon."
Name your coupon (for example, we named ours YES20).
Select the coupon type and amount. Click "Add Coupon."
Your new coupon has been created.
Step 2 – Share your coupon
There are two approaches you can take to share your promotional offers with buyers – URLs and coupon codes. Depending on the goal of your promotion, you have the option to choose or experiment with the method that works.
Method 1: Create a custom URL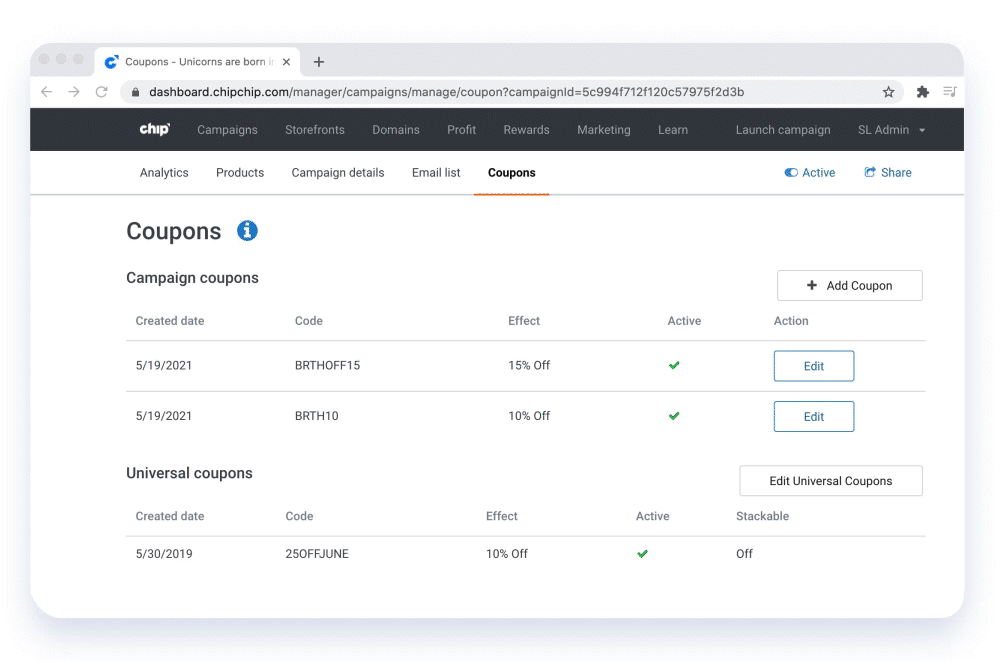 Remember the name of the coupon you want to use (remember, we're using YES20).
Click the "Share" button in the top-right corner.
Look to the right of "Coupon" and click "Copy." The URL is now copied.
Paste the copied URL into your browser (or in your Facebook ad, email, etc).
Replace "your_coupon" in the URL with your coupon name.
To preview the coupon in your web browser, hit enter on your keyboard.
Your coupon is complete. Use this new URL for all your promotions.
Method 2: Create a coupon code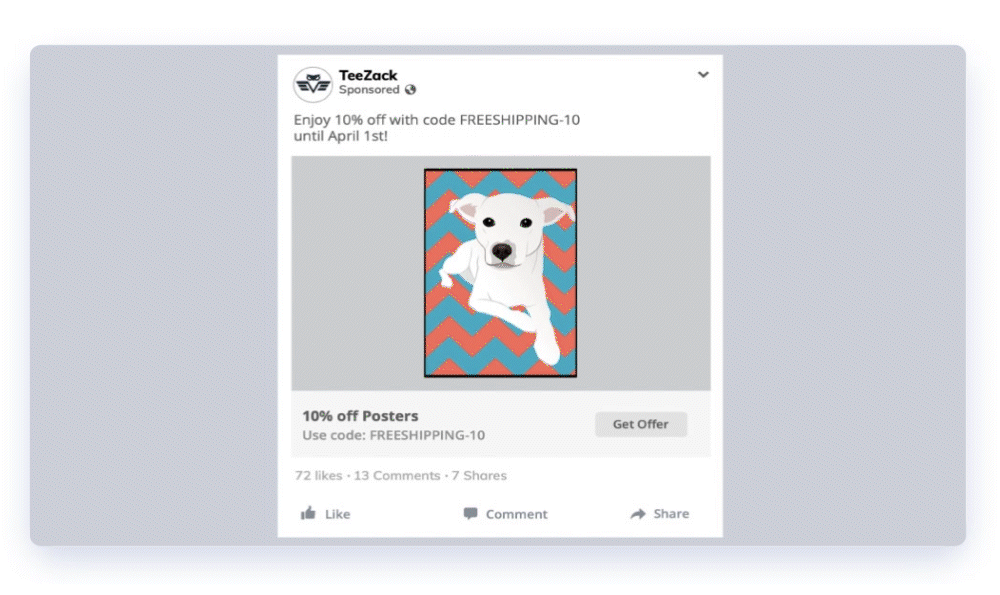 With the exception of site-wide coupons, your universal coupons and campaign coupons can now be used as coupon codes for all campaigns in a custom domain. To make the coupon code field appear at checkout, you will need to create at least one new active coupon. Coupon codes make it easier to share your discounts with prospective buyers and offer another opportunity to test ads and marketing campaigns.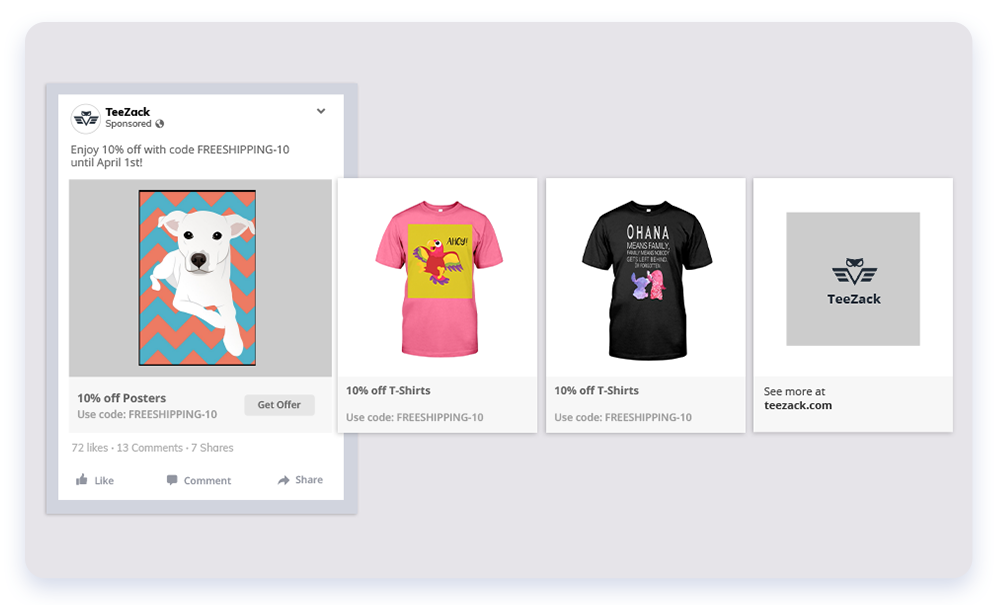 Apply Universal Coupons to your Custom Domain
Universal coupon creation follows the same steps as above, but these coupons have a broader use and can be applied to campaigns across an entire domain. To get to the universal coupons page, sign in, click Domains > Details > Promotions > Add Coupon.
With a custom domain, you have even more options with universal coupons. Instead of only being able to share a coupon URL for your promotions, you can now also share a coupon code with your buyers. The coupon code feature allows buyers to redeem offers by simply entering the code at checkout instead of clicking a URL.
Important note: Stackable Universal Coupons
Universal % discount
Universal free shipping

Site-wide % discount
Site-wide $ discount
Add discounts to your entire Custom Domain
Encourage shoppers to increase their order size with site-wide discounts. Simply set the promo amount and a permanent discount banner will appear on the top of your site.
How to set up
Click "Domains" on the seller dashboard.
Click "Details" next to your custom domain.
Click "Promotions" in the top navigation.
Click "Add Promotion".
Set the promotion type, amount, and threshold.
Click "Submit" and your coupon will go live.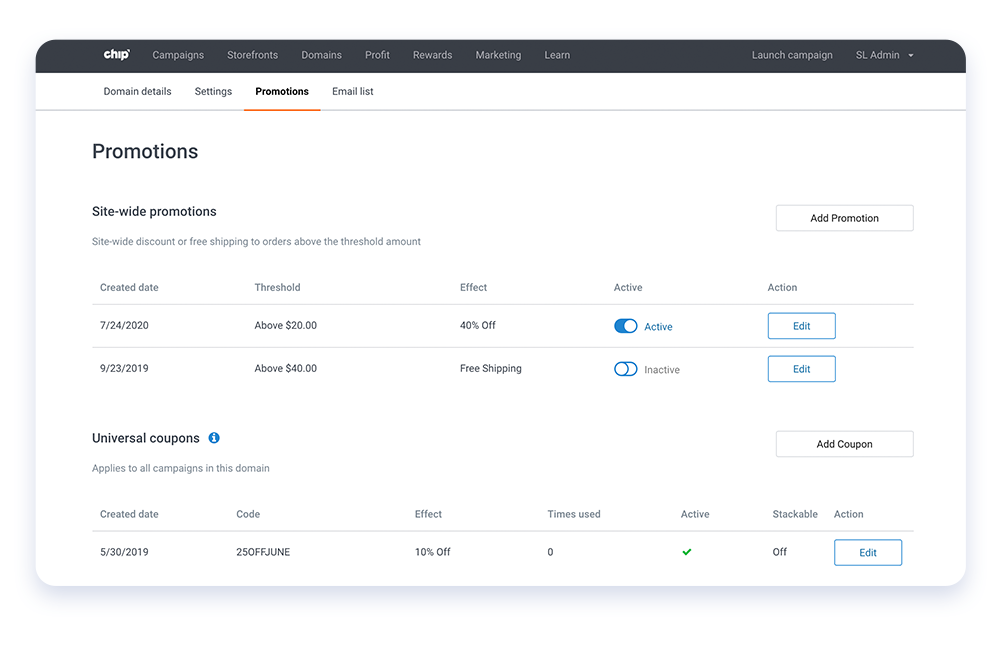 Important note: Stackable Site-wide Coupons
Site-wide free shipping

Universal % discount
Universal $ discount

Site-wide % discount
Site-wide $ discount
Free Shipping Is King
Chip offers three kinds of coupons: % discount, $ discount, and free shipping. So, which is best? The data points to free shipping. In a recent online survey, three out of four respondents chose free shipping as their favorite type of online promo, with 46% saying they would even pay a bit more if free shipping was offered.
Test to see what works for your buyers: Free shipping is a fan favorite overall, but every brand is different. It's wise to test campaigns with and without coupons. You may also consider charging more per item to make up for your cut in profit.
Best practices
Percent (%) discounts are better than dollar ($) discounts, as stated by the "Rule of 100" – under 100, percentage discounts seem larger than absolute ones.
Provide a short reason for the discount (e.g., seasonal, limited-time offer, etc.)
Make discounts easy to compute (e.g., 20% off is better than 22% off)
Always A/B test and experiment to find the best coupon strategy
Important note:
Universal and site-wide coupons can be stacked as long as profits exceed $0.01. Otherwise, the order will be canceled.
Sellers can only configure the stackable coupon feature for Custom Domains.
The minimum order threshold for site-wide discounts is $20.
Maximum two coupons can be used per order.