You already made the right choice in choosing Chip as your platform to launch your online business. Now, it's time to pick a key element to ensure success: best-selling products! Below, we detail the process step by step to make this part a piece of cake.
Picking products to sell can feel overwhelming given our incredible selection of more than 200 high-quality items, but we have a great tool to simplify it for you: Our Product Catalog!
We recommend you check it out before you start creating your campaigns for these reasons:
See each product's price and details. Each product is special in its own way and has unique characteristics to take into consideration. You can find all the specifications such as product details, shipping info, base costs, suggested pricing, design info, and artwork templates by clicking on "Details" in every item.
Look through our different types of products with tags. From AOP to Embroidery, figuring out which print type is available for a particular product can be tricky. With our tags, however, you can search through them quickly. We also include useful tags to help you find our Bestsellers and Personalizable Products in just one click.
Explore our different categories. Whether you are interested in selling wall art or t-shirts, our categories make it easier to peruse. No matter how much our product offering keeps growing, you can find them in these sections:

Apparel
Accessories
Home & Living
Profit Calculation
Knowing how much money you'll earn by selling any of our products is crucial in selecting the items you want to sell. The profit you make will be calculated using the following formula:
Profit = (Sale price - Base cost of product) * 93% - Discounts (if any)
Our processing fee is 7% to cover customer service costs, credit card processing fees, and fraud protection. Learn more about our profits and payment process here.
High-Level Artwork Requirements
No product is the same, and some have unique artwork specifications you don't want to miss. Make sure your artwork is top quality by checking the requirements of each type of product in our design and selling guides before you start to design.
Also, remember you can download specific artwork templates of all our products in the Product Catalog.
If you read through these details, you'll have all the tools and information necessary to choose the right products for your business. Are you ready to start creating incredible products that sell?
Get started
Step 1: Navigate to the campaign creation page.
Once in the Chip dashboard, go to Campaigns > click the Create Campaign button.
Step 2: Select your Products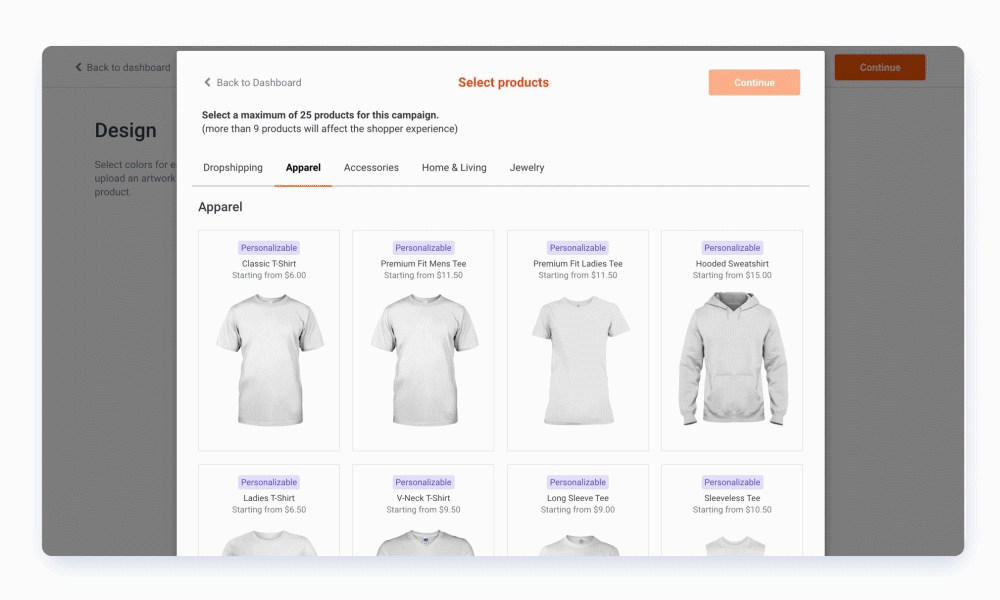 You can select a maximum of 25 products for each campaign. Keep in mind that selecting more than nine products can affect the shopper experience. Once you pick your favorite products from the Apparel, Accessories, and Home & Living categories, click Continue.
Step 3: Upload your artwork and start designing your products.
Here you can modify, add more products, or eliminate them from your campaign.
That's all! If you have reached this last step, you are done selecting your products. Complete the process to finish your campaign and get ready to sell.