New to the fashion industry? Learn how to start a print-on-demand clothing line online today!
We've broken down the process into a comprehensive step-by-step guide for you to start your own online clothing brand from scratch. We've covered everything from how to choose a profitable niche to marketing and launching your first collection.
Starting a POD clothing line can be an extremely profitable venture if you're an artist, an online entrepreneur, or a social media influencer. Starting an online business with a low budget can be challenging, but it's totally possible and definitely worth it!
Let's get started!
1. Look for a profitable clothing niche market
Catch your audiences' attention with instant differentiation. However, for this to happen, you'll first have to define who'll be your market and your audience. And here's where niche markets come into play!
What is a clothing niche?
A clothing niche is a smaller group within a defined market. For example, your clothing line can sell streetwear made for rollerblade skating lovers or personalizable loungewear for work-from-home professionals who want to feel comfortable while they work.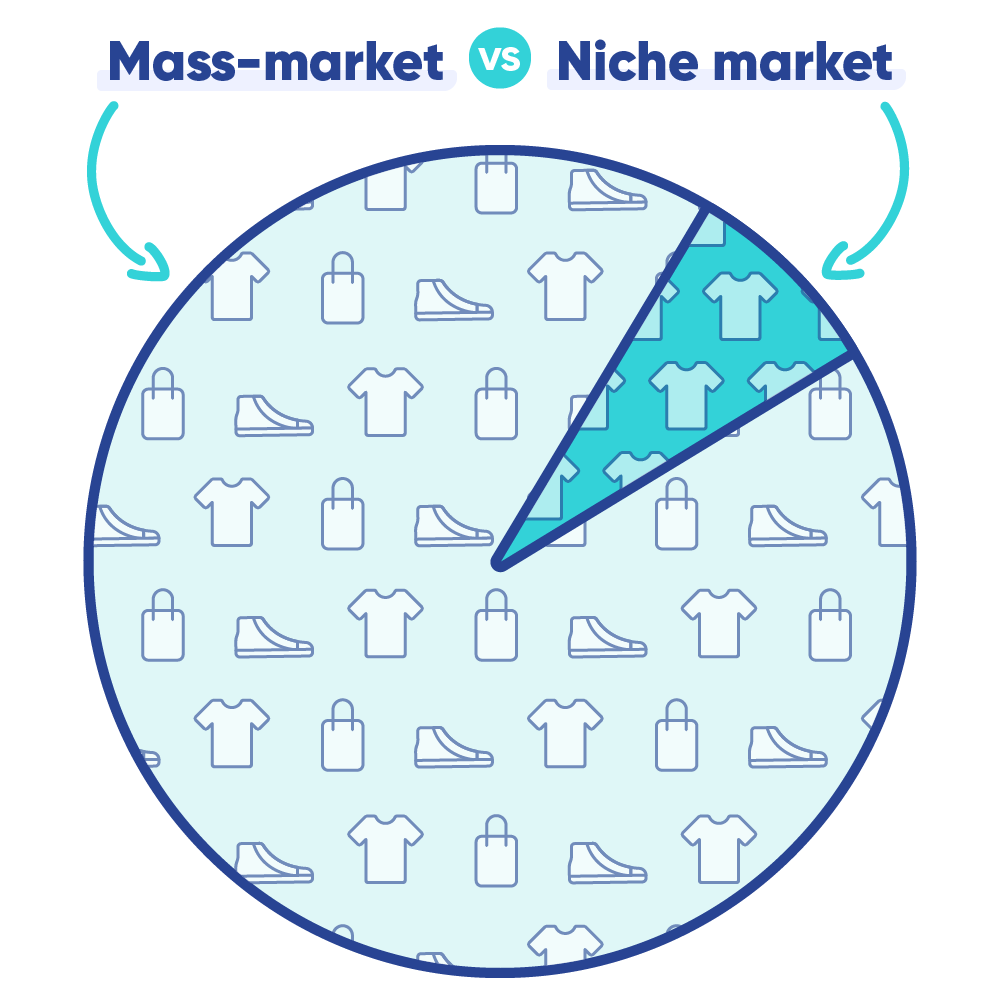 Working with fashion niches, particularly with print-on-demand clothing, is a match made in heaven. POD offers entrepreneurs, designers, and artists a platform to test their ideas at minimum viable cost (MVP). Plus, there will be no surplus of inventory if a given item isn't selling well.
Identify your competitors early on
When starting a clothing brand, you need to know what you're up against. So, make sure you research your online competitors and even buy from a couple of them to test their customer purchase flow and get inspired for ideas to start your own clothing line.
Look out for competitors' product quality, social media popularity, and customer reviews. This will give you a clear picture of your competitors' positioning and which digital marketing strategies they rely on to succeed.
Common niches in the print-on-demand clothing market include hipster clothing, punk designs, and artsy printed patterns. For more inspiration, you can check out our 10 Print-on-Demand Niche Market Ideas blog post.
Benefits of launching a niche brand
Launching a niche brand comes with its perks. Apart from rejoicing the flexibility high-street brands just can't afford because of their scale, you also get to experience extensive creative freedom in defining your brand's values and reigning wow factor.
Incoming impulse buys
The psychology behind impulse buys suggests that buying behavior is considerably impacted by the potential consumer's positive feelings and emotions, meaning that if your audience spots a product they absolutely love, they're more likely to impulse buy from your brand.
Establish niche expertise
Since there will not be as many brands selling the same products and designs as you, it will be easier to position your clothing's brand authority in the online fashion industry. As a result, you can establish yourself as a leader in a particular clothing niche without too many obstacles.
Exponential audience reach
Targeting such a narrow niche audience will translate into meaningful and accurate advertising campaign targeting and overall lower advertising costs. We also recommend you join relevant communities to your audience to spot any potential emerging trends and discover new insights.
2. Set up a successful POD ecommerce store
Did you know that as of 2021, 46% of apparel sales in the United States take place online? Make your dream come true by building your ecommerce store with Chip. It's easy, and you'll get everything you need to get your clothing line up and running online!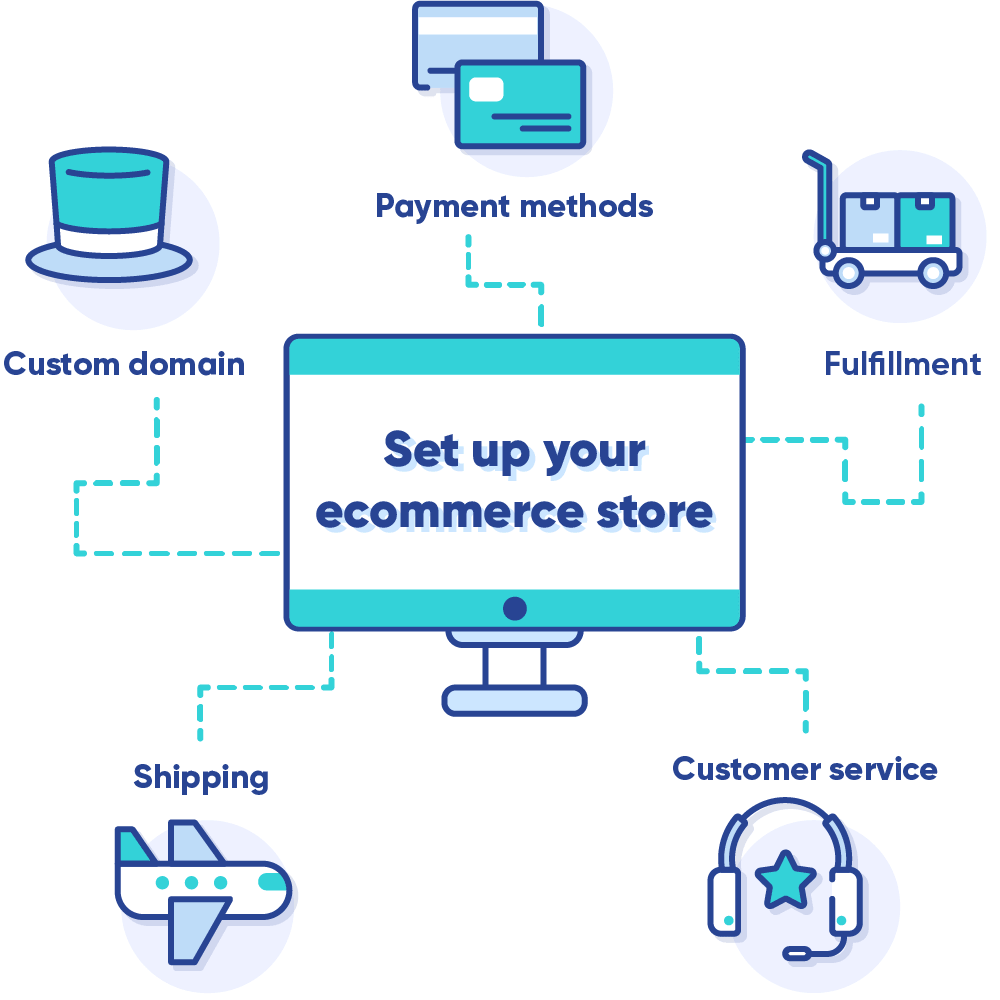 Get a custom domain with Chip
A custom domain ecommerce website looks more professional than those who don't have one. Increase your customers' trust and benefit your business reputation. You can also create subdomains for different purposes, and elevate your Google Ranking position.
More on Chip's custom domains:
Choose the best business model for your clothing line
Starting a clothing line with Chip is great because upfront costs are reduced to a minimum. Entrepreneurs have time to focus on creating their designs or choosing the best AliExpress products and only having to pay for a garment once they've already sold it.
Print-on-Demand
POD is the most preferred among entrepreneurs looking to start their own clothing line is low-risk and great for beginners. POD provides the financial flexibility and product availability of a big-scale retail business that just wouldn't be accessible for someone starting out.
Dropship business
Chip Dropship is ideal for online entrepreneurs looking to create a clothing line with unique products sourced from AliExpress. Similar to print-on-demand, dropshipping apparel under your brand name is pretty lucrative without the menace of having to store and pay for inventory upfront.
More on Chip Dropship:
Payment methods, fulfillment, and shipping are taken care of
When you start your clothing business with Chip, most of your responsibilities as an online business owner are already being taken care of so you can focus on developing and marketing your brand. The moment you get a sale, it's lights, camera, action!
Start selling with Chip: Did you know we also take care of your payment process?
3. Pick the best products for your clothing line
Your products are critical components of your business. They'll be the ones starring in your virtual storefronts, so your clothing line needs a carefully curated selection of the best products for your niche.

Set up your product mix selection
Determine which products will become your staple "basics," products that you'll keep relaunching over and over again with a slight twist. For example, your basics can include custom t-shirts, hoodies, and sweatshirts. Then, gather a selection of products you'll only have in the current season or collection.
More on Chip's products:
Include matching accessories in your collections
A clothing line is more than just clothes. It also involves a mix of accessories your customers would love to pair with your pieces. Your collection can feature matching designs on bags, shoes, and other accessories.
More on Chip's selling guides:
Jump on the latest trends
Translate the latest runway fashion trends into ready-to-wear apparel and accessories. Browse daily through material that may inspire your next design or collections. Your next big idea could come from pop culture or a meme you saw on your feed.
Find inspiration on these websites:
4. Design your first collection
When creating a clothing line, keep style consistency in your artwork. A cohesive collection will be easier to pitch to your audience and more fun to market. Dare to share your wildest designs!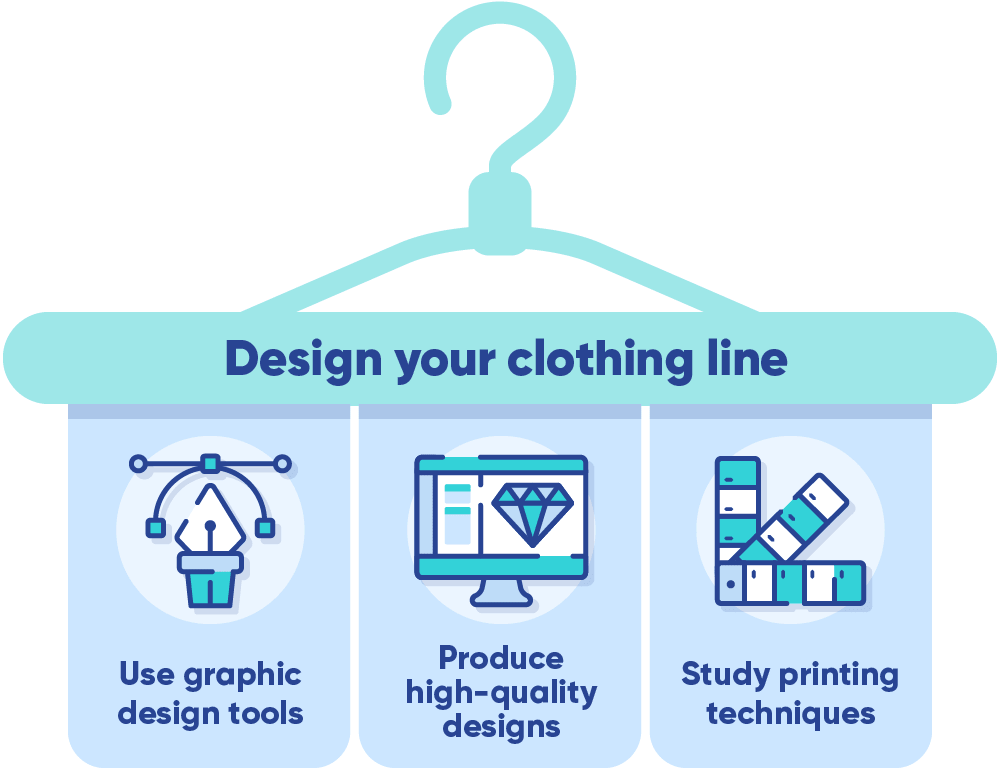 We were not all born Picassos and Van Goghs, but that doesn't mean we can't turn our vision into ready-to-wear art. If you're an experienced designer, you can use intermediate and expert level design tools like Adobe Illustrator or Photoshop to create your next design.
Online design tools for beginners:
More on Chip's design best practices:
Use high-quality designs
The secret is in the details! Create designs with the final garment in mind. It won't be the same designing artwork for all-over-print apparel as a single-print-side clothing piece. Get familiar with each product's features design-wise to produce designs that go seamlessly with your whole collection.
More on Chip's design best practices:
Study printing techniques & features
One of the easiest ways to produce a custom clothing brand is through printed garments. However, different techniques may require your designs to comply with specific specs to look incredible on the final piece.
Using an all-in-one POD ecommerce platform like Chip for print-on-demand garments will give you access to a variety of printing techniques without having to go to multiple suppliers. So, let's dive into the world of printed clothing. Up next, our favorite printing techniques!
Direct-to-garment (DTG)
DTG printing resembles a traditional injection printer technique. Designs are directly printed to a garment resulting in high-resolution and intense-colored designs that stand the test of time and washing machines!
More on Chip's product collections:
Cut and sew
The most appealing feature of this printing technique is that you can accurately place the designed graphics where you want them to go. Garment pieces are sublimated separately and sewn together, leaving no white streaks on the product.
All-over-print clothing and accessories are perfect candidates for this printing technique!
More on Chip's design & selling guides:
Personalization
Personalization is not a printing technique per se, but this is a feature that will leave your customers in awe. Include a couple of garments and accessories in your collections where customers can add a final touch before completing their purchase.
This tool works particularly well with garments and accessories featuring designs with space for written messages.
More on Chip's tools & features:
5. Calculate costs & price your clothing items
When you start a clothing line with Chip, intimidating expenses like production, operations and shipping are forever gone, making it easier for you to set prices and earn higher profit margins.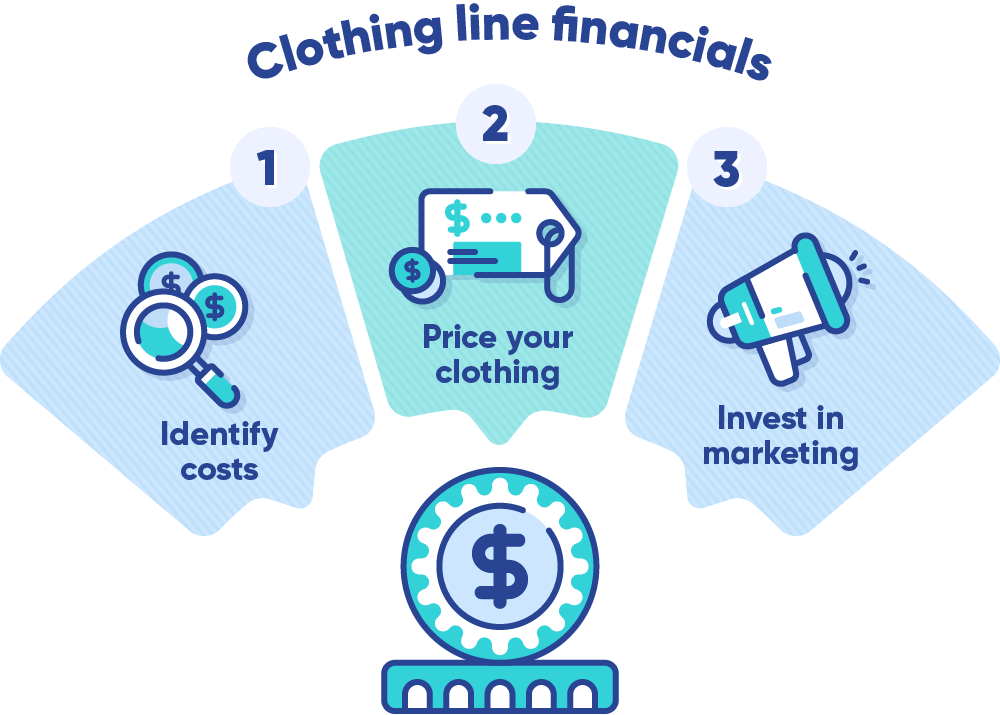 When your business revolves around designs, it's best to invest in quality design tools and grammar-check software to keep your designs under complete quality control. Also, consider factoring into your costs monthly and annual subscriptions that'll help you run your business.
Benchmark competitors' prices
Conduct thorough market research of your direct competitors and clothing lines targeted at the market segment you're interested in selling to. If you're considering pricing your clothes higher than your competitors, make sure you clearly communicate what makes your clothing brand unique so your customers can easily justify the extra expense.
Clothing pricing and profit margins
When it comes to pricing your clothes, there is no right way to do it. The most important thing is that you maximize your profits while keeping your prices in a sweet spot. It's also important to consider that your business's total profit will be subjected to taxes.
6. Develop your marketing & sales strategy
Having a plan for your business is key to direct your growth, even if you're starting from scratch. Set up your business goals from early on to line up all your marketing efforts to scale your business in no time.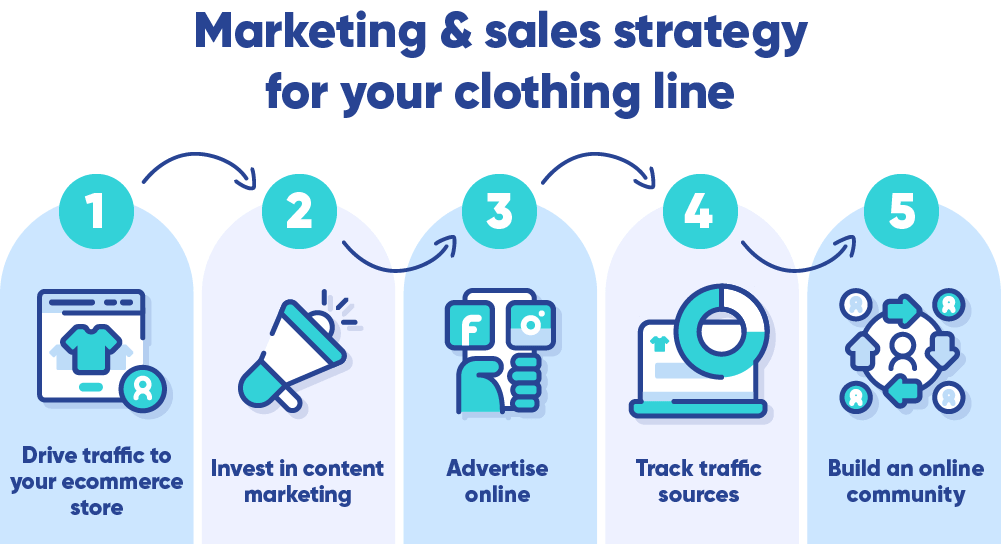 Figure out how to drive traffic to your store
Launching a clothing line online has many advantages as you're selling directly to your customers, removing physical barriers that might prevent customers from buying from you. However, this means you need to get your potential customers to first discover and land on your ecommerce store.
Search Engine Optimization (SEO) for your website
When naming your garments, consider including keywords (popular in search volume). Customers will be more likely to end up in your ecommerce store when they are looking to buy a specific item of clothing on search engines.
More on Chip's SEO tips:
Content marketing for your clothing brand
Have you heard the phrase "content is king"? A well-executed content marketing strategy can lure in more customers than you ever imagined. Relevant and curated content is all about providing value before a customer decides to buy from you. And content marketing can come in all shapes and sizes.
Start a blog
Start a fashion blog where you can share relevant content about the latest fashion trends, innovative design. Write about your upcoming collections and share a little behind the scenes with your customers so they can better connect with your brand.
Once you determine which social media channels you'll star in, start thinking of ideas about what kind of content you want to share on social media. You can include pictures featuring your designs, share a few fashion tips, and start a conversation about emerging trends with your audience.
Email marketing
Promote your brand and increase sales with a prospect and customer emailing list. Let your customers know you're launching a new collection, having a sale, or offer member-only promotions and discounts to reward them for their loyalty.
More on Chip's email marketing tips:
7. Launch your first collection online!
Launching your first collection can be a scary but exciting experience. You'll learn a lot from every collection that passes through your ecommerce store. In addition, you'll be able to gather data and study consumer behavior up close.