Accessories are a key part of any look. Just a few simple touches can make you look more put-together than without, and a stylish wallet or purse is no exception. Upgrade a current wallet situation with leather wallets, bifold wallets, and trifold wallets that are both stylish and functional. Go out for a night on the town with a beautiful clutch purse in tow. As fashionable, practical gifts to yourself and to others, you can never go wrong with offering wallets and purses in your store. Keep reading to learn how to turn these everyday goods into trendy wallets and purses for your customers.
Product Details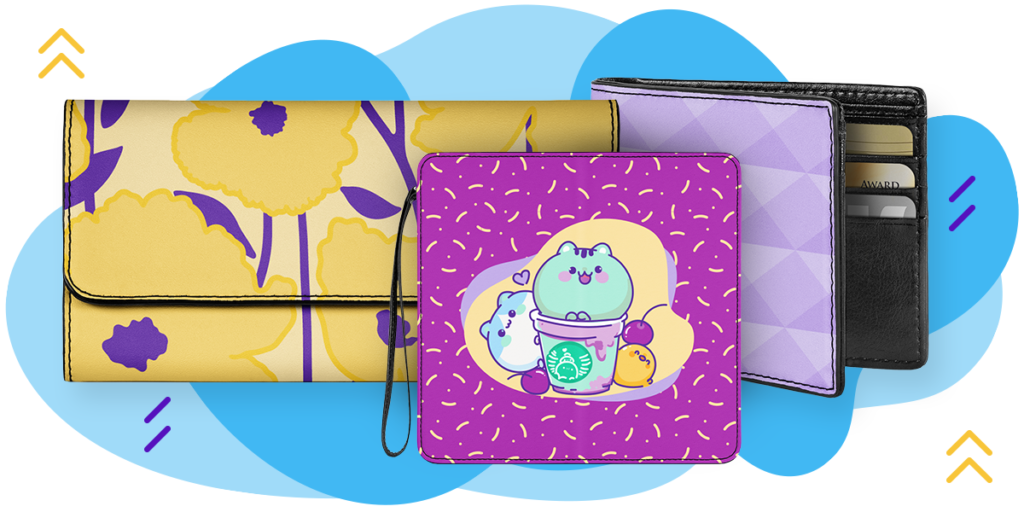 Our wallets and purses are made from high-grade, microfiber leather, so you're getting long-lasting quality at a great price. Available in different sizes and orientations for both men and women, you'll find a variety of accessories to suit many different customers' needs. Each wallet or purse comes with numerous compartments to safely store your belongings. Upload your own chic artwork and offer personalization options to make every wallet and purse unique.
Design Guide
Our wallets and purses come in several different sizes and orientations, offering a few ways to display your artwork. Get creative with two-side and tri-fold display options, and learn how to properly design and place your artwork for the perfect end result.
Two sides:
The following products will have two sides of artwork that will open up into one complete design. When the product is closed, there will be a front-half of artwork and a back-half of artwork.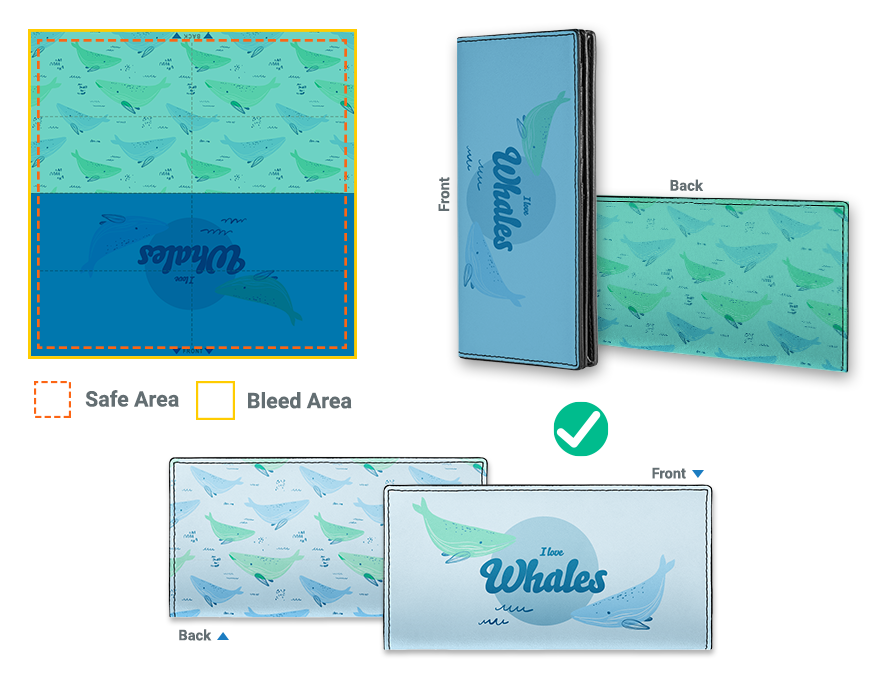 Products:
Tri-fold:
The Women's Trifold Wallet features a unique design. When designing your artwork, you should keep these notes in mind:
When the wallet is laid completely flat on its interior side, you will see the full artwork on the back. The folds will create three parts: a front section, a middle section, and a back section.
When the wallet is fully closed, the front section becomes the top flap of the wallet, the back section folds underneath the front section, and the middle section becomes the rear of the wallet. Note that the original back section will be partially hidden by the top section when folded.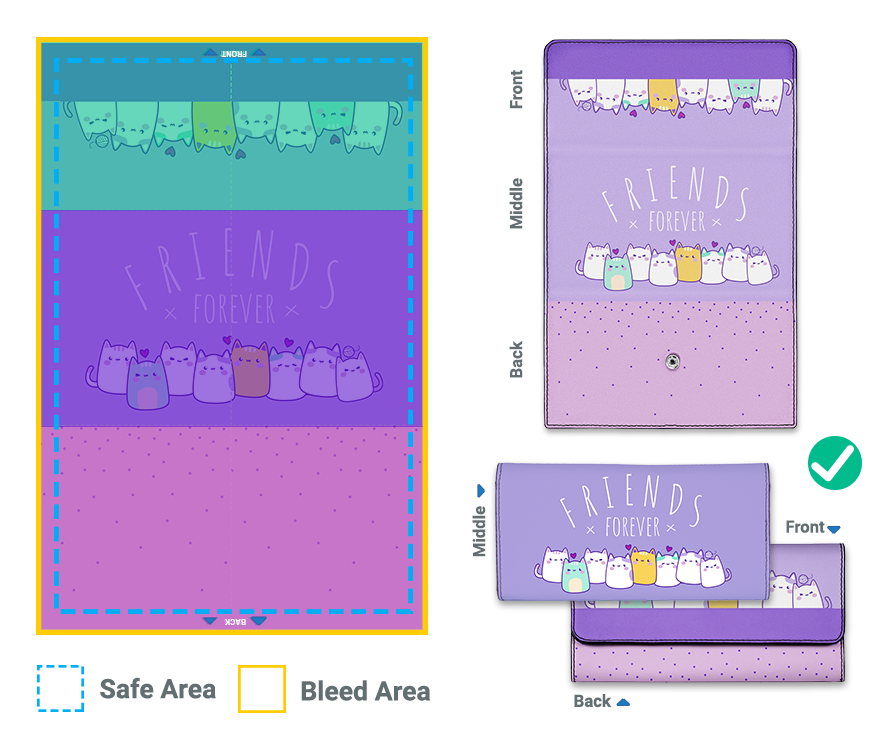 Design Inspiration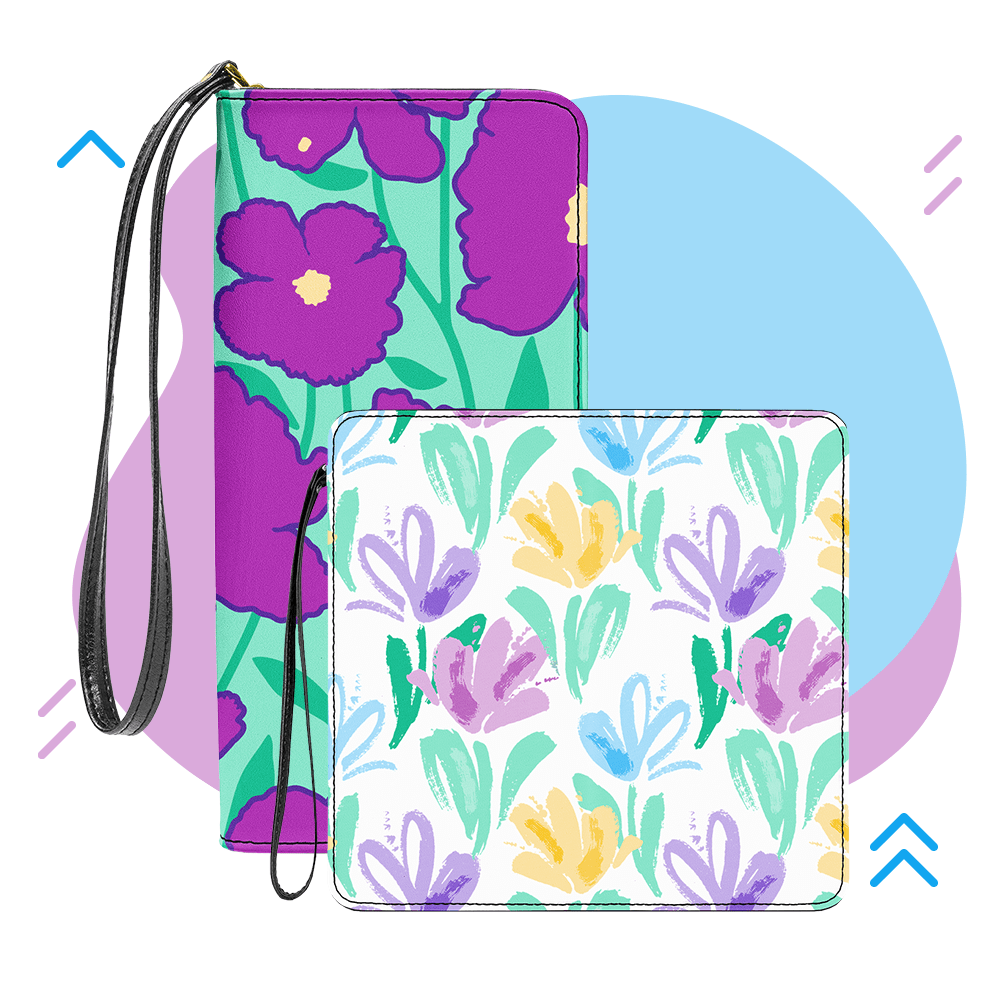 Floral
Beautiful floral prints never go out of style, and using our Personalization Tool to customize a wallet will allow your customers to make it unique to each of their styles.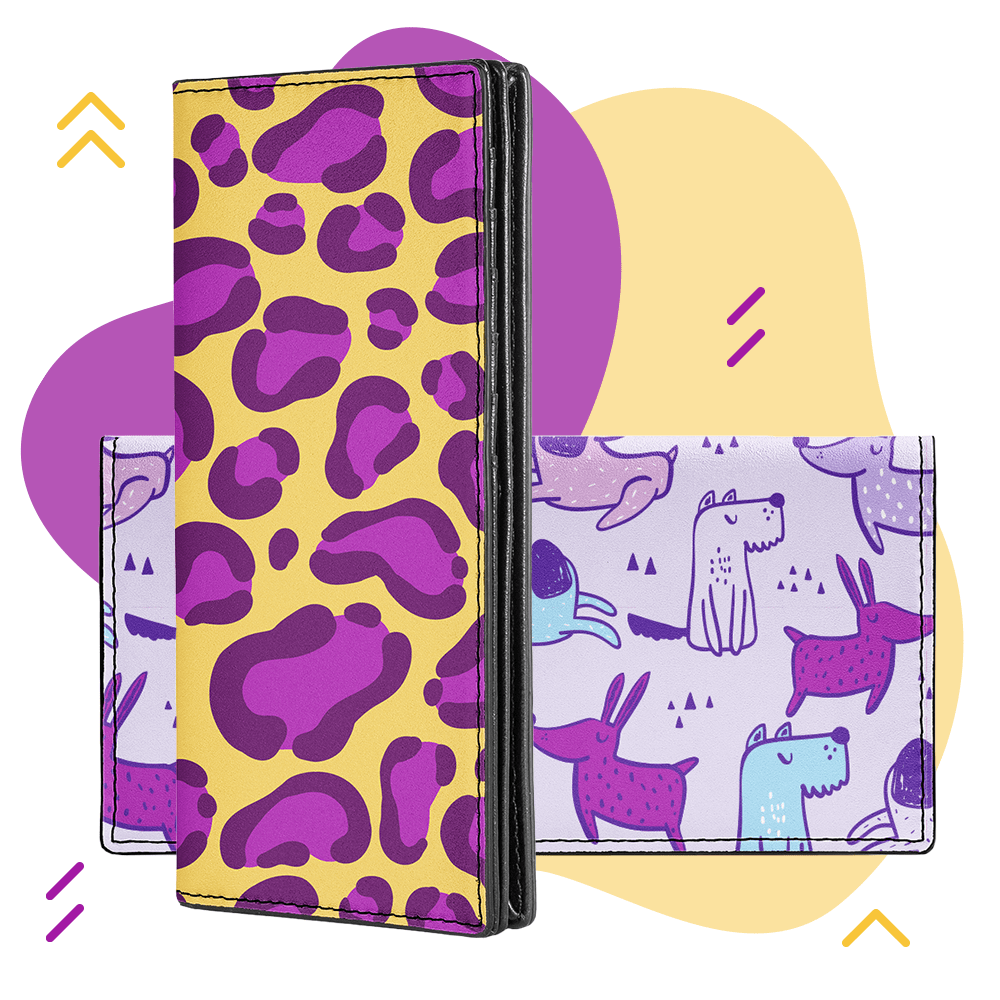 Animal Print
Elevate an otherwise plain wallet with cool animal prints. These patterns exude spunk and attitude for anyone wanting to spice up their accessories.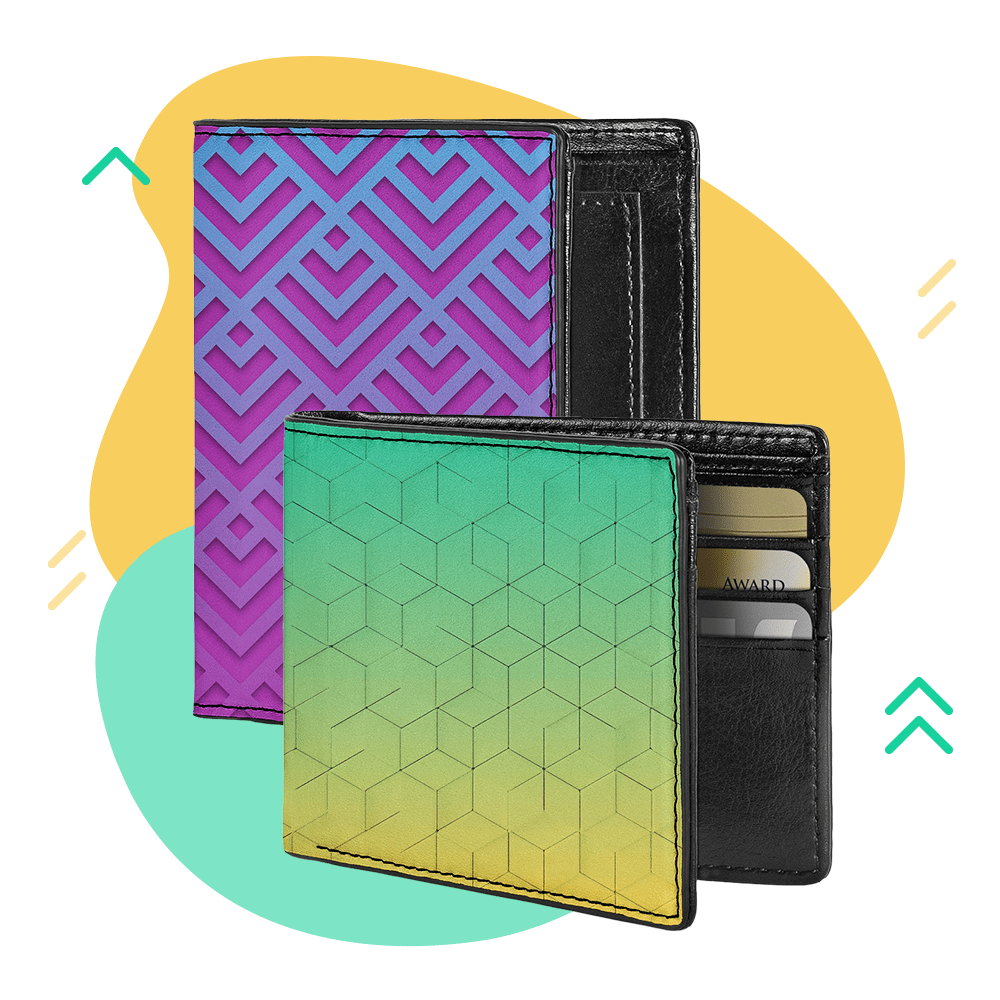 3D Geometric Patterns
3D geometric patterns will make any wallet stand out with their hypnotizingly colorful display. Add personalization to make these great for people who want something extraordinary.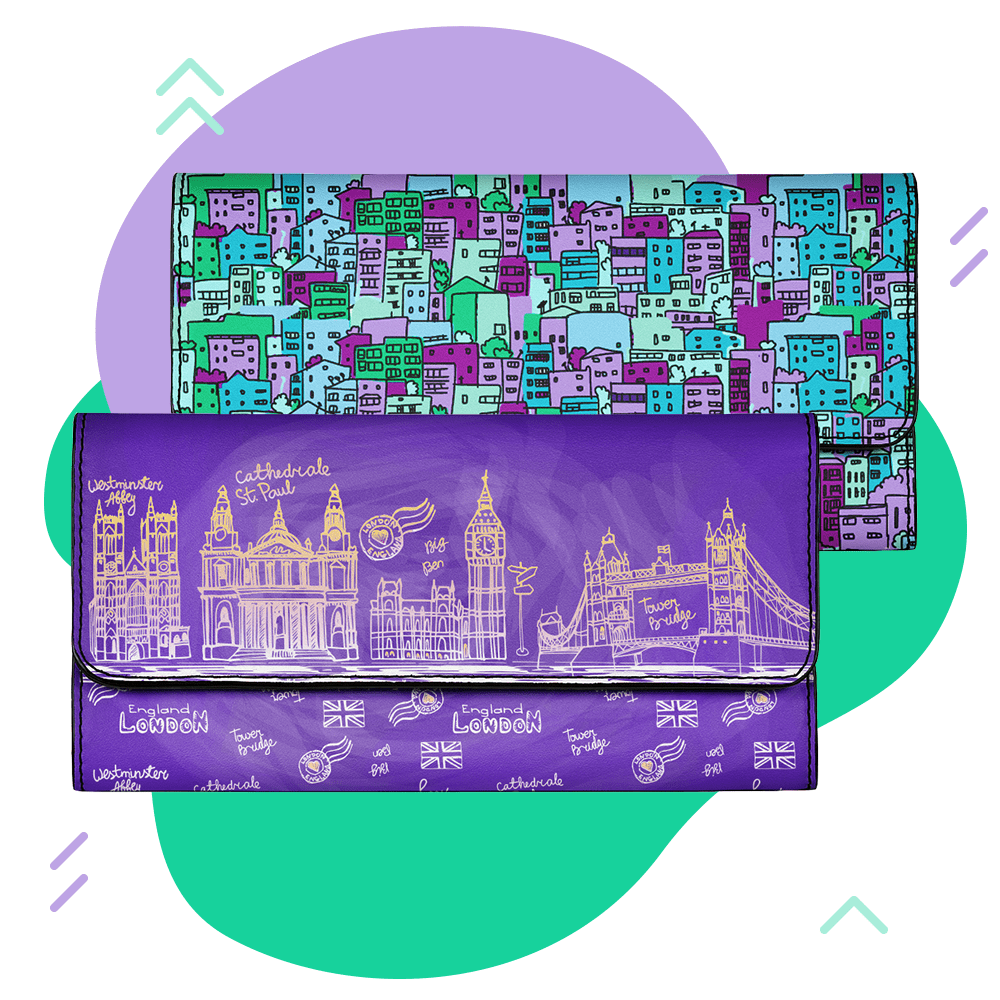 Cityscapes & Skylines
Think of these wallets as panoramic canvases. This is a great opportunity to turn a simple wallet into a beautiful work of art, featuring an entire cityscape or a gorgeous skyline.
Calls-to-Action
Ditch your well-worn wallet for a custom accessory that wows! Browse designs.
In search of the perfect gift? A leather wallet never goes out of style. Shop now.
Get excited to personalize a new clutch for a night on the town! Get started.