Art has transformed from display pieces to fashion statements worn on the daily, and that's great news for online sellers! DTG, or direct-to-garment, printing has made entrepreneurs' and artists' dreams come true by helping them reach more customers at a lower cost.
What is Direct-to-garment (DTG) Printing?
DTG printing creates a strong fusion between garment fibers and pigments, resulting in a smooth, satisfying finish. This technique delivers sharp and high-resolution designs one piece at a time, making it ideal for any seller running on a print-on-demand business model.
For year-round events and special holidays alike, DTG apparel is a go-to selection for top sellers. This collection of best-selling garments will make it easier to take advantage of every selling opportunity.
Ready to Sell
Chip's DTG Apparel Collection serves as the best canvases for sellers to share their creative artwork. Wearing fun artwork is an outlet for self-expression, check out our DTG Apparel Collection and add it to your store now.
Design a Bestseller
Not all designs are created equal, but you don't have to be a genius to come up with a highly marketable garment. However, understanding your niche will do wonders for your online business, so make sure you take time to think about and research each concept.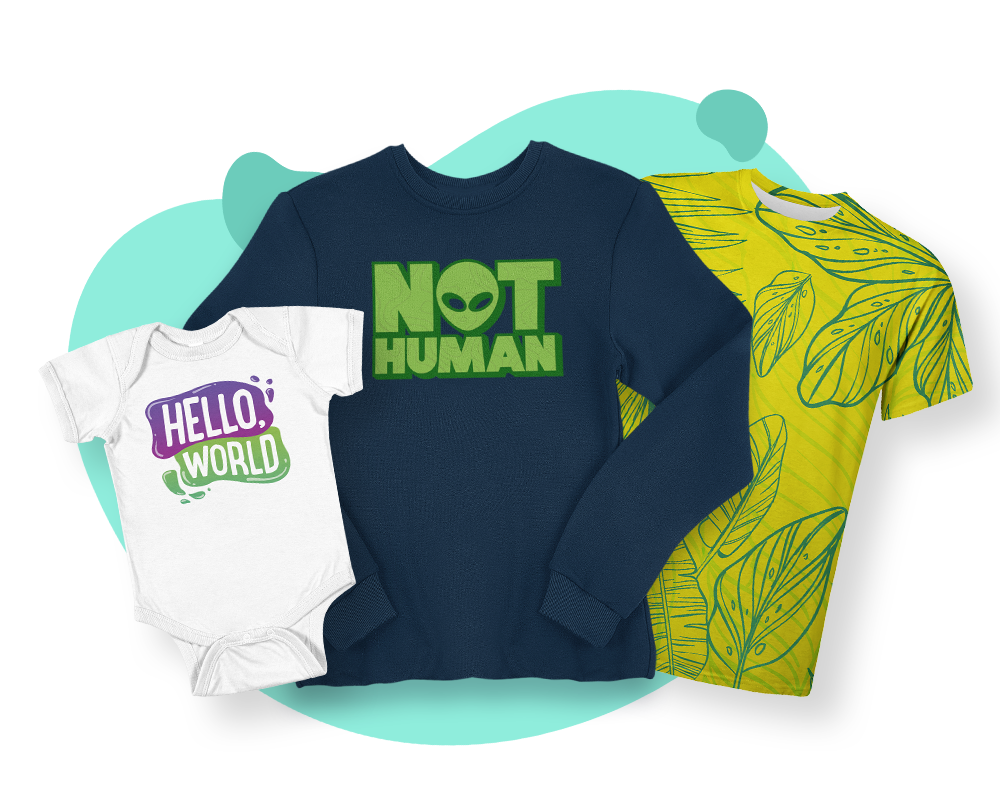 Keep it simple
Keep designs simple but play with bold elements and smartly distributed composition. Use PNG images with a transparent background, unless having a specific colored background is what you actually intended.
Portrait works best
You are better off going with large, portrait designs rather than with landscape orientations. This design composition will look best on the products from our DTG Apparel Collection. It's all about balance!
Make it funny
Humor will always be a showstopper. A well-thought-out piece will always stand out from the crowd. Relatable messages on your designs will catch your target's eye when browsing through their social media feed, and they'll be more likely to add them to their cart.
Decision fatigue is a real thing
Don't offer too many color options. Help customers decide by sticking to four colors or less for each design. Neutral colors are popular amongst buyers.
Pro tip: Don't forget to include black in your color options as black will make you the most money. Why? People love wearing black, it goes with everything, and even if it gets dirty, you can't see it!
Avoid this with your artwork
Skip gold, silver, and crystal-like designs as these designs may confuse customers. Avoid any potential misunderstandings and stick to non-textured colors. With crystal designs, for example, customers may think that the finished product will actually have crystals on them.
Spelling matters
Filter out typos and double-check designs for grammar. A mistake of this kind may cost you your social media ads. You read that correctly - Facebook will penalize you for misspelling or using vulgar language. If you are going to use humor, keep it classy!
Well, that was a sneak peek into our design recommendations for DTG Apparel. For more tips, go to our Artwork Design Guide.