When starting any business, it's crucial to know the advantages and disadvantages to avoid bad surprises. And like with anything, there are some pros and cons of dropshipping. But, in the end, what matters is knowing how to fight them. So, we made this blog to give you our best tips to tackle all the disadvantages and turn you into a successful dropshipper!
Why should you start a dropshipping business?
Maybe you got here looking for a side hustle that gives you some extra money, or you want to jump-start your career as a digital entrepreneur. The truth is dropshipping is an excellent option to earn money online easily.
Discover all about starting a dropshipping business with Chip here and find the main pros of dropshipping in the image below.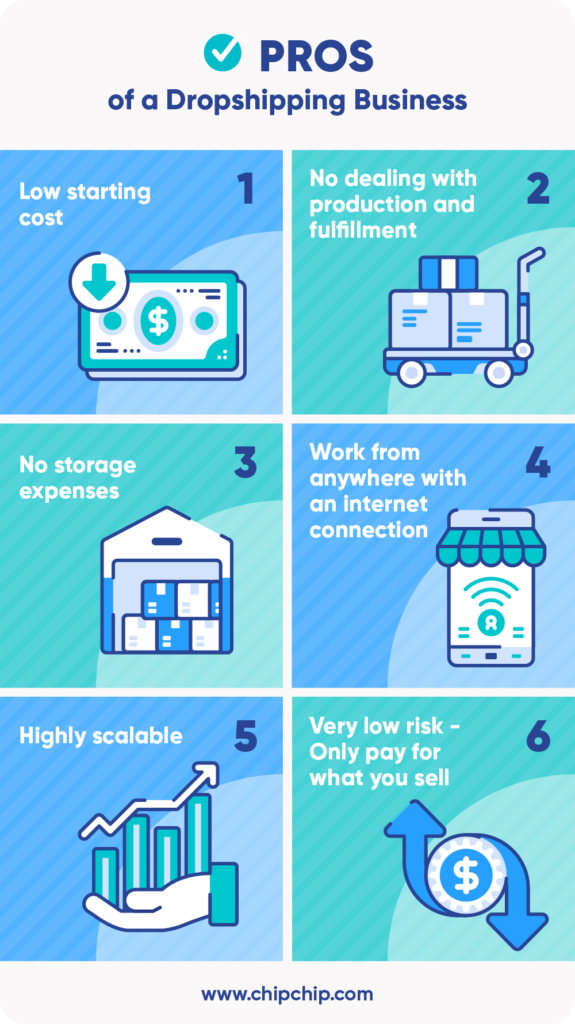 Cons of dropshipping
Like in any business, there are some cons of dropshipping you should be aware of before starting. Here are the main ones: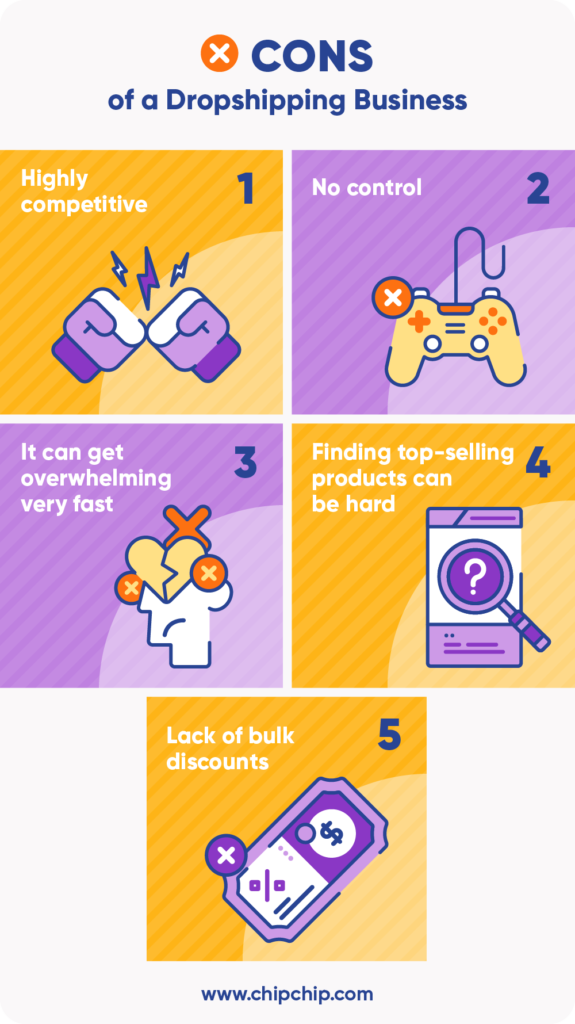 Highly competitive
Nowadays, buyers check on reviews first and then on prices. Every time you get a nice comment on a Starting a business has never been easier. With all the tools and knowledge one click away, it's very easy for anyone with internet access to have one, meaning the competition for customers' attention is fierce.

No control
When starting a business, you want everything to work out perfectly. Still, you have little to no control if you have a dropshipping business. You can't see the quality of the products that suppliers are sending; you have no control over stock shortages or slow shipping. This is why it is crucial to choose a partner that you can fully trust.
The bright side is that you only need to set up your store, focus on marketing, and trust all the fulfillment tasks are managed somewhere else.

It can get overwhelming very fast
Several platforms and apps let you set up your online store, but it can get overwhelming pretty fast with all the options. Between picking templates, setting them up, figuring payments and cashback, doing customer service, picking out products, and needing many different apps to do each thing separately... Dropshipping can get challenging and expensive pretty fast.

Finding top-selling products can be hard
With the millions of products available to dropship, it's hard to find a true hit. And when you find something that works, your competitors won't take long to notice the trend and copy your best-selling items. Leaving you with

Lack of bulk discounts
When you are a dropshipper, you're purchasing products from a supplier one product at a time, unlike other businesses where you can buy in bulk and get a discount or special price. In dropshipping, you lack the power to negotiate for lower prices. Until you generate enough sales, you're paying what the suppliers ask.

How to tackle the cons of dropshipping
Now that you know all the disadvantages of dropshipping, it's time to learn how to fight them. Here are our best tips to do so:



Create a solid marketing strategy
Marketing a dropshipping business can be a complex process, but Chip gives you all the tools to get you started. Our blog is full of Marketing Tips to help you become a power seller in no time! From how to optimize your dropship listing to step-by-step guides for developing a digital marketing strategy, we have you covered!

Provide excellent customer support
Your customers' satisfaction should be key, and treating them correctly can get you very far. Learning how to turn a one-time buyer into a lifetime customer can make a huge difference for your business, and customer service is the way to do so.

Did you know that Chip offers omnichannel, multilanguage customer support for all users? Dealing with demanding clients is in the past. We do it for you! You'll never have to worry about picking up an email ticket again, and you can be sure that Chip will take excellent care of all your clients.

Build a brand and community instead of only relying on ads
Social media ads are an excellent way to reach more people and get them to know your brand. But relying only on ads to stay on business can be dangerous with constant policy updates and algorithm changes. So it's no wonder, keeping up with these platforms becomes a full-time job.

But when you pick a niche and build a community around it, you have the opportunity to become an expert or influencer in your space. As a result, people will trust you and choose to buy your products, growing your brand more sustainably and organically.

Explore new social media channels
Stay ahead of the curve by trying different social networks. For example, have you tried TikTok to promote your business? What about Pinterest & YouTube? Well, we know it can be a lot to do all of them, but try embracing different platforms. Maybe one of your products becomes the next viral hit!
To help you, we continuously update our blog content to share with you the most current trends and tools that you can use to upgrade your social media game.

Pick a dropshipping platform that you can trust
Dealing with different suppliers can be a nightmare, so choose a platform that does all the heavy lifting for you. For example, Chip works with a global network of suppliers to offer an extensive product selection so that you can sell any dropship or POD products without worrying about fulfillment issues.

With Chip, you don't need to deal with any extra apps, all you need is a custom domain with Chip, and you'll get an optimized website and access to countless features. So say goodbye to dealing with payments and chargebacks; we take care of everything for you!
Tools to detect top-selling products
Your success is our success! So you can always count on us to provide you with the latest dropshipping product ideas and tools to help you detect trends.
And if that's not enough, we made an exclusive Chip Dropship Catalog updated regularly with the top-selling dropship products of the moment and supplier recommendations.
Now that you are aware of the pros and have the best tips to take the cons of dropshipping, are you ready to give it a try?