We all have seen the rapid growth that TikTok has had in the last few years. With 1 billion monthly active users worldwide as of September 2021, there's no wonder why every business owner is joining this exciting social channel.
If you consider how challenging it is to keep up with Facebook's ever-changing rules, it is easy to understand why you need to diversify your marketing efforts. (But don't worry, we also have Facebook ads support).
So, let's cut the talking and start learning about how you can grow your sales with the famous dance social channel!
What type of content will you see on TikTok?
The content you can find on TikTok is highly diverse. Catchy re-written songs, product reviews, recipes, travel tips, makeup tutorials, all kinds of storytime, advice from all ranges of professions… there's something for everyone! The best part? All of them can go viral quickly!
And when we say quickly, we're serious. TikTok's algorithm allows businesses to reach their niche audiences fast, sometimes without even a single hashtag in the caption.
Who's using TikTok?
Although GenZ forms the biggest user base on TikTok, you can also find people between 20 and 40 years old enjoying the app.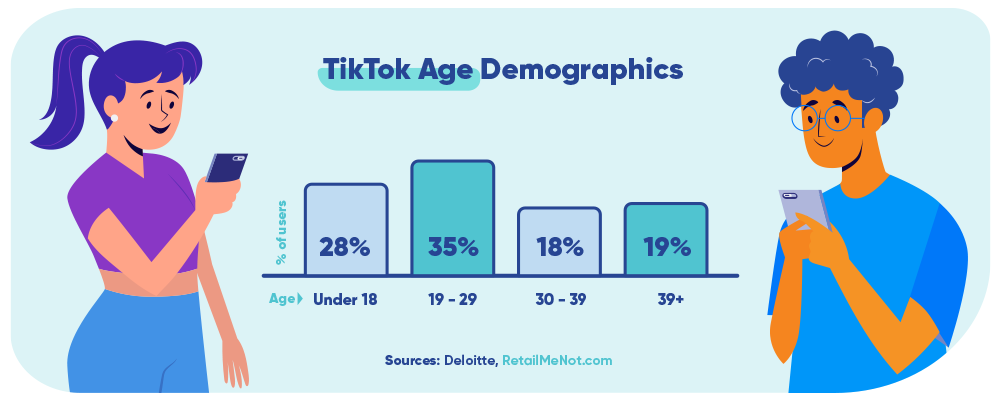 What does this mean for your business? Well, it means that with the right content, you can reach your audience no matter the age.
How to use TikTok for your dropshipping business
Consider these tips for creating winning content for your dropshipping store:
Keep it real
On TikTok, authenticity is key. That's why we highly recommend you order your dropshipping products for yourself so you can create videos with them.
Show your product's use, its features, and its unique characteristics. What matters most is making it special and unique. Focus on why your viewers should buy your product.
However, when talking about authenticity, don't limit yourself to your products. Instead, share your victories and struggles as a Chip store owner, your story, or even some tips! People love small business owners, so don't hesitate to show your smile to the camera!
Be funny
Being funny is more challenging than you think, but it also gives you endless opportunities. Is your cat suddenly playing at your workstation? Time to grab the camera!
Remember: Focus on the story behind you and your store. Sales will start arriving fast!
Join audio trends
TikTok audios are key to going viral! You just need to stay up to date with the latest trends and create content accordingly. But, of course, just using audio trends doesn't mean you'll go viral, so keep in mind that you'll need to link your product or store to the trend.
Consider how people use the audio (Is it for storytime? Customer service tales? Product launches?) and think if it's relevant for you.
Connect with your audience
Once you've built your audience and have a strong following, prepare question and answer videos, live sessions, duets, and video replies to stay connected with your audience.
If you also show your gratitude towards their support of your business, they'll stay engaged!
For this strategy, you can have videos with no audio and be more relaxed.
Post frequently
Content can quickly become viral on TikTok, but this also means you need new content regularly; otherwise, your account can easily be forgotten. Stay top-of-mind with videos of your daily routines, your struggles as a seller, or interesting stories. You'll be surprised how many people are engaged by horror customer service stories!
Remember, it is not only about selling but creating community too!
Reach influencers
Influencer marketing is also present on TikTok, so consider reaching out to influencers relevant to your niche audience and offering them a collaboration.
Ready to jump into TikTok?
Now that you know a trick or two about creating content for TikTok, remember to:
Happy dancing!