Welcome to the fascinating world of online video! Over the last decade, YouTube has positioned itself as one of the most important entertaining communication channels and essential for every business marketing strategy.
Regardless of its huge audience, it can be challenging to engage with viewers sometimes. Whether you're getting started on the platform or are wanting to grow your community, keep scrolling to get more insights and tips to build a successful channel!
Why you should be on YouTube
With two billion active users worldwide, this giant is the second largest search engine as it combines the effectiveness of SEO with a dynamic content format like video. This makes it attractive to creators and consumers alike, as they can easily find a wide variety of videos that teach or entertain them.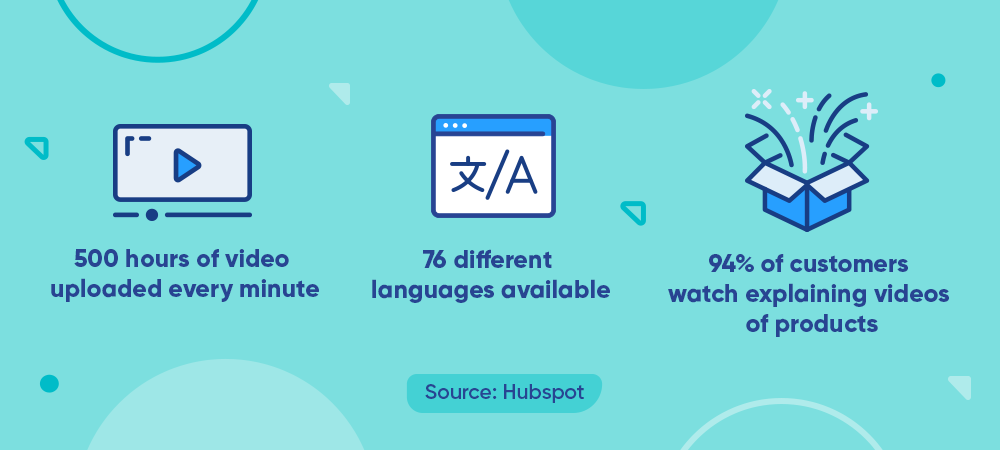 As you can see above, nearly every buyer checks on the specs and reviews of products before purchasing them. We hope you're taking notes of this!
How to create engaging videos
Knowing what your audience is looking for can help you create videos that are related to your products while mixing in other educational or entertaining elements that boost engagement: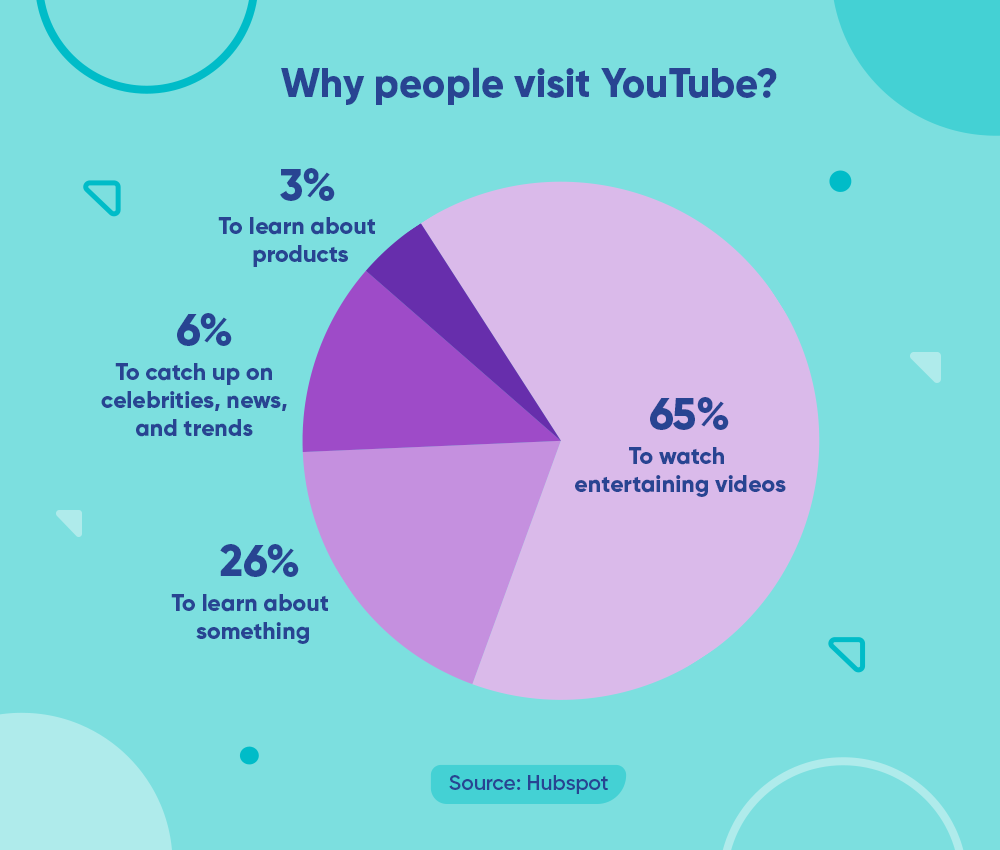 Video suggestions to work on
Product reviews
Nowadays, customers are looking for the best options when it comes to online purchasing. Sharing reviews on YouTube is an excellent way to showcase the functionality and design of your items while driving traffic to your dropship store.
Here's an example from Epicurious, where an expert designer reviews five modern kitchen gadgets: 
✍? Pro Tip: Consider ordering some of your products and share a fun review! This way, you create excitement by showing your customers what they'll be receiving when buying from your business.
Educational content
Tutorials and hacks can keep an audience engaged for hours. How-to videos are the second most popular kind of content on the platform. Take your time to think of topics related to your products and talk about them or create a playlist with step-by-step videos that include your goods.
Check on this video from Ayesha Mariah, where she teaches her subscribers how to create the perfect eyebrows using an eyebrow stamp stencil. 
✍? Pro Tip: These videos are perfect when offering beauty and health products, tools, and gadgets!
Entertainment videos
Consider that more than half of viewers are looking for entertaining content. This is the perfect opportunity to start selling without "actually selling." Be clever and try to subtly incorporate your products with an entertaining series of videos.
Relaxation videos have blown up on the internet recently, like this one from Sand Tagious, a channel with more than 4 million followers:
✍? Pro Tip: Keep an eye on trends and decide which ones you can join! For example, ASMR videos work great if you offer anti-stress products on your Chip store.
Other types of videos you can try
Customer testimonials – Ask your customers to share their experience with your store.
Interviews and collabs – Invite a special guest to try your product or give a workshop.
YouTube lives – Adding new items to your store? Have a launching party.
Video blogs – Upload relatable content videos with tips or storytimes.
Unboxings – Share the unpackaging of your product to build expectancy!
Have fun trying out these ideas and pick which work best for your community! Remember, all of them have to be focused on your brand and products.
When filming, consider the following: 
Have a script ready
It's not only turning on the camera to start filming, you must have a shooting plan! Here are a few guidelines to follow when creating yours:
Set your goal – What are you trying to achieve with this content? Is it traffic to your store or subscribers on your channel? Every video should be aiming for a single objective.
Build a storyboard – Determine the video length and divide it into scenes. Describe them (time of the day, duration, mood and clothes of the characters, camera angle) and write your lines for each.
Focus on the details – Use props and additional elements to upgrade your filming game. Make sure your background is not distracting the audience so that they can focus on the content.
A script is the backbone of your video, so try to be as descriptive and detailed as you can. This way, when you're shooting your scenes, you know exactly what you have to do and what's coming next.
Video quality matters
YouTube is all about visuals, and with more competition in the realm, you have to step up:
Use a tripod and microphone – This helps keep your camera steady and allows your voice to hear clearly during the recording. Videos with a lot of movement and fuzzy sounds often get fewer views.
Shoot from different angles and distances – Keep the content dynamic by playing with close-ups and wide shots to keep your audience entertained.
Take advantage of editing tools – There are a ton of options you can choose from to edit your videos. Consider adding some image effects and sounds to give it a more professional touch.
Ways to promote your channel
Now that you know how to record and edit a winning video, it's time to talk about its distribution. Just as any other social media channel, there are two ways you can promote your content, organically or paid.
Depending on your budget, preferences, and marketing strategy, you can make the most out of these tools:
Social media – Use your Facebook, Instagram, Pinterest, and Twitter accounts to share your most recent uploads! Inform your customers what they'll find on your channel or when to expect a new video. 
Email marketing – Add a button that redirects to your channel or a video directly. 
YouTube Ads – Video discovery ads help you boost your content on the platform's homepage, search results, and related videos. 
Collaborations – Invite an expert or work with an influencer that is relevant to your community. It helps you get a higher reach and exposure and, of course, more subscribers and likes to your videos.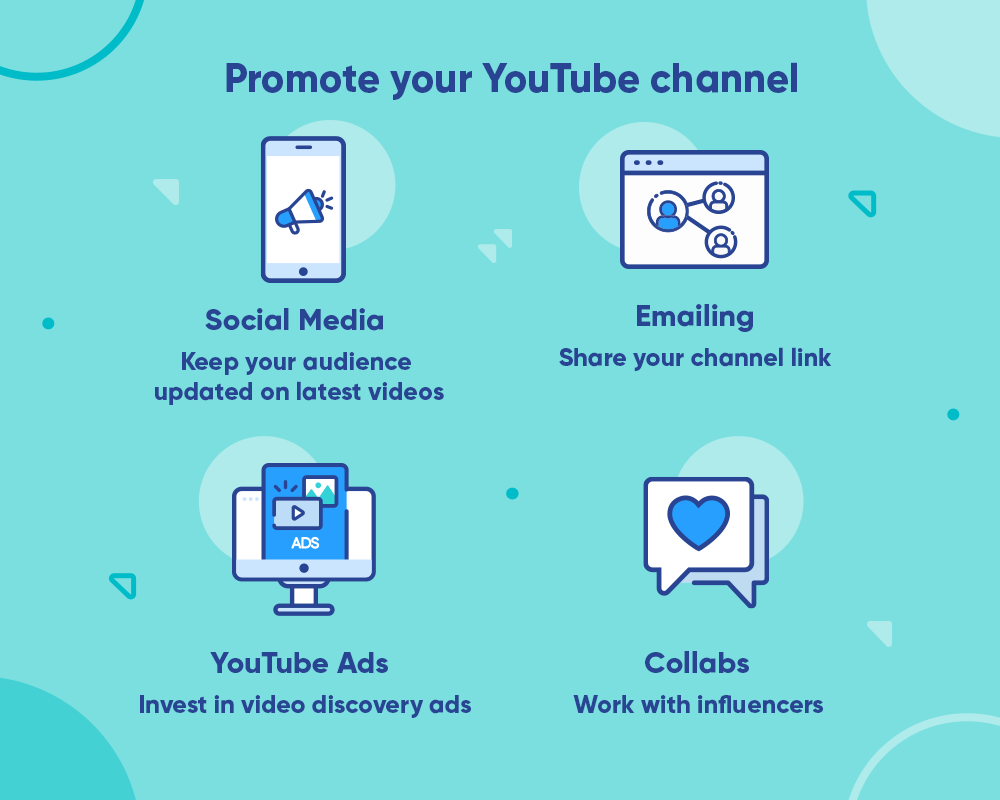 Bulletproof marketing tips
Last but not least, here are some bonus tricks to improve your YouTube game:
Always keep your audience in mind – It's important to keep all your content focused on what your niche likes. When coming up with new video ideas, think about what they want to watch.
Optimize for SEO – Use keywords your audience might search for and include them in both your channel and video descriptions.
Be consistent – Brand your channel and keep consistency on all your videos and across your social media accounts.
Create playlists – Organize your videos in separate playlists so that subscribers can find all your content concentrated in one place.
Feature real people – Project a more warm, natural approach by including a host on your videos. This helps you give a face to your brand and generates trust among your customers.
✍? Pro Tip: Check out our marketing tips for Dropship stores for more strategy ideas.
We're sure you'll be applying these tips and continue to test and optimize your channel to successfully conquer the world of YouTube and make your community grow.