AliExpress product descriptions aren't always accurate or grammatically correct. However, by optimizing your dropship listing titles, descriptions, tags, and images, you can improve your chances of getting discovered by your customers and being favored by search engines.
Learn how to optimize and prepare your dropship listings for success!
Dropship listing title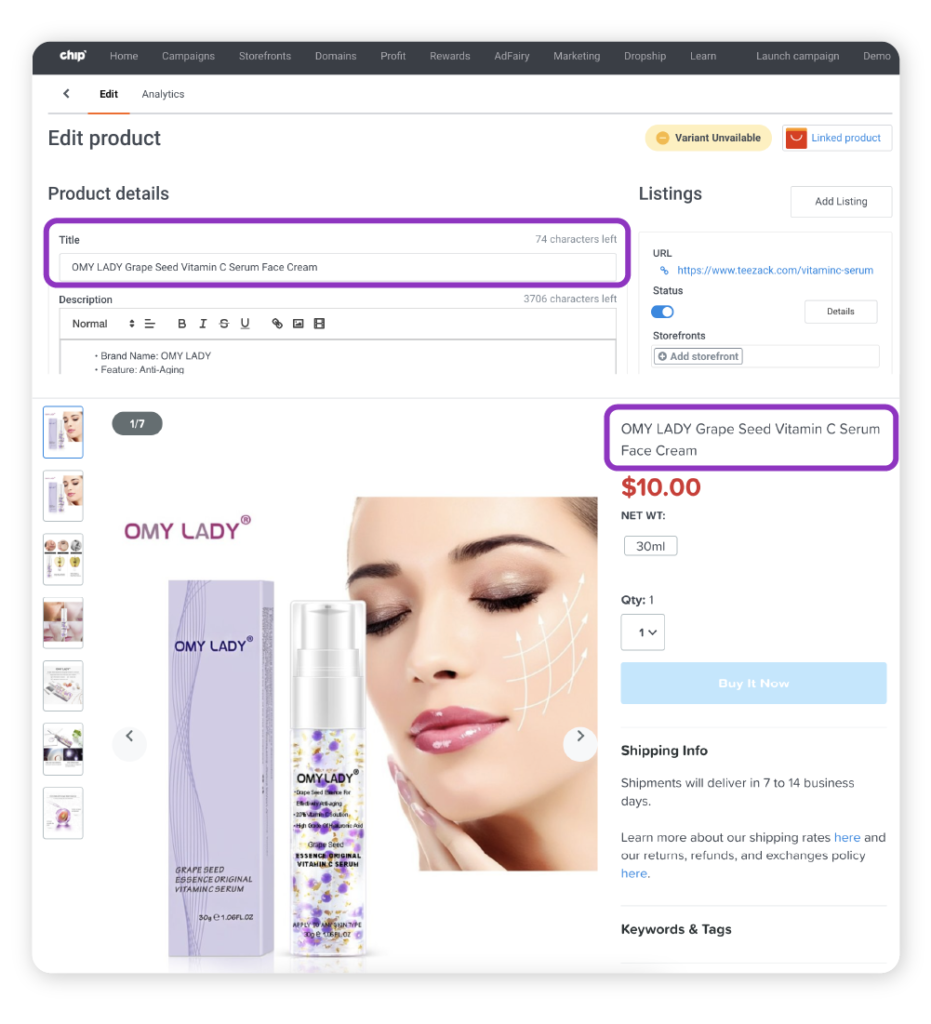 When naming your dropship listings, consider:
Product titles can include up to 120 characters, including spaces.
Similar to POD campaign titles, Chip only allows alphanumeric characters, hyphens, colon, and apostrophes.
Special characters cannot be used for SEO and are banned from Google Shopping as some do not convert or display appropriately in databases or web browsers.
Including high-volume keywords in your product titles.
Dropship product images best practices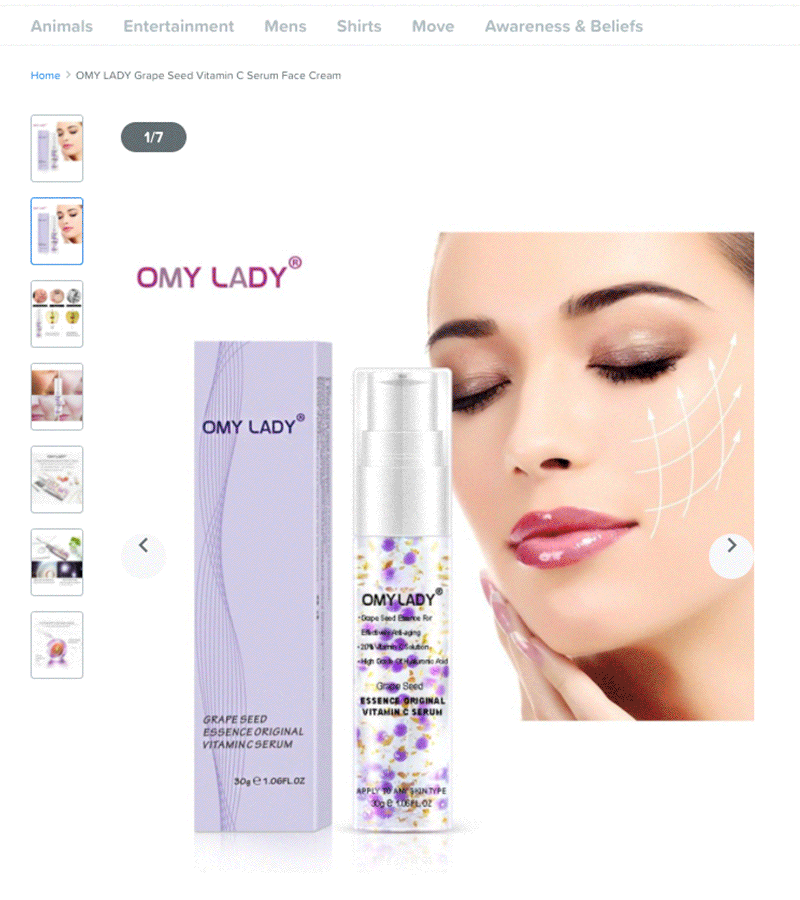 Test different default images: When you import an AliExpress product to Chip, you'll be able to see a variety of product images from the supplier. You can play with the image mix to see which one gets the highest conversion rate.
Double-check variant images: Some AliExpress products will offer several product variants. Make sure product images are correct and correspond to the variant you have selected to add to your dropship listing.
Remove low-quality images: Keeping your product images high-quality is extremely important. You only get one shot with first impressions, so make sure your product looks legitimate and trustworthy with high-quality imagery.
Product description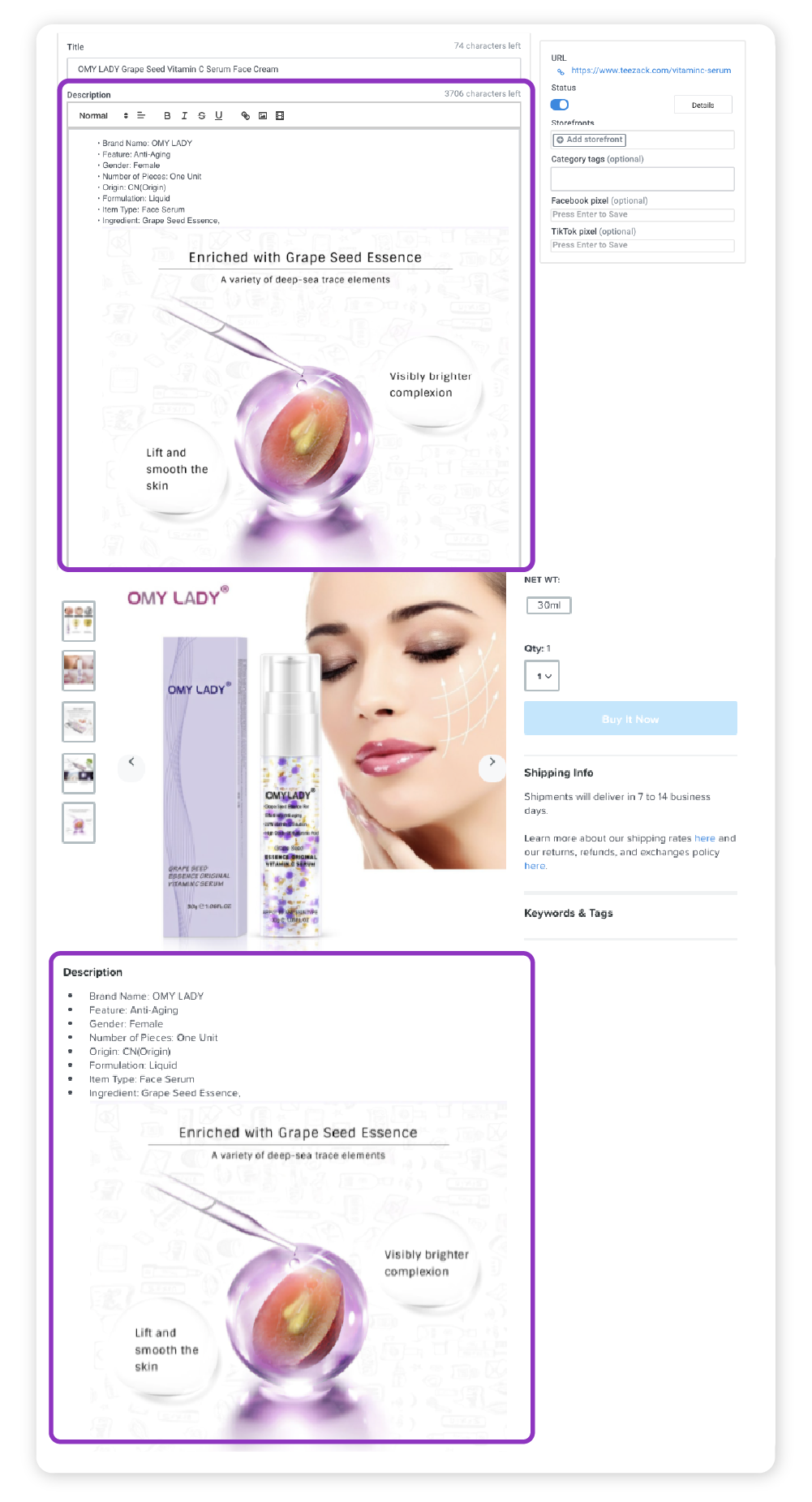 Write your own copy: Whatever you do, do not copy-paste AliExpress product descriptions. Of course, you will need it to state your product's features, but make sure you review and rewrite and edit your product descriptions to avoid misspellings and unorganized information.
Include high-resolution visuals: Insert relevant images into your description box to give potential customers extra details about your product's benefits, applications, and how to use it.
Include sizing guide: Consider that some AliExpress products will require a comparative sizing guide to help your customers choose the ideal product for their needs.
Remove non-relevant details: When editing your product description, make sure you remove information such as shipping destination, payment method, quality, and refund guarantee that may lead to increased claim rate and withholding your profits.
Coming soon: Include a custom text order instruction to personalize your dropship products and deliver unique value to your customers.
Don't forget to assign related tags to your dropship listings. Tags help customers navigate and explore your ecommerce store. You can name your tags by themes, trends, niches, styles, holidays. You can get as creative as you want!
In the example of this Vitamin C Serum Face Cream, you could consider tags like "Beauty," "Skincare," and "Makeup."
Upsells
Upsell print-on-demand products with dropship products to increase your selling opportunities across the board. Upsells will help you increase your average order volume and will deliver greater value to your customers. Check out our Upsells blog to learn more.
Optimize your dropship listing
Taking the time to optimize your listings will increase your products' exposure and make your dropship store more SEO-friendly. Find the trending products on AliExpress to add to your ecommerce store!
For print-on-demand products, check out our How to Optimize your Campaign Details blog post.