Pride Month has been celebrated every year since 1970 as a tribute to those involved in the Stonewall Riots. It is a date when everyone embraces who they are and lets everyone know it with a lot of style and colors! 
There are a lot of celebrations, parades, parties, and events that attract millions of people from all over the world. But, for those of you who were asking when is pride month 2022, you should know that it's during the whole month of June!
That's why you are just in the perfect time to start preparing your ecommerce store with meaningful and worthy merch that can attract many customers to use them during this date. 
Check out these tips to get started:
1. Prepare your pride month calendar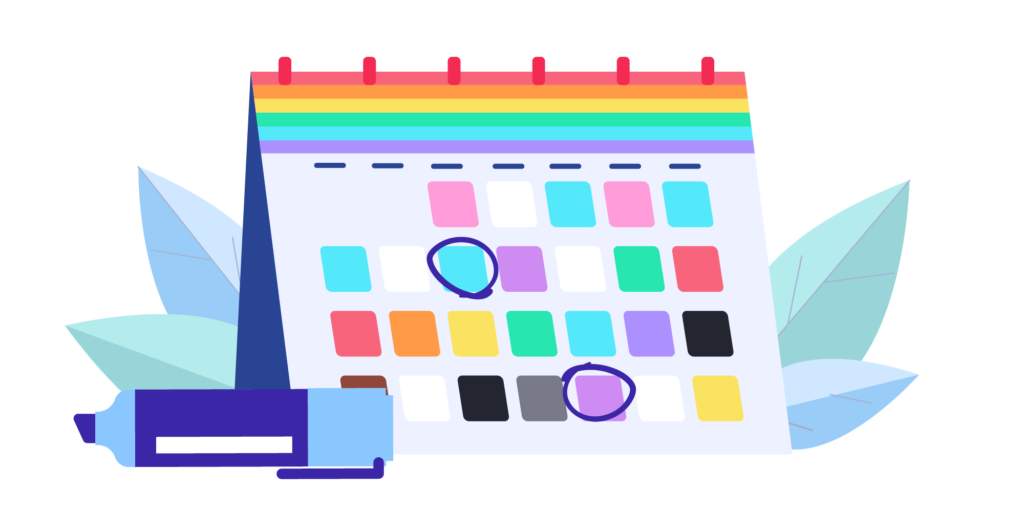 Planning is the key to success.
You can take advantage of many important events and holidays throughout the year to promote exceptionally customizable print-on-demand items that can easily have new innovative and creative designs.
So, we recommend that you start creating a calendar for this celebration, defining which dates you will begin to publish your products, advertise the products on social media, and even create Facebook campaigns to promote them.
This calendar will help you get your products seen more efficiently and reach the right market.
2. Explore the possibilities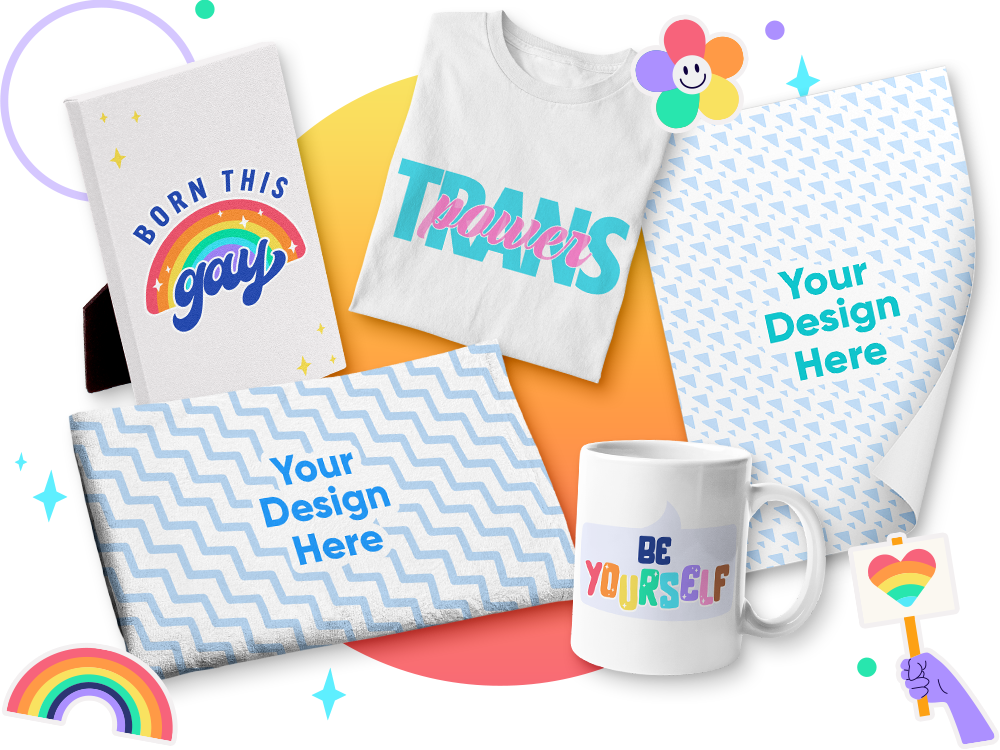 The possibilities are endless!
It doesn't matter if you haven't previously created any design or uploaded any dropshipping items related to this celebration. The important thing is that you explore the market and try new techniques.
Dare to try new products! For example, did you know that the POD catalog has customizable necklaces? Or sticker packs where you can add amazing quotes?
Even if you have never tried this niche, you can dedicate a whole new category to this festivity and you will see that it can be successful!
3. Include new merch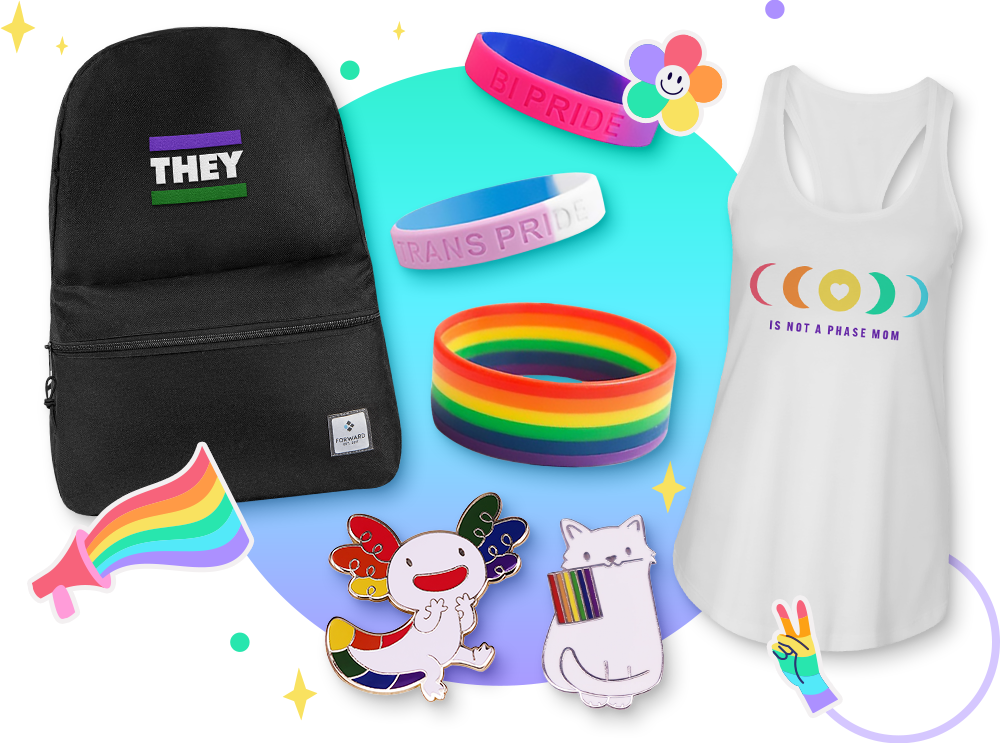 It's time to test new merchandise in your store.
Here are some of our favorite POD products that can make a perfect match with pride month:
Here are also some recommendations from dropshipping products that you must totally add to your store for celebrating pride month:
4. Make it all about colors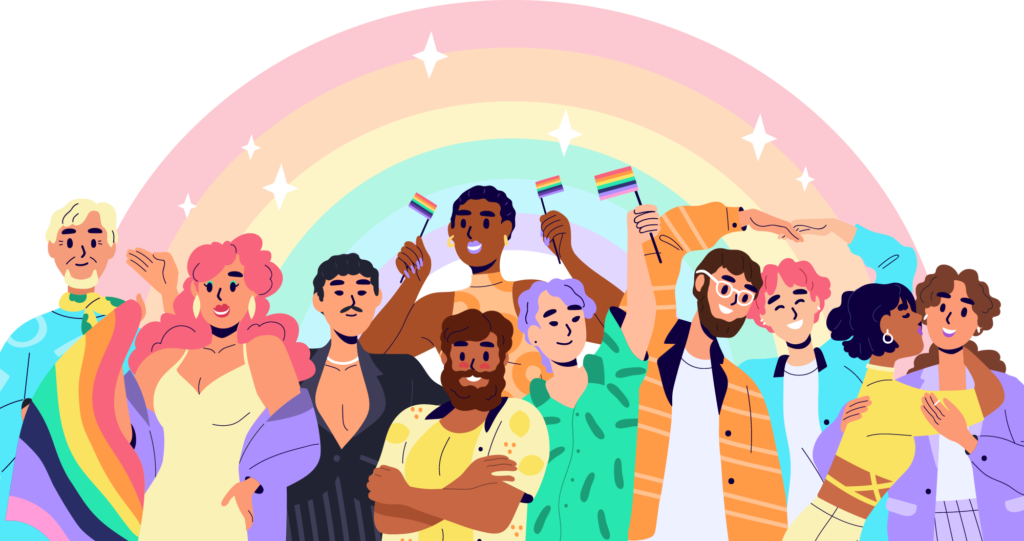 During pride month, one of the essential things to keep in mind for your online store is to use as many colors as possible!
Don't be afraid to keep adding color to your pride month shirts. Think big, think rainbow, think messages with lots of brightness and optimism.
After all, this date is all about love!
5. Get deep into Ads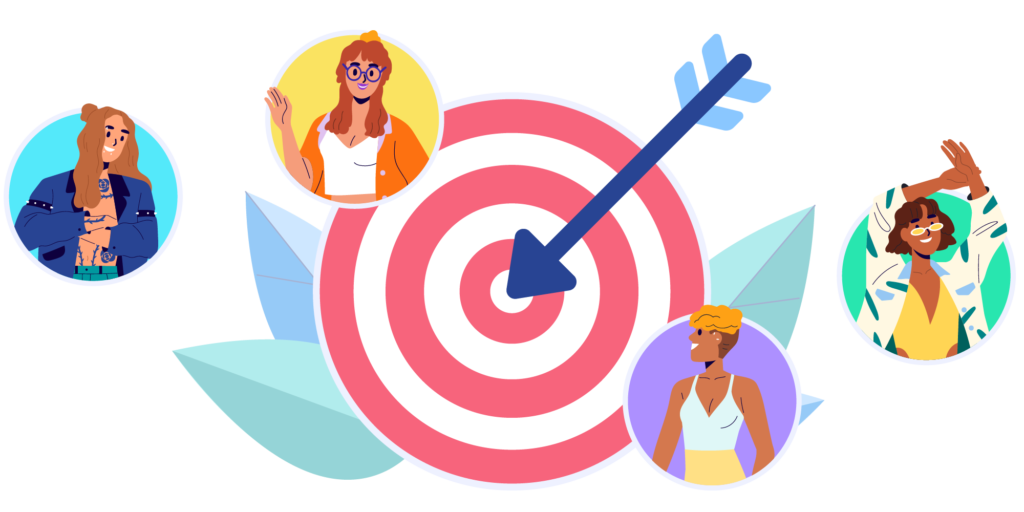 The best way to promote your products is to advertise them on different channels or social networks.
If you haven't had the opportunity to create campaigns on Facebook, Instagram, Pinterest, creating email campaigns, or even TikTok, this is an ideal opportunity to give it a try!
Remember that hundreds of companies are trying to sell products similar to yours, but the way you communicate and promote your products can help you reach your potential market and achieve sales!
Now that you have more tools to add Pride month themed products to your store, let's recap the most important aspects:
- Be friendly and fun
- Choose lots of colors
- Try new markets
- Plan your communication strategy well
- Try new products, both dropshipping and POD products
- Don't be afraid to experiment
But most important of all, enjoy this month full of love and harmony. Finally, we wish you the best of success in your sales! 

Chào mừng bạn đến với thế giới video trực tuyến hấp dẫn! Trong một thập kỷ qua, YouTube đã định vị thương hiệu là một trong những kênh truyền thông giải trí quan trọng và cần thiết nhất cho mọi chiến lược marketing của doanh nghiệp.
RĐôi khi việc thu hút tương tác trên Youtube vẫn khá thách thức, mặc dù nền tảng này có lượng người xem khổng lồ. Vậy nên dù bạn vừa bắt đầu sử dụng hay đang muốn phát triển cộng đồng, hãy tiếp tục theo dõi các insights và mẹo dưới đây để xây dựng kênh Youtube thành công nhé!
Lý do nên sử dụng Youtube
Với hai tỷ người dùng hoạt động trên toàn thế giới, gã khổng lồ này đứng thứ 2 về công cụ tìm kiếm khi kết hợp sự ưu việt của SEO với định dạng nội dung động như video. Điều này khiến Youtube trở nên hấp dẫn đối với cả các cá nhân sáng tạo cũng như người tiêu dùng, vì họ có thể dễ dàng tìm thấy nhiều video mang tính giáo dục hoặc giải trí.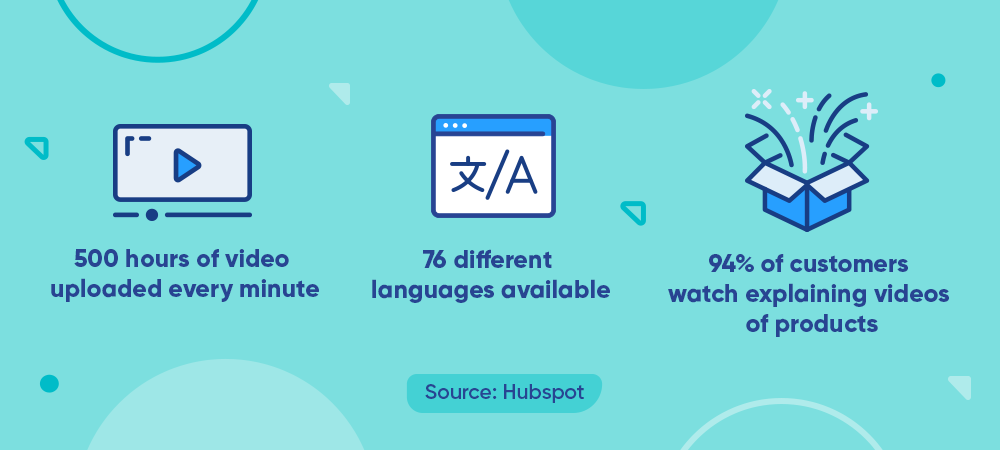 Như bạn đã thấy, hầu như mỗi khách hàng đều kiểm tra thông số kỹ thuật và đánh giá sản phẩm trước khi mua. Chip hi vọng bạn hãy lưu ý điều này!
Cách để tạo ra các video tương tác cao
Hiểu rõ nhu cầu khách hàng đang tìm kiếm sẽ giúp bạn tạo ra những video liên quan đến sản phẩm đồng thời lồng ghép tính giáo dục hoặc giải trí vào để đẩy lượt tương tác: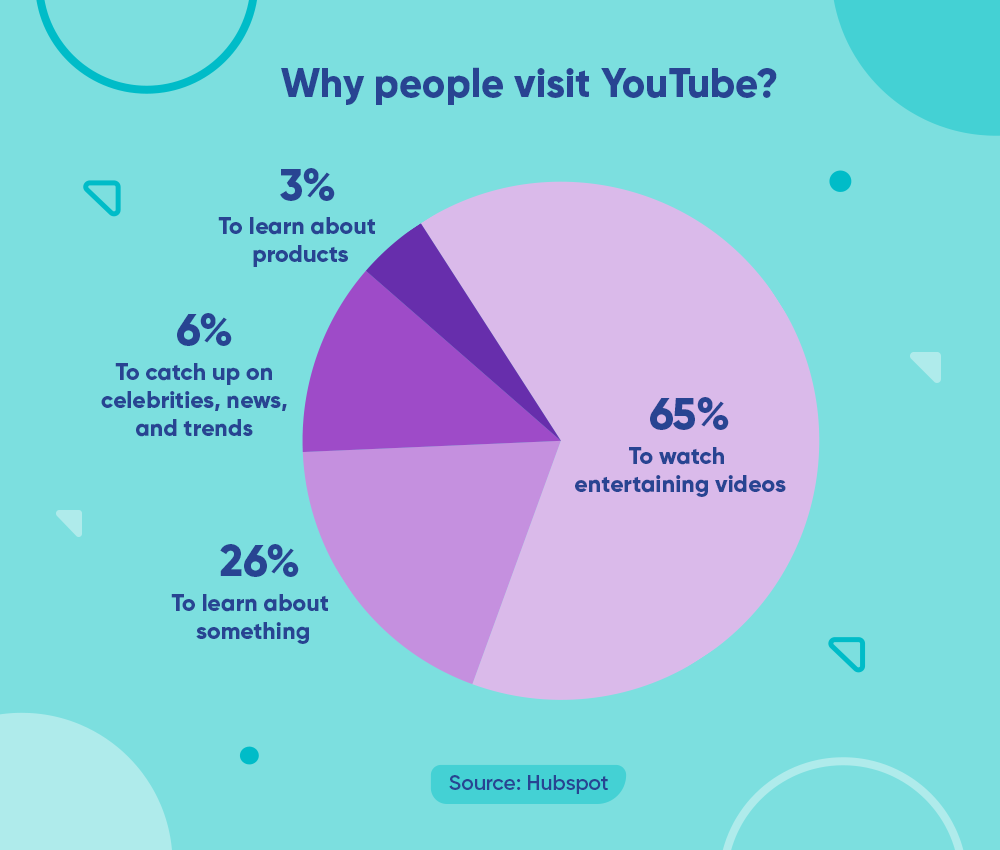 Gợi ý nội dung video
Đánh giá sản phẩm
Ngày nay, khách hàng luôn tìm kiếm sự lựa chọn tốt nhất khi mua sắm online. Chia sẻ bài đánh giá trên YouTube là một cách tuyệt vời để giới thiệu chức năng và thiết kế của sản phẩm, đồng thời thúc đẩy lưu lượng truy cập đến cửa hàng dropship.
Dưới đây là ví dụ của Epicurious, một chuyên gia thiết kế kỳ cựu đã đánh giá năm loại kitchen gadget (thiết bị bếp) hiện đại:
✍? Pro Tip: Hãy thử tự order một vài sản phẩm của bạn và chia sẻ các đánh giá hài hước nhé! Bằng cách này, bạn sẽ khơi gợi sự hứng thú cho khách hàng bằng cách cho họ thấy những gì sẽ nhận được khi đặt hàng từ bạn đấy.
Nội dung mang tính giáo dục
Các hướng dẫn và thủ thuật luôn là đề tài thu hút khán giả. Những nội dung này xếp thứ hai về độ phổ biến trên nền tảng. Vậy nên hãy suy nghĩ về các chủ đề liên quan đến sản phẩm,sau đó nói về chúng hoặc tạo danh sách phát với các video hướng dẫn từng bước cho sản phẩm đó nhé.
Xem ngay ví dụ video của Ayesha Mariah cách cô ấy hướng dẫn sử dụng khuôn kẻ chân mày để vẽ một cặp chân mày hoàn hảo nhé.
✍? Pro Tip: Những video này phù hợp áp dụng cho các sản phẩm làm đẹp và sức khỏe, công cụ và thiết bị thông minh đấy!
Video giải trí
Hơn một nửa người xem đều tìm kiếm những nội dung mang tính giải trí. Đây là cơ hội tuyệt vời để bạn bắt đầu bán như không "thực sự bán hàng". Hãy khéo léo kết hợp các sản phẩm với chuỗi video giải trí một cách tinh tế nhé.
Những video giải trí đã gây cơn sốt trên Internet gần đây, như video này của Sand Tagiousn - kênh với hơn 4 triệu lượt theo dõi:
✍? Pro Tip: Luôn theo dõi các xu hướng và chọn cho mình nội dung phù hợp nhé! Ví dụ, thể loại video ASMR cực kỳ phù hợp với các sản phẩm anti-stress trên store Chip đấy.
Những loại video khác bạn có thể thử
Customer testimonials (Khách hàng chứng thực) - Hãy mời khách hàng chia sẻ trải nghiệm với store của bạn.
Phỏng vấn và hợp tác - Mời một vị khách đặc biệt dùng thử sản phẩm của bạn hoặc tổ chức một buổi workshop.
Livestream trên YouTube - Thêm sản phẩm mới vào cửa hàng? Vậy hãy tổ chức livestream ra mắt nhé.
Video blog - Tải lên các video có nội dung liên quan với các tips hoặc chuyên mục tâm sự.
Unboxing - Chia sẻ video đập hộp sản phẩm sẽ tăng hứng thú cho khách hàng đó!
Hãy thử thỏa thích và chọn ý tưởng phù hợp nhất cho cộng đồng của bạn nhé! Và đừng quên tất cả video đó đều nên tập trung vào thương hiệu và sản phẩm đấy.
Những lưu ý khi dựng phim:
Chuẩn bị kịch bản
Không phải chỉ cần bật máy là đã có thể quay video đâu nhé, bạn cần phải chuẩn bị một kịch bản quay nữa đó. Dưới đây là một số hướng dẫn:
Lập mục tiêu: Bạn muốn nhận được gì từ những nội dung đó? Lượng truy cập đến cửa hàng hay người theo dõi kênh? Mỗi video nên có một mục đích nhất định.
Xây dựng storyboard (bảng phân cảnh): Xác định thời lượng và chia cảnh cho video. Mô tả cụ thể (ngày quay, thời gian, tâm lý, quần áo cho nhân vật, góc máy quay) và viết chi tiết cho các phần đó
Tập trung vào chi tiết: Sử dụng đạo cụ và các yếu tố bổ sung để nâng cấp phim trường. Hãy đảm bảo nền của bạn không làm khán giả xao nhãng và họ có thể tập trung vào nội dung.
Kịch bản là cốt lõi của video, vì vậy hãy cố gắng diễn đạt và chi tiết nhất có thể nhé. Bằng cách này, khi quay bạn sẽ biết chính xác mình cần làm gì và tiếp theo nên như thế nào đấy.
Chất lượng video
YouTube chỉ xoay quanh việc hiển thị hình ảnh và với sự cạnh tranh ngày một nhiều trong lĩnh vực này bạn nên:
Sử dụng chân máy và micrô - Điều này giúp giữ cho máy ảnh của bạn ổn định và ghi âm thanh được rõ hơn. Những video bị nhòe và âm thanh nhỏ thường không nhận được nhiều lượt xem.
Quay nhiều góc máy và khoảng cách khác nhau - Để nội dung luôn sống động,hãy thay đổi góc quay cận cảnh và góc ảnh rộng để thu hút khán giả nhé.
Sử dụng các công cụ chỉnh sửa - Có rất nhiều lựa chọn để chỉnh sửa video,bạn nên dùng một số hiệu ứng hình ảnh và âm thanh để mang lại vẻ chuyên nghiệp hơn cho video nhé.
Cách quảng cáo cho kênh
Sau khi quay và chỉnh sửa video hoàn chỉnh, đã đến lúc bạn tìm cách quảng bá các video này. Cũng như những kênh truyền thông khác, có hai cách để quảng cáo nội dung, đó là không mất phí hoặc mất phí.
Tùy thuộc vào ngân sách, sở thích và chiến lược tiếp thị, bạn có thể tận dụng tối đa các công cụ sau:
Mạng xã hội - Sử dụng tài khoản Facebook, Instagram, Pinterest và Twitter để chia sẻ các video tải lên gần đây nhất của bạn! Thông báo cho khách những sản phẩm họ sẽ tìm thấy trên kênh hoặc thời điểm ra mắt video mới.
Tiếp thị qua email - Thêm nút chuyển hướng trực tiếp đến kênh hoặc video của bạn.
Quảng cáo trên YouTube - Quảng cáo khám phá video giúp bạn quảng cáo nội dung của mình trên trang chủ của nền tảng, kết quả tìm kiếm và các video có liên quan.
Cộng tác - Mời một chuyên gia hoặc làm việc với influencer có liên quan đến cộng đồng. Điều đó giúp bạn mở rộng phạm vi tiếp cận cũng như tăng khả năng hiển thị, và tất nhiên, nhiều người đăng ký và thích video của bạn hơn.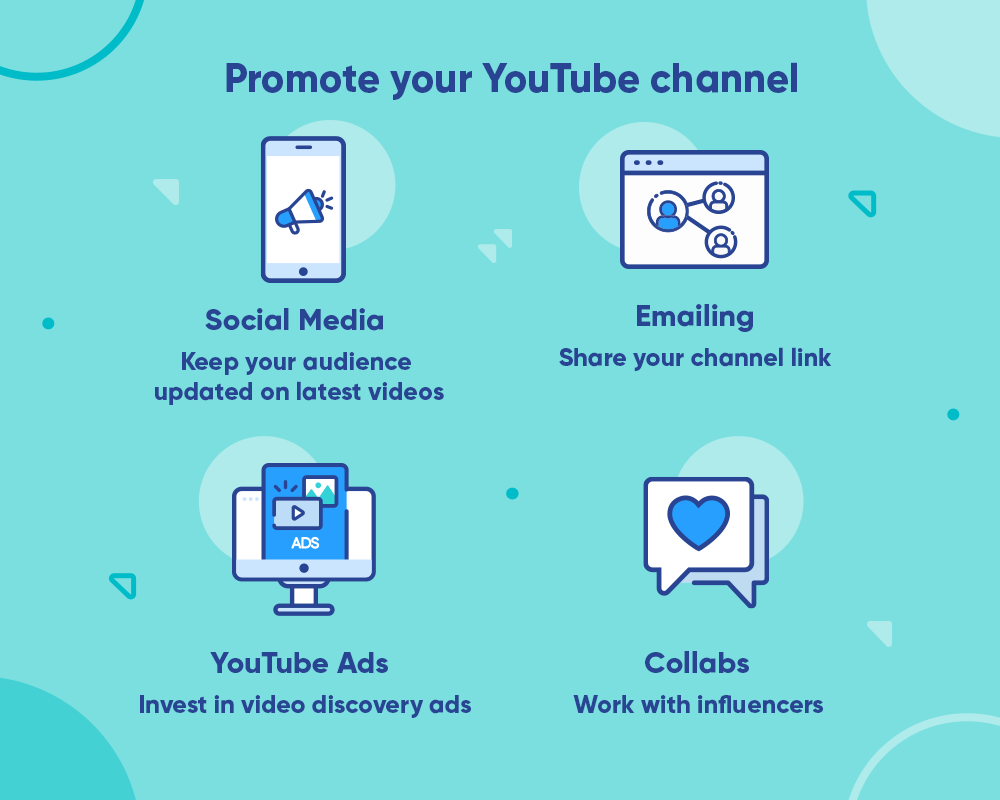 Bí kíp marketing bất bại
Và cuối cùng, Chip gợi ý thêm một số mẹo giúp bạn cải thiện kênh YouTube:
Luôn tập trung vào khán giả - Tập trung nội dung vào niche là rất cần thiết. Vậy nên khi nảy ra ý tưởng video mới, hãy nghĩ đến điều mà khách muốn xem nhé.
Tối ưu hóa SEO - Sử dụng các từ khóa mà khách hàng có thể tìm kiếm và đưa vào mô tả kênh và video của bạn.
Nhất quán - Xây dựng thương hiệu cho kênh, đồng thời duy trì tính nhất quán trên tất cả các video và trên các tài khoản mạng xã hội của bạn.
Tạo danh sách phát - Sắp xếp video thành các danh sách phát riêng biệt để người theo dõi kênh có thể tìm thấy tất cả nội dung ở cùng danh sách.
Làm nổi bật hình ảnh người thật - Một người dẫn chương trình sẽ làm video trở nên tự nhiên và dễ chịu. Điều này giúp bạn thể hiện bộ mặt cho thương hiệu và tạo niềm tin cho khách hàng.
Xem ngay các tip marketing dành cho store Dropship để có thêm ý tưởng chiến lược.
Hãy áp dụng các tip trên, tiếp tục thử nghiệm cũng như tối ưu hóa kênh để chinh phục thành công thế giới YouTube và phát triển cộng đồng nhé.

Welcome to the fascinating world of online video! Over the last decade, YouTube has positioned itself as one of the most important entertaining communication channels and essential for every business marketing strategy.
Regardless of its huge audience, it can be challenging to engage with viewers sometimes. Whether you're getting started on the platform or are wanting to grow your community, keep scrolling to get more insights and tips to build a successful channel!
Why you should be on YouTube
With two billion active users worldwide, this giant is the second largest search engine as it combines the effectiveness of SEO with a dynamic content format like video. This makes it attractive to creators and consumers alike, as they can easily find a wide variety of videos that teach or entertain them.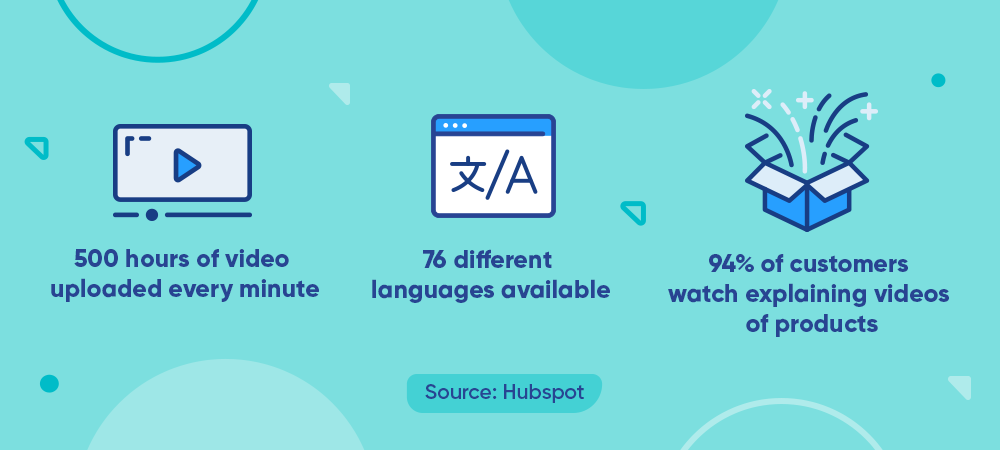 As you can see above, nearly every buyer checks on the specs and reviews of products before purchasing them. We hope you're taking notes of this!
How to create engaging videos
Knowing what your audience is looking for can help you create videos that are related to your products while mixing in other educational or entertaining elements that boost engagement: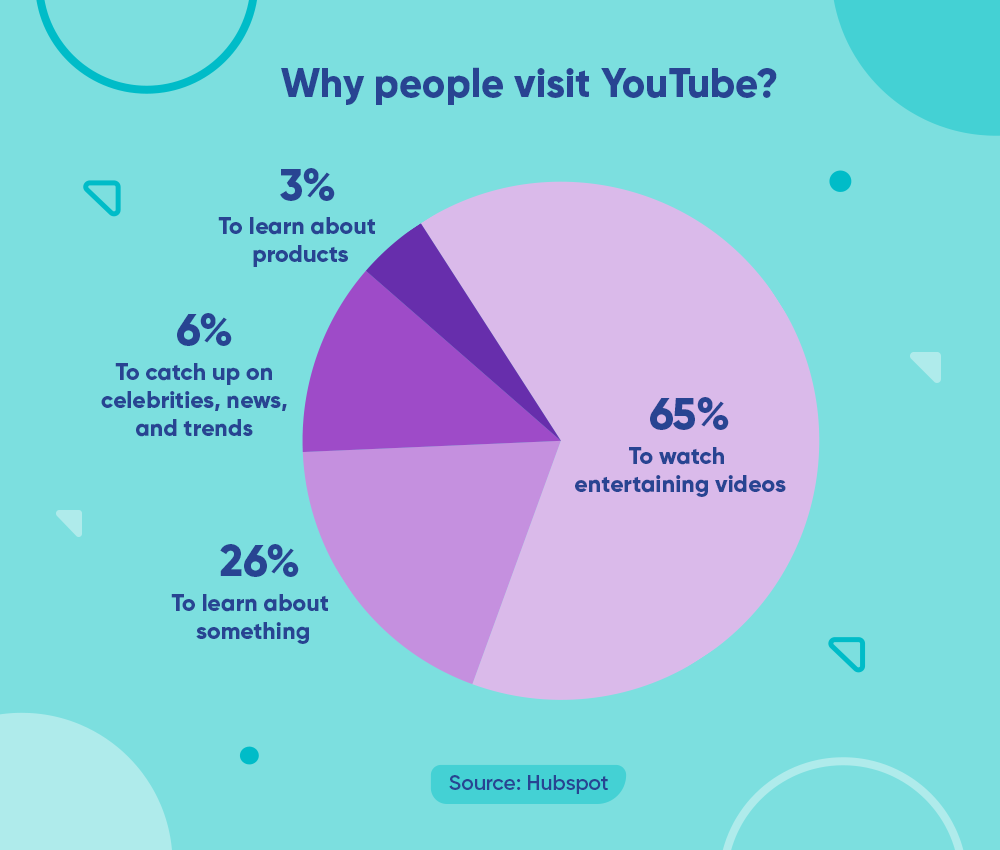 Video suggestions to work on
Product reviews
Nowadays, customers are looking for the best options when it comes to online purchasing. Sharing reviews on YouTube is an excellent way to showcase the functionality and design of your items while driving traffic to your dropship store.
Here's an example from Epicurious, where an expert designer reviews five modern kitchen gadgets: 
✍? Pro Tip: Consider ordering some of your products and share a fun review! This way, you create excitement by showing your customers what they'll be receiving when buying from your business.
Educational content
Tutorials and hacks can keep an audience engaged for hours. How-to videos are the second most popular kind of content on the platform. Take your time to think of topics related to your products and talk about them or create a playlist with step-by-step videos that include your goods.
Check on this video from Ayesha Mariah, where she teaches her subscribers how to create the perfect eyebrows using an eyebrow stamp stencil. 
✍? Pro Tip: These videos are perfect when offering beauty and health products, tools, and gadgets!
Entertainment videos
Consider that more than half of viewers are looking for entertaining content. This is the perfect opportunity to start selling without "actually selling." Be clever and try to subtly incorporate your products with an entertaining series of videos.
Relaxation videos have blown up on the internet recently, like this one from Sand Tagious, a channel with more than 4 million followers:
✍? Pro Tip: Keep an eye on trends and decide which ones you can join! For example, ASMR videos work great if you offer anti-stress products on your Chip store.
Other types of videos you can try
Customer testimonials – Ask your customers to share their experience with your store.
Interviews and collabs – Invite a special guest to try your product or give a workshop.
YouTube lives – Adding new items to your store? Have a launching party.
Video blogs – Upload relatable content videos with tips or storytimes.
Unboxings – Share the unpackaging of your product to build expectancy!
Have fun trying out these ideas and pick which work best for your community! Remember, all of them have to be focused on your brand and products.
When filming, consider the following: 
Have a script ready
It's not only turning on the camera to start filming, you must have a shooting plan! Here are a few guidelines to follow when creating yours:
Set your goal – What are you trying to achieve with this content? Is it traffic to your store or subscribers on your channel? Every video should be aiming for a single objective.
Build a storyboard – Determine the video length and divide it into scenes. Describe them (time of the day, duration, mood and clothes of the characters, camera angle) and write your lines for each.
Focus on the details – Use props and additional elements to upgrade your filming game. Make sure your background is not distracting the audience so that they can focus on the content.
A script is the backbone of your video, so try to be as descriptive and detailed as you can. This way, when you're shooting your scenes, you know exactly what you have to do and what's coming next.
Video quality matters
YouTube is all about visuals, and with more competition in the realm, you have to step up:
Use a tripod and microphone – This helps keep your camera steady and allows your voice to hear clearly during the recording. Videos with a lot of movement and fuzzy sounds often get fewer views.
Shoot from different angles and distances – Keep the content dynamic by playing with close-ups and wide shots to keep your audience entertained.
Take advantage of editing tools – There are a ton of options you can choose from to edit your videos. Consider adding some image effects and sounds to give it a more professional touch.
Ways to promote your channel
Now that you know how to record and edit a winning video, it's time to talk about its distribution. Just as any other social media channel, there are two ways you can promote your content, organically or paid.
Depending on your budget, preferences, and marketing strategy, you can make the most out of these tools:
Social media – Use your Facebook, Instagram, Pinterest, and Twitter accounts to share your most recent uploads! Inform your customers what they'll find on your channel or when to expect a new video. 
Email marketing – Add a button that redirects to your channel or a video directly. 
YouTube Ads – Video discovery ads help you boost your content on the platform's homepage, search results, and related videos. 
Collaborations – Invite an expert or work with an influencer that is relevant to your community. It helps you get a higher reach and exposure and, of course, more subscribers and likes to your videos.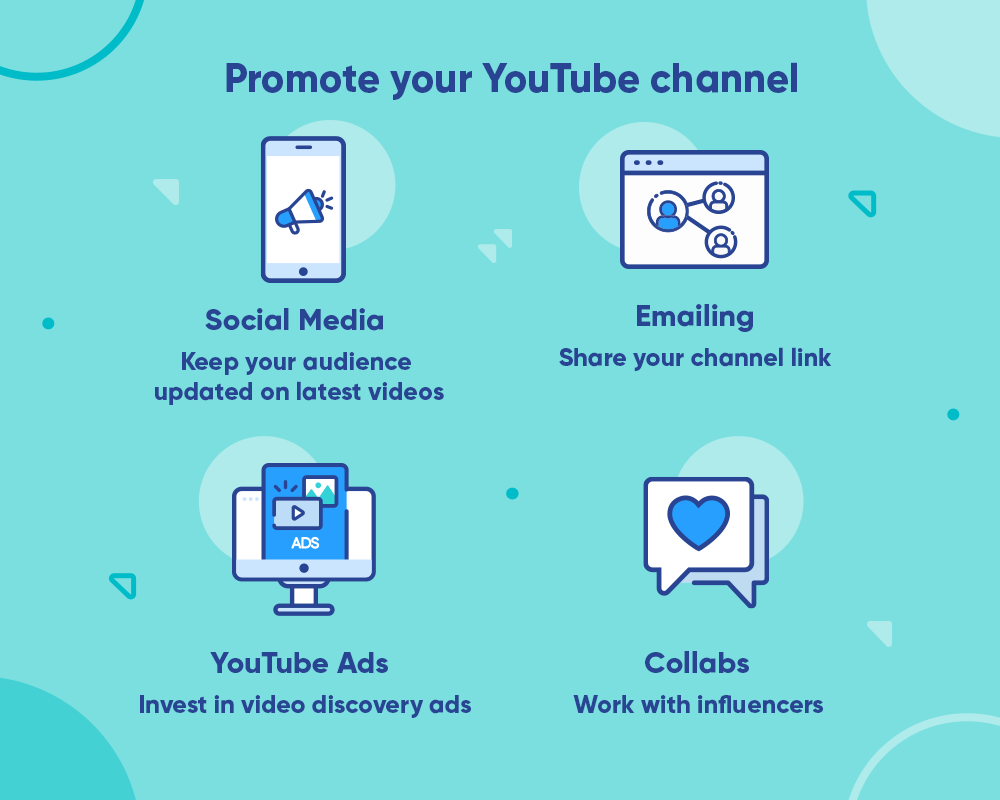 Bulletproof marketing tips
Last but not least, here are some bonus tricks to improve your YouTube game:
Always keep your audience in mind – It's important to keep all your content focused on what your niche likes. When coming up with new video ideas, think about what they want to watch.
Optimize for SEO – Use keywords your audience might search for and include them in both your channel and video descriptions.
Be consistent – Brand your channel and keep consistency on all your videos and across your social media accounts.
Create playlists – Organize your videos in separate playlists so that subscribers can find all your content concentrated in one place.
Feature real people – Project a more warm, natural approach by including a host on your videos. This helps you give a face to your brand and generates trust among your customers.
✍? Pro Tip: Check out our marketing tips for Dropship stores for more strategy ideas.
We're sure you'll be applying these tips and continue to test and optimize your channel to successfully conquer the world of YouTube and make your community grow. 

We all have seen the rapid growth that TikTok has had in the last few years. With 1 billion monthly active users worldwide as of September 2021, there's no wonder why every business owner is joining this exciting social channel.
If you consider how challenging it is to keep up with Facebook's ever-changing rules, it is easy to understand why you need to diversify your marketing efforts. (But don't worry, we also have Facebook ads support).
So, let's cut the talking and start learning about how you can grow your sales with the famous dance social channel!
What type of content will you see on TikTok?
The content you can find on TikTok is highly diverse. Catchy re-written songs, product reviews, recipes, travel tips, makeup tutorials, all kinds of storytime, advice from all ranges of professions… there's something for everyone! The best part? All of them can go viral quickly!
And when we say quickly, we're serious. TikTok's algorithm allows businesses to reach their niche audiences fast, sometimes without even a single hashtag in the caption.
Who's using TikTok?
Although GenZ forms the biggest user base on TikTok, you can also find people between 20 and 40 years old enjoying the app.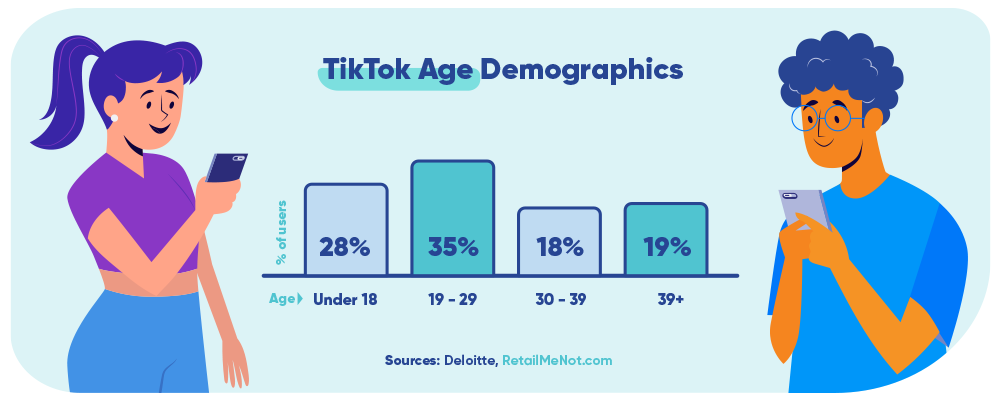 What does this mean for your business? Well, it means that with the right content, you can reach your audience no matter the age.
How to use TikTok for your dropshipping business
Consider these tips for creating winning content for your dropshipping store:
Keep it real
On TikTok, authenticity is key. That's why we highly recommend you order your dropshipping products for yourself so you can create videos with them.
Show your product's use, its features, and its unique characteristics. What matters most is making it special and unique. Focus on why your viewers should buy your product.
However, when talking about authenticity, don't limit yourself to your products. Instead, share your victories and struggles as a Chip store owner, your story, or even some tips! People love small business owners, so don't hesitate to show your smile to the camera!
Be funny
Being funny is more challenging than you think, but it also gives you endless opportunities. Is your cat suddenly playing at your workstation? Time to grab the camera!
Remember: Focus on the story behind you and your store. Sales will start arriving fast!
Join audio trends
TikTok audios are key to going viral! You just need to stay up to date with the latest trends and create content accordingly. But, of course, just using audio trends doesn't mean you'll go viral, so keep in mind that you'll need to link your product or store to the trend.
Consider how people use the audio (Is it for storytime? Customer service tales? Product launches?) and think if it's relevant for you.
Connect with your audience
Once you've built your audience and have a strong following, prepare question and answer videos, live sessions, duets, and video replies to stay connected with your audience.
If you also show your gratitude towards their support of your business, they'll stay engaged!
For this strategy, you can have videos with no audio and be more relaxed.
Post frequently
Content can quickly become viral on TikTok, but this also means you need new content regularly; otherwise, your account can easily be forgotten. Stay top-of-mind with videos of your daily routines, your struggles as a seller, or interesting stories. You'll be surprised how many people are engaged by horror customer service stories!
Remember, it is not only about selling but creating community too!
Reach influencers
Influencer marketing is also present on TikTok, so consider reaching out to influencers relevant to your niche audience and offering them a collaboration.
Ready to jump into TikTok?
Now that you know a trick or two about creating content for TikTok, remember to:
Happy dancing!

As a seller, you might have never heard of engagement bait, but we'll tell you what it is and how it works. In a few words, engagement bait refers to a tactic to create Facebook posts that tricks people into interacting through likes, shares, comments, and other actions in order to artificially boost engagement and get greater reach on the News Feed. Facebook will most likely demote or reject ads that engage in these practices.
While you can read Facebook's article about engagement bait, we'll quickly guide you through the key takeaways in this blog, so you'll know what is considered engagement bait and how you can avoid using it. 
React baiting
This means asking people to react to the post (includes: like, love, haha, wow, sad, and angry).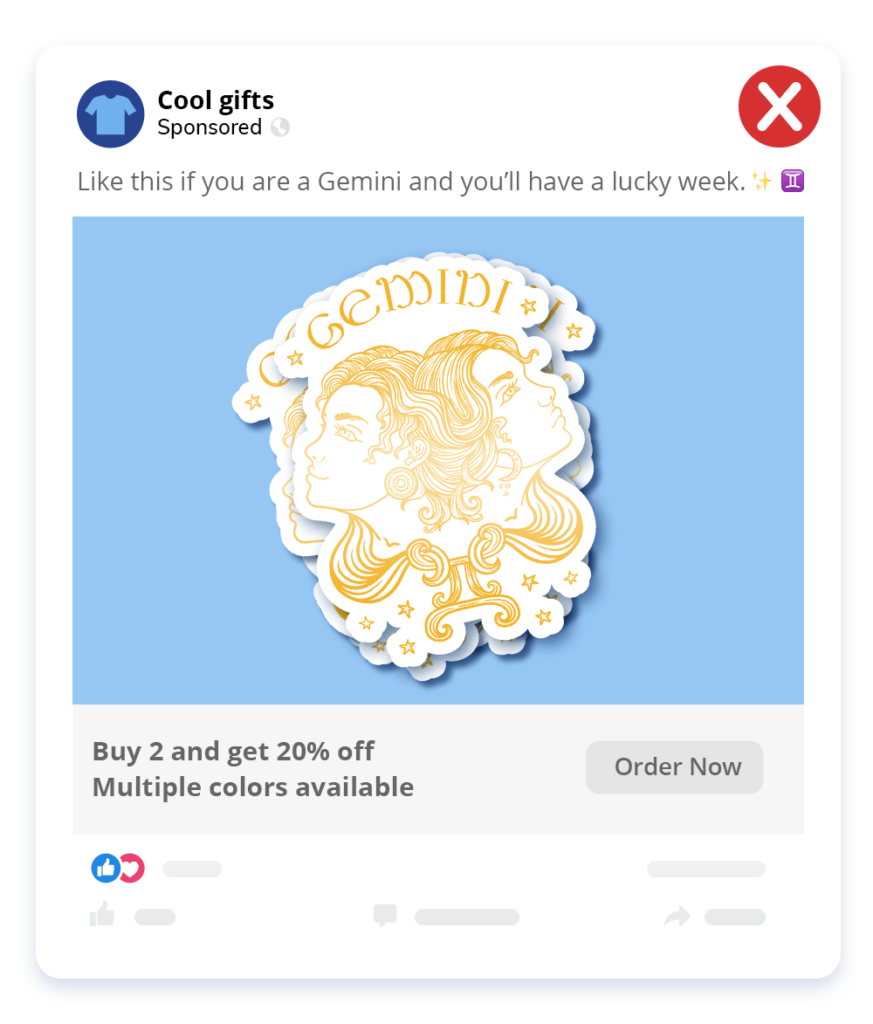 Comment baiting
This refers to asking people to comment with specific answers (words, numbers, phrases, or emojis).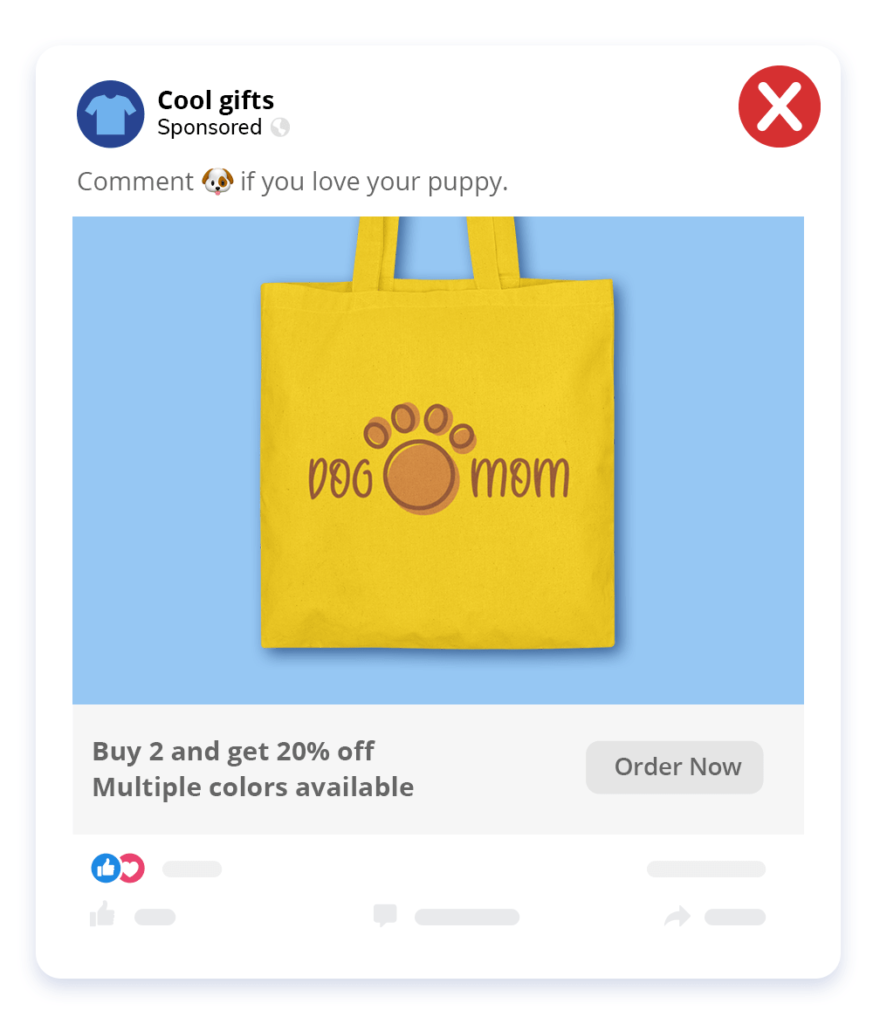 Share baiting
This refers to asking people to share the post with their friends.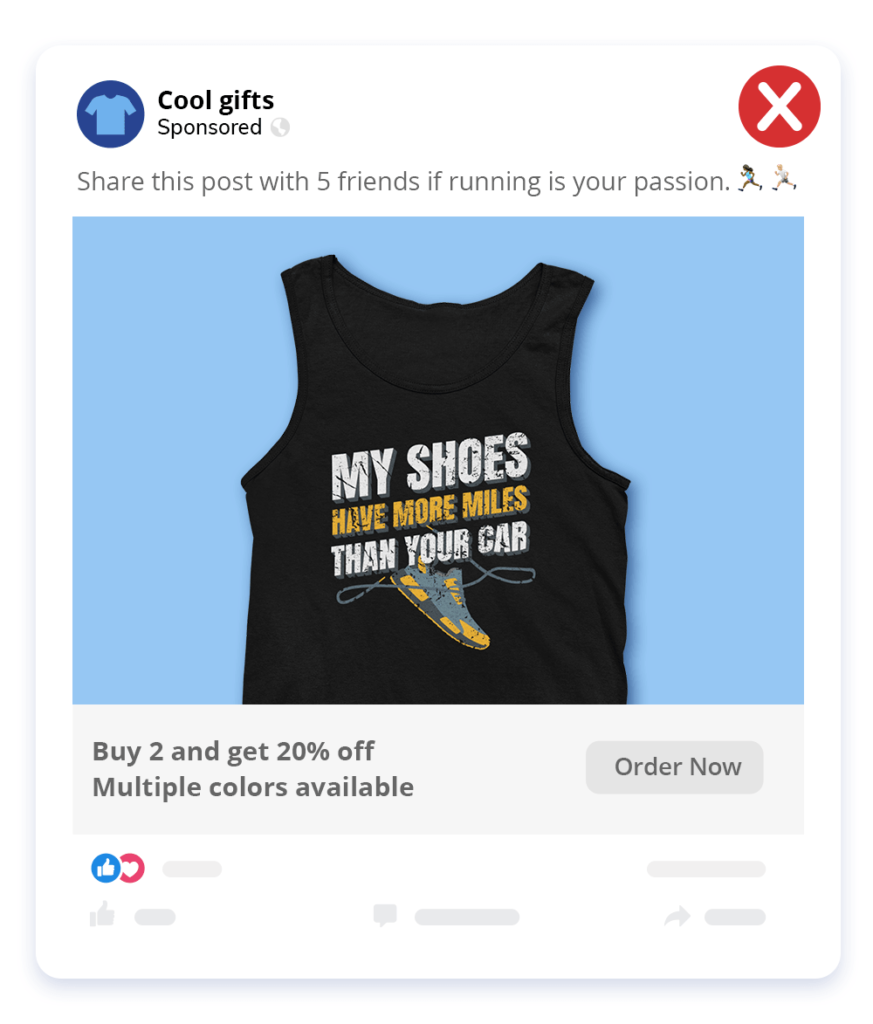 Tag baiting
This refers to asking people to tag their friends.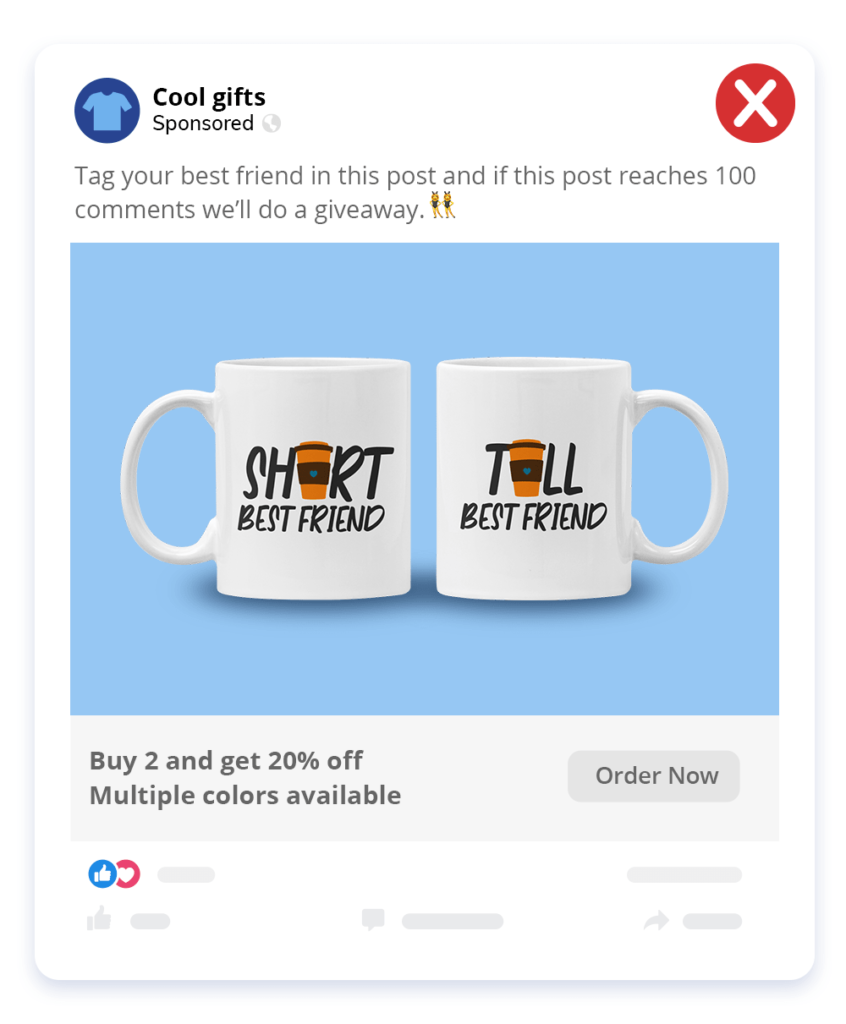 Vote baiting
This refers to asking people to vote using reactions, comments, sharing, or other means of representing a vote.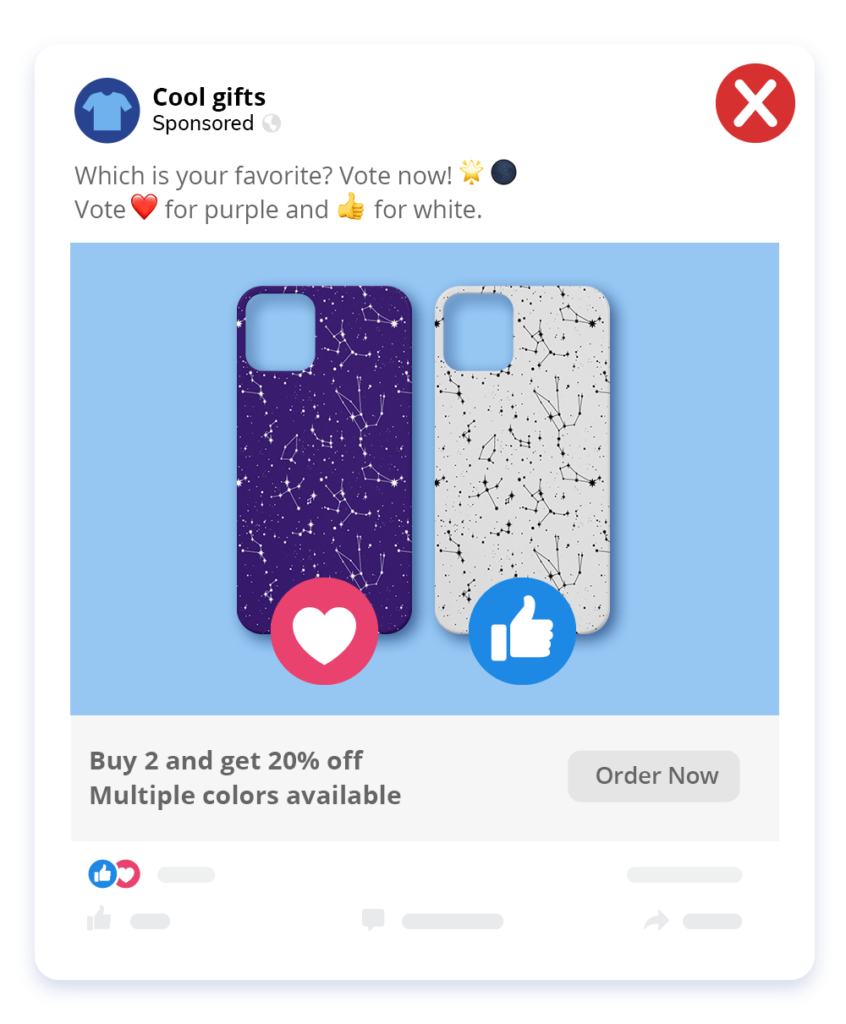 So, how can you generate engagement with your ad campaigns?

1. Make sure the copy you use in your ads is relevant or useful.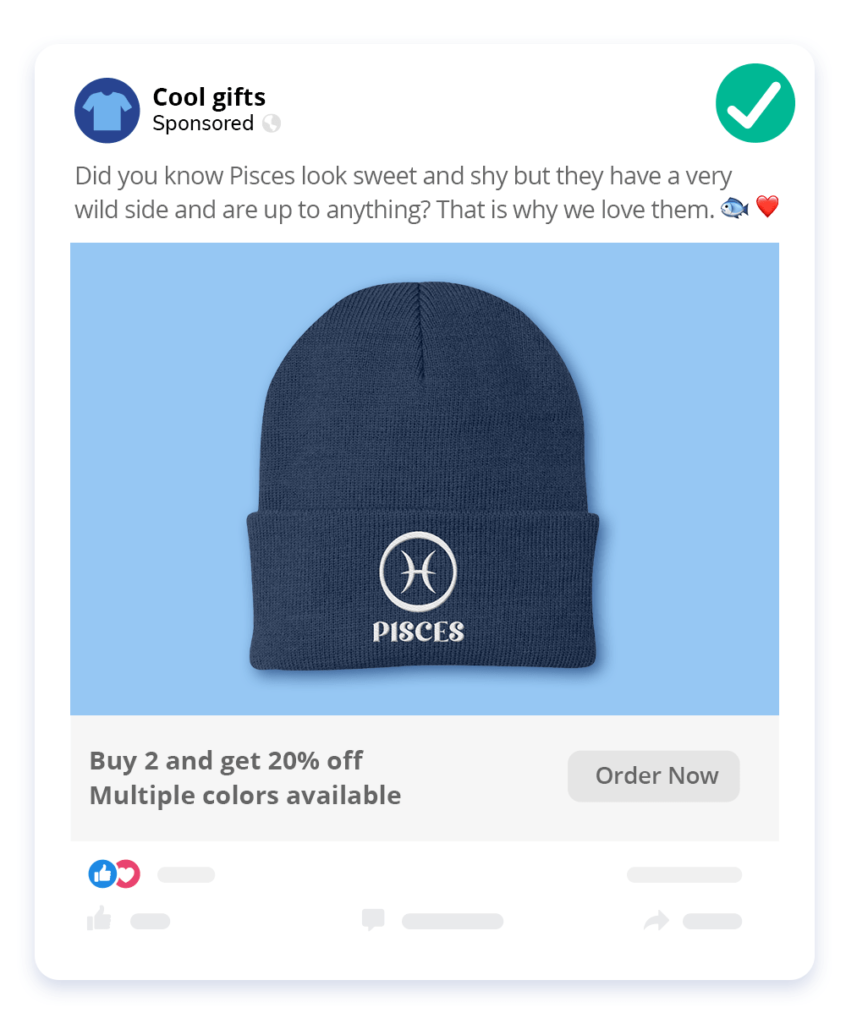 2. Ask questions that generate genuine engagement.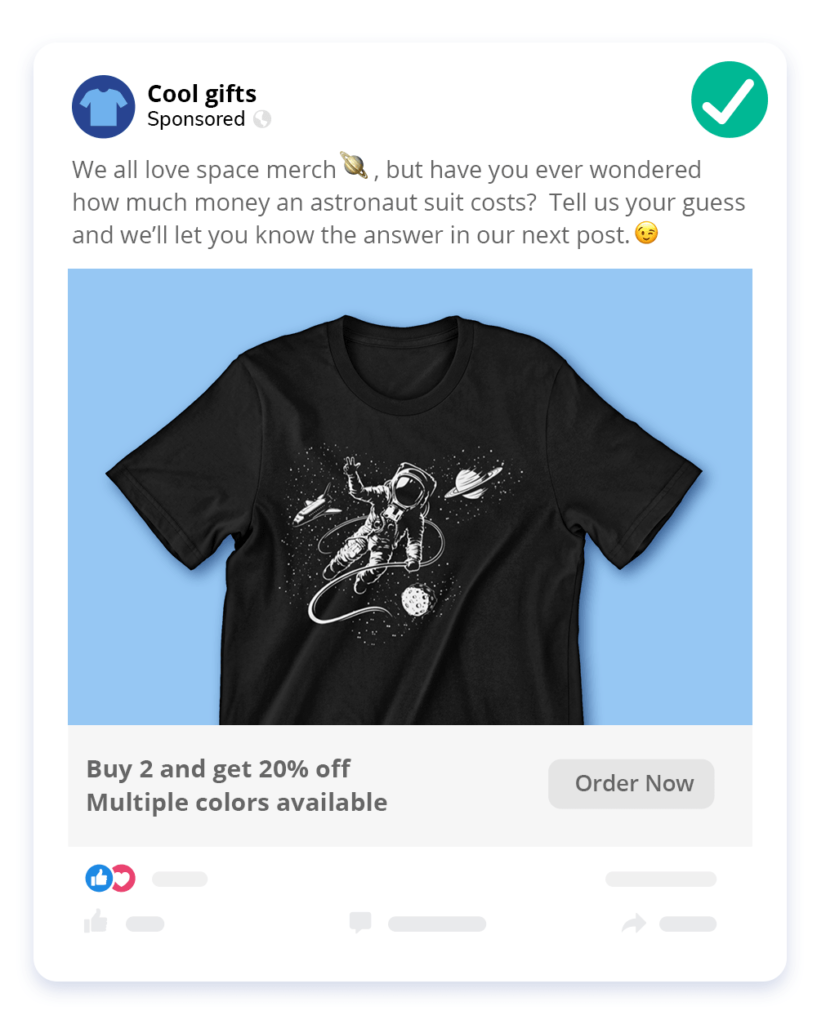 All in all, just remember to create content that users will want to interact with and your ads will run smoothly.


The beauty of catering to niche markets is that they can be really, really profitable. Focusing on a niche instead of trying to sell to everyone is a win-win for sellers and customers alike.
A niche market is a segment of a larger market defined by the audiences' unique preferences, interests, identity, or needs, making a niche audience's product preferences different from the rest of the market.
It's essential to keep in mind that each niche will require different products that will be bought for different reasons. So, make sure you cover your niche audience's needs, offer them the best print-on-demand products in the market, and let them add the final touch with Chip's personalization tool.
When designs are created with your customers in mind, your products will resonate more with your niche audience and feel more authentic. Defining your niche market will also make your social media ad campaigns easier to target because accurate targeting will naturally lead to higher conversion rates, and that's excellent for business.
Benefits of niche businesses
Cost-effectiveness: Selling to a narrow target market will make your marketing campaigns more cost-effective, and you'll be able to get a greater return on your investment (ROI).
Less market saturation: You can focus on acquiring as many customers as possible and delivering value so you'll have nothing to worry about when competitors join the game.
More exposure: People with similar interests are likely to be connected in person and through virtual communities. Remember that loyal customers equal referrals! Getting your first customers to talk about will do wonders for a small business.
More than a custom t-shirt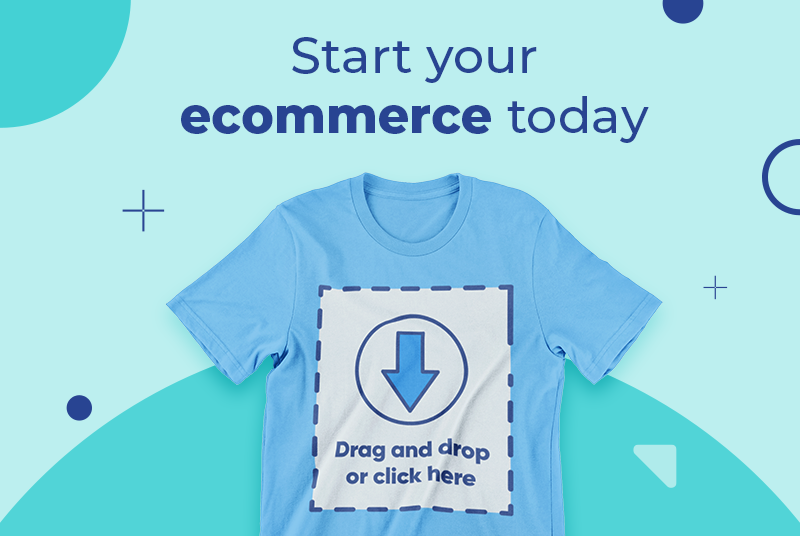 Spoiler alert! You can never go wrong with a custom t-shirt! One custom t-shirt is worth a thousand words.
To be honest, t-shirts of all kinds are suitable for virtually any occasion. However, custom t-shirts aren't the only print-on-demand products you can offer to potential customers, so you're gonna want to take some notes on what's next...
Niche audiences
Niche audiences are extremely valuable to sellers because they're often very engaged with their hobbies and personal interests. Customers are more likely to purchase an item from you if the designs and messages align with their values and overall worldview.
If you haven't decided on a niche yet, here you can find ten ideas to sell popular print-on-demand products successfully to a specific niche audience. Take notes!
1. Matching family outfits & gifts for couples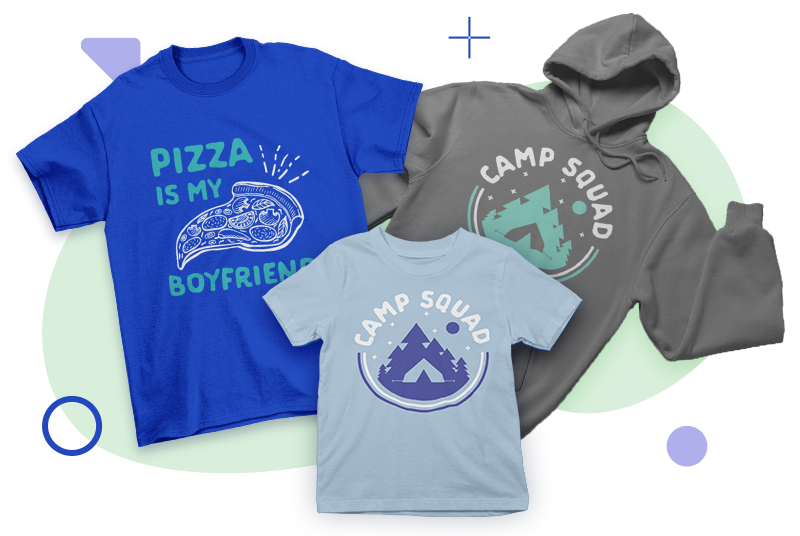 Matching family outfits are great to have in handy for camping trips, parties, and the holidays. Consider every relationship there is in a family and add a design about it.
For example, you can have a design about bonds between a mother and daughter, a grandfather and grandson, sisters-in-law, brothers, cousins - there's just a lot to cover there!
In addition, gifts for couples are a plus to have in your online store. Think about adding custom hoodies or matching t-shirts for couples with loving phrases to acknowledge and share the love birds' thoughts on their significant other. Couples tees are adorable!
Products to start with:
2. Birthdays & zodiac signs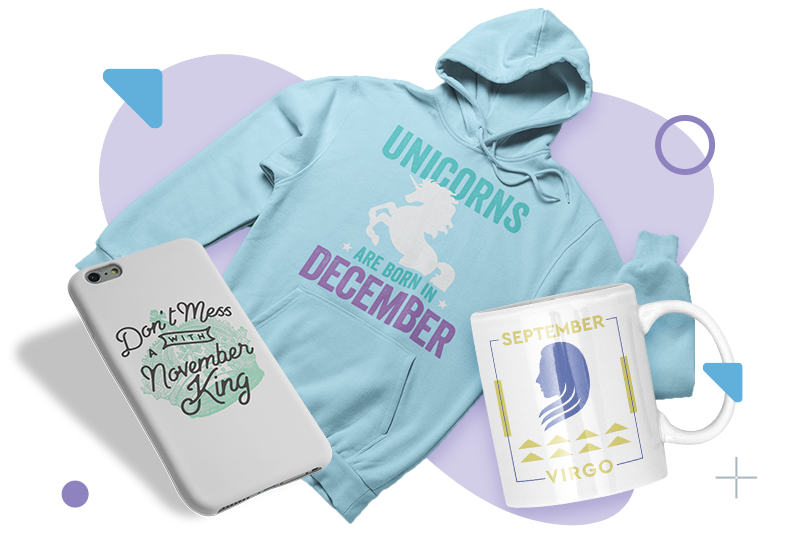 Arthur C. Clarke once said, "I don't believe in astrology; I'm a Sagittarius, and we're skeptical." Of course, birthdays are always cool to celebrate, but when it comes to astrology, let's just say it's a trending topic right now.
Customers love to show off their so-called astrology-themed characteristic traits, and it's going to be your job to put that on a custom t-shirt or any print-on-demand product for that matter. There are 12 months and 12 zodiac signs, so you have a lot of material there already. So, let's get to work, Capricorn!
Products to start with:
3. Fitness & wellness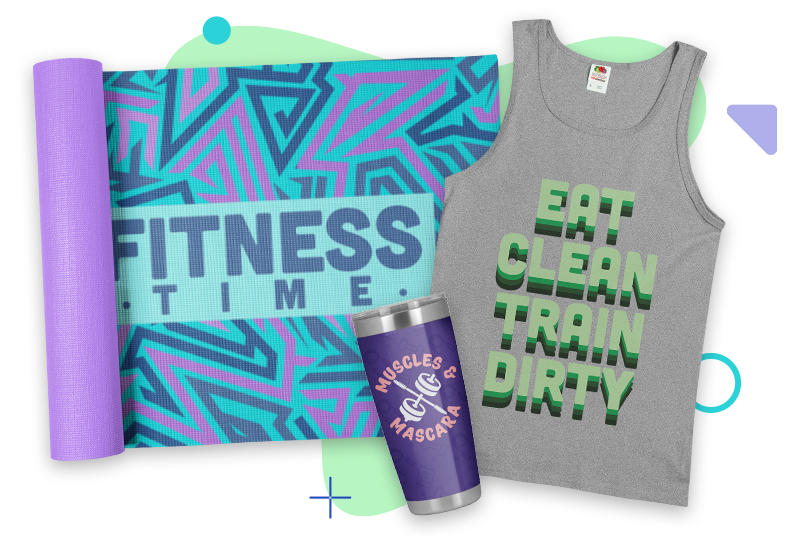 If you're going with the fitness niche, you've just hit the jackpot! Working out isn't just to stay active and healthy, it's a lifestyle, and customers aren't going to let anybody walk past them without making that loud and clear.
Luckily for this niche, you can offer your customers the best print-on-demand product selection for them to share their devotion to their workouts. Whether it's on their activewear, footwear, or drinkware, fitness newbies and enthusiasts will want to see it printed all over their belongings.
Products to start with:
4. Hobbies & passions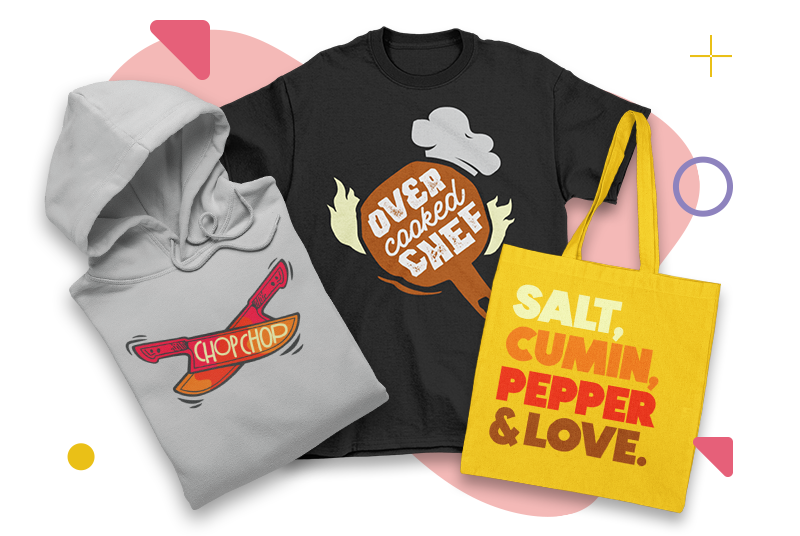 Targeting a hobby niche screams success if you also happen to be into that hobby yourself! Create designs for cooks, ballet dancers, skaters, and painters. Or what about brewers? Passion sells!
Remember that the nature of a hobby is that it's a fun activity that people enjoy in their leisure time. After all, customers are more likely to purchase your products if they have positive feelings associated with that activity!
Products to start with:
5. Animals & pets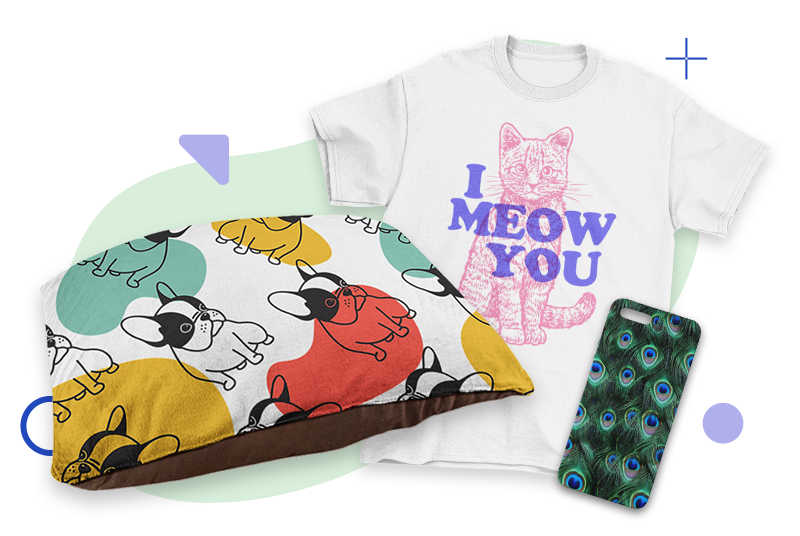 Be pet-friendly! Both pets and owners can enjoy your products in this niche. You can be as specific as you want. For example, you can feature dogs and cats designs on your online store or choose to cater to cat lovers if that's what you prefer.
If it's not pet owners you want to delight, make your store animal-themed and include wild animal designs, sloths, flamingos, and unicorns - all of which are popular these days. You can also mix it up and just have animal prints on a variety of custom-printed products.
Products to start with:
6. Food & drink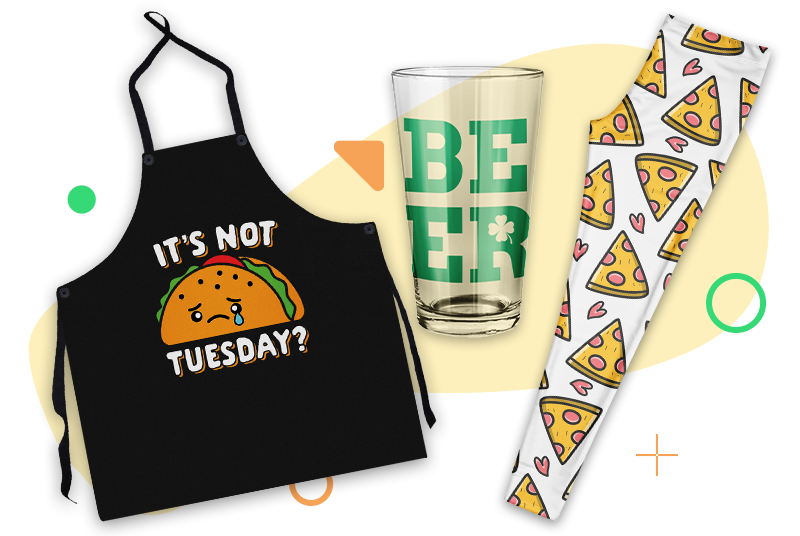 Once a pizza lover, always a pizza lover! This one goes for the foodies! Create delicious designs to pay tribute to your customers' favorite-favorite food and drinks.
Wine lovers are also a niche that continues to rise, and the same goes for people in awe of Japanese cuisine. So, don't be surprised if designs featuring our love for merlot, sparkling wine, or sushi become your next bestseller.
Products to start with:
7. Professions & occupations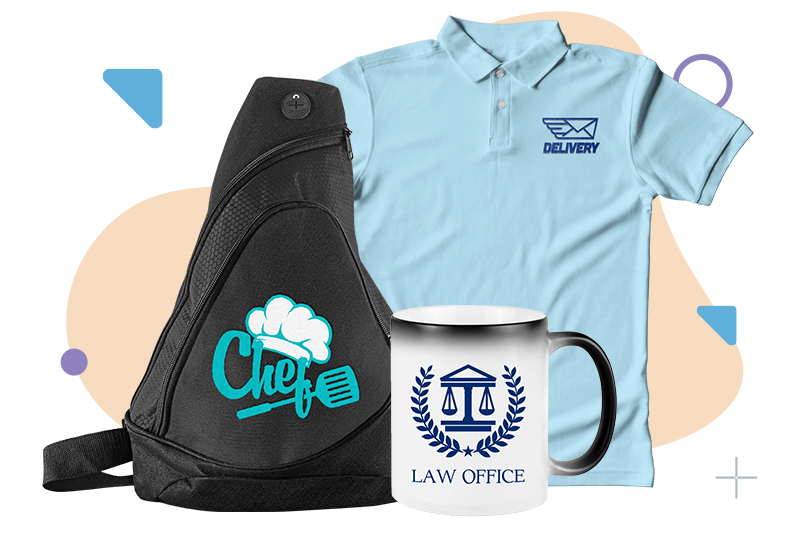 What do you do for a living? Haven't we all been asked that question at one point or another? Create designs that celebrate a specific job. Think about nurses, doctors, or firefighters, for example.
The cool thing about this niche is that friends and family get to buy your products as gifts for their loved ones cheerfully, and the recipients will be thrilled to wear them. So write out of a list of occupations, choose a couple, add your designs, and start selling!
Products to start with:
8. Charities & non-profits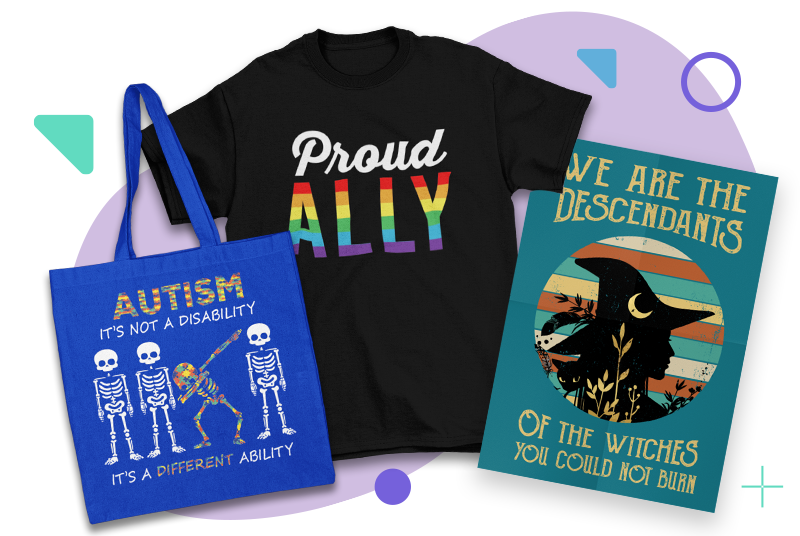 Raise awareness about noble causes your customers care about and support fundraisers for charities and non-profits organizations. In addition, you can add words of encouragement to your designs to stand with those going through tough times.
Add designs made for cancer survivors, parents with autistic children, or animal rescuers. Consider offering custom products to activists so they can wear them daily, to parades and events to support causes like the feminist or LGBTQ+ movement.
Products to start with:
9. Special holidays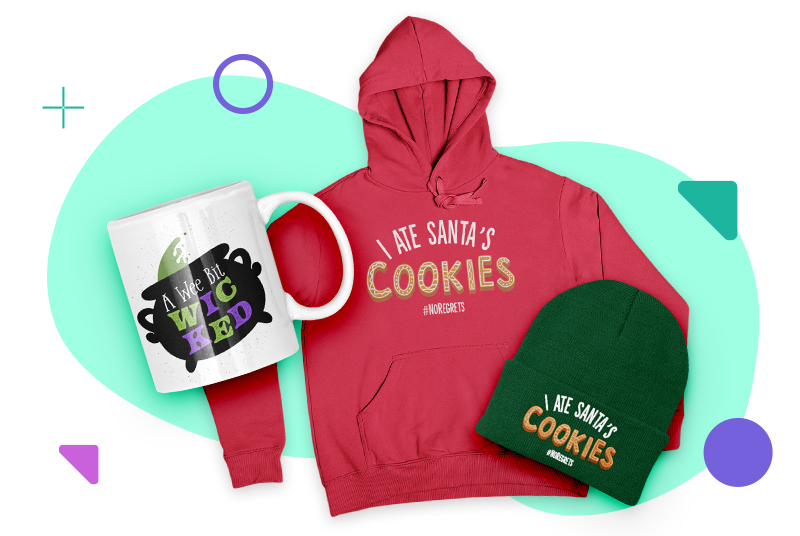 'Tis the season to be jolly! Well, not quite, but you better start planning ahead of big shopping holidays and annual celebrations. Scan your calendar for upcoming holidays and start adding holiday-inspired designs to your product selection.
You can jump on some of these popular holiday trends besides Christmas or Thanksgiving. For example, there's Saint Patrick's Day, Easter, Mother's Day, 4th of July, and Halloween, to name a few. The trick is to start running your Facebook ads ahead of time to lure more customers in.
Check out our Facebook Dynamic Ads Breakdown blog post to better your niche marketing strategy and reach more customers.
Products to start with:
10. Inspirational quotes & jokes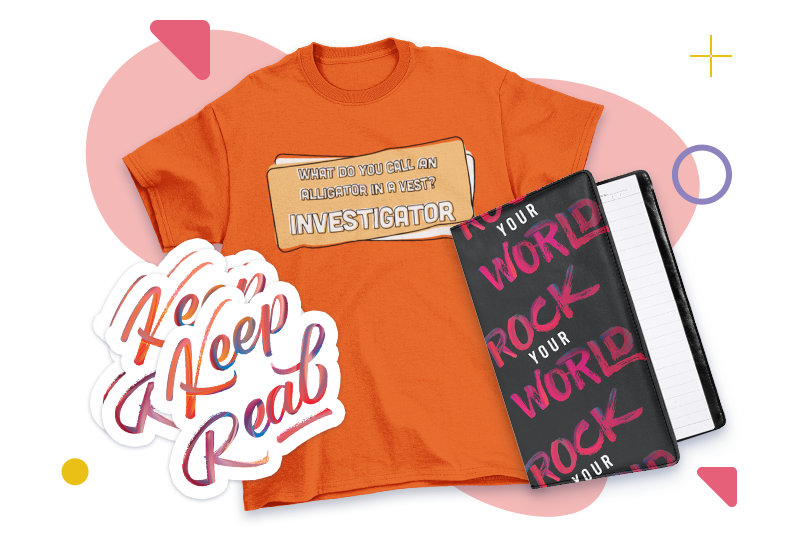 If you find a niche in humor, one thing's for sure, you'll have lots of fun. You can go from basic dad jokes to sophisticated, hard-to-understand nerdy insults. Yes, humor goes both ways. Items with jokes make perfect gifts for family and friends.
There are also the daydreamers, and these customers like to get inspired wherever they go. Add deep quotes to apparel, accessories, and home and living items. Seek inspiration on Pinterest or Instagram.
Insider secret: Quotes and jokes designs are the easiest to create as they don't require advanced graphic design skills. But don't let your design skills scare you away; check out our blog on How to Create Artwork Like a Designer.
Products to start with:
Bonus niche - Decade inspo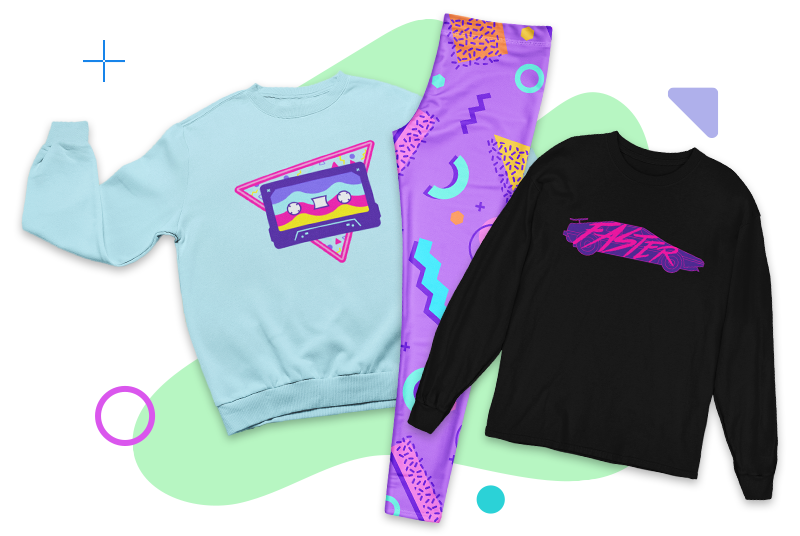 Oh, did we say ten? Here's an extra print-on-demand business idea for you to seriously cash in on! If you thought of the '50s when you heard retro, well, think again!
Yes, the '90s were three decades ago, but trends come and go, and if one thing is for sure, it's that they're definitely back! So, don't be afraid to give it a go with a print-on-demand product collection with the '90s, '80s, and '70s-inspired designs!
So, what's it gonna be? Hip-hoppy designs to honor the 90's? Colorful 80's inspired leggings, perhaps? Or '70s inspired psychedelic prints?
Products to start with:
Selling opportunities for print-on-demand products
By now, you're everything but low on new ideas to create or expand your ecommerce business. You can go with matching family outfits, matching t-shirts for couples, or custom hoodies for foodies. The opportunities are endless!
When starting a niche business, be as specific as you can! For example, if you are targeting pet owners, don't stop there. Say you choose to go with cat owners. Then, go one step further and create products for siamese cat owners. And just like that, you've got yourself a curated niche.
Now that you are an expert on print-on-demand business ideas, it's time you take advantage of every selling opportunity that arises. There are big cash selling opportunities all year round, so make the best out of them!
Explore the full extent of Chip's product catalog to get more ideas for your niche business. Also, be sure to check out our insightful print-on-demand products' selling guides and marketing tips to take your ecommerce to the next level.