Facebook Ads is one of the most popular marketing methods for our sellers, but oftentimes, ad accounts get disabled for reasons beyond their control. To remedy this, Chip has created a robust and reliable Facebook Ads tool so sellers never have to worry about a disabled ad account again.
Note: ChipAds is currently still in beta mode, so use of the platform is by invitation-only. Sign up to test ChipAds here. We will share the news when ChipAds has officially launched.
What is ChipAds and how does it work?
With ChipAds, stable Facebook advertising is finally attainable. Thanks to 100% U.S.-based ad accounts and payments from U.S.-issued credit cards, sellers will have better ads performance, work with higher ad spend limits, and obtain better reach to make record sales.
Now, you can create and manage Facebook Ads without needing a Facebook account. Create ads instantly and manage ad creatives, targeting, budgeting, and billing in our fully-equipped ads manager. Your ads will run on Facebook pages managed by Chip, and you'll be able to see your ads' performance insights and data in real-time.
Important notes:
Facebook Ads can only be run with custom-domain-only campaigns.
Payment can only be made with Payoneer at this time, with a minimum $100 USD initial deposit. All ad spend is prepaid.
Please allow up to 24 hours for your Payoneer deposits to be reviewed.
Chip will assign each seller a pixel ID and a Facebook Ad account.
As a result of the iOS 14.5 changes, campaigns with the Conversion objective require a domain that needs to be verified by ChipAds. To get started, please contact our support team on Telegram @chipadssupport as soon as possible and allow 72 hours to set up your ChipAds account and enable your Conversion campaigns. After, you will be provided with a domain and alias to set up your campaigns.
Note: Due to the new iOS changes, please allow an additional 72 hours to make any changes to your campaigns. For conversion tracking, a Facebook Pixel will be automatically assigned to your domain by ChipAds.
How do I create a ChipAds account?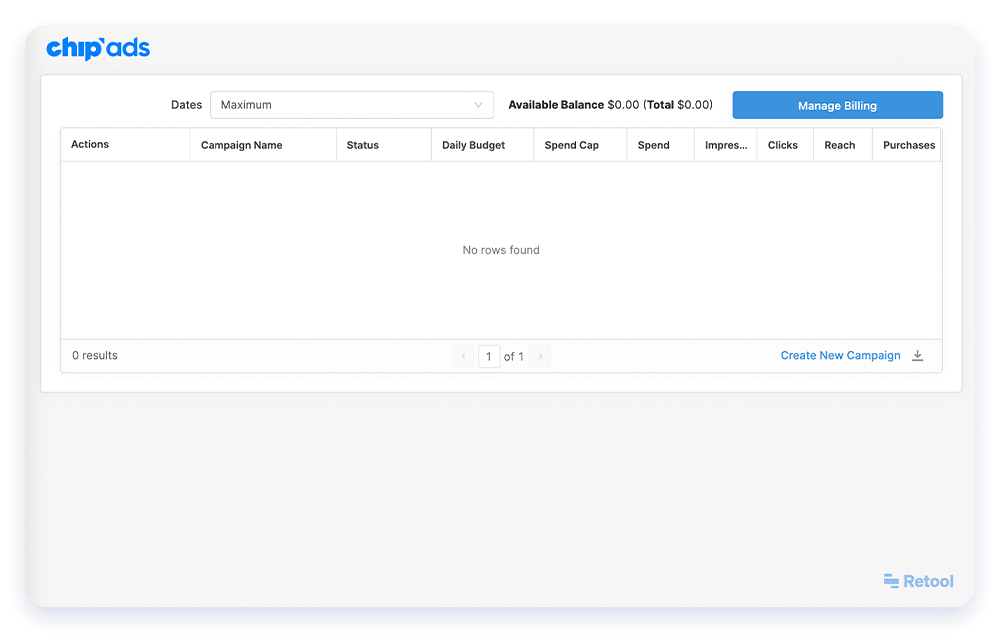 Create an account here. Make sure you sign up with the email address associated with your Chip account.
Set up your billing and payment information by going to your dashboard > Manage Billing > Create Payoneer Deposit. To start creating ads, your deposit must be a minimum of $100 USD. This step is mandatory.
Enter your Payoneer Transaction ID and upload your receipt.
Submit your Payoneer Deposit.
Important note:
Please allow a maximum of 24 hours to review your Payoneer payment. You won't be able to create ads until this is verified.
Please allow a maximum of 72 hours to set up your ChipAds account. You won't be able to create ads until this is complete.
How do I use ChipAds?
We've designed the ChipAds dashboard to look, feel, and operate like Facebook Ads Manager. Below, we walk you through a few basic how-tos.
Create an ad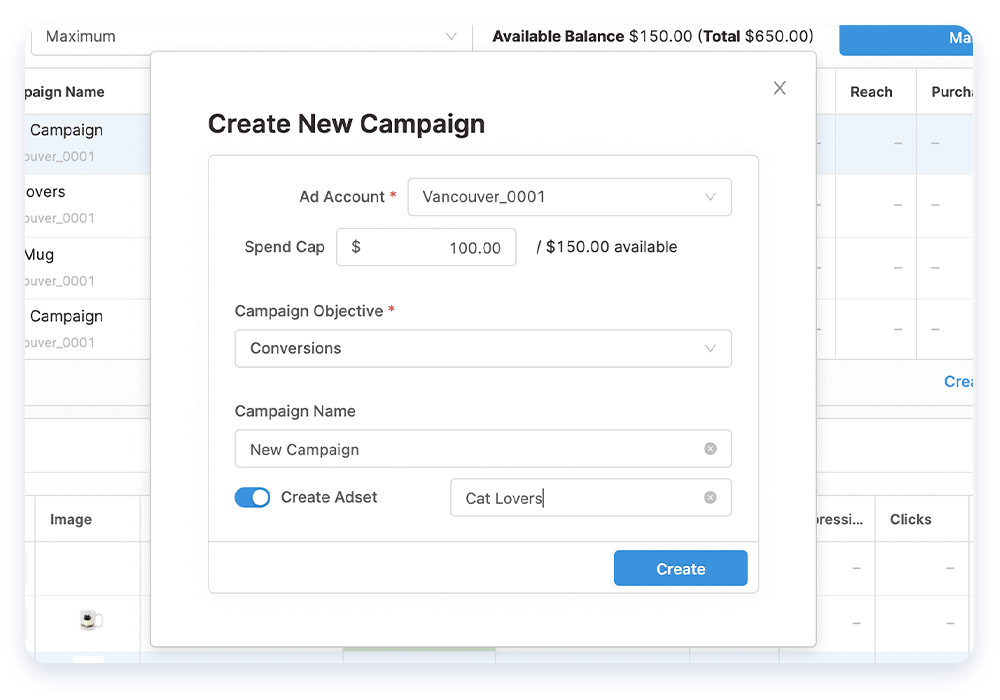 Click "Create New Campaign," then select an Ad Account.
Enter a Spend Cap (min. $100 USD). You must have available funds in your account and can change this amount later. We recommend that you always have extra funds in your ChipAds account to avoid ad disruption.
Set a Campaign Objective.
Name your Campaign.
Create and name your Adset. If this is your first ad, you must do this step.
Complete your ad campaign by clicking "Create."
Manage your ads
Go to Ads Performance and select the Ad Campaign you want to manage. Here, you can:
See the amount spent on any ad campaigns under the "Spend" column.
Update your ad campaign's spending capacity anytime.
Pause an ad - the remaining balance will stay for that ad.
See any ads that have been disabled by Facebook - the remaining balance will be returned to your account.
Coming soon:
We are working on the option to delete ads, during which any remaining balance will be returned to your account.
If your ad account is disabled, Chip will move you to a different account with a new pixel. Any unused funds will be returned to your account.
Understanding your transactions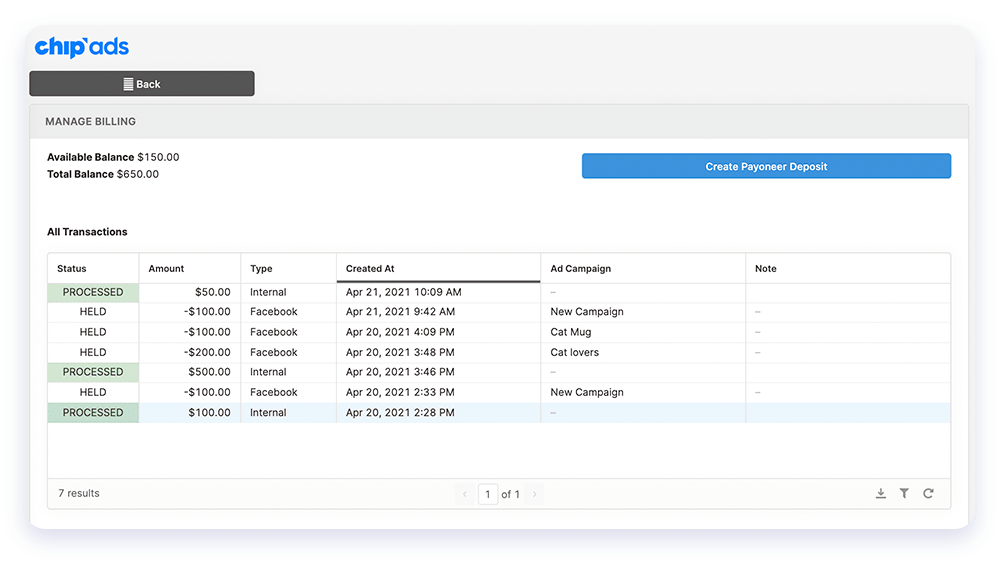 Sellers can find transaction information by going to the Manage Billing page. Here is a breakdown of the types of transactions that occur within ChipAds:
Payoneer: A Payoneer deposit that is approved or rejected by the Chip team
Internal: A promotional credit from Chip, if any
Facebook: An ad campaign that has been created and funded (status will always be "Held")
ChipAds Guidelines
Like Facebook Ads, ChipAds requires sellers to follow guidelines to ensure that ads get approved.
Your custom domain must not have IP infringements.
Other than creative changes (graphic, link, text), any other campaign, ad set, and ad changes will be approved instantly.
Increasing ad spend without changing creative assets will be approved instantly.
You must comply with Facebook Ads rules. If your ad campaign is disabled or removed by Chip, any remaining balance in that ad campaign will be added back to your account.
If your ads do not comply with Facebook Ads policies, they will not pass ad moderation and will not be published.
If you have any questions, please reach out to us at support@chipchip.com.