Offering free shipping is often an afterthought for many sellers. However, this shouldn't be the case because the lack of free shipping is one of the biggest reasons buyers abandon their shopping carts. In 2021, 49% of cart abandonment is due to high extra costs with elevated shipping costs being the main reason and taxes and fees following close behind, according to the Baymard Institute.
Free shipping can be the key to boosting your sales. To help you here, we disclose the latest data on free shipping and give you all the reasons you should offer it to let you make the best-informed decision.
Why free shipping matters
Incentives significantly influence online shoppers. According to a survey by GWI, online shoppers would rather have a product delivered for free than fast, which applies to most countries. When shopping online, 55% of users say that free delivery would increase their likelihood of buying a product, meaning free shipping is the number one incentive to make a person buy online.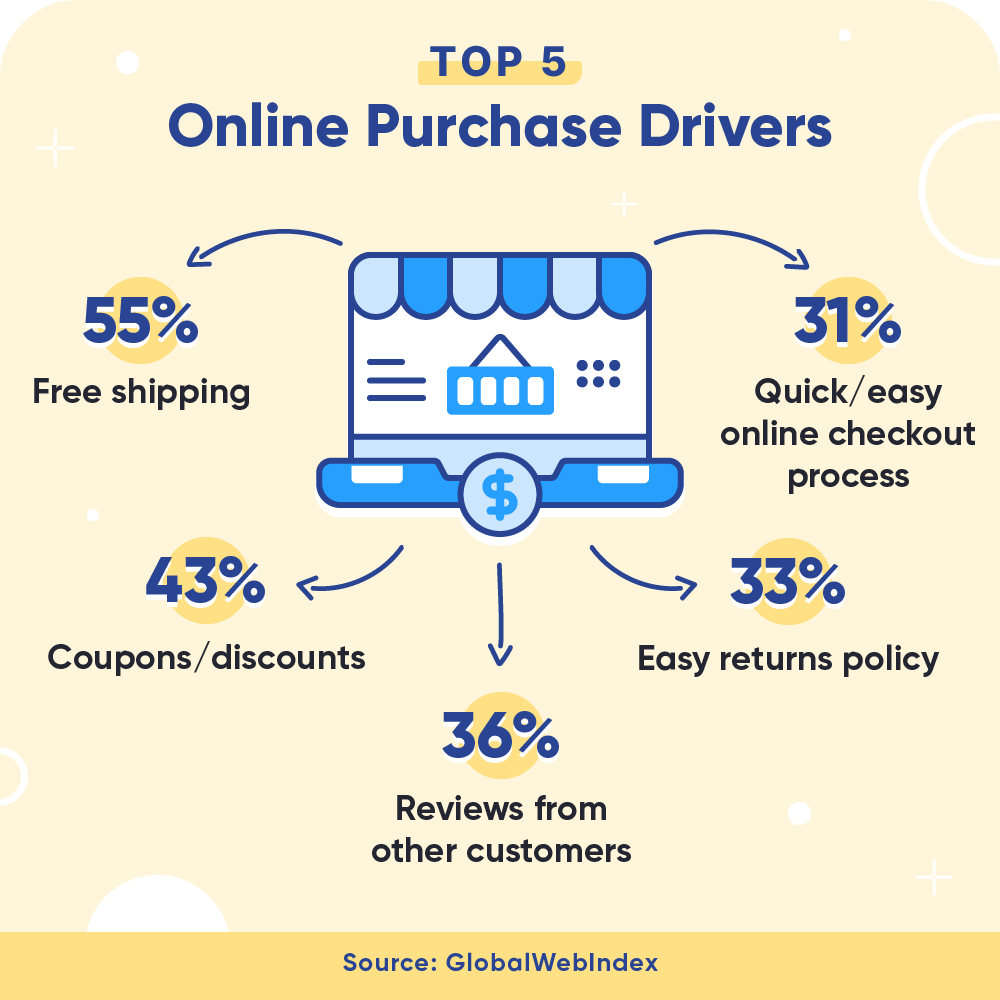 Pro tip: Avoid losing potential customers; make offering free shipping a priority above other types of promotions.
Receiving free shipping makes you feel like you are getting a great deal, even if it means spending a bit more to get it. As a result, 84% of global consumers have added one or several extra items to their cart to get free shipping. When it comes to different generations, Gen Z (16-24) and Millennials (21- 39) are the age groups most likely to add an item to their cart to hit a minimum threshold for free shipping.
When considering online shoppers' spending habits, there's no doubt offering free shipping in some capacity is an excellent strategy for sellers to entice customers to buy more.
What tools does Chip offer to help with free shipping?
Now that you understand the importance of offering free shipping to increase your sales and average order volume, here are the tools Chip offers and how to set them up:
Free shipping progress bar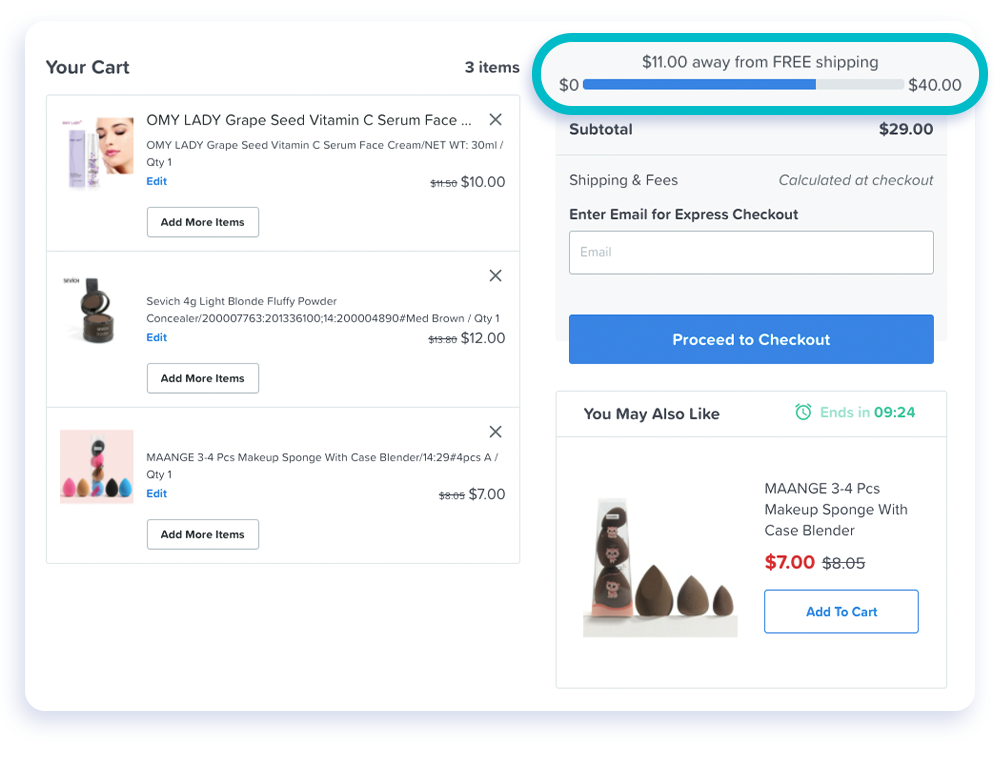 This progress bar makes people eager to add more items to their order to earn the free shipping prize.
To show this on the cart page, go to the Domains tab in your dashboard, then click on your domain's "Details" button. You'll find the Free shipping progress bar option in the Domain Settings tab.
This feature only works if:
The domain has a Free Shipping Coupon applied.
The buyer has two or more items in the cart.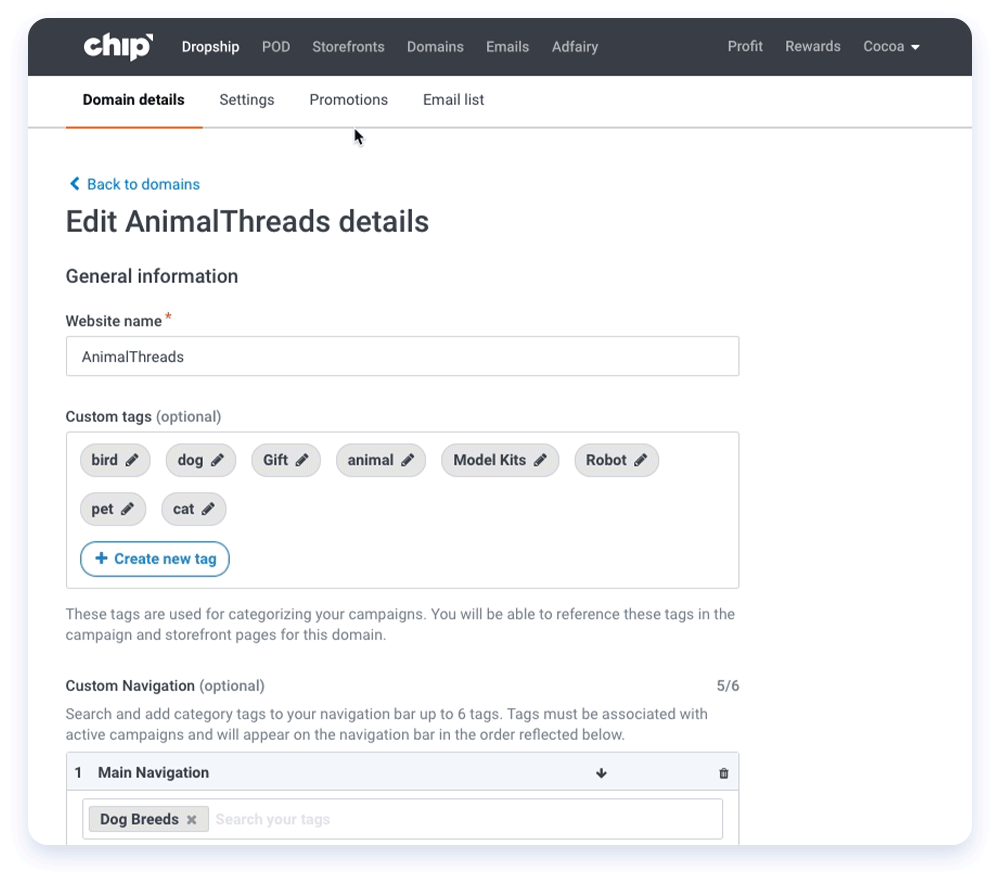 Free shipping sticky bar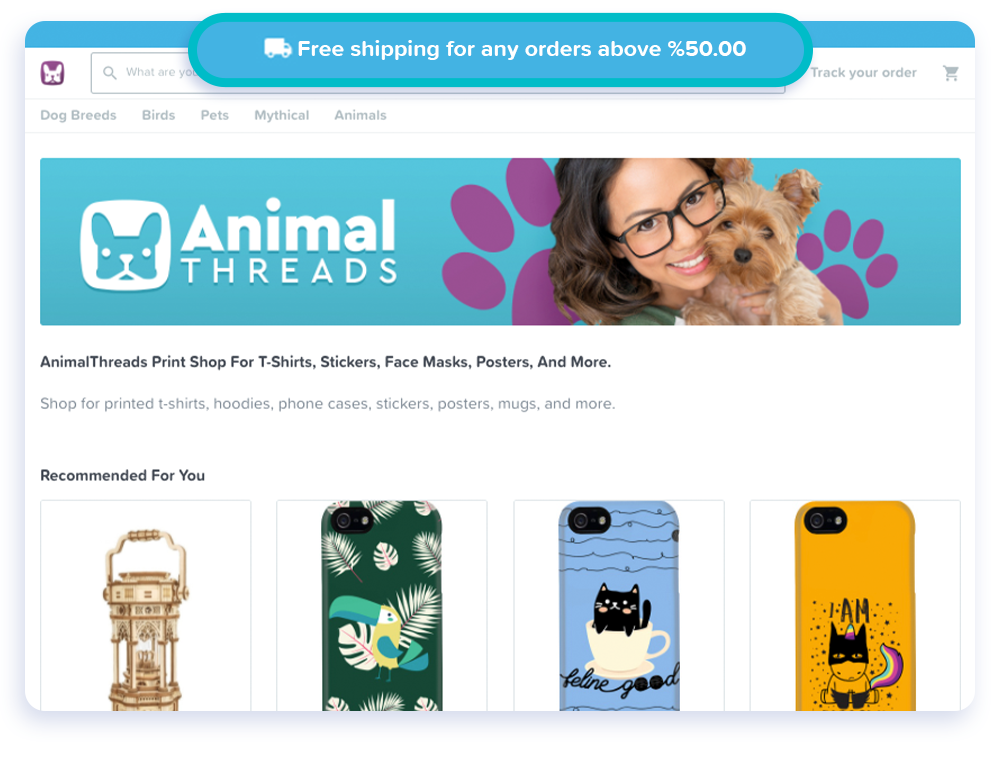 This sticky bar located at the top lets everyone see the promotion as soon as they enter your Chip store. In addition, the free shipping bar can incentivize them to add another item(s) to their cart, increasing your profits and AOV at the same time. This feature works well with the free shipping progress bar.
Go to the Promotions tab located on the Domain details and click on the "Add Promotion" button to set it up. Next, select "Free Shipping" on Promotion Type, set the price threshold, and click Submit.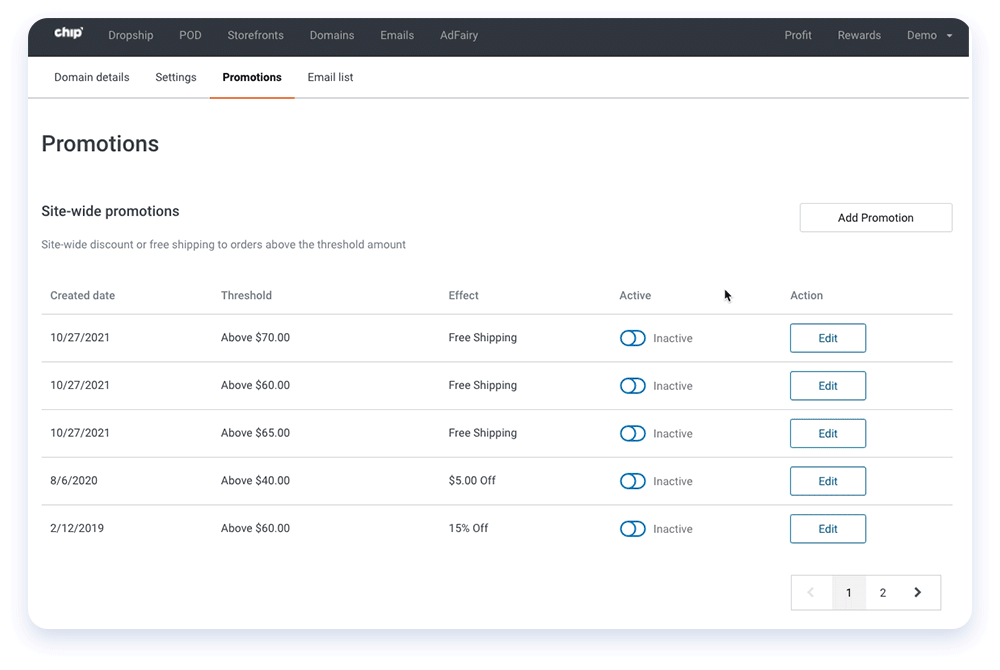 Free shipping universal coupon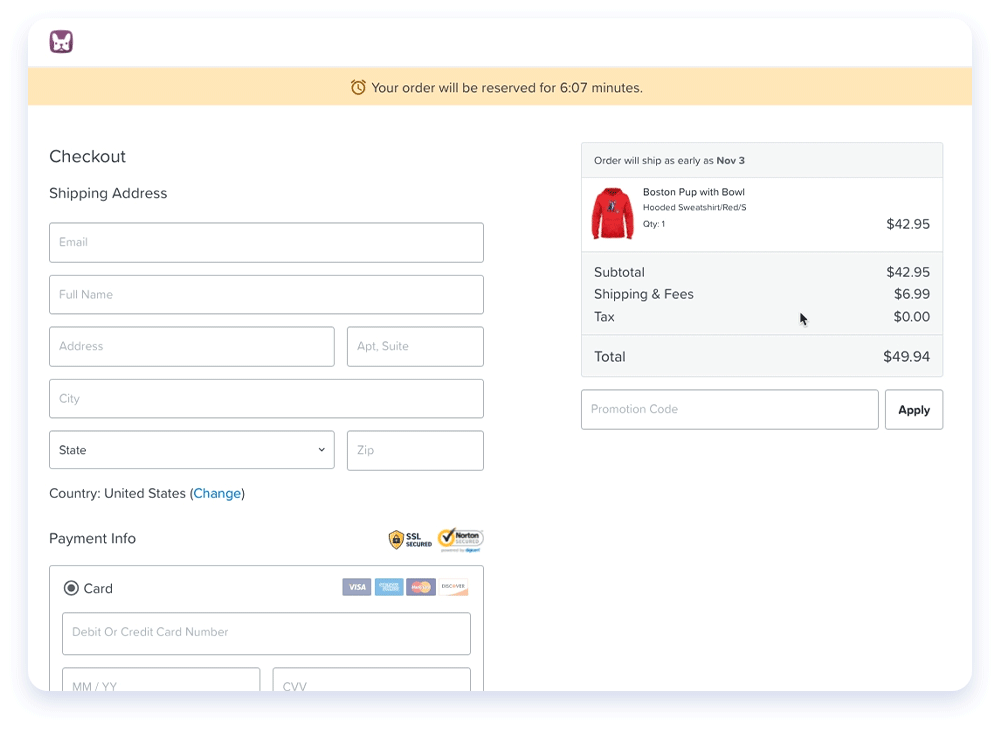 Coupons are an excellent way to give your customers the final push they need to visit your website and buy your products, and if the coupon provides the benefit of free shipping, that's even better.
To create a free shipping coupon, go to the Promotions tab on the Domain details, scroll down and click on the "Add Coupon" button. Next, enter your desired coupon code and select the Free Shipping type.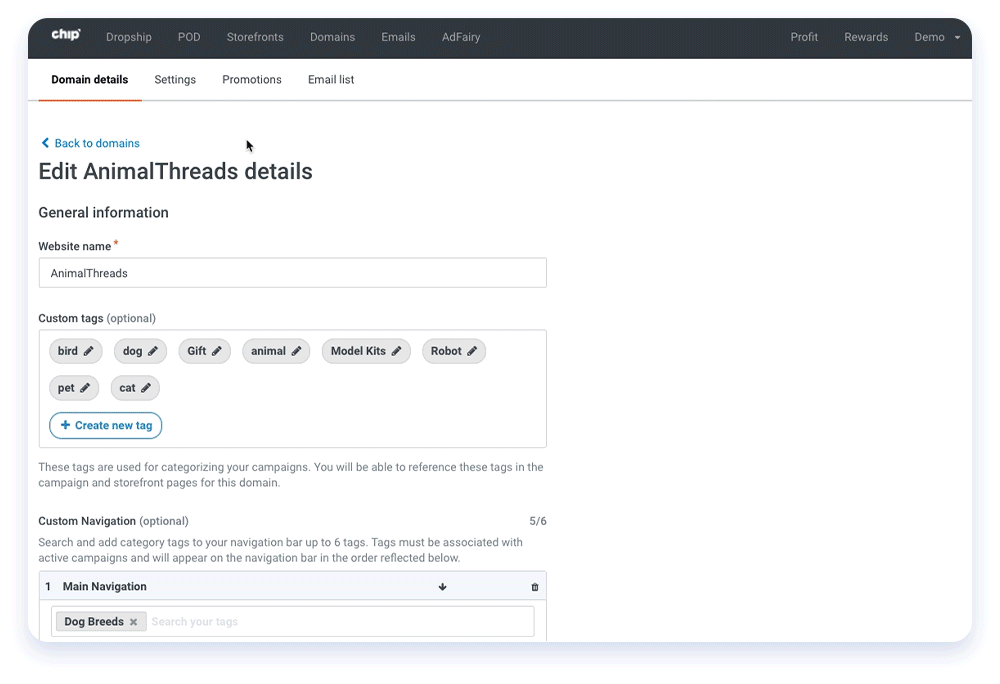 The coupon will be active by default, and you can choose to make it stackable with other site-wide promotions. We recommend this option if you have different promotions going on at the same time on your website. Just make sure you consider the double discount on the price of your products to avoid being surprised by lower profits.
If you are looking for more ways to incentivize your customers to buy more on your Chip custom domain, head on over to the following blogs:
How to figure out your free shipping threshold
Figuring out the right free shipping threshold for your store can be tricky, so first, let's take a look at what consumers say.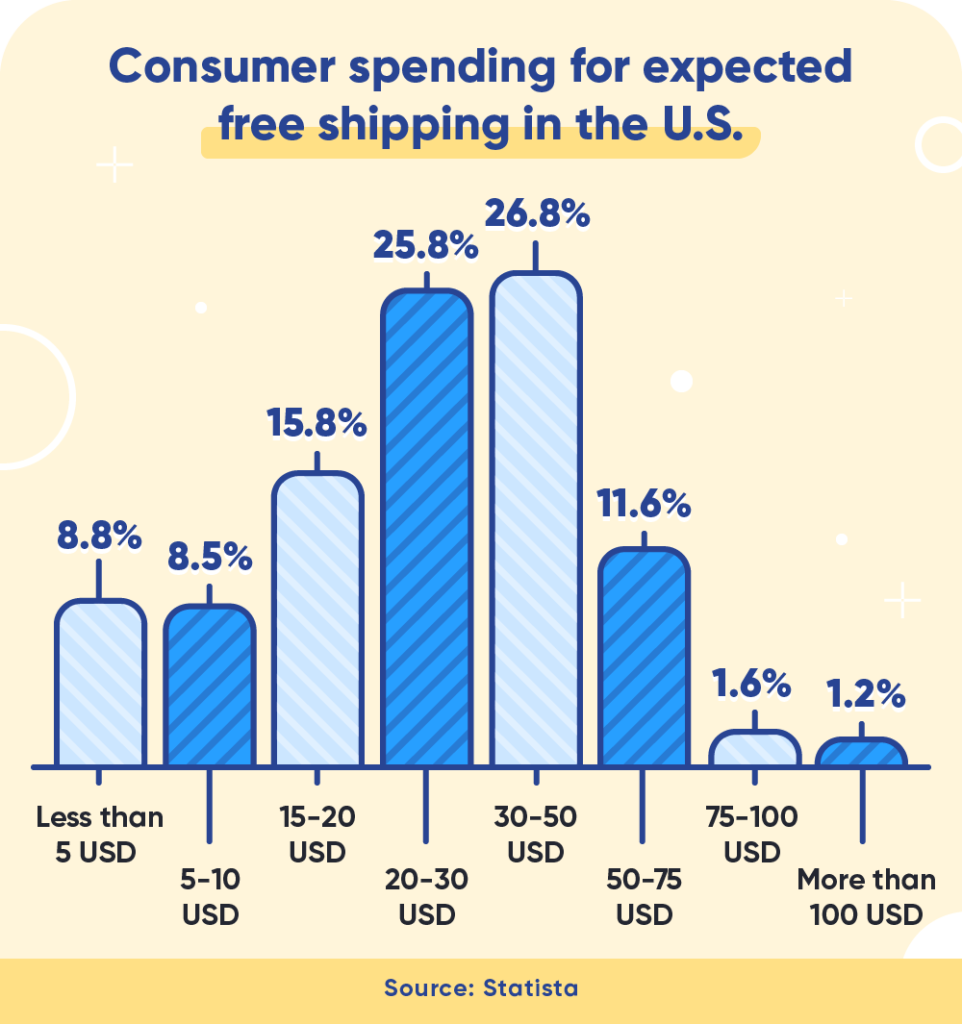 The latest data suggests that 26.8% of Americans consider spending 30-50 USD to get free shipping, followed by 25.8% of Americans considering 20-30 USD. This means that more than half the population will consider spending between 20-50 USD to get a free shipping deal. So consider this when setting up your free shipping promotions thresholds.
Offering free shipping can be challenging for digital entrepreneurs because you have to balance the expense in a way that makes financial sense for you. To offset this cost, we suggest you do the following things always:
Consider the free shipping cost when setting the price of your products.
Make it free above a threshold. This way, you encourage your buyers to add one more item to meet your free shipping threshold.
We recommend setting your free shipping threshold to 1.3x your single item price to encourage customers to add one more item to their cart.
When is a good time to couple free shipping with other promos/coupons?
Depending on the time of the year, you can try different free shipping strategies to see what works best for your customers. There are several strategies you can use; here are our preferred ones:
Free above a threshold. Offer free shipping above a specific threshold value. This one you can keep all year round to entice your customers to add more items to their cart and increase your AOV.
Free shipping on specific dates or occasions. Offering free shipping close to big events is something many businesses do to get ahead of the competition. However, profit margins can be tight due to all the competition. In those cases, a more effective strategy is to use an event, let's say Father's Day, to encourage early sales by offering free shipping if ordered before a specific date.
Reward loyal customers. Free shipping can be a fantastic benefit for loyal customers that have purchased from you before. For example, you can do an email marketing campaign with a universal free shipping coupon. Doing this type of promotion generates repeat business for you and value for your customers simultaneously.
In summary, offering free shipping is an effective way to increase your profits and grow your conversion rates. So don't miss the opportunity to skyrocket your sales with the free shipping tools we offer!