Something evil's lurking in the dark - it's Halloween! Did you know Americans spent more than $8 billion on their Halloween outfits and decorations in 2020? And that's despite COVID restrictions. As things continue to open up, we predict those numbers are only going up this year. So tap into this fa-boo-lous opportunity preparing your store for it!
We've made this guide with the top tips and tricks to help you take advantage of this scary celebration and get you spooktacular profits with your Halloween collection.
Halloween with Chip
To ensure your customer get their orders on time for this terrific celebration, please keep in mind the following cutoff dates:
Standard shipping: Order by Friday, October 15, 2021
Fast shipping (3-day delivery): Order by Monday, October 25, 2021

Eligible fast shipping products:

Mugs, Color-changing mugs
Posters (all sizes)
Men's Classic T-shirt (Colors: black, purple, heliconia, royal, texas orange, navy, light pink, irish green, forest green, white, red)
How about putting a Halloween twist on your website's appearance? To make this easier for you, we created extra scary t-shirt mockups you can use to promote your designs while keeping it creepy. Also, this is the perfect moment to update your store and use the spookiest Halloween-themed banners.
Product recommendations and design inspiration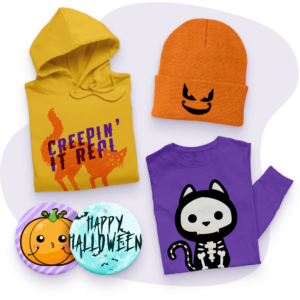 Keep it classic
Now, let's get spooky, y'all! Use ghosts, witches, cats, vampires, zombies… There are tons to pick from. You can add them everywhere, from long sleeve tees and beanies to sweatshirts and ornaments. You can't go wrong with traditional Halloween characters.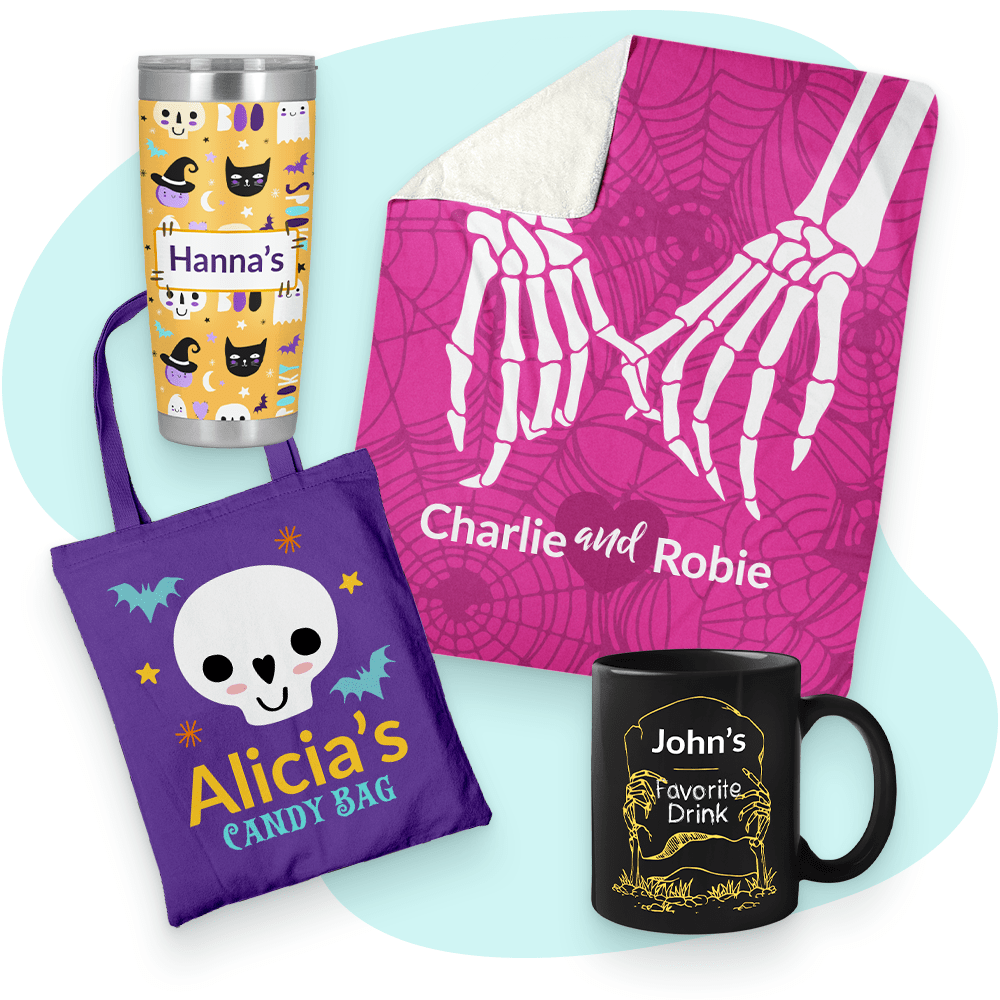 Personalize all the way
Create a collection of products your customers can personalize to have a unique trick or treat day! Include customizable tote bags to go trick or treating, mugs, blankets, and tumblers with their name on them to make this Halloween extra special.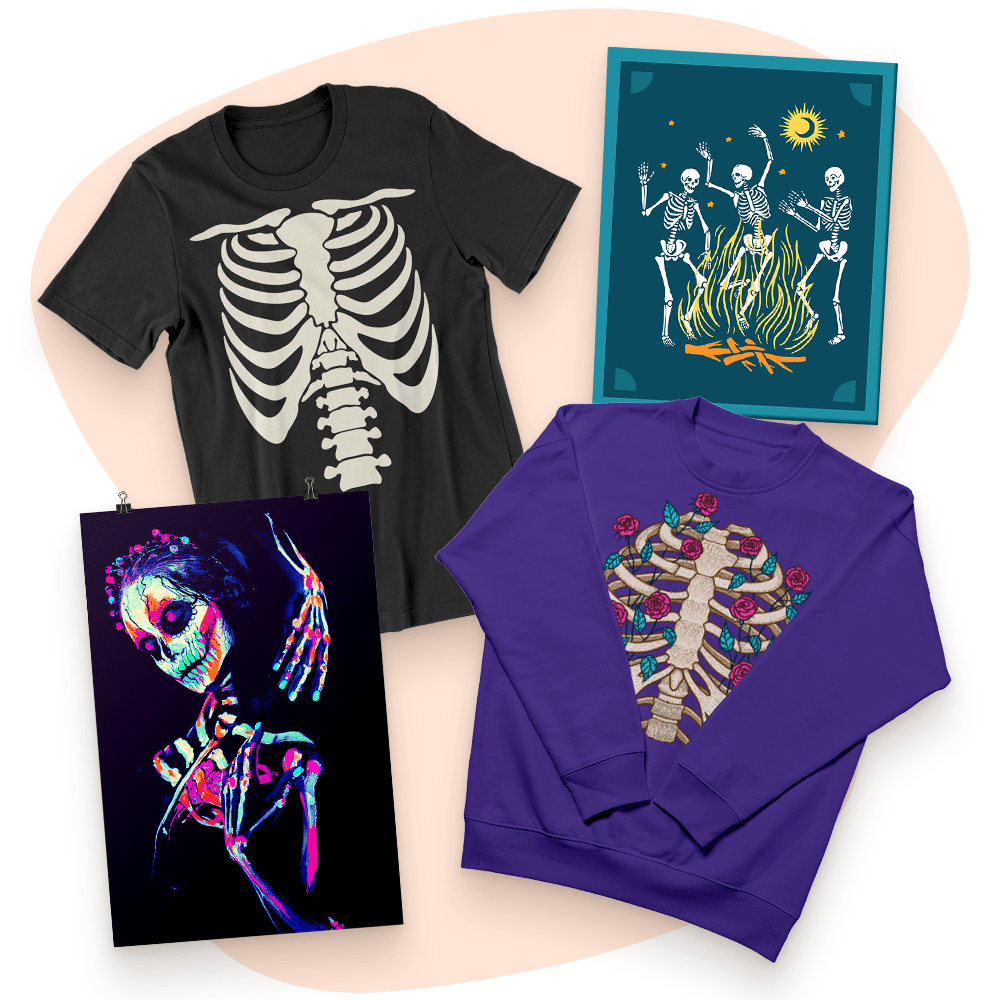 Skulls & bones
Skeletons are having their time in the spotlight with the Day of the Dead tradition increasing in popularity. Include them in your designs hoodies, shirts, posters, and canvas prints to create scary costumes and decoration pieces everyone will want.
Find all the products you can use in our Product Catalog, and check out our Fall Selling Guide for more inspiring ideas you can use for this season.
Terrific dropship product options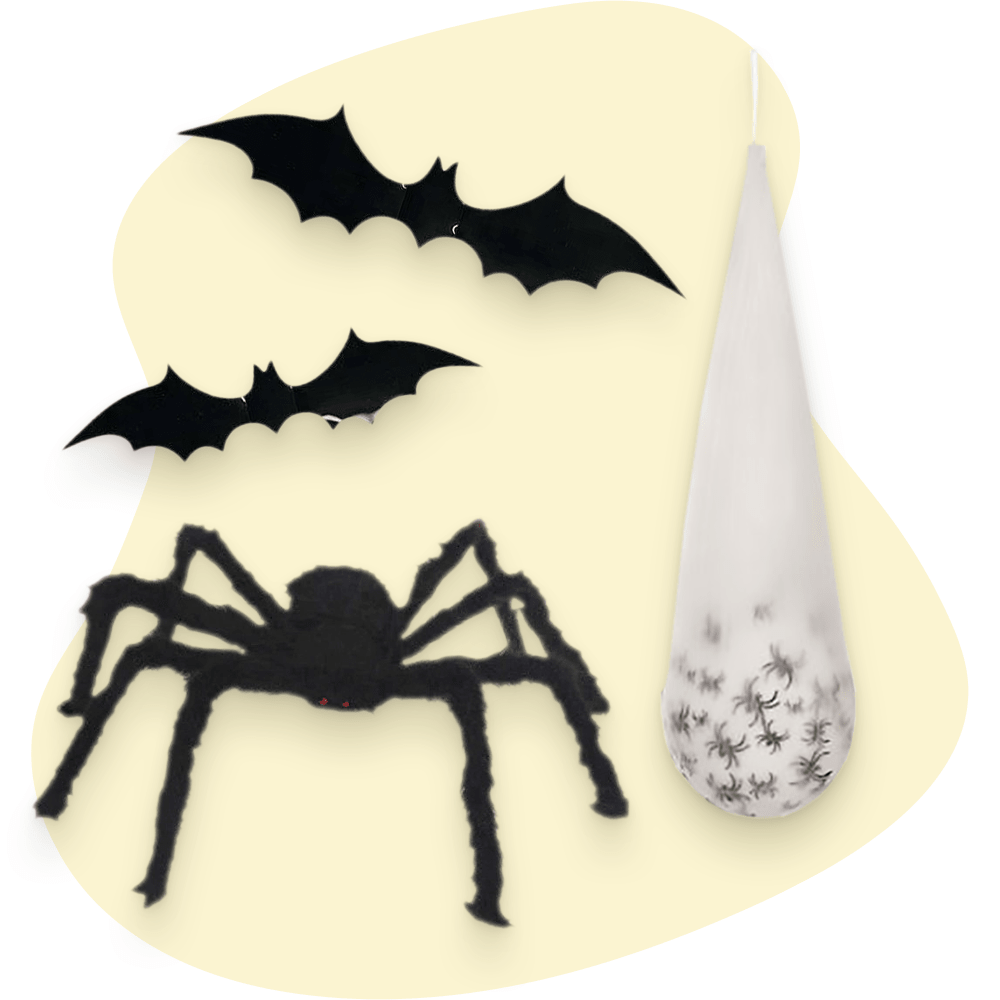 Halloween decor
Halloween is the perfect excuse to go over the top with decorations. With staple pumpkins, candles, spider webs, and more, you can help your customers get their homes ready with the scariest decor ornaments you can find. 'Tis the season to go wild!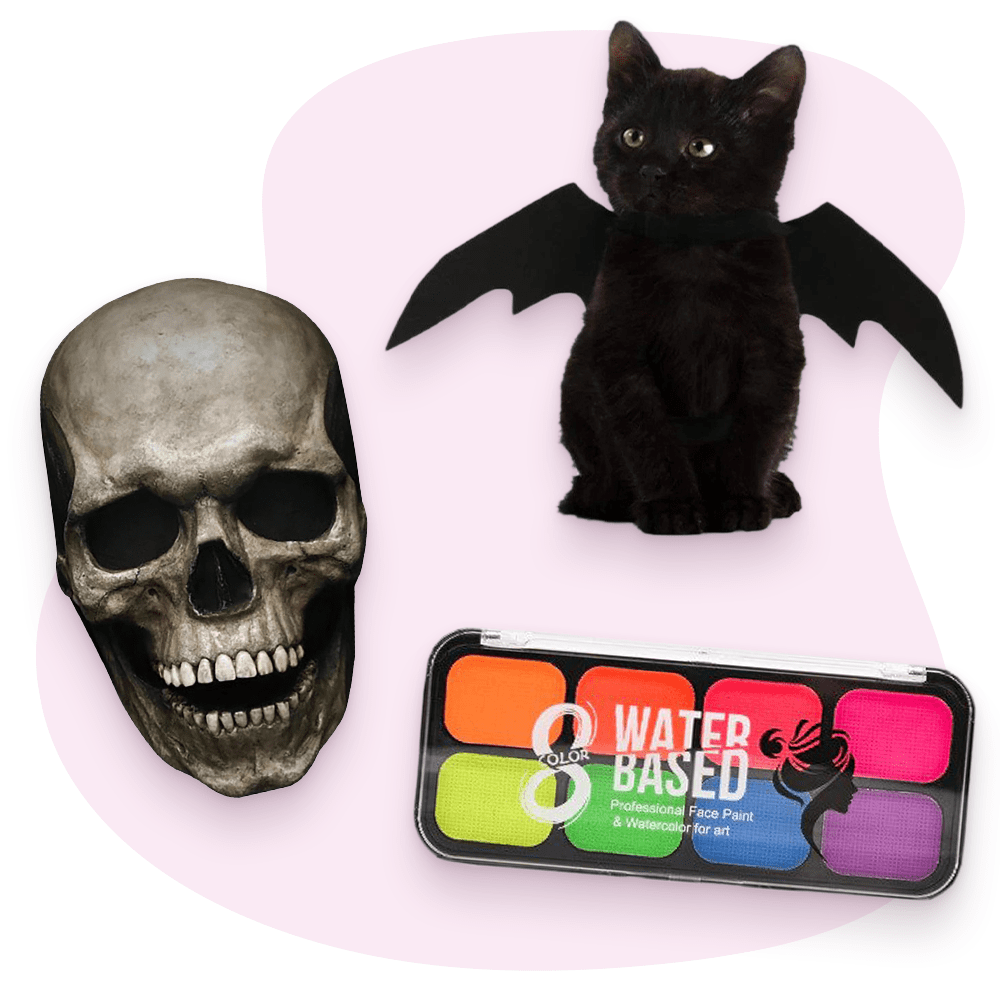 Costumes & accessories
With dropship, you can go big, including a variety of popular costumes, masks, accessories, and cosmetics for Halloween. Don't stop with people costumes; a huge growing trend is costumes for pets. Make sure you don't leave anyone in the family behind.
Marketing tips
Who to target? Halloween is no longer just a kid's celebration. Last year, 74% of millennial moms and young parents said it was essential to celebrate Halloween despite COVID, and things aren't changing anytime soon! Also, 88% of people aged between 25 to 34 planned to spend on costumes for themselves and their kids, and 24% of them will even dress up their pets.
Moreover, 87% of them planned to spend on decor for this celebration. There's no doubt millennials love this holiday, so make sure you target this group in your ads.
Where to promote your products? Social media provides endless amounts of inspiration, so why not promote your products right next to it? According to the latest data, customers go to Pinterest, Facebook, Instagram, and Youtube for Halloween ideas, which is why you should keep and consider adding these social media platforms to your marketing strategy.
Optimize for Google Shopping. Besides social media, where do people look for Halloween ideas? On Google, of course! Now, imagine your products come out in the first Google Shopping positions offering a great deal. How do you do this? Check out our SEO Guide to grow your sales with Google.
Calls-to-action
Don't turn into a pumpkin! Order today and celebrate in style.
It's time for sweet treats; get terrific personalized tote bags for trick or treating!
Find frightfully good deals on our website. Select your costume now!
With our haunting Halloween collection, you are in for a seriously spooky Halloween.
Spook it up for Halloween with the scariest home decor items out there. Shop now!
All treats, no tricks! Use this coupon for our spooktacular Halloween collection.
Embrace this wicked holiday and skyrocket your sales with Chip!