Autumn is coming, along with many significant holidays. With COVID-19 restrictions easing up, consumers are anticipating parties and more social gatherings. So naturally, people want to celebrate, and you are going to help them! Chip is here to give you the latest scoop on the best fall marketing ideas you can use in your business this 2022.
Get ready to be part of your customers' celebrations by setting up your store for success with the latest fall marketing trends adding our product recommendations and design inspiration.
Fall marketing trends
At the beginning of this year, there was still great uncertainty about consumer spending, but we have great news! The NRF now forecasts that 2022 retail sales in the U.S. will be higher than expected. Moreover, online sales are expected to grow between 11% and 13% to a range of $1.17 trillion to $1.19 trillion as consumers continue to love the convenience of ecommerce. Now, you can be part of the lucky sellers that get to cash in. 
There's no denying this is a great chance to embrace the opportunities the fall season brings to grow your business. What are these opportunities? Well, for starters, we have some of the most beloved holidays of the year: Halloween and Thanksgiving. Americans love to go all out to celebrate these important dates, so prepare your store for these huge celebrations!
Black Friday and Cyber Monday are other excellent occasions for both shoppers and online sellers. According to Statista, last year alone, American shoppers planned to spend approximately 40 percent of their budgets in-store and 60 percent online. And that's not even the end of it! You can also take advantage of some niche occasions, like Veteran's Day or World Teachers Day; check them all out next.  
Noteworthy days in fall
First Day of Fall (Thursday, September 22nd)
International Coffee Day (Saturday, October 1st)
World Teachers Day (Wednesday, October 5th)
World Animal Day (Tuesday, October 4th)
Halloween (Monday, October 31st)
Veterans Day (Friday, November 11th)
Thanksgiving (Thursday, November 24th)
Black Friday (Friday, November 25th)
Cyber Monday (Monday, November 28th)
Hanukkah ( December 18th - December 26th)
National Free Shipping Day (Wednesday, December 14th)
Fall themed marketing ideas
Product recommendations to include in your POD Fall collection
Sweater weather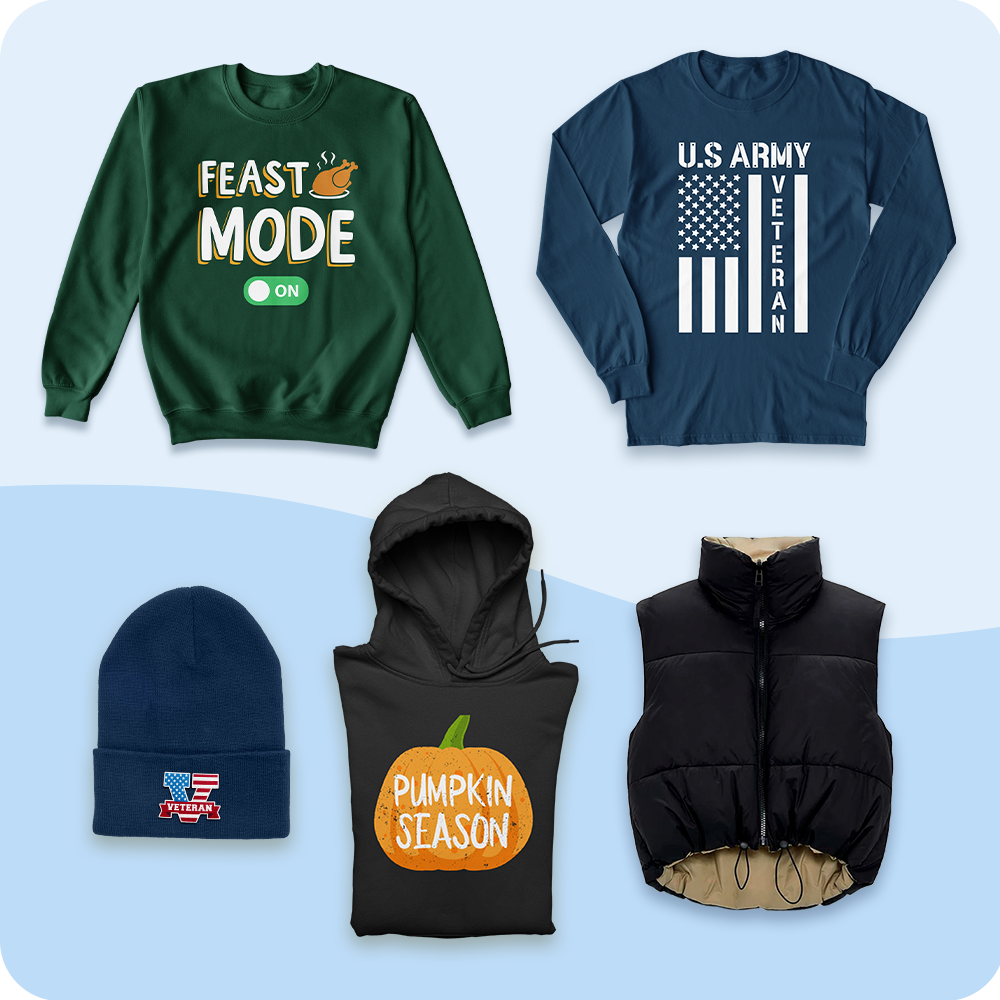 Baby, it's cold outside! It's time to prepare for the cold weather, and your customers know it. Include hoodies, sweatshirts, long-sleeve tees, and beanies in all the collections you are pushing during this period.
For Dropship sellers, there's a wide assortment of outerwear and cold-weather accessories perfect for the season. Think of jackets, coats, gloves, scarves, and boots. After all, there's no limit when it comes to awesome dropship products!
Hot drinks galore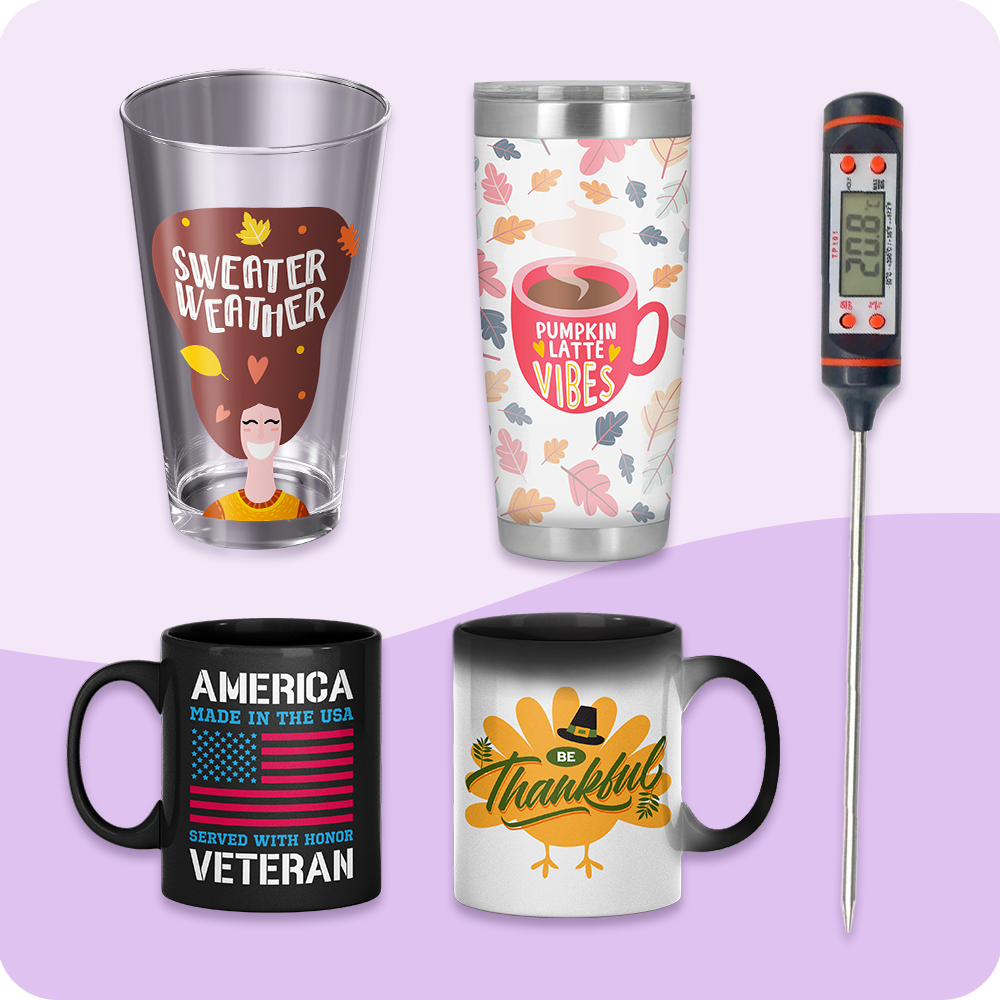 Pumpkin Spice drinks are back! We all know with fall comes a wider variety of delicious hot beverages everyone knows and loves. Give your customers fun ways to enjoy them with custom mugs, tumblers, color-changing mugs, and pint glasses available in your store.
One of the best things about autumn is the mouthwatering food, and fall holidays will have your consumers preparing the tastiest meals. Help them achieve the perfect dinner with all the utensils they may need, such as cake decorating supplies, meat thermometers, etc. Add them to your stores with a few clicks via Dropship. ​​
Holiday-themed & cozy home decor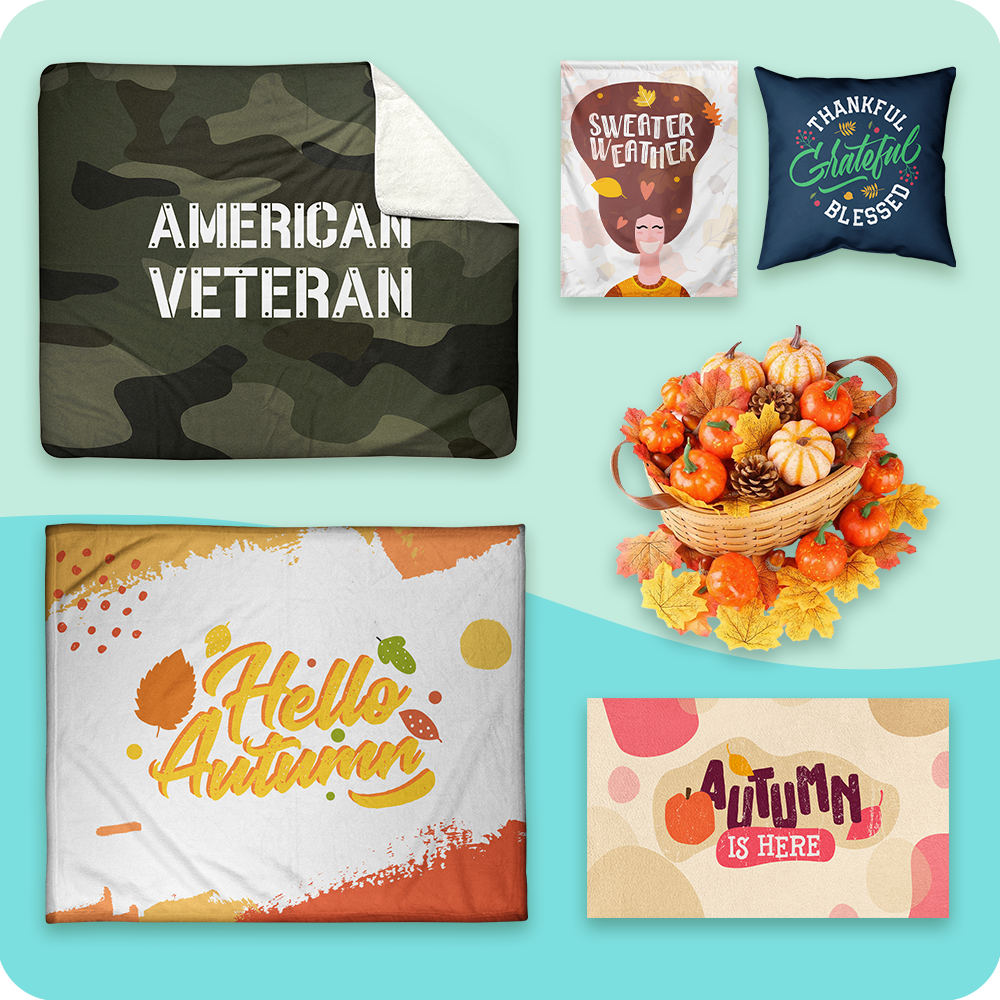 With the most popular holidays happening during this season, there's no doubt that decor items are a must. Add cozy fleece blankets in all sizes, sherpa blankets, doormats, indoor pillows, house flags. Also, include wall art like posters and canvas in all sizes that are fabulous pieces to decorate any room.
With so many events around the corner, people want to be ready for the meals to come. This month's holidays are a perfect occasion to add platters, serving ware, and practical disposables, such as themed paper towels, paper plates, paper cups, etc., that are in high demand. Add all of these products to your store with Dropship!
Design inspiration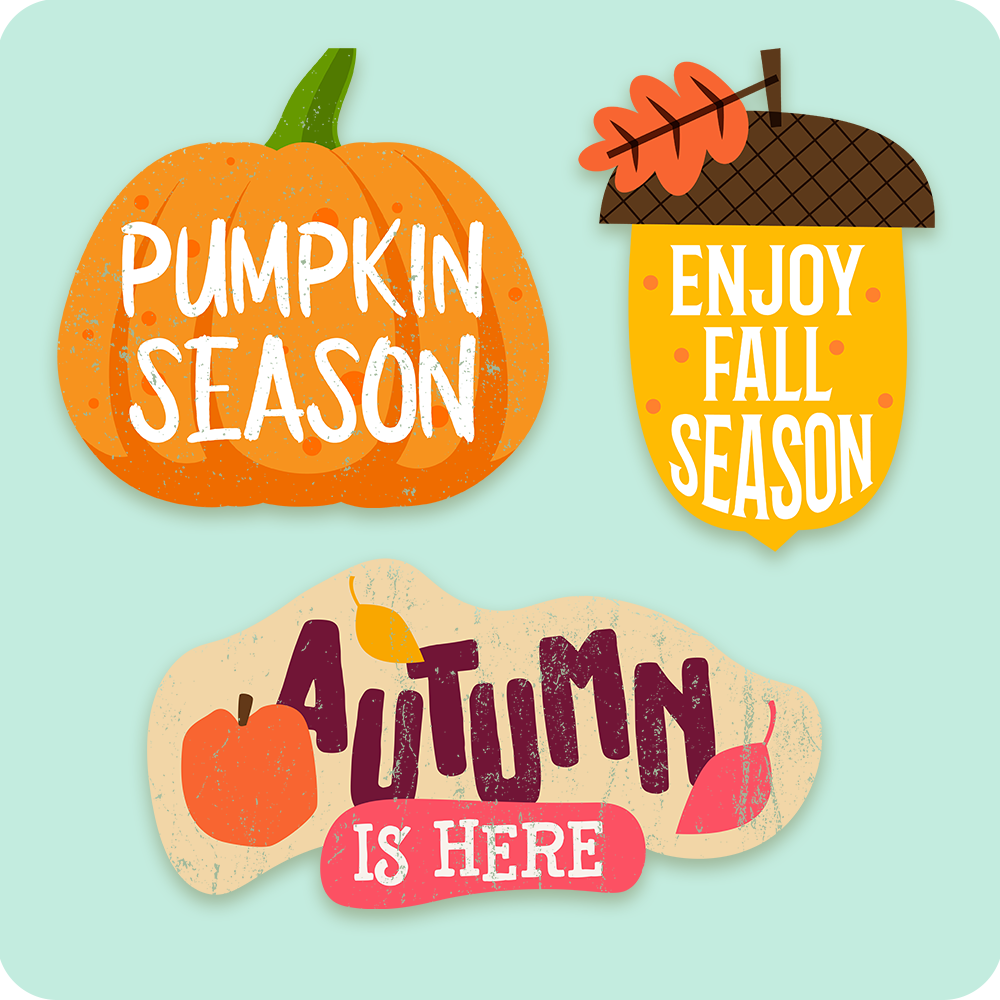 Fall designs
The warm colors, the falling leaves, the crackling fire... Fall is a season that gives you plenty of inspiration to design the coziest collection.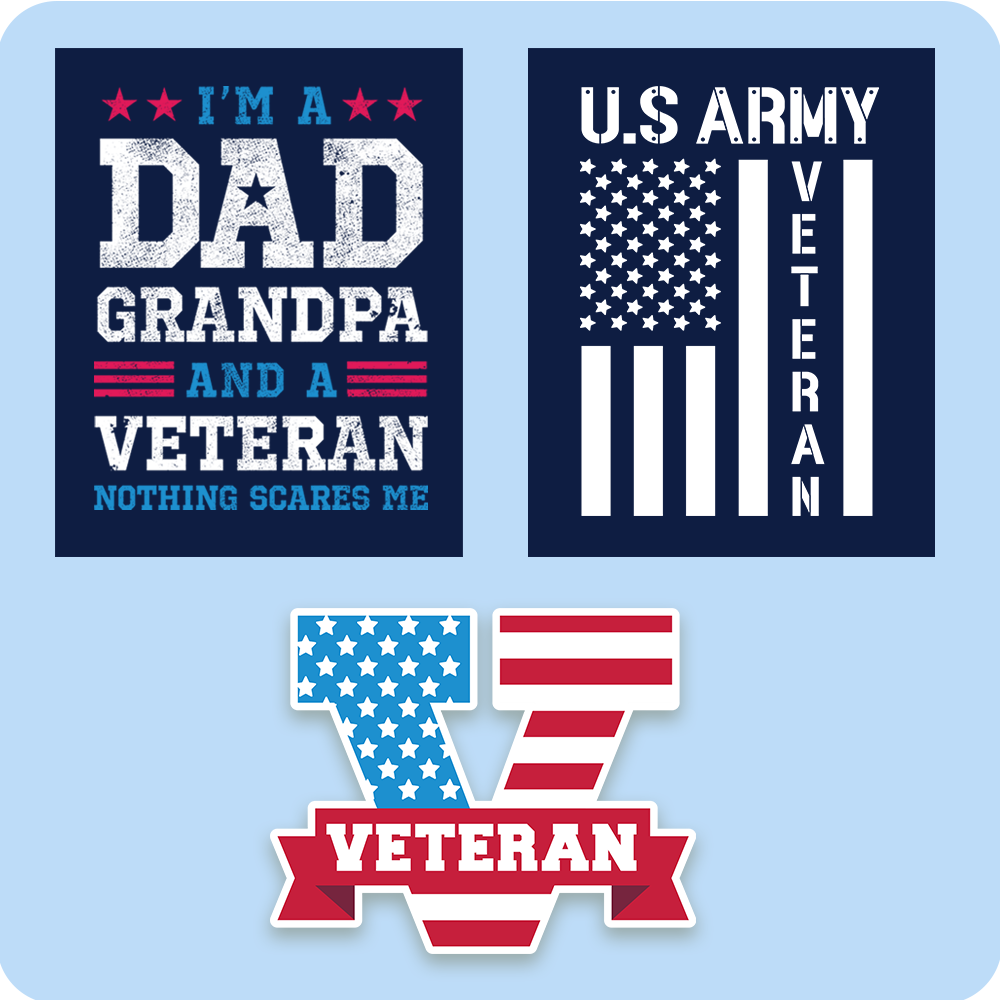 Veterans Day
This year, families and friends are back to gathering for celebrations. People will be pulling out all the stops to create a festive atmosphere to be grateful.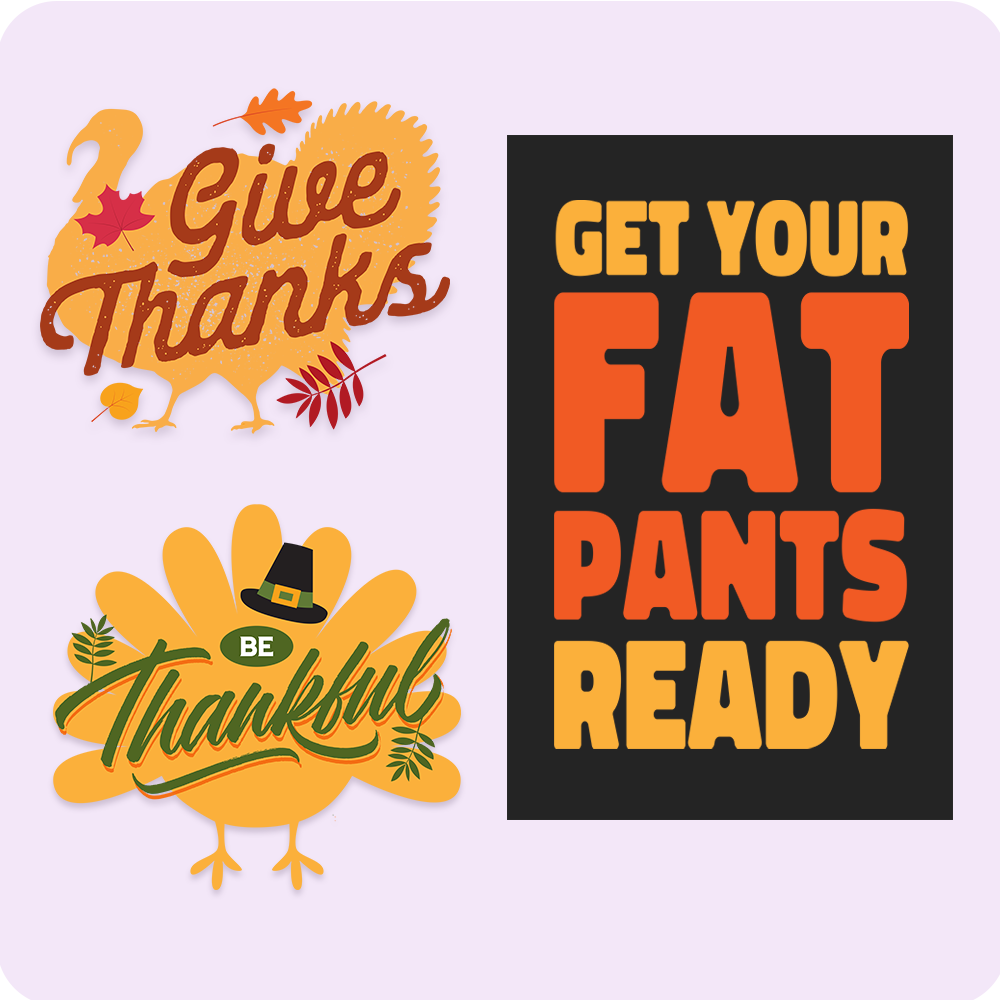 Thanksgiving Day
This year, families and friends are back to gathering for celebrations. People will be pulling out all the stops to create a festive atmosphere to be grateful.
And no, we are not forgetting Halloween; on the contrary, we prepared a special Halloween Marketing Ideas Guide with more tips to increase your sales using this particularly spooky chance!  
Fall marketing campaign ideas for messages and calls-to-action
Express your gratitude to your favorite veteran with an extra special personalized gift.
Dress your house to the nines with our Thanksgiving decor collection. Buy now!
Keep calm and stay cozy with our fall-inspired collection; get it right here.
Cuddle up next to your favorite person under these cozy blankets. Shop now!
Autumn is calling! Check out the best fall-inspired designs today.
It's time to gobble until you wobble! Get everything to prepare the perfect dinner here.
Sweater weather is on! We have the perfect outerwear for you. Get it today.