Did you know that close to 70% of online shopping orders were abandoned in 2021? Yep, that's a lot of potential revenue you never get to see. Fortunately for you, Chip provides the tools needed to minimize your shopping cart abandonment rate and increase your sales. 
Here we explain how to set them up for your dropship online store and other strategies you can use to recover abandoned carts before it's too late.
What is an abandoned cart?
In ecommerce, an abandoned cart is when a customer adds items from your store to their virtual shopping cart but then leaves before completing the purchase.
Why do customers abandon shopping carts?
Many of the reasons cart abandonment happens are out of your control. Some customers could be exploring their options, making price comparisons, and saving items for later. Other times, life happens, and quotidian situations like a bell ringing can occur in the middle of any online shopping spree.
Top 10 Reasons for Cart Abandonment During Checkout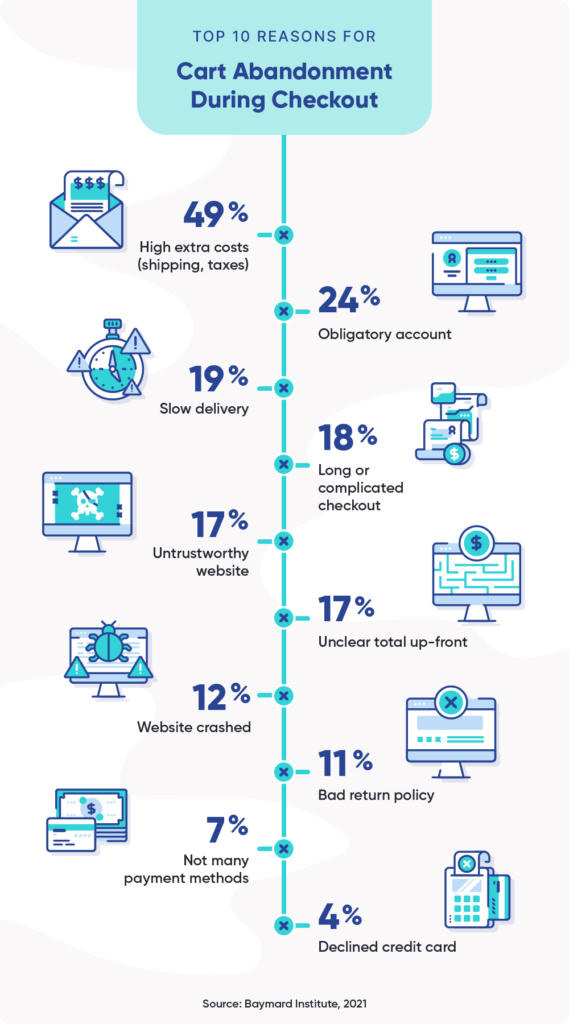 But what about situations in which we have some power like some of those explained in the image above? Luckily for you, we take care of everything! So stop worrying about complicated and long checkout processes. With Chip, you get the world's most conversion-friendly buy flow created with online shoppers in mind. 
When shopping at your Chip custom domain, buyers won't need to create an account or worry about dealing with an untrustworthy website. Also, we offer fast shipping in best selling items so that slow delivery is not an issue for you anymore. And if there is any situation, we have international customer service to make sure any potential customers can get help when needed.     
And that is not all! We are continuously improving our platform and getting you higher conversion rates with fine-tuned pages and sub-2 second page load times.
Learn more about how to optimize your conversion rate with Chip. 
Strategies to recover abandoned carts on your dropship store
Abandoned Cart Emails
One of the most popular strategies to avoid shopping cart abandonment is email marketing. In case you didn't know, besides beautifully designed email marketing campaigns, Chip sends automatic Abandoned Cart Emails to your customers. These emails can help you recover abandoned carts to increase your conversion rate on dropship products and print-on-demand items.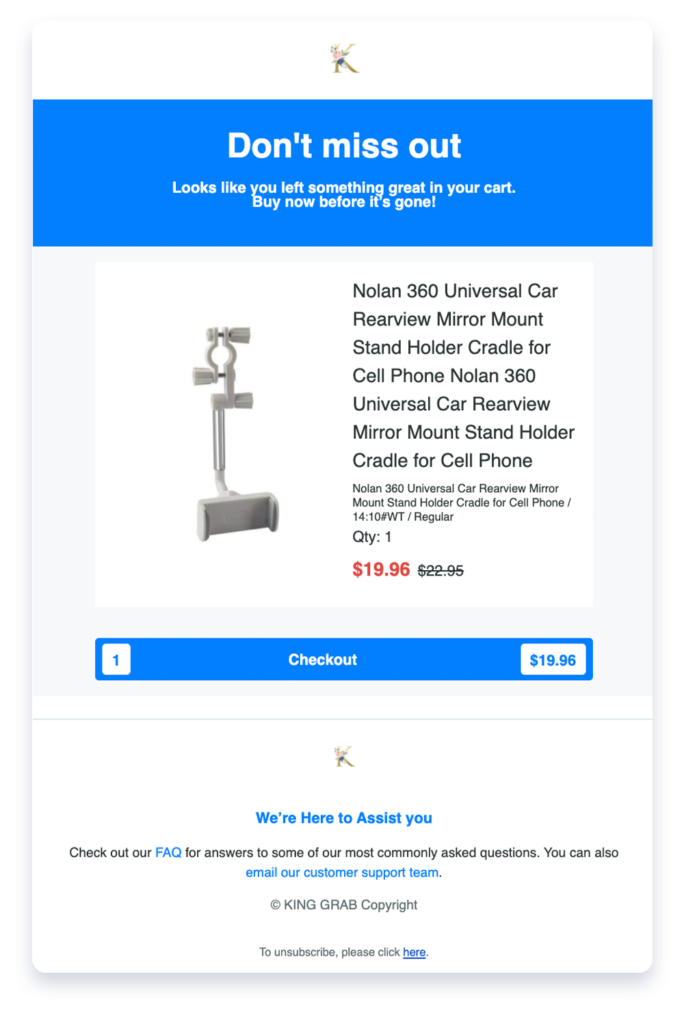 The best part is that they are automatic! You don't have to do anything to set them up, and your customers will receive a friendly reminder to complete their purchase directly into their inbox.
Run retargeting ads
Of course, there are also other ways to remind your customers of their unfinished purchases besides email. Retargeting ads target past users who visited your website but didn't complete the checkout process. They act like friendly reminders for customers to keep your products on top of your past visitors' minds.
You can use Facebook dynamic ads to craft perfect retargeting ads for each customer. This way, you can display exact and related products users were previously interested in based on their last page interaction data.
Expiring offers and coupons are a great way to encourage customers to recover abandoned shopping carts. Match them with your retargeting ads to push viewers to take immediate action.
Now that you know the best strategies to recover abandoned carts, you can tell that Chip has your back with email marketing, one of the best tools available set up automatically for you. This way, you can focus your time on what really matters: Selling more!