The summer season is nearby! Vacations, sunny days, pools, and margaritas are the next hit, which means you need to prepare your store because these are significant sales opportunities.
We all are getting ready for the beach and relaxing for a couple of weeks, and most of us are willing to buy some gadgets to make the most of these days.
In this article, you will find some tips and ideas to enhance your store and sell trending summer products.
Let's get right to it.
Best Summer Products

Print On Demand
If your business model is Print On Demand, these are some summer products you must include in your store: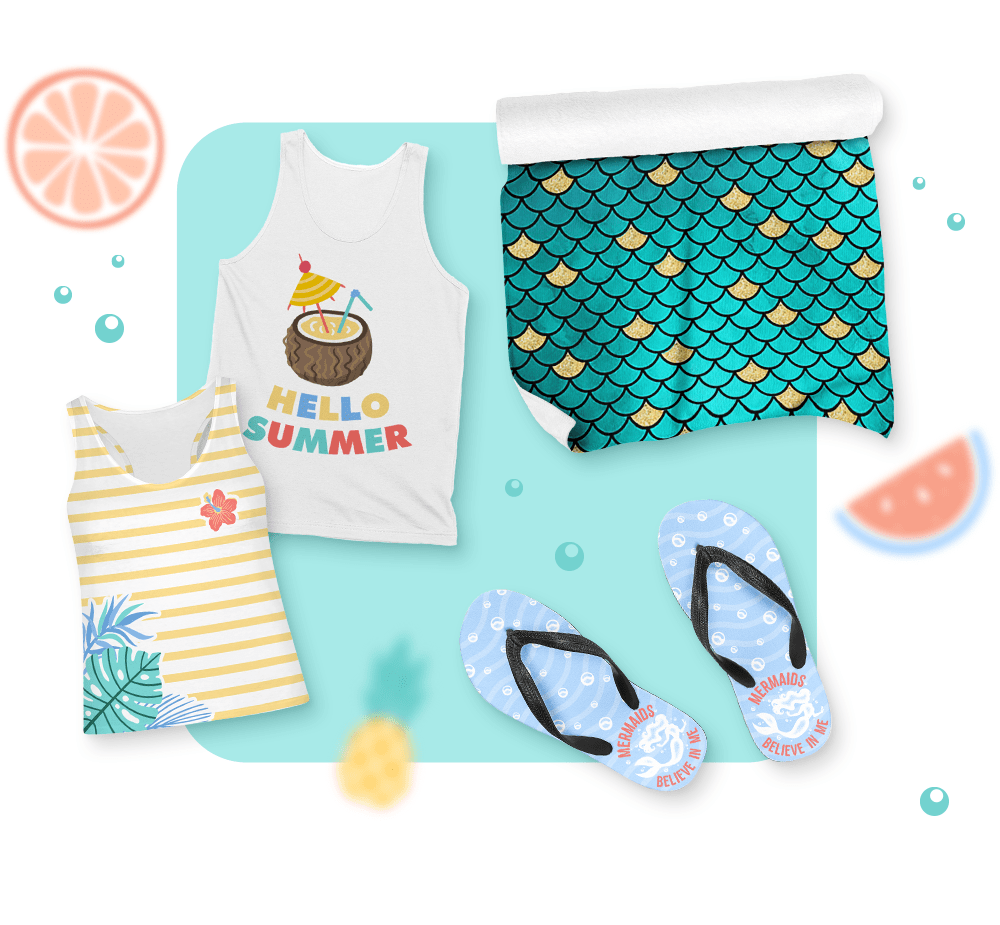 Also, you can add some designs related to summer's most popular activities or subjects such as camping, beach, travels, fans of hot weather, summer love, etc. Your imagination is the only limit! Find all these products in our POD catalog.
Dropshipping
Now it's time to talk about the best dropshipping summer products your store can't miss this season full of adventure and happy days.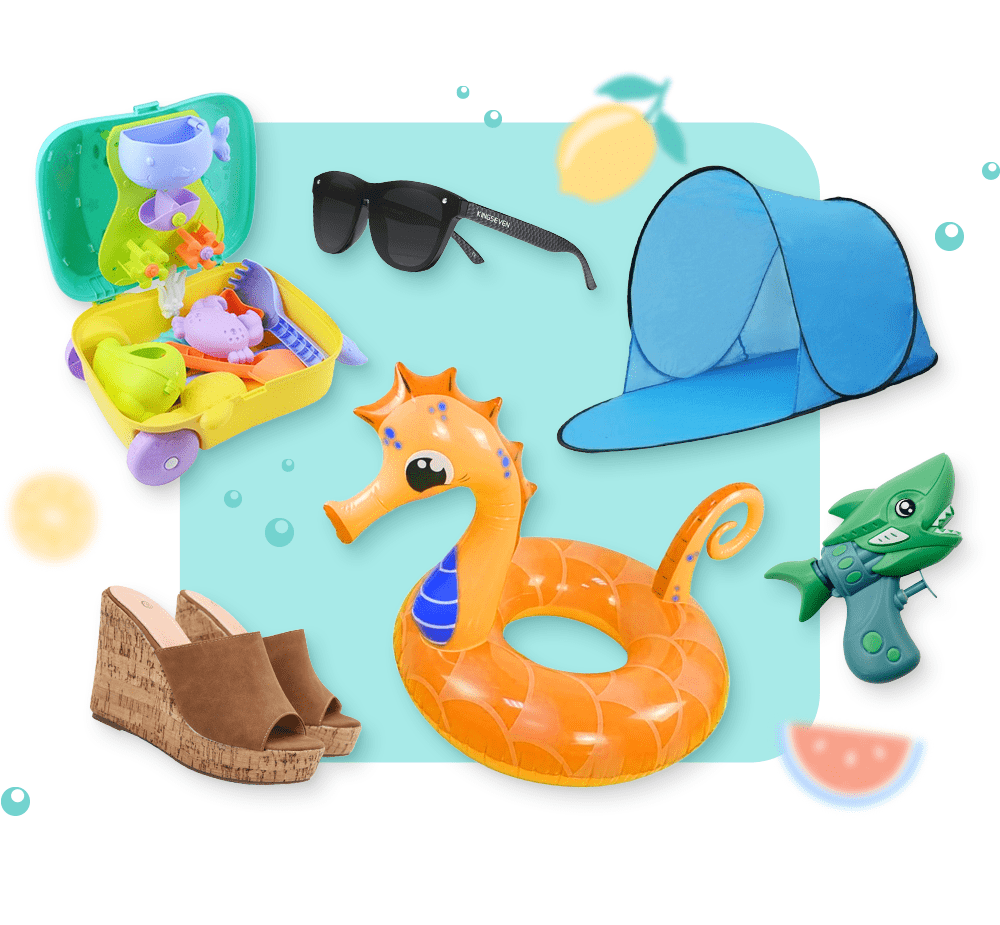 Nowadays, buyers check on reviews first and then on prices. Every time you get a nice comment on a
Swimwear. If there's something that never fails, this summer season is swimwear. A quick search on AliExpress will expand to many different swimwear models for men and women.

Water shoes. These are the essential items, especially for a trip to a rocky beach and for people who don't love flip-flops or being barefoot at pools.

Beach toys. If you have kids, you understand the importance of these items for your customers. Include many toys in your store, such as water guns and buckets.

Tents. Nobody wants to get their skin burned by the summer's hot and bright sun, so why not add some tents your customers will need on their vacations.

Inflatables. Summer is for everyone, even if they're not traveling to the beach. Inflatables will help your customers get fun moments while staying at home and enjoying their free time by the pool.

Beach chairs. Make it easier for your customers to stay longer at the beach by helping them to take a proper seat under the sun with foldable beach chairs. Who said discomfort? 

Portable Bluetooth speakers. While a good talk with friends by the pool is appreciated, sometimes it takes a fine playlist to make the moment more enjoyable. Make it possible by adding portable Bluetooth speakers to your summer-ready store.

Popsicle molds. Getting a refresh with some homemade popsicles was never easier with these popsicle molds.

Sunglasses. Don't forget the most useful, essential, and cool universal summer item. Sunglasses are a must!

Portable Fans. And what if your customers are not getting vacations? Then a portable fan will make these days less hot! 


Tips for your Store
When starting a business, you want everything to work out perfectly. Still, you have little to no control if you have a dropshipping business. You can't see the quality of the products that suppliers are sending; you have
Including high-demand summer products in your store and combining this with a solid strategy can be a game-changer for selling more. Vacation time is an excellent opportunity to increase your profits if you direct your store the right way.
Let's dig deeper into these tips, and don't forget to take notes.

Create a marketing campaign. Show your audience what you're offering, the recent products you added to your store, and their benefits.
Think of your customers. You know your customers better than anyone. Think about what's more likely for them to buy? Do they have children? Do they work in an office? Your current and past sales will give you a hint.
Use the proper tags to optimize your store. A helpful tip for writing the correct tags is to think about how it's more likely for my customer to search my products.
Use Chip's features. Make the most out of your store and use the features Chip offers, such as our rating, slashed price, and countdown timer. Each one of them has different applications!

Summer Content Ideas for Posting On Social Media
Social Media content is crucial if you want to communicate what you're selling to your audience and build trust between you and them, so here are some ideas you might want to try.
Remember: your posts always need to be directed towards your audience, so take what fits your business.

Staycations
With the millions of products available to dropship, it's hard to find a true hit. And when you find something
While not everybody is traveling on these vacations, you can collect ideas about fun activities at home and make a "summer special" on your social media channels. Show your audience that they can relax and have fun days even if they stay at home. Remember, helpful content will make your audience grow!
Some staycations activities could be:
Indoor picnics
Spa days
Camping 
Backyard movie nights
Online art classes
Hiking

Photos of your products in action
Create a nice set at home, take some products you own that are also included in your store, and take pictures of them in action. It could be sunglasses, a t-shirt, popsicle molds, etc.
Don't forget to brand these images so your audience will recognize them instantly, and this doesn't mean you have to place your logo on the pictures. You can brand your content using the colors, filters, or elements that define your company.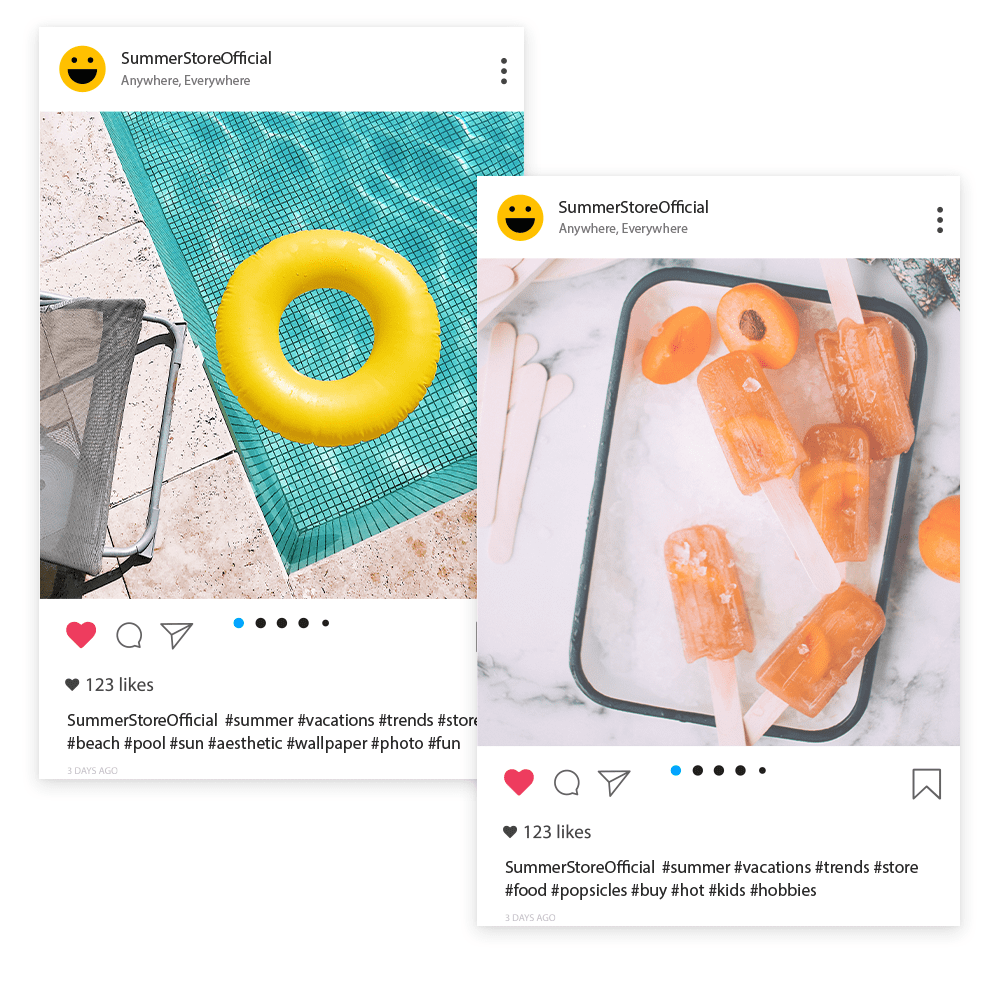 Polls
Add fun polls on your content related to summer. This activity will reinforce the relationship between you and your customers and help you know them better. For example:
It's summertime! What do you prefer?
Cold tea or Cold coffee
Staying at home or Going to the beach 
Watermelon or Pineapple 
Beach or Lake 
Camping or Picnic 
Flip flops or water shoes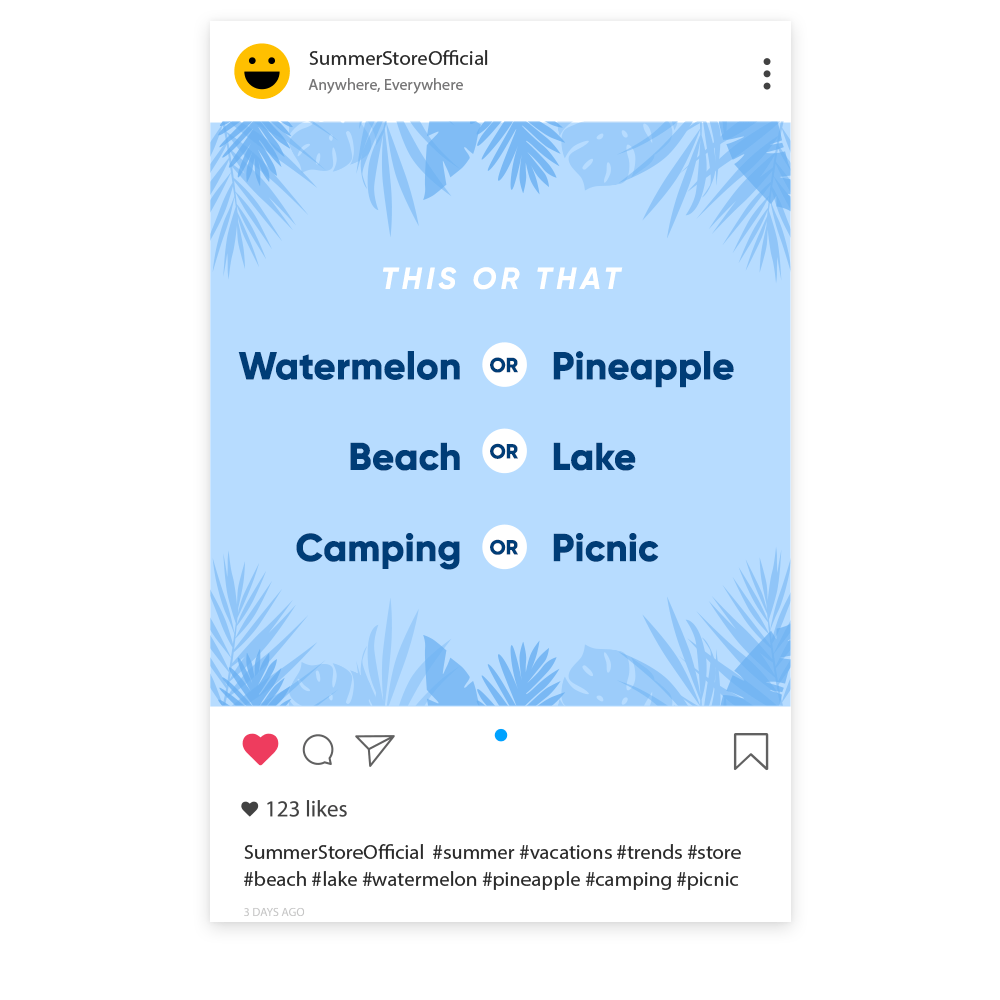 Fill in the blanks
Marketing a dropshipping business can be a complex process, but Chip gives you all the tools to get you
Break the ice with this social media activity and engage your audience by asking them to fill in the blanks in your sentences and share them in the comments.

Examples:
This summer I want to go to _______________
Beach days are better if I bring ____________
Doing ____________ makes vacations cooler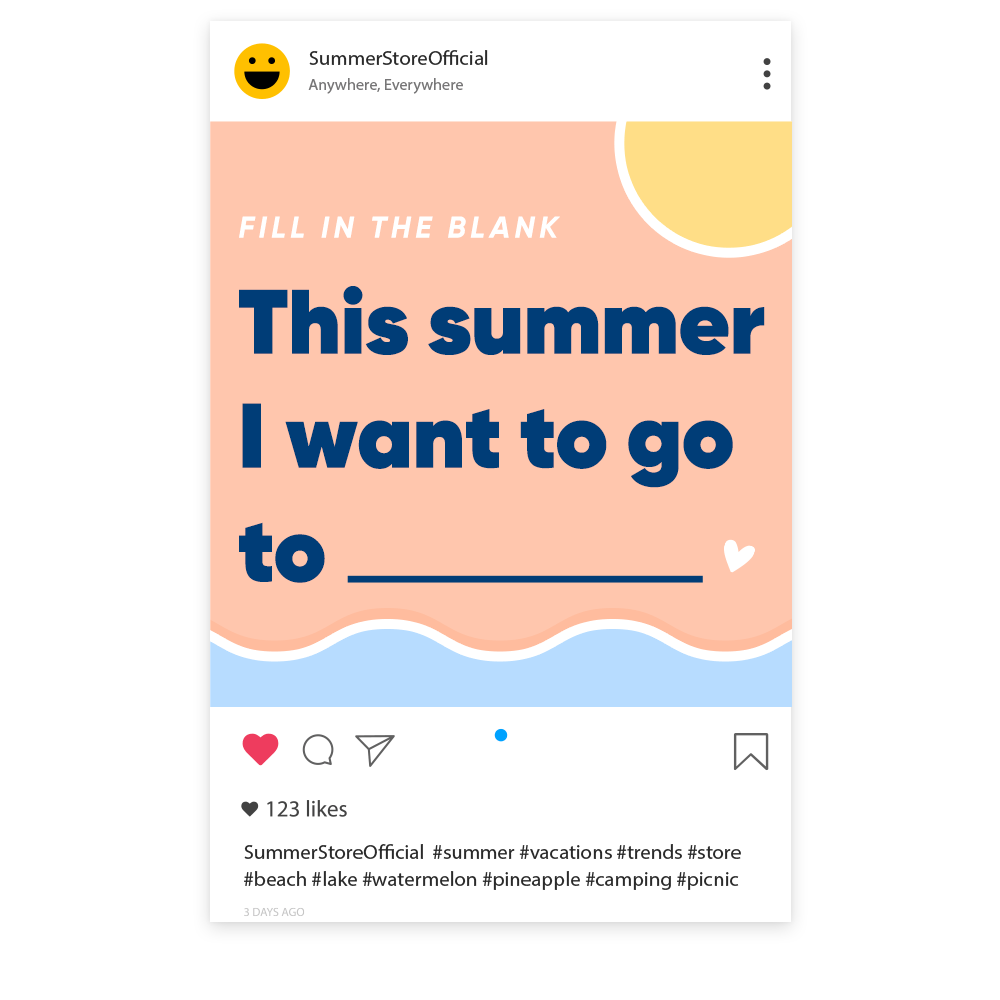 Caption this
This type of content is a piece of cake but works like magic to increase your social media engagement, especially if you are on Instagram or Facebook.
Post a picture regarding your products and the season. It could be a pair of flip-flops near the pool and write on the caption "caption this."
This content will engage your audience by participating in the comments and help you understand how they perceive your brand.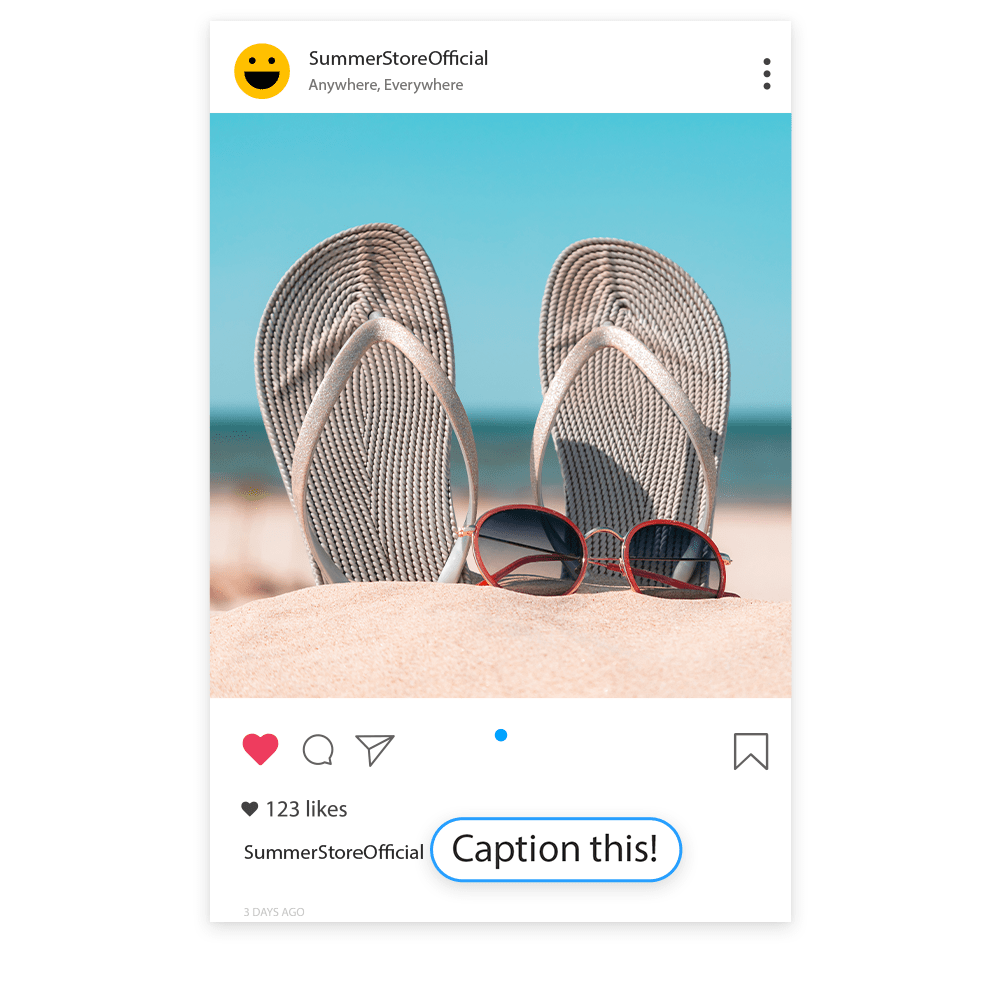 Don't miss out this season if you want to make hay while the sun shines by preparing your store with the best summer products and social media with time.
Follow Chip for more content!