If you could have a superpower, what would it be? You likely thought of flying or reading minds, the most popular answers. But for Chip sellers predicting the future would be a major advantage. Why? Back in 2020, when the pandemic started, products like office chairs, exercise equipment, books, puzzles, and board games were flying out the digital and non-digital shelves. 

So imagine predicting all the upcoming trends and preparing your store and marketing strategy to grow your business! Oh, the dream… While Chip's not able to give away superpowers yet, we are close with these tips that teach you how to use Google trends for dropshipping. It will let you predict the next bestseller dropship product as if you had superpowers! 
Why use Google Trends?
What do you do the moment you realize you want something? There's a high chance that if that's something you don't know how to get, your first step is to google it. So it's no surprise that Google is the company with the most information about what people want; the best part is you can use it to your advantage with Google Trends!
Google Trends is a tool that lets you tap into the minds of their users (over a billion!) to find what is currently trending by helping you analyze the top search queries in the world. In addition, you can refine your results considering factors such as location, timeframe, and categories to get the data you need.
How to use Google Trends for Dropshipping? 
Since Google Trends lets you know what people want, why not use it for your dropshipping business? You can use it to: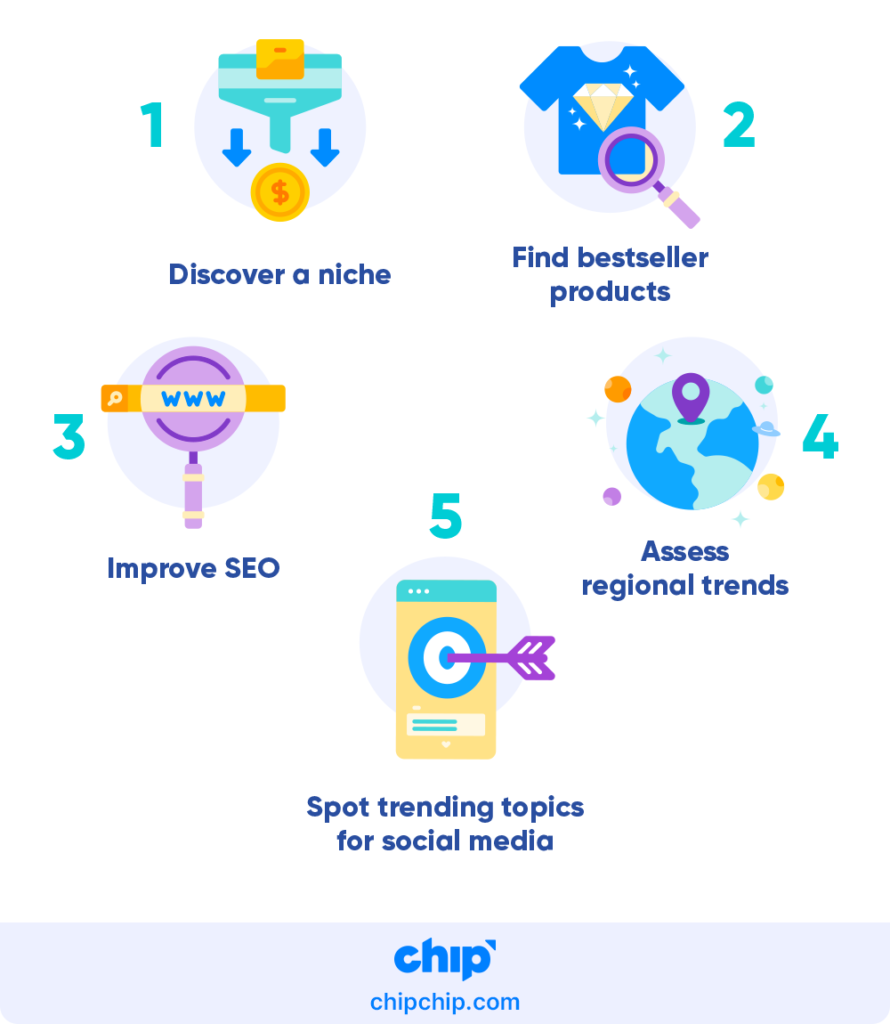 Discover the best niche for your dropship store
Gone are the days in which you start a business without knowing if it will work out or not! Now you can use this tool to see if your niche has enough demand to be a profitable business. Plus, you can compare it to other niches, all you need to do is click on +Add comparison, and you will see which one is more popular across your selected timeframe.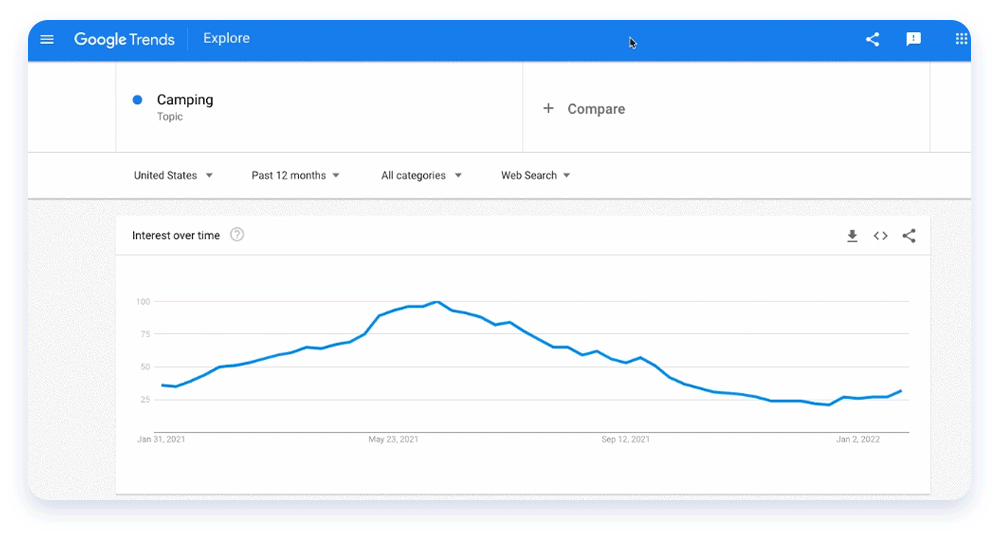 Pro Tip: Make sure you select Topic instead of Search Term because Topics includes all the terms that share the same concept in any language.  
Find the most demanded products of the moment to sell
Have you ever run out of ideas about what products to add to your Chip dropship store? Of course, it happens to everyone, but with Google Trends, you can remove all the guesswork and find actual data to help you make the best decision. Here are the steps to find bestsellers with Google Trends for dropshipping:
Step 1. Visit Google Trends and type in the niche or product category. Ensure you select the correct country and an appropriate time frame (At least 30 or 90 days up to a year to notice the trend). You can also refine results by category and type of search.
Step 2.  Scroll down to see related topics and terms. These terms are precisely what you need. Not all of them may apply, but at least some of them will give you insights about those up-and-coming products that have a better chance of being successful dropship products.
Pro Tip: Pay special attention to those that say Breakout because it means the term grew by more than 5,000%. So add and promote products related to those topics right away!
Step 3. Easily download the data, review the terms you consider relevant, and start adding products related to that topic to your Chip store!
If this is not enough, you can always count on Chip to help you, and our Dropship catalog is no exception. We update it regularly to provide you with the top product ideas to add to your store and grow your dropship business!
Discover other essential dropship tools here.
Optimize your SEO strategy
Besides Google Trends giving you insights about what people are looking for, it also tells you how they search for it and their related searches. So use them to your advantage, finding the exact keywords your customers are using and all related terms. 

Learn more about how to optimize SEO on Chip here.

Promote according to the region  
When you enter a search term on Google Trends, you can see how popular the term is by region or subregion of a specific country.
As you know, dropship is available to ship to several countries, so you can focus your promotion efforts only on those regions that show the most interest in a particular product.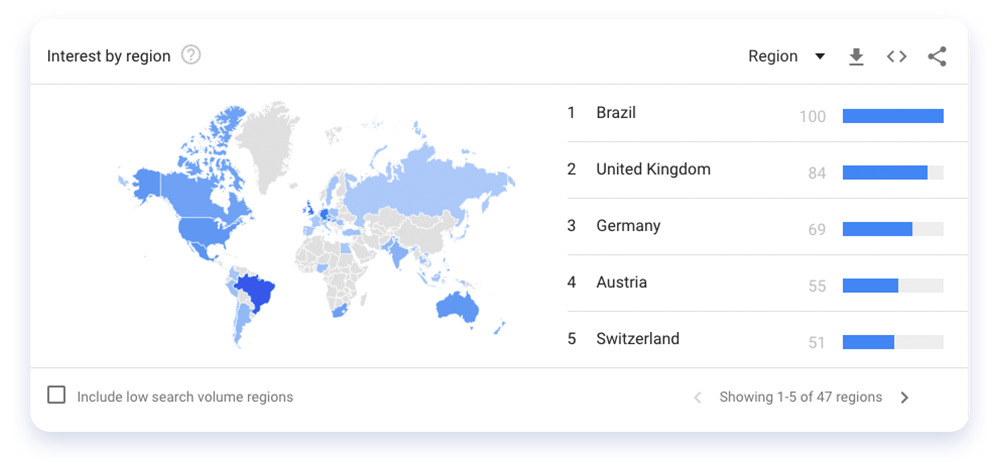 Spot trending topics for social media content
Use Google Trends to jump into the latest trends and create relevant content for your niche. The topics won't relate to your niche all the time, but you can see what people are currently searching for and use it to create timely content, for example, using the meme of the moment for social media.
To see these trending topics select the country you are interested in on the home page and scroll down to see the latest trending searches. You can also see the real-time search trends of every nation and filter them by category.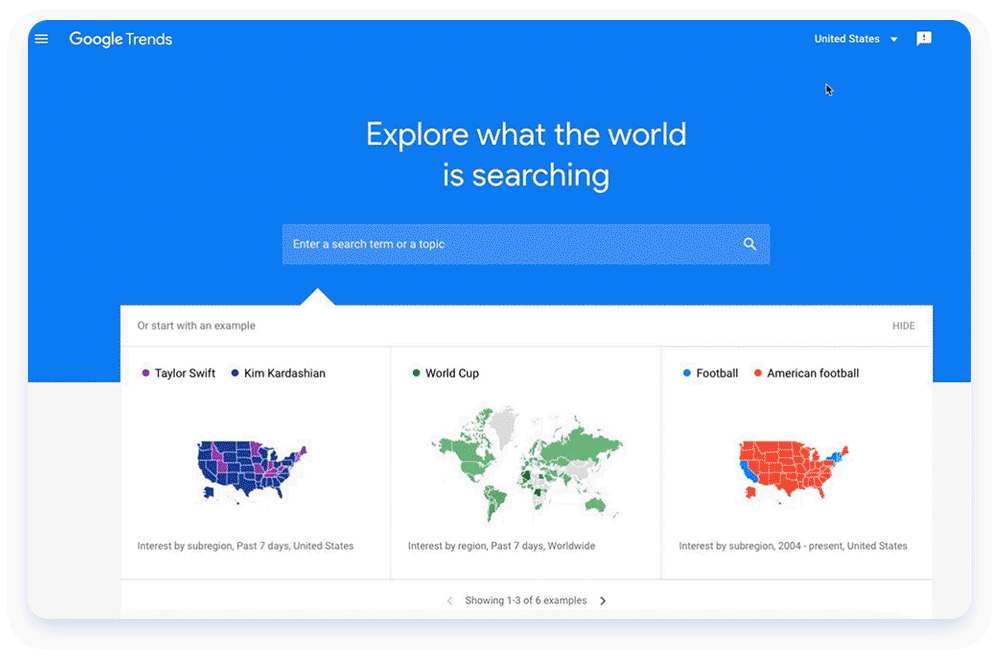 As you can see, Google trends is an excellent way to take a sneak peek into the future and a must-have in your dropship tools arsenal. Use it as your superpower and reach new heights with your dropship business!