How do you make shoppers trust your store and your products? It's easy - with reviews from real customers. Honest feedback and product images will rocket your business' credibility. Chip offers two ways (for now) to import product reviews, so keep reading to see your options.
Now, you can add reviews at the product level, so you only have to do it once and it will apply to all listings with that product. Currently, there are two ways to add reviews: via AliExpress reviews import or upload your own with a .csv file.
To start, go to your dashboard > Dropship > Select the product > Product review tab. Please note that when importing reviews via either method, you'll overwrite any existing reviews that are already on this product's buy page.
Importing AliExpress reviews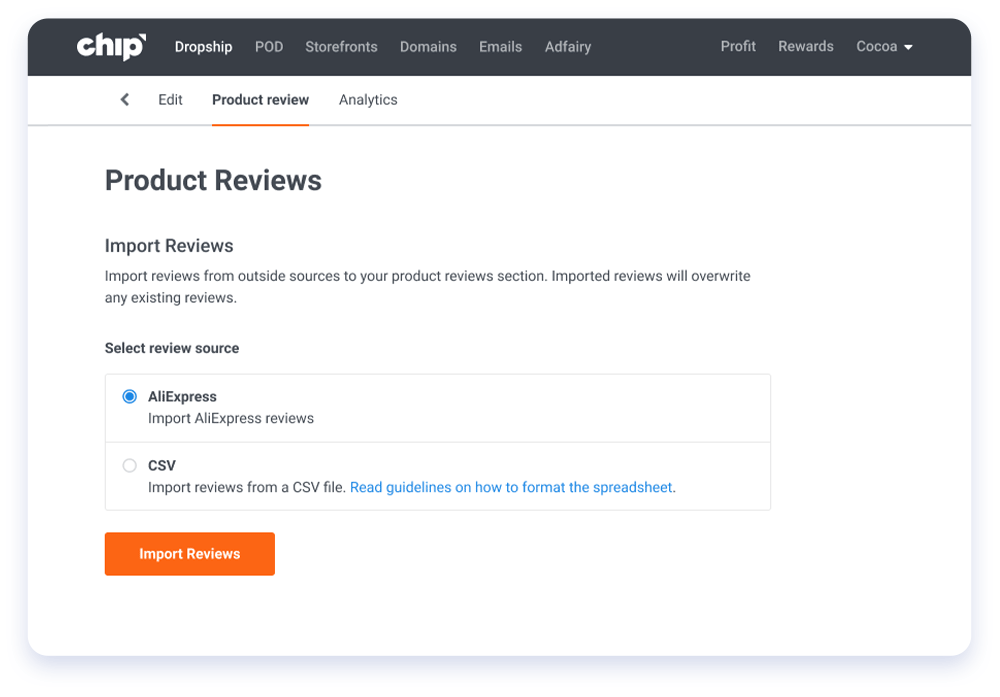 The first option you'll see is importing reviews from AliExpress. After clicking "Import reviews," all AliExpress reviews for that product ID will be imported.
Uploading your own reviews
If you want more control of what shows on your Product Reviews section, select the CSV option. By uploading your own reviews, you can hand-pick which reviewsuse you want to show on the buy page and source reviews from different AliExpress product IDs for the same product. This includes filtering out reviews with poor quality photos, bad grammar, etc.
We recommend you use the Ali Reviews Chrome extension to select your reviews.
Additionally, please ensure your .csv file is formatted correctly for upload by carefully following our guidelines:
1. Upload and edit .csv
If you need to convert your reviews file into a .csv file, the easiest option is to use Google Docs.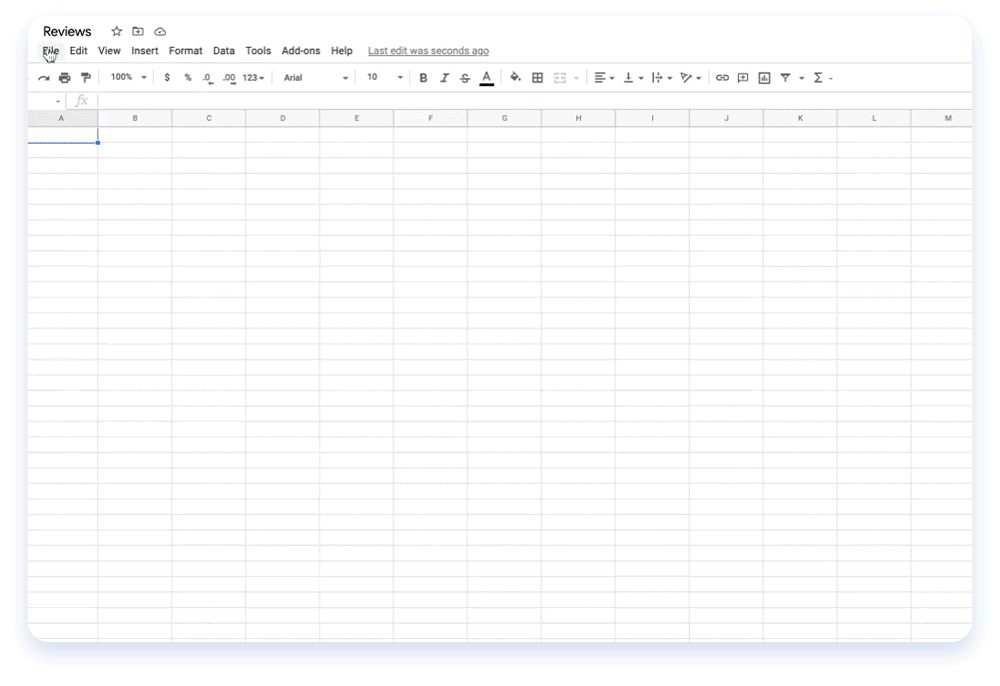 Log into your Google account and create a new spreadsheet by clicking the Blank option. We recommend that you name your spreadsheet to make it easier to locate.
Go to File > Import > Upload > Choose or drag the file you want to import.
In the Import file popup, select your preferred options under the Import location, Separator type, and Convert text to numbers, dates and formulas sections. We recommend choosing "Replace spreadsheet," "Detect automatically," and checking "Convert text to numbers, dates and formulas."
Click "Import data."
From here, we recommend that you cross-reference your sheet with our review template to ensure format accuracy.
2. Convert file to .csv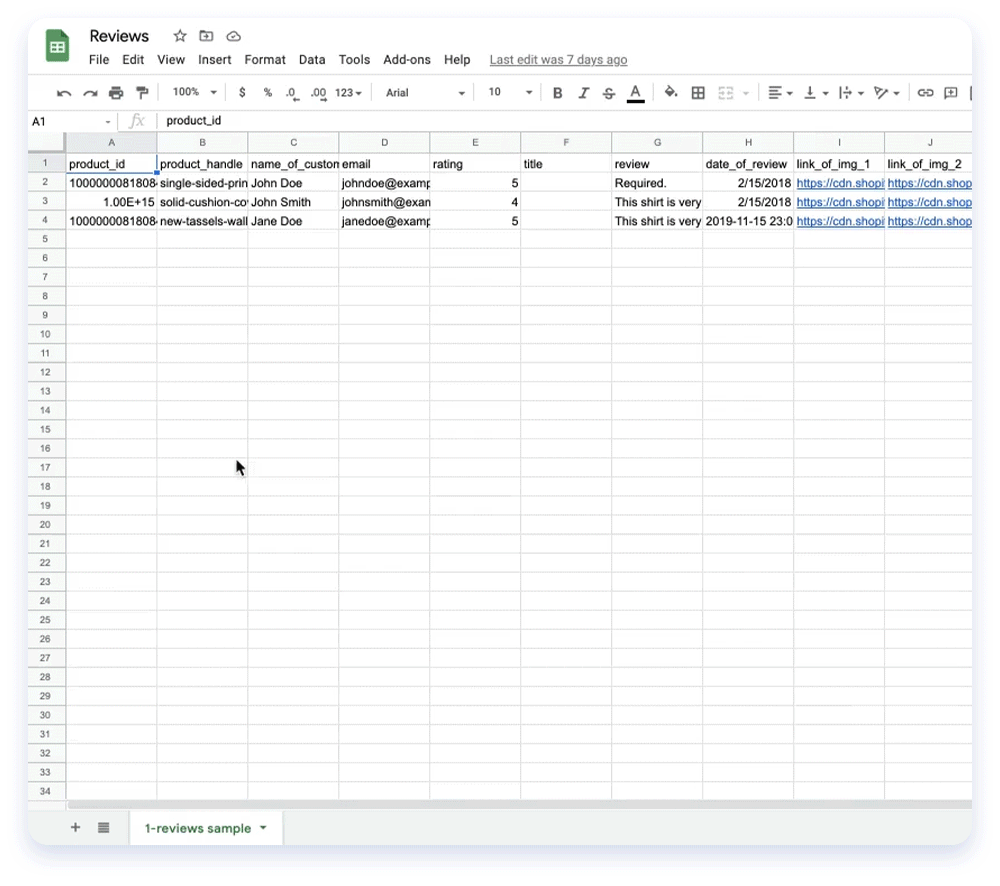 When you're ready to download your file, go to File > Download > Select Comma-separated values (.csv, current sheet).
It will automatically download to your device.
3. Upload CSV to Chip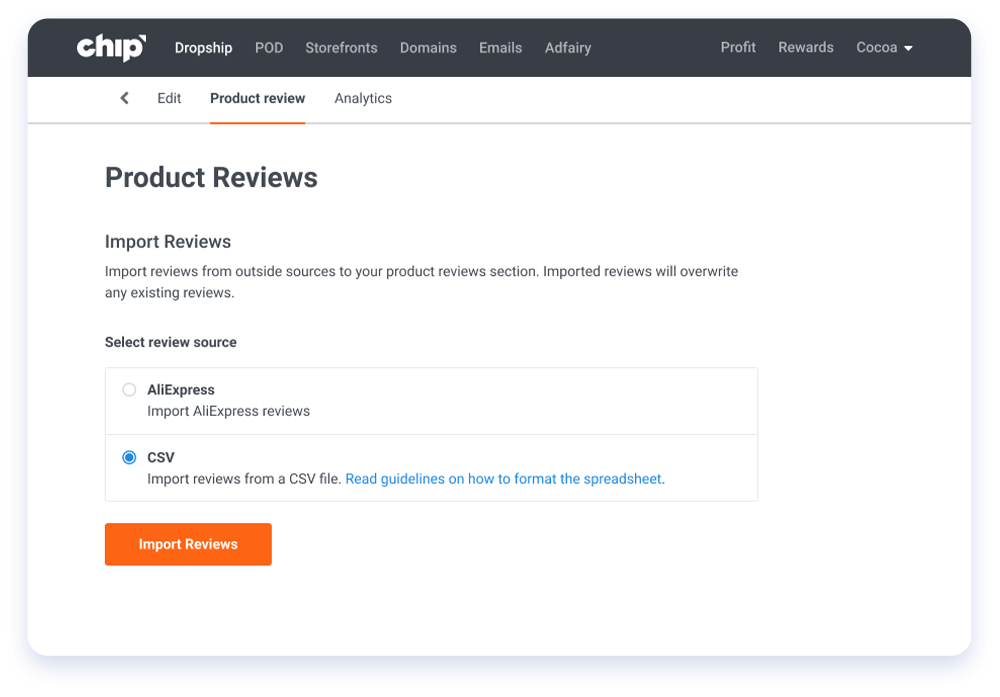 When you're ready to upload your reviews .csv file, go back to your dashboard and drag or upload the file.
Once it's finished uploading, click "Import reviews" to complete the process.
If you upload a product with little or no reviews, we encourage you to request reviews from your customers. Following delivery confirmation of their orders, your customers will receive an email in which they can provide feedback about the product.
Coming soon: Use Chip reviews
If you are uploading a product for which Chip has collected reviews, you will be able to choose the option to use Chip's reviews. Stay tuned for this release!
Add reviews to all of your products to make your store more trustworthy to all shoppers. It's quick and easy, and you'll be a much more credible shop afterward!