As a Chip dropship seller, we know that promoting your store and marketing your products is at the top of your list. Top-selling dropship sellers have found a way to increase their conversion rate through their digital marketing and sales strategy, and we want you to do it, too.
Build a high-converting dropshipping store
Your dropship store's conversion rate is the percentage of potential customers who visit your website and complete a purchase. So, how do you turn your dropshipping store into a high-converting website? First, ask yourself these three questions:
What are your dropship's store sales goals? First, define what success will look like for a dropship store like yours. Having a crystal-clear goal will help you align your marketing and sales efforts to promote your dropship store in the most effective way possible.
Who is your target niche? Identify which unique market segment you want to reach and turn into loyal customers. Consider that the more specialized your dropship store is, the easier it will be to promote and acquire new customers.
What is your unique value proposition? Communicate clearly what differentiates your dropship store from your competitors. Focus on your potential customer and highlight the benefits of getting a product like yours from your dropship store.
Once you've answered these questions, it's time to spread the word and ensure your potential customer base finds your dropship website easily. Up next, five proven ways to promote your dropshipping ecommerce and get higher conversions!
1. SEO for dropship products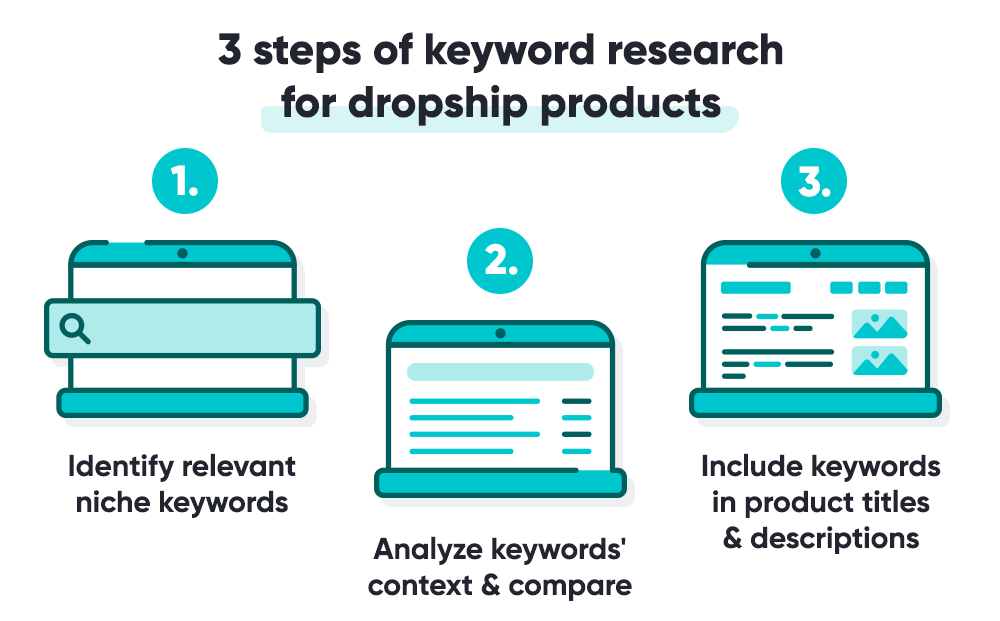 Legend says that the Google Algorithm considers more than 200 factors when ranking a website. So, you can't really ignore Search Engine Optimization (SEO) if you own an ecommerce website. SEO can do wonders for your online business when done right!
Thinking and writing SEO-friendly will undoubtedly score you some points with Google's Page Rank Algorithm, ranking your dropship store higher on the Google Search Page and displaying it above your competitors' websites.
Keywords for dropship products' titles & descriptions
Naming your products accurately will help potential customers easily discover what they're looking for on search engines. Additionally, correct descriptions of your products will ensure the customer that your product is exactly what they are looking for.
Identify keywords (high in monthly search volume) that are directly related to your dropship product. You can conduct insightful keyword research using free tools like Google Trends and Google Keyword Planner to find the best keywords to include in your products' names and descriptions.
2. Join & engage in online communities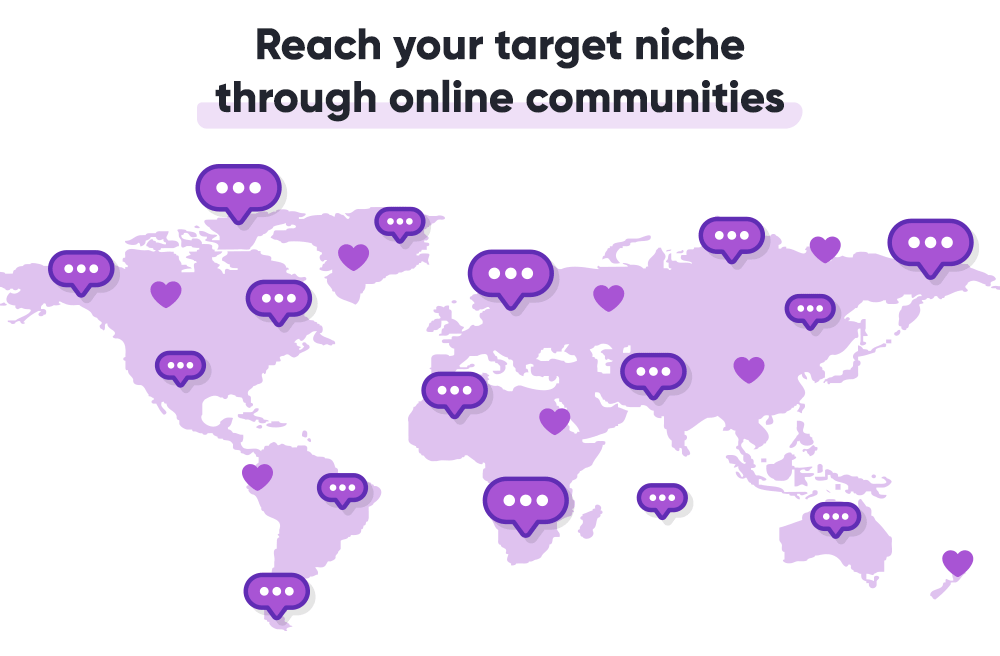 Community niches are especially valuable because you can actually find groups of potential customers hanging out online that are more likely to want and buy your products. It makes it so much easier and cheaper to target them and increase your dropship store's sales.
Figure out where your audience hangs out - Join online communities, social media groups, and forums where your niche market interacts. Of course, depending on your niche, the platforms they hang out on may vary. But you're only a couple of Google searches from figuring it out.
Get to know the community - Engage with community members, earn their trust, and discover valuable customer insights. Get new product ideas and understand how your audience prefers to be addressed and marketed first-hand.
Keep on-going conversations - Share relevant content, encourage active dialogue, and present your dropship products to the community. Support your dropship products' reputation and credibility by posting polls and surveys and constantly participating on threads.
Popular online communities' sites:
3. Create social media business pages for your store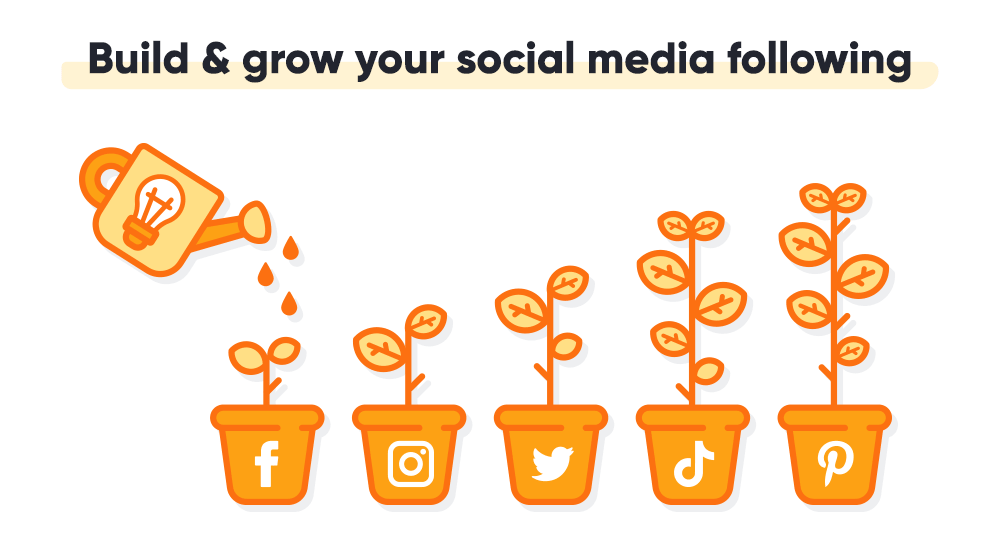 Facebook, Instagram, and Pinterest are the most popular social media platforms for dropship products. You'll find out that most times, new customers first discover you through a social media interaction. So, create the right social media foundation for your dropship store to thrive!
Add links to your top social accounts on your website - Build trust by proving you're constantly active on your profiles. Growing a social media following early on can exponentially increase your chances of dropship success!
Update your store's complete info on social media profiles - Improve your store's reputation on social media by taking the time to provide enough information so you can reduce potential customers' hesitations to buy from you.
Encourage previous customers to leave a product review - Reviews provide a level of transparency and social proof that can make or break your ecommerce business. They're also extremely helpful to monitor and improve your overall customer experience.
4. Share creative content on social media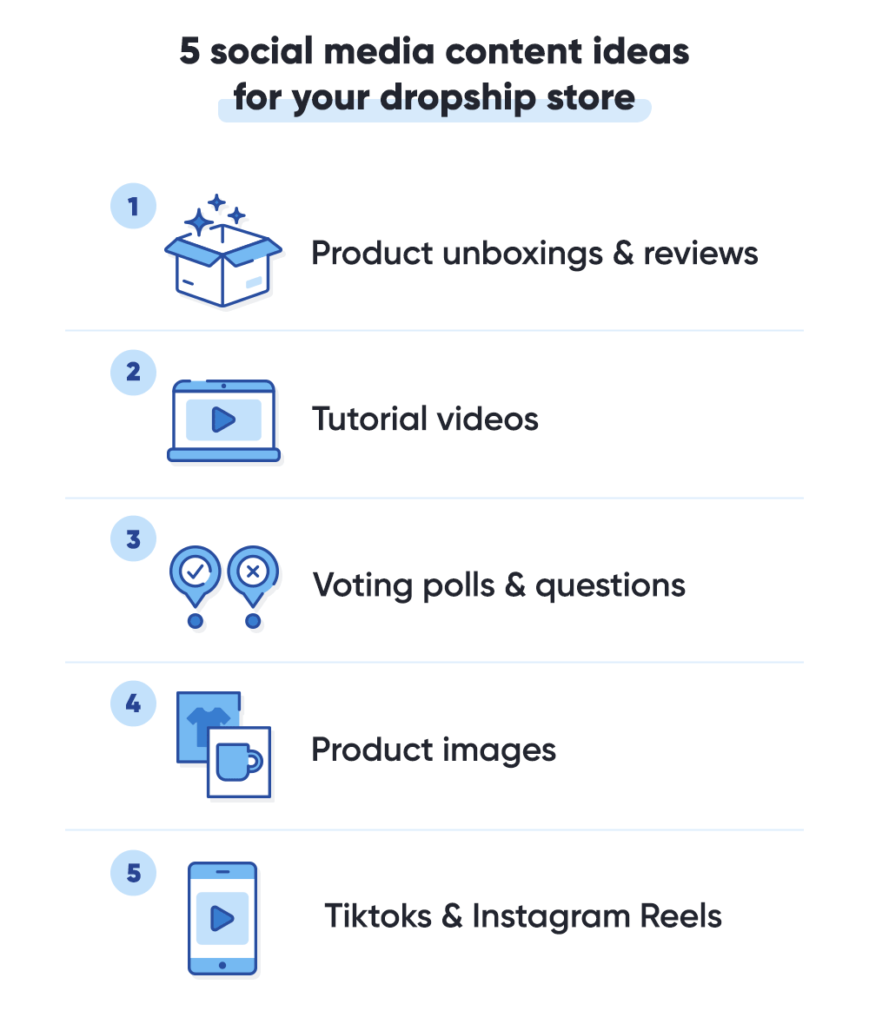 Content marketing is a reliable source of traffic for many dropship stores. Social media validation pushes ecommerce businesses closer to their goals by providing value and entertainment to potential customers all the way to their first purchase!
Set your content's goals & objectives - Determine each social media post's job. Are you sharing a post to raise awareness of your new products? Or, do you seek to close the deal (conversion) through compelling CTAs (Call-to-actions)?
Share plenty of relevant multimedia content - Post content that revolves around your product's target niche. Get creative by releasing product how-to videos, product unboxings, and product shots.
Tap into pop culture trends - Scan and unveil trends daily. Then, feature your product through creative content. These days we just can't get enough of TikToks or Instagram Reels. Your product is just one viral video from selling out!
Nowadays, social media and ecommerce are almost an inseparable combo. So, take your social media marketing strategy to the next level by gradually allocating funds to promote and boost your content!
5. Invest in online paid advertising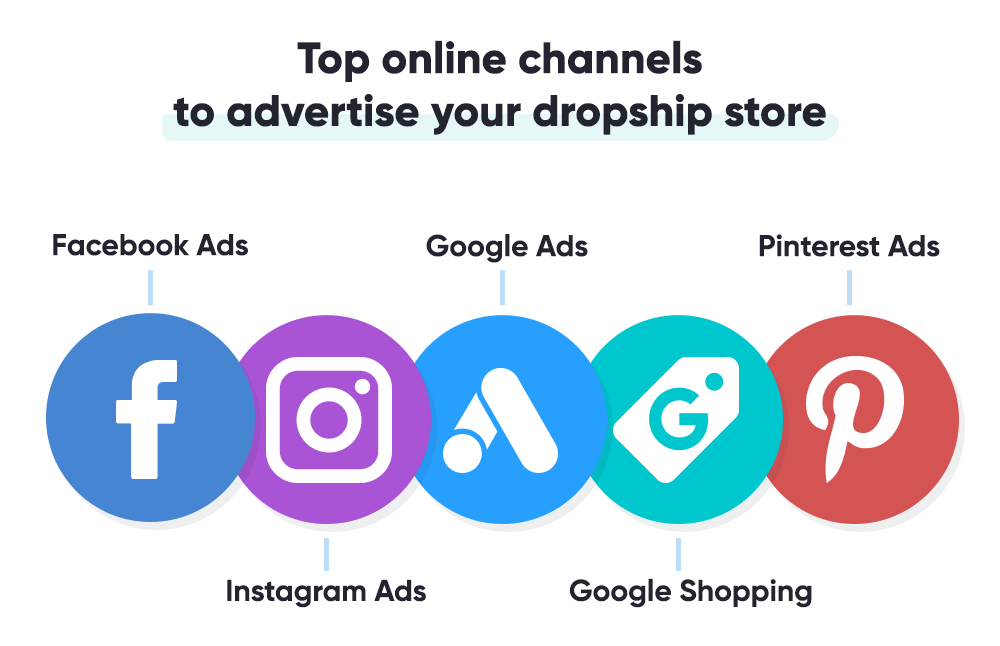 When it comes to paid advertising, it's better to think long-term. With paid campaigns, you can measure your audience's engagement and conversion rates. In addition, it's a flexible advertising medium, and it's easy to A/B test campaigns to determine which ads get the best performance.
Facebook & Instagram Ads - You can start with as little as $10 to $15 per day. However, make sure you establish a profile and stay active on your accounts before you start advertising to avoid your Facebook Ads account from getting suspended.
Google Ads for dropship - Paid traffic to your store can be especially beneficial when you're just starting out. It's never too early to invest in Google Ads; just double-check that all your SEO-friendly fields and description are in order.
Google Shopping for dropship - Rank higher in search results and appear in the Google search shopping tab. Always prioritize delivering a good customer experience. This is especially important when using Google Shopping to promote your store.
Pinterest Ads - Pinterest is about to become your best friend. Users usually turn to Pinterest for ideas and inspiration. This is why Pinterest pins are the perfect content format to target users with dropship products relevant to users' hobbies and interests.
Develop a successful dropship marketing strategy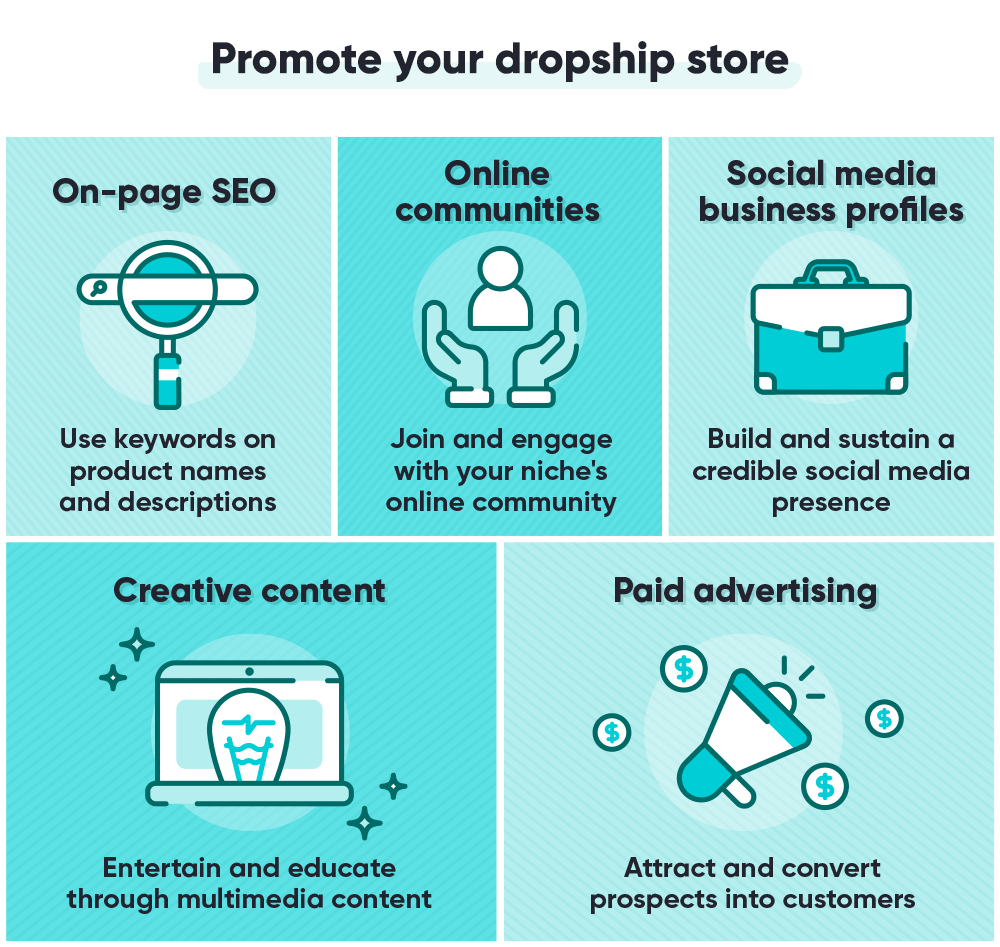 Chip Dropship is a revolutionary business model ideal for online entrepreneurs seeking to build an ecommerce business without the need to buy and store inventory or manage shipping.
Developing an effective digital marketing strategy will play a significant role in your dropship business. Discovering trending products and creating a dropship listing will get you halfway there, but learning how to promote your dropship store will determine your overall success!