Dropship is here! Increase your profits by adding more fabulous products to your Chip store. Are you ready to upgrade your business? We show you exactly how to create a Dropship listing in Chip.
How to import an AliExpress product in Chip
Step 1. Find a product you want to sell and copy the URL
Go to AliExpress.com, and browse thousands of fantastic products, click on your pick, and copy the URL that shows in your browser.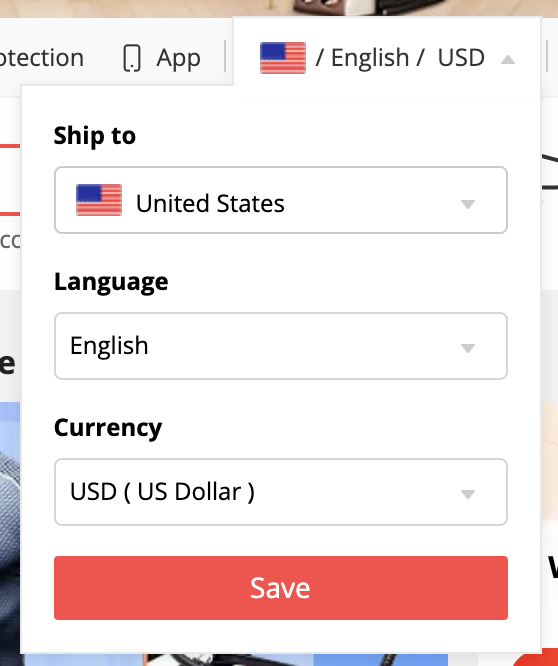 Sign in to your Chip account, and click on the Dropship tab.

Step 3. Import a product
Once in the dashboard, click on Add AliExpress Products, select Import, paste the URL you previously copied, and click on Import. Repeat this process to add several products.

When importing a product from AliExpress, you'll be able to see which shipping destinations are available for that product. In addition to the US, shoppers can ship their products to Australia, Canada, Germany, France, Italy, Norway, and the United Kingdom. If your customer chooses a country to which the product cannot ship, they will be shown an error message.
Notes:
Currently, only countries with shipping costs that are lower than or the same as shipping costs on an identical product in the U.S. are eligible for international shipping.
At the moment, international shipping is only available for newly imported listings, and the same product cannot be imported multiple times. The Chip team is working on a solution, so please stay tuned for updates.
Step 4. Edit product details
Before importing products to your store, you can edit the Title, Description, Variant options, and Prices.

To add the products to your store, pick the product images you like and click on Import to Store. Once imported, you'll be able to see and edit all your Dropship products when clicking the Dropship tab on the main navigation.

Congrats; you now have a Dropship product in your catalog! It's time to learn the next steps to have you selling in no time.
How to create a Dropship listing in Chip
First of all, you need to know these important details to create a listing and start selling dropship products:
You must have a Chip custom domain. If you don't have one yet, just go to Domains in your Chip dashboard and choose your domain name to start the short and easy process. Learn more about How to Create a Custom Domain.
You can create multiple listings for a single product; however, the information in each listing will be the same.
Chip follows a standard protocol for choosing the best shipping option to ensure we have a tracking code for every item we process:

Our first choice is AliExpress standard shipping.
If that's not available, then we choose the most affordable option with a tracking code.
If that's not available, then we simply go with the most affordable option.
As you add more products to your catalog, you'll see them listed on the main Dropship page in the dashboard.

Now, you're ready to list your newly added products in your own custom domain. Follow these five simple steps to see your listings live on your store:
Add a listing. On the Product details page, click on Add Listing located on the right side of the screen.
Choose the custom domain you want to add the listing to
Add the product page URL
Choose a storefront to add this listing
Click on Apply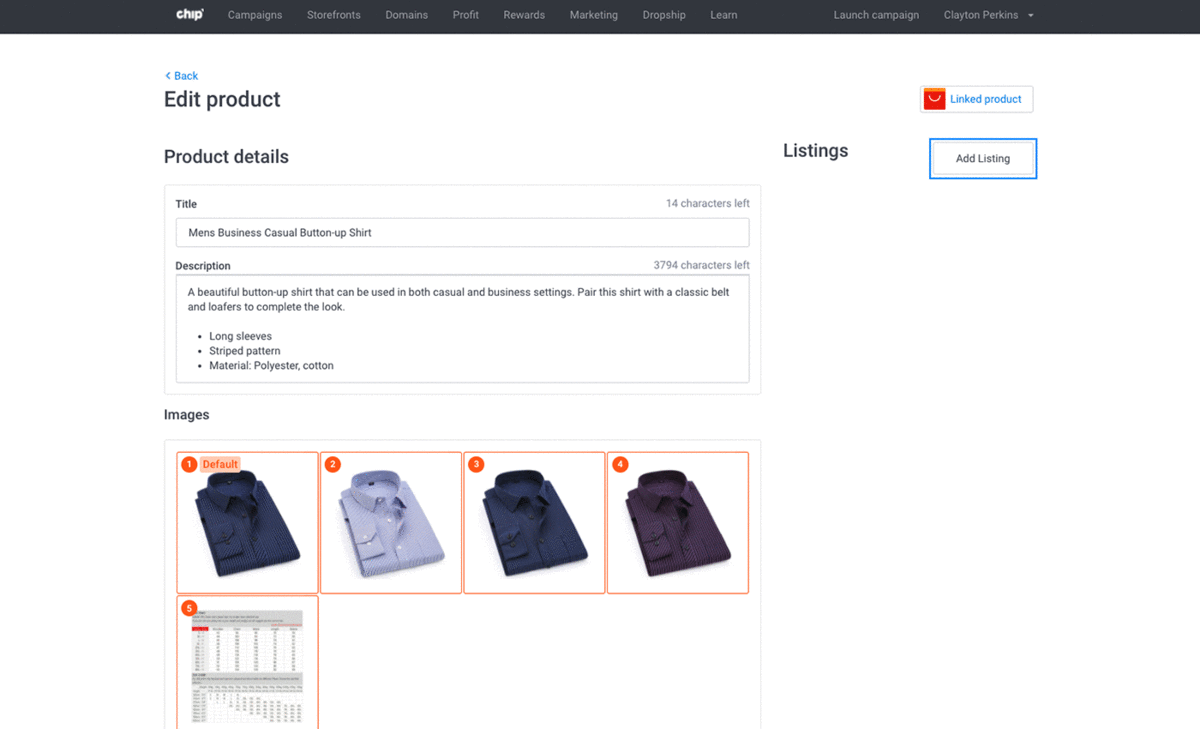 And that's it! To view your listing, click on the URL that appears under Listings.
Dropship Custom Domain Graphics Library
Create a branded Dropship store of your own with ready-to-use banner images, collections images, and logos for your custom domain. You'll find images in different themes and styles to suit your tastes. Access the graphics library here and start customizing your online store today.
How to activate/deactivate variants and listings
Sometimes, you need to deactivate a variant —a version of a product— or the whole listing because of several reasons, the most common being that it is temporarily out of stock. Here's how to do it:
To deactivate or reactivate a variant:

Scroll down on the Product Details page to see the Variants section.
Click on the toggle next to the variant you want to activate or deactivate. Blue means it is active, gray means it's inactive.
Use the bulk editor to edit several variants at once.
You can review your changes by selecting and viewing one of your active listings.

To deactivate or reactivate a listing:

Click on the toggle that shows below the Listing URL. To deactivate a listing, keep it gray; to activate it, toggle to blue.
You can check your listing by clicking on the URL of the listing you updated; it should show a "Page not found" sign when deactivated.
Keep in mind that if a listing is active with all variants deactivated, the user will be able to see the product, but they won't be able to purchase it.
Now that you know all the basics, it's time to maximize your profit by adding some cool dropship products to your store!
Learn more about Chip Dropship