Valentine's Day is a celebration of love in all its forms. Luckily for sellers, one of those forms is gift-giving!
So yes, we find ourselves in front of a golden marketing opportunity: According to the National Retail Federation, last year's spending on Valentine's Day reached almost $22 billion dollars. And for 2022, customers plan to keep celebrating this holiday with an average of $165 USD spent on gifts for partners, family, friends, coworkers, and pets.
The time to get in the romantic spirit is coming, so you better prepare your Chip store with trendy products and design themes for the occasion.
Design Inspo & Best-Sellers
Each niche has its own way of celebrating the day of love, so make sure you have something to offer to everyone. Here are some suggestions:
Stay-In Celebration
The pandemic made us shift to a more socially distanced kind of celebration. Customers are now looking for relaxed experiences at home, making it the perfect trend for foodies and cooking lovers or movie geeks who like spending the afternoon watching films cuddling.
Winning Recommendations
Dropship
Kitchen utensils – Let your clients surprise their loved ones with a home-cooked dinner!
Movie projector – Help create the perfect mood for a movie marathon with a cinema-like screen at home.
Print-on-demand
Aprons – The way to someone's heart is through their stomach. Help your customers' be chefs and surprise their partners, family, or friends with a delicious meal.
Pint Glasses – Cheers to true love! Your buyers will want to grab a beer or soda while watching their favorite film with their favorite person.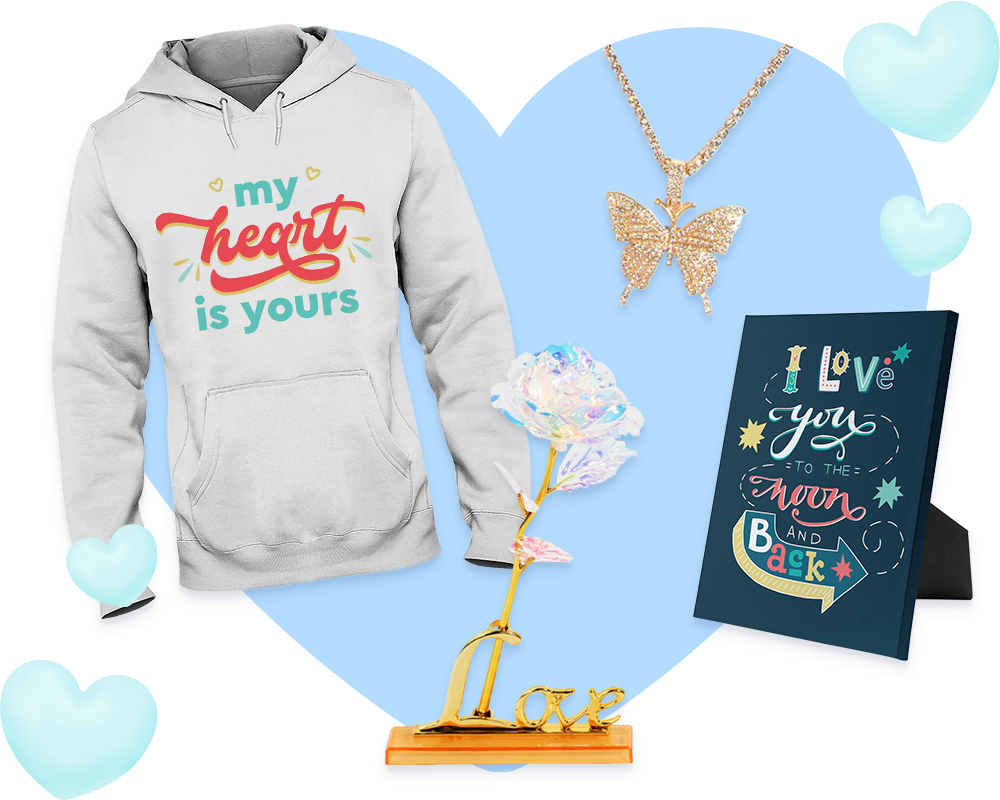 Keeping It Corny
Classics are classics for a reason. When you think of this day, red color schemes, heart illustrations, flower shapes, and sparkles come to mind. Well, don't forget to add them to your catalog! This trend is perfect for couples who aren't afraid to express love in the most cheesy way!
Winning Recommendations
Dropship:
Jewelry – They say jewelry is a woman's best friend! Customers can't go wrong with a sparkly gift.
Long-lasting flowers – A unique and beautiful present your customers won't resist buying.
Print-on-demand:
Hoodies – Consider offering apparel products so your buyers can wear matching outfits for the occasion.
Wrapped Canvas – Customers can let the world know how much they appreciate their loved ones with a cute quote or illustration.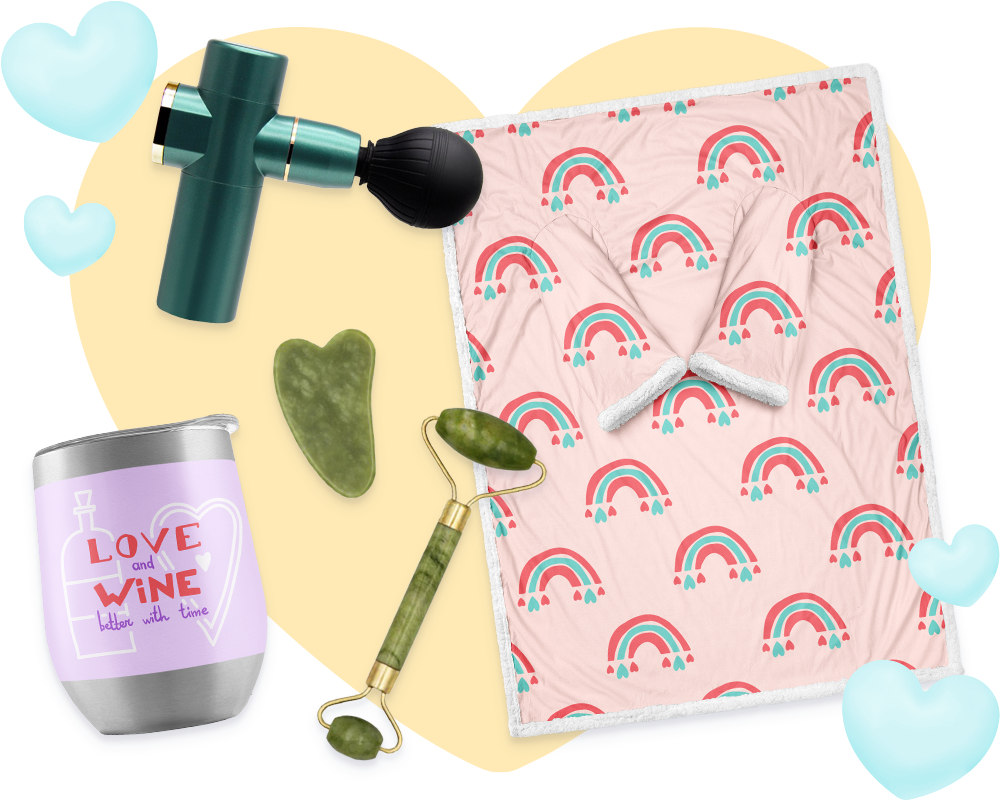 Embracing Self-Love
Nowadays, Valentine's Day has become a holiday dedicated to oneself. Self-love-inspired products and artwork are gaining popularity on the internet. Make sure you're offering them, as shoppers might be planning on spending this day on their own!
Winning Recommendations
Dropship:
Skincare gifts – Self-love expression starts with a revitalizing skincare routine. Consider selling this kind of product if you're already selling makeup items.
Relaxation products – Offer your clients a moment of disconnection so they can take a break and enjoy a massage.
Print-on-demand
Sleeve Blanket – Soft blankets with charming designs that feel like a warm hug.
Wine Tumblers – Your buyers will want to have a cold glass of wine to celebrate!
✍️ ProTip: Still can't decide? Navigate through our Pinterest board for more Valentine's Day inspiration. Save what you like and get to design!
https://www.pinterest.com/chipforsellers/valentines-day-gift-guide/
Marketing Tips
Build your strategy as early as possible to ensure your customers receive their gifts on time! Keep an eye on our social media for cut-off dates on dropship and POD products.
Consider running ads on Facebook, Instagram, or Pinterest to showcase your products, as buyers are starting to look for the perfect present.
Offer discounts and promos, like free shipping, to catch your shoppers' eye.
Take advantage of our print-on-demand and dropship upsells! Activate them and see how your profits and average order volume increase.
Use our Email Marketing Tool to communicate your deals to your current clients.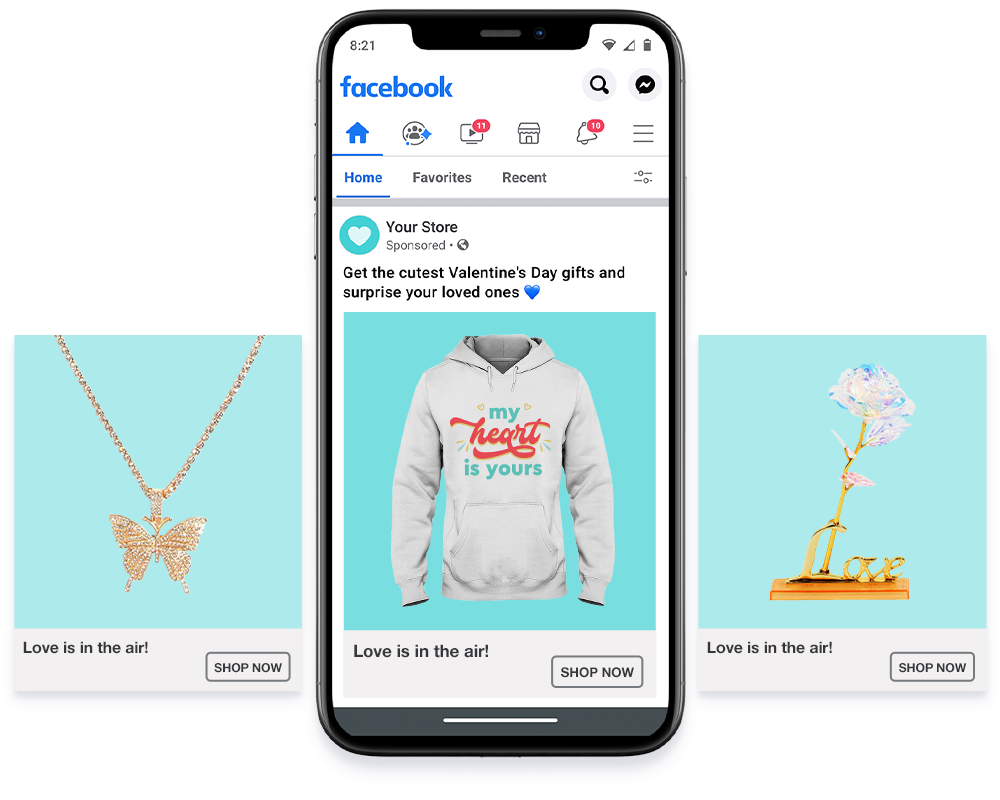 Feeling romantic?
Valentine's Day is the perfect opportunity to make your customers fall in love again with your brand and products.
We're confident you'll hit top-of-the-chart numbers with this festivity!