Managing your community has never been easier with our Page Tool. Made to facilitate your interaction with leads and future customers, this tool will allow you to further connect with your audience and help them understand your product. If you're new to our fantastic Page Tool, here's a quick and easy guide on how to use it. 
Below, you'll find some tips to help you manage all your page comments, from good and positive interactions to what to do in the case of bad reviews or negative comments. 
The good, the bad, and the ugly: The importance of answering all comments
Building a trustworthy network with your customers is crucial. By answering their questions, comments, reviews, etc., they'll know you care about their buying experience, what they think, and what they're looking for. Wouldn't you feel more comfortable and happy before making a purchase or wouldn't it influence a lot whether you buy at a place if they take the time to talk with you? Being in the customer's shoes will help you empathize and hence, provide better service.
Think about when you're entering a store. It's a sign of great service (and even product) when employees greet you, ask what you're looking for, and guide the way, especially if you're new to the store. The same practice applies to digital or ecommerce stores, and Facebook can be used to help us connect and mirror what happens in an actual store, like replying to comments online instead of in person.
Questions like "What's the price on this?," "Does it come in several sizes?," "Can I find this in blue?," etc. are easy to reply to, even if that information is already visible in your store. The more seamless you make their buying experience, the more encouraged people feel to shop with you. As soon as you start advertising, you will see an influx of comments, so check out these tips to learn how to navigate the crowd. 
How to reply to harmful comments
We know it's tricky to reply to an angry customer. However, supporting your customers - no matter how the relationship starts - should always be your number one mission! It's not always about the product; customers become repeat shoppers because of good service and an overall positive experience.
If you ever encounter a negative comment or review, follow these rules:
Stay calm. Business isn't personal. Try to keep your cool and remember audiences will, at some point, talk poorly about your product or service. The best way to turn this around is by being polite and calm; it'll give you time to think about your answer and a solution.
Engage. Always replying to customers' comments or reviews and engaging with them will give them a good impression about you and your store. Leaving them with absolutely no answer might keep them upset. A simple message or comment showing that you care about the first step towards finding a solution will make them feel happy again. 
Provide solutions. Analyze that customer's issue: Was it a shipping problem? Was the product out of stock? Taking a look at the problem is essential. That way, you can think about how you can make it up to them. The best option is to reply to their public comment and then move over to a private message with the customer. It'll make them feel like they're being cared for with options to mend things. Consider offering a discount on their next purchase or the like to change their sentiment.
Check in on customers. Checking in on recurring customers is a best practice. We're usually too focused on acquiring new customers and often neglect the ones with whom we've established a good relationship. If you still see these loyal shoppers engaging with your page, don't be afraid to click on that "Reply" button!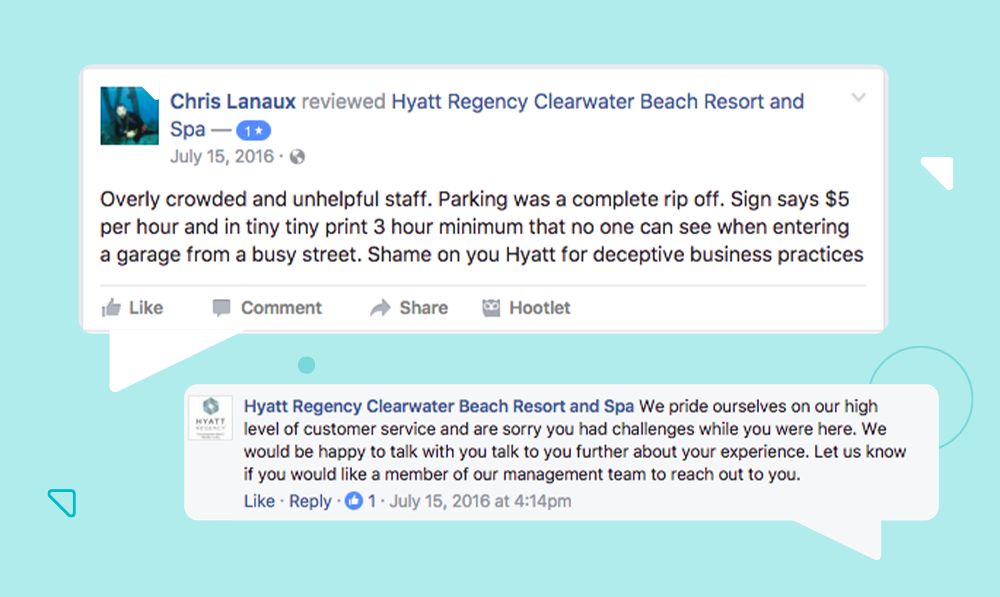 Above is an example of a bad review left on a Facebook Page. In this reply, the Community Manager expresses his concern for the customer and is willing to hear more about the customer's experience to provide a solution. The answer is polite and written calmly, which is very important. It denotes professionalism, too!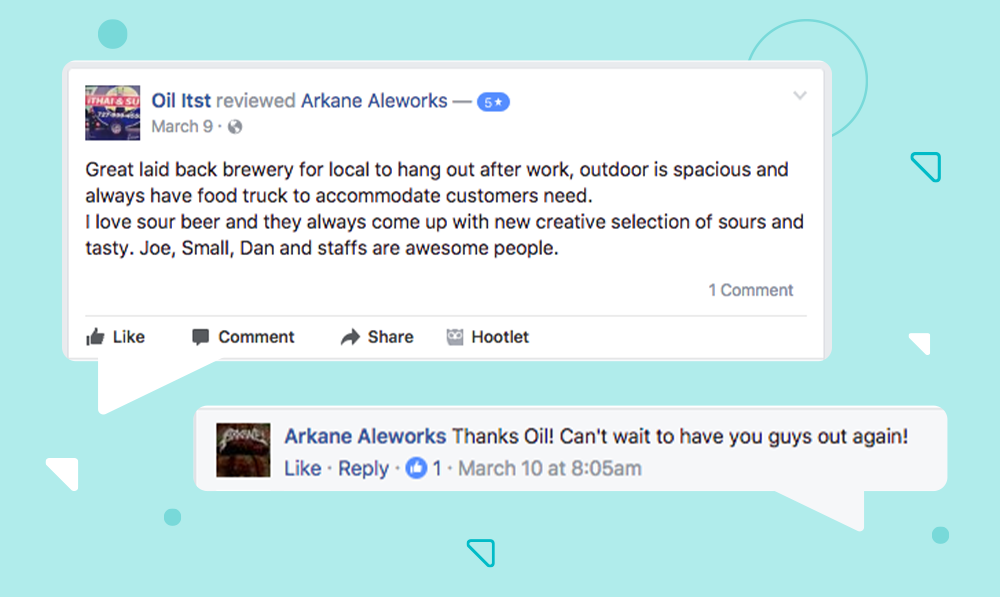 Above is an excellent example of a positive comment! Additionally, replying to it is great a way to express your gratitude towards your customers and puts your top-notch level service on display.
Tips and ideas on what to answer: Positive and negative
We want to be your best ally in community building, so here are more tips and examples on what to reply in any given case: 
Reply to every single thing! Customers will be wowed by your enthusiasm to help and to engage. Trust us. Audiences appreciate sellers who are highly involved in their customer interactions because it leaves the impression that you care.
Examples:
"How can we help you?"
"We have this in several sizes and colors! I'll message you to tell you more about it."
"Yes, we ship in "x" amount of days!"
"Don't hesitate to contact us if you have any more questions."
Show you're grateful and care. These will come in handy!
Say thank you
Reinforce the positive
Pass along the compliment
Tell customers you'd love to see/hear from them again
Mention other products or services
Share the review with your team
Share the review with the world, a.k.a social media, your website, etc.
Things like "Thank you for shopping with us!", "Happy to welcome you again," "Anything we can do to help," and personalizing your comment or message with the customer's name will undoubtedly earn you extra points.
Now, to reply to negative comments or reviews, here are some ideas and examples you can always use: 
Take responsibility
Apologize
Ask for a second chance
Replying to customers on a private message and asking for more information about the issue is vital. Here are some sample responses:
"We're sorry we didn't meet your expectations. Can you please let us know what the problem was? We'd like to see how we can fix it."
"We're sorry about this inconvenience; we'd like to make it up to you."
"We hope you will consider giving us another chance. We will do our best to avoid this issue in the future."
These types of replies are compelling, where you acknowledge your mistake and work to gain that customer's trust back. A great customer experience is the best way to see that revenue coming your way!
With these tips and examples, we want to reiterate the importance of building a community and replying to customers so you see your community increasing over time. Here at ChipAds, we want to help and guide you with anything you need to make your journey seamless, so you can focus on selling. 
Remember, we also have tips for creating content on your ChipAds Facebook Page so you're always in tune. See you next time!