Quantity Discounts, also known as Buy More, Save More, offers customers a discount when they buy two or more of the same item. This selling tool is designed to help you increase your average order volume by incentivizing shoppers to add more items to their shopping cart.
How to set up Quantity Discounts
In your dashboard, go to the Dropship tab.
Select a product and click the Details button of a listing.
Scroll down to Quantity Discounts and click "Add promotion."
Assign a discount percentage to a quantity value. Note that each quantity value must have its own unique discount percentage.
Click "Done adding promotions" to save your Quantity Discounts.
The discount applies to each item individually. You can set up to five quantity discounts for a listing and edit them anytime.
Buyer experience
On the right-hand side of the buy page, customers will see the Quantity Discounts option under the main CTAs. They'll see your pre-set savings options and are able to add all the items to their cart in one easy click. On the checkout page, they'll see their savings for buying two or more of the same item in the Subtotal section.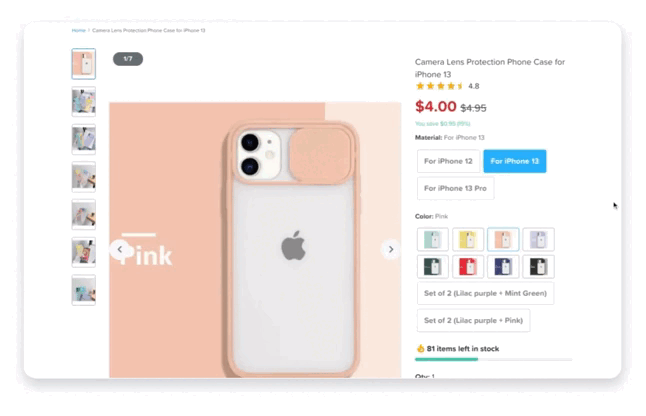 Marketing tips
Quantity Discounts work best when customers need to buy multiple of an item. Think of situations in which the same gifts are given to all attendees, such as weddings, bachelor and bachelorette parties, bridal showers, birthday parties, and so much more.
For everyday life, market your listings with Quantity Discounts as a great and affordable way to give gifts and share things you love with friends and family.
Experiment with the quantity and discounts so you can see what works best for your store. Some items will sell better as pairs while others will sell like hotcakes in bulk orders of 100! The possibilities are endless.
Share these promotions on social media platforms to make your customers aware of these offers - don't be shy!
As a seller, your store is only as good as you make it. Make sure to enable the Quantity Discounts feature for all your dropship listings so you are able to maximize your gains with minimal work!