In the middle of the ecommerce golden age, there are several online business models that can empower entrepreneurs worldwide to launch their stores and make money selling trending products. But how do you know which one is the best for you?
Let's compare Chip print-on-demand versus Chip Dropship to determine which one is right for you. But first, let's go through how each Chip online business model works, their benefits, and what they are best suited for.
What is print-on-demand?
Print-on-demand (POD) is a business model that allows sellers to work with a product supplier that offers an extended personalizable product selection to which you can add your designs through an online platform.
In addition, you'll only pay for an item once your customer has placed an order through your online ecommerce store. And, each time a customer purchases an item from your store, the supplier will automatically proceed to print your order, package it, and deliver it directly to your customer.
What is dropship?
Dropship is the process of sourcing third-party items, selling them in your online store, and then passing a customer's order to the third-party supplier so they can process and directly deliver the order to your customer while you keep the profit of the transaction.
The dropship business model is popular thanks to offshore ecommerce sites like AliExpress, which offer millions of products from suppliers. Like print-on-demand, sellers will only pay for a product once their customer has placed an order through their custom domain store.
Benefits of print-on-demand vs. dropship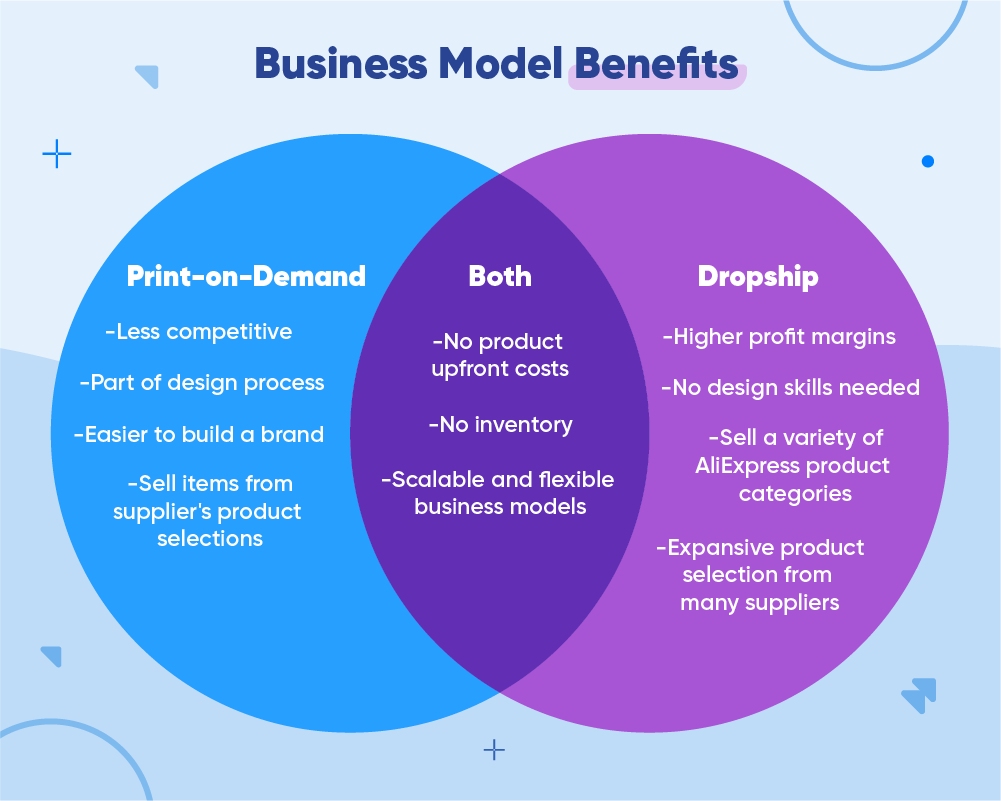 Both print-on-demand and dropship business models share core attributes to propel your online store to the next level. However, one might still be better than the other, depending on what products you want to sell, how competitive you expect the market to be, and which option has a larger profit-earning potential.
Print-on-demand is best suited for beginners as most suppliers offer a curated selection of personalizable products. In addition, sellers are only in charge of uploading their designs and choosing the color variations they'll offer on their ecommerce store, so they won't have to worry about anything else!
On the other hand, Dropship best accommodates more experienced online sellers that have an overview of which AliExpress products are currently trending and leave a decent profit margin. It's also an excellent option for sellers that don't care about adding their own designs to the products they sell.
Which online business model is right for you?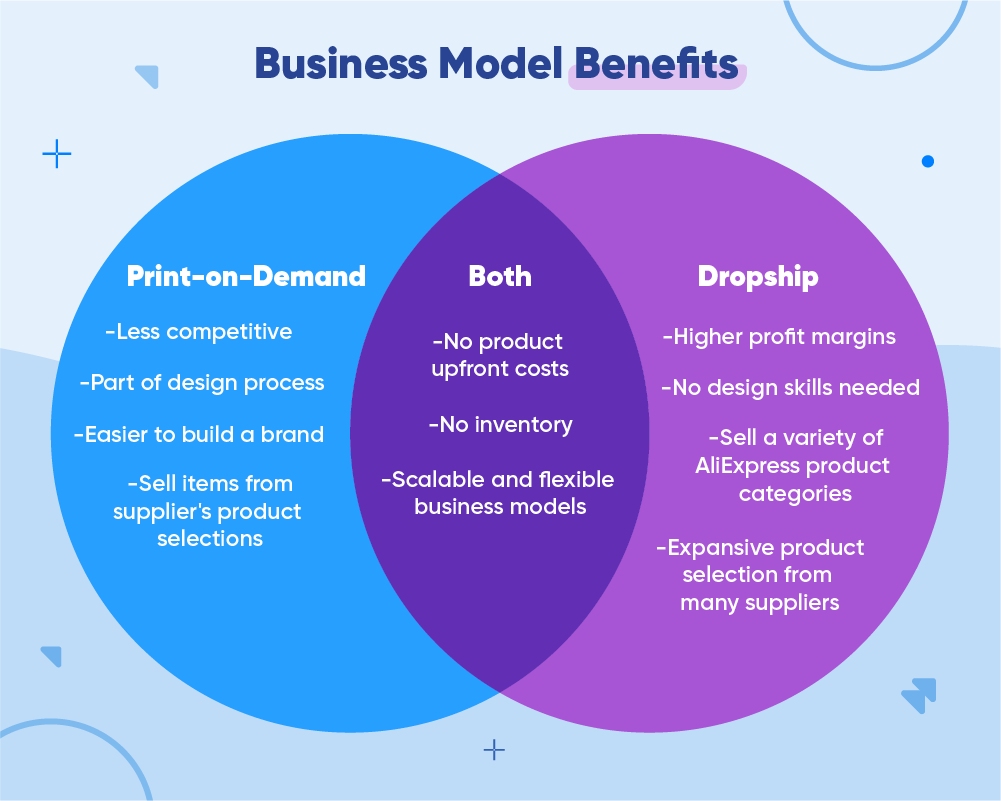 Online entrepreneurs are constantly seeking new opportunities to grow their ecommerce businesses. Decide which ecommerce business models align with your goals, and start selling online today!
Achieve the perfect balance
Chip's print-on-demand and dropship services alike share core tools and features that will set your ecommerce store up for success.
Built-in payments
Chip serves as the payment gateway to make sure you get paid on time, every time.
Payout speed
Getting paid right after order confirmation helps you manage cash flow and ad spend.
Automated fulfillment
No more dealing with endless inventory. Chip handles order fulfillment to shipping.
Customer service
Expert support to help you manage your business professionally and efficiently.
Why not both?
With Chip, you don't have to choose one business model over the other. You can sell both print-on-demand and dropship products at your custom domain store. Test and find which combination works best for your ecommerce business!