In this day and age, offering personalized experiences is key to making that sale. Shoppers want to create something that sets them apart from the rest, and the demand for personalization is growing faster than ever with ample reward for sellers. According to the Deloitte Consumer Review, 20% of consumers are willing to pay a higher price for personalized products.
To bring our sellers up to speed with this craze, Chip is announcing a partnership with Customily, an innovative tool that offers smarter, better personalization features in ecommerce. You can expect great things from this partnership because ​​Chip is the first print-on-demand platform in the world to partner with Customily. Keep reading to learn more.
What is Customily?
As Customily states, it is an online product personalization software that "[makes] product personalization smart" and is designed to elevate ecommerce experiences. With the power to customize even the smallest details, you can allow your shoppers to create truly one-of-a-kind pieces that make shoppers want to come back for more. Learn more about Customily.
Chip x Customily
Together, Chip and Customily will elevate the personalization experience to change the way you do business. Here's what makes this partnership so great:
You get access to all the amazing features of Customily plus all the benefits of being a Chip seller, including instant access to thousands of products, built-in payment processing, fast, automated fulfillment, and included customer support.
You can watch your conversion rates and average order volume soar as the only personalization integration to be coupled with Chip's rapid 3-day delivery. Learn more about Fast Shipping.
Unlike paying for an individual Customily account, you can enjoy Customily for free with zero subscription costs with your Chip account.
How does Customily work on Chip?
As a seller, you can continue to work on and upload custom designs in the Chip platform and then your customers can head over to Customily to upload unique images and text to personalize their products. Additionally, customers can also change small details that make all the difference in personalized products, such as hair color, skin color, facial expression, etc.
The seller experience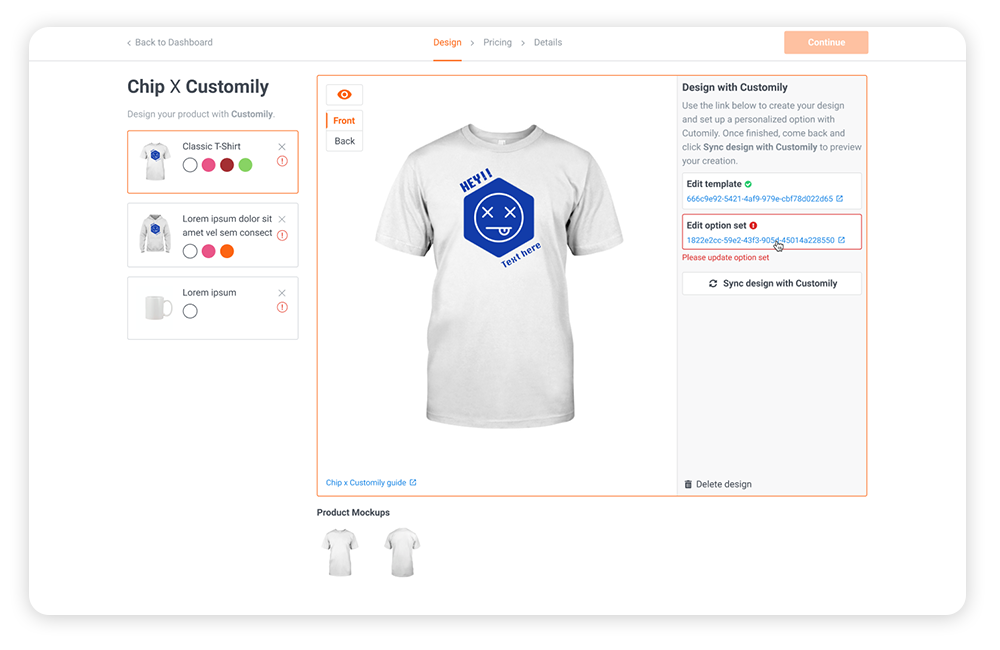 To use Customily on Chip, create a campaign like you normally would. Instead of designing with Chip, you'd choose the option to design with Customily. The process from there goes back and forth from the Chip dashboard to the Customily platform, but all of your work will be saved in Chip so you're ready to sell immediately.
The buyer experience
The artwork that you design with Customily will give your shoppers the ability to hyper-customize your products. Beyond color options and personalized text, shoppers will now see an extensive array of options to truly make this piece their own thanks to Customily.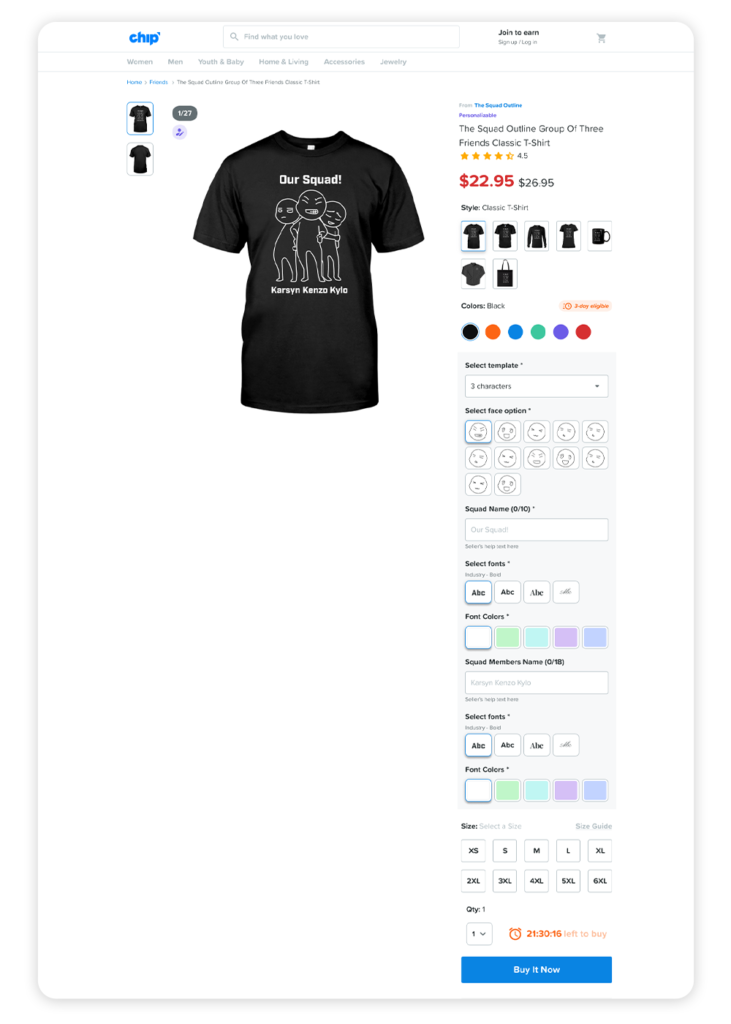 Get started with Chip x Customily
Chip is still in its early stages of integrating Customily, so if you would like to join our group of beta testers, sign up here.