Without a doubt, stickers are the way to go when you want to make a statement. Let your customers express themselves with our cool stickers!
Our kiss-cut stickers are perfect for decorating laptops, notebooks, tumblers, and so much more. Additionally, our bumper stickers are the perfect size for personalizing cars, trucks, doors, and any large surface you can think of.
Sticker Product Details
These kiss-cut stickers are cut according to the shape of your design with enough border room for easy peeling and protection of the edges of the product.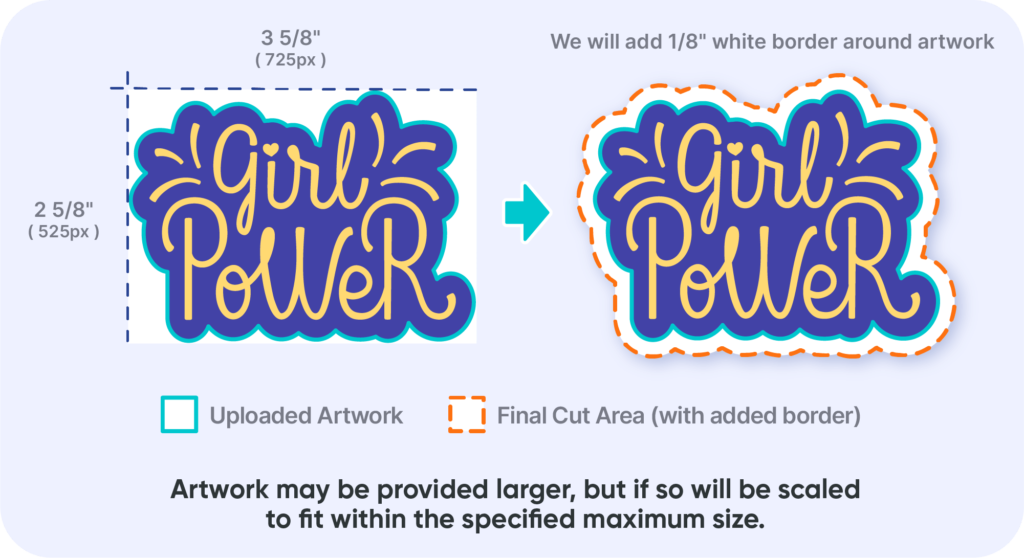 Shipping destinations:
Australia, Austria, Belgium, Brazil, Canada, Croatia, Denmark, Estonia, Finland, France, Germany, Gibraltar, Greece, Hong Kong, Hungary, Ireland, Israel, Italy, Japan, Latvia, Lithuania, Luxembourg, Malaysia, Malta, Mexico, Netherlands, New Zealand, Norway, Poland, Portugal, Russia, Singapore, South Korea, Spain, Sweden, Switzerland, United Kingdom, United States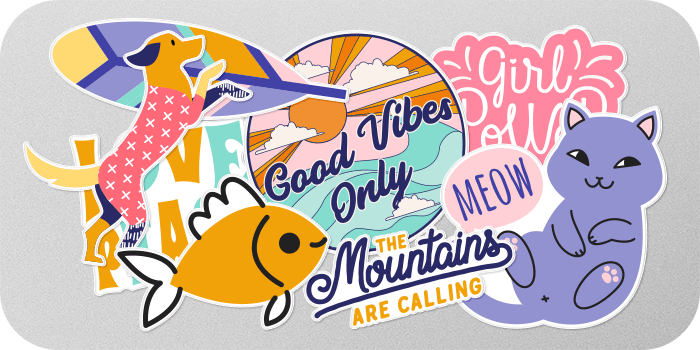 Artwork template
Download here
Minimum DPI
200
Base price
$2.00 - $10.00
Suggested sales price
$5.00 - $25.00
Print dimensions
Vertical: 725x525px or higher (3.63x2.63in or higher)
Horizontal: 525x725px or higher (2.63x3.63in or higher)
Product details
- Removable Vinyl Sticker with Glossy Finish
- Maximum size 3 5/8" x 2 5/8" with 1/8" border around the artwork
- Kiss-cut so sticker will be in the shape of the artwork
- Water and UV ResistantOutdoor and Indoor Use
- Dishwasher SafeApply to any hard smooth surface including paper, plastic, glass, wood, metal
- Made in the USA
Bumper Stickers Product Details
Our bumper stickers are suitable for indoor and outdoor use, as they are water and UV-resistant.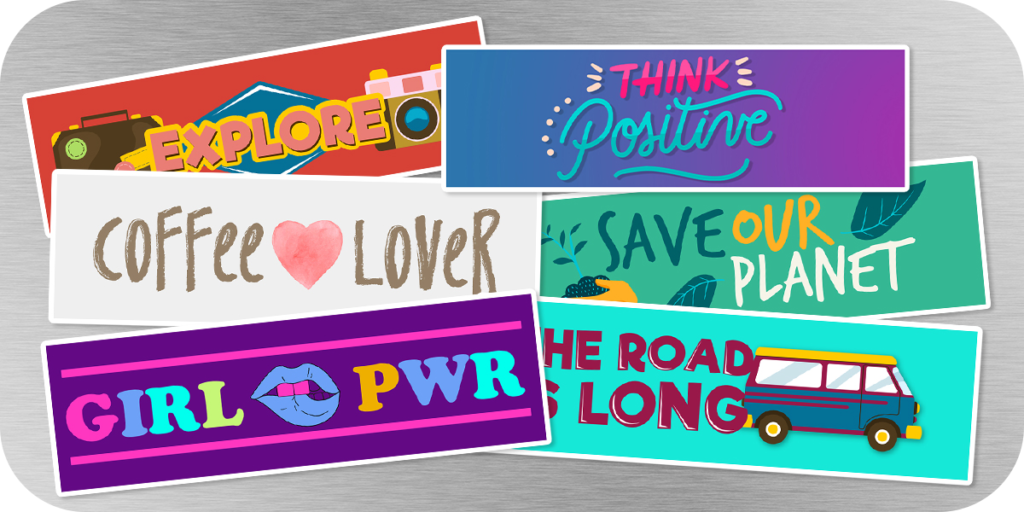 Artwork template
Download here
Minimum DPI
150
Base price
$4.00
Suggested sales price
$6.99
Print dimensions
10.25x3.25 in (1538x488px or higher)
Product details
- Removable Vinyl Sticker with Glossy Finish
- Size: 10" x 3"
- Water and UV Resistant
- Outdoor and Indoor Use
- Dishwasher Safe
- Apply to any hard smooth surface including
paper, plastic, glass, wood, metal
- Made in USA
Design Guide
We recommend using high quality PNG files with transparent background (minimum 150 DPI for bumper stickers, minimum 200 DPI for regular stickers).
All elements in the uploaded artwork will be combined into one sticker.
Maximum size: 3 5/8″ x 2 5/8″ (525×725 px) (regular sticker) or 10" x 3" (1538x488px) (bumper sticker)
We will add a 1/8″ white border around artwork.
Artwork may be provided larger, but if so will be scaled to fit within the specified maximum size.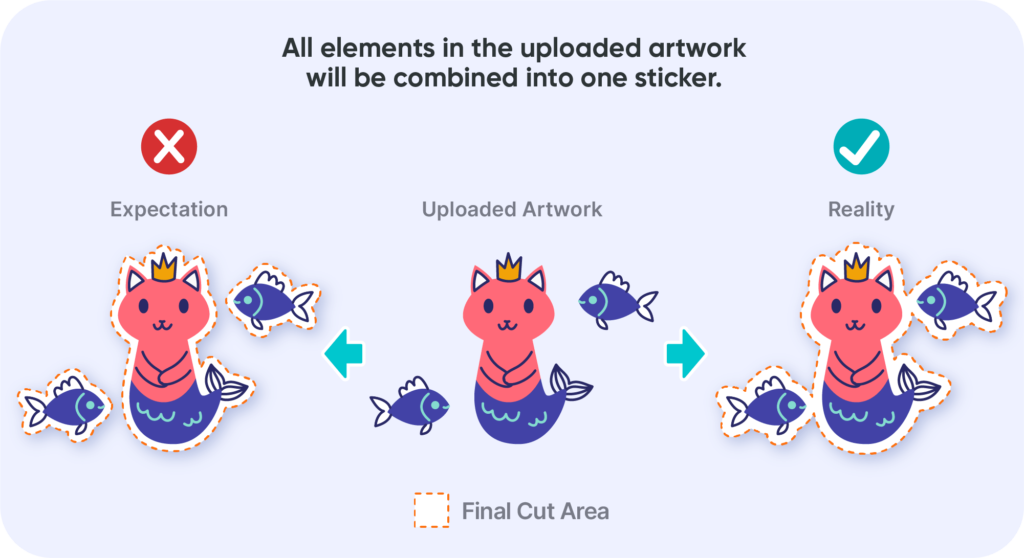 Here are five important rules to help you create amazing sticker designs:
1. Avoid small/ thin text (6pt minimum)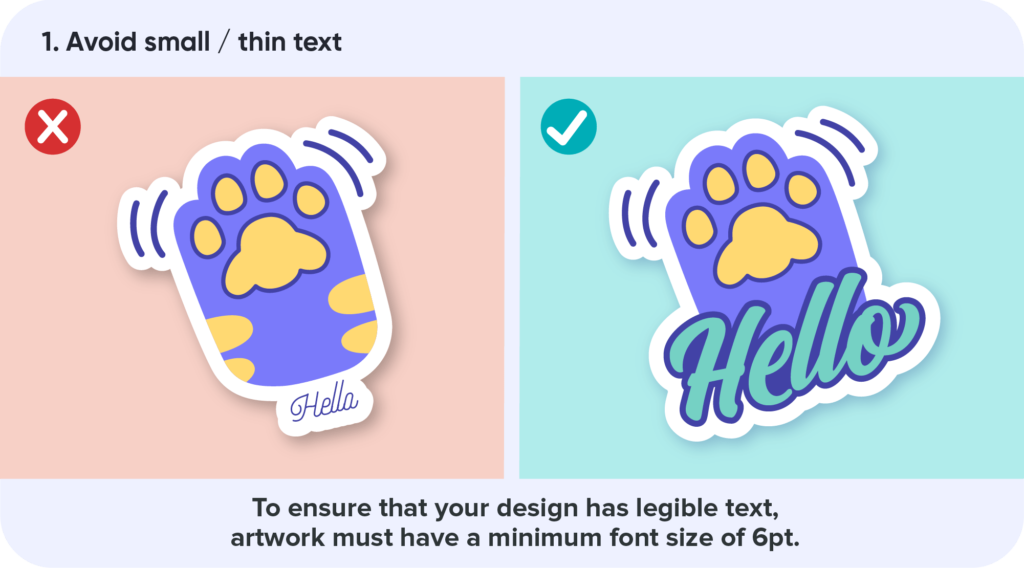 To ensure that your design has legible text, artwork must have a minimum font size of 6pt.
2. Avoid small details
Your designs should not include thin lines, intricate details.
3. Avoid pastel/ light color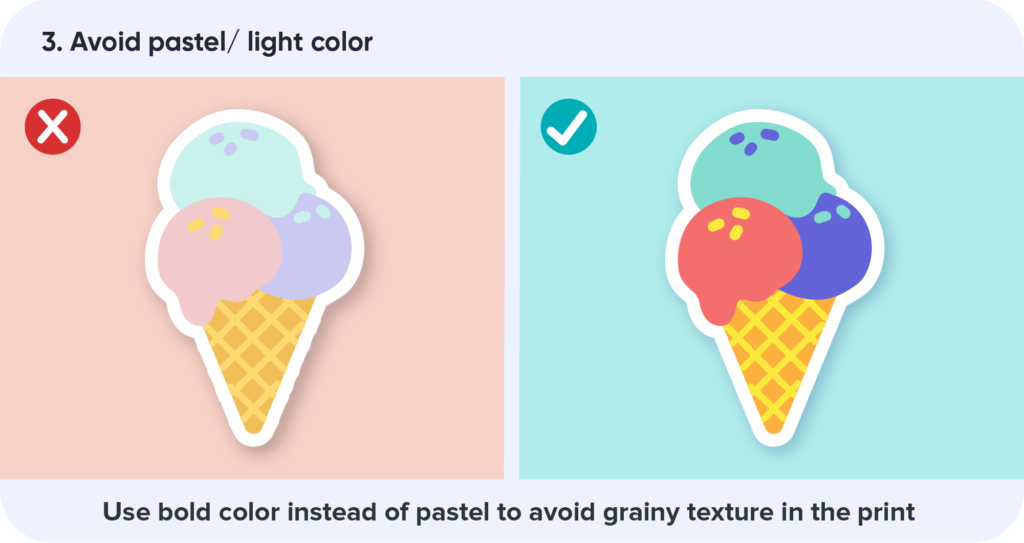 Use bold color instead of pastel to avoid grainy texture in the print.
4. Avoid white graphics without bold-colored borders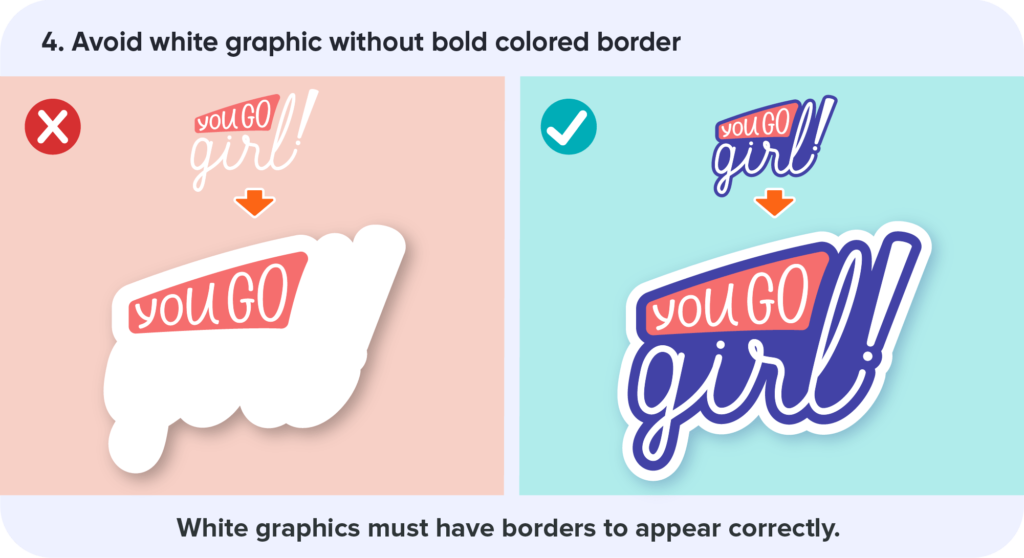 White graphics must have borders to appear correctly.
Design Inspiration
Here's some inspiration for your first sticker design.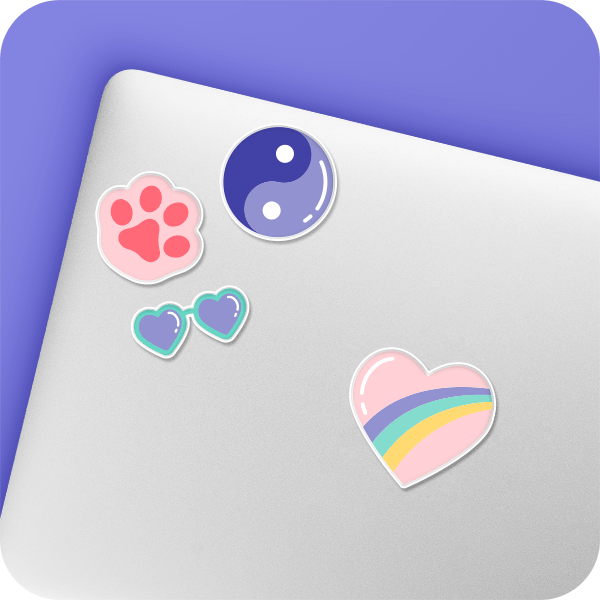 Motivational
Stickers convey messages that get carried everywhere. Make that a positive message by adding motivational phrases.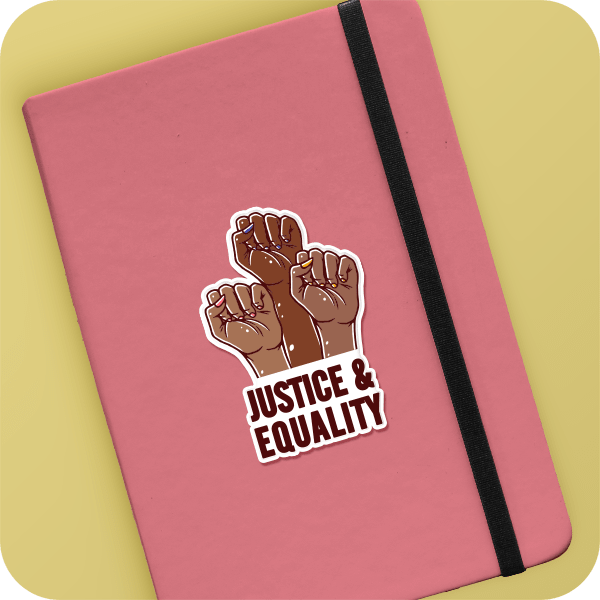 Good Causes
Supporting a cause is partly about getting the word out. We can think of few better ways than colorful and prominent stickers!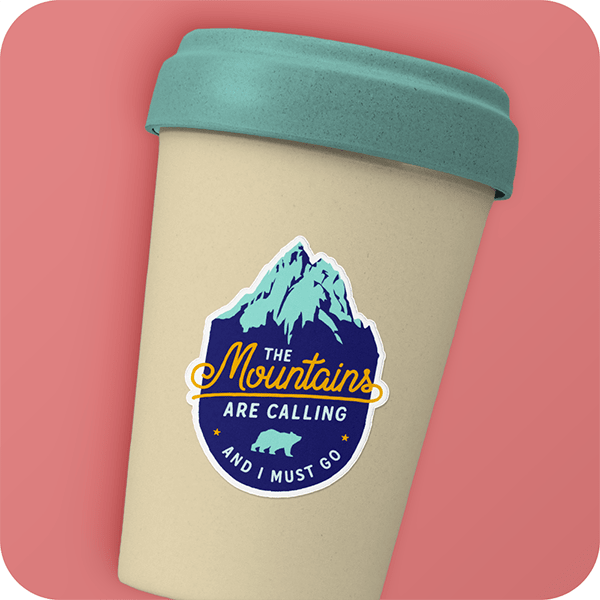 Interests and Hobbies
Stickers are great conversation starters. Personal interests and hobbies are a great way to find out what you have in common with others.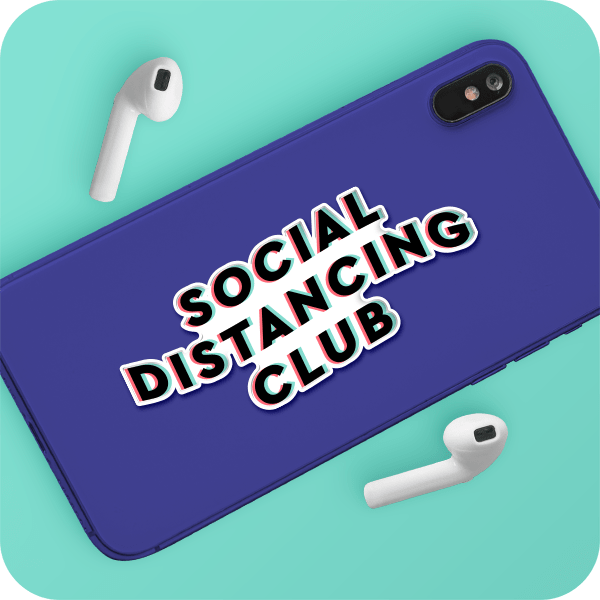 Social Club
Stickers share who we are. For many, a lot of that has to do with the groups and clubs we're a part of.
Calls-to-Action
Say it loud, say it proud! Check out our latest collection of stickers.
Our newest additions are quite ap-peeling! Don't miss out.
Share that you care with our cause stickers.
Express yourself! Shop our new sticker additions today.