The holidays have finished, your sales reached the sky, and now you're preparing for a well-deserved rest.
Well, that might be the case for some people, but we all know you're already preparing your marketing strategy for 2022. The ecommerce world never rests! That's why we've prepared an ecommerce holiday calendar so you can start creating new, exciting designs; and checking out trending dropshipping products.
So take notes, and give your 2022 a rocking start!
Ecommerce Holidays for Q1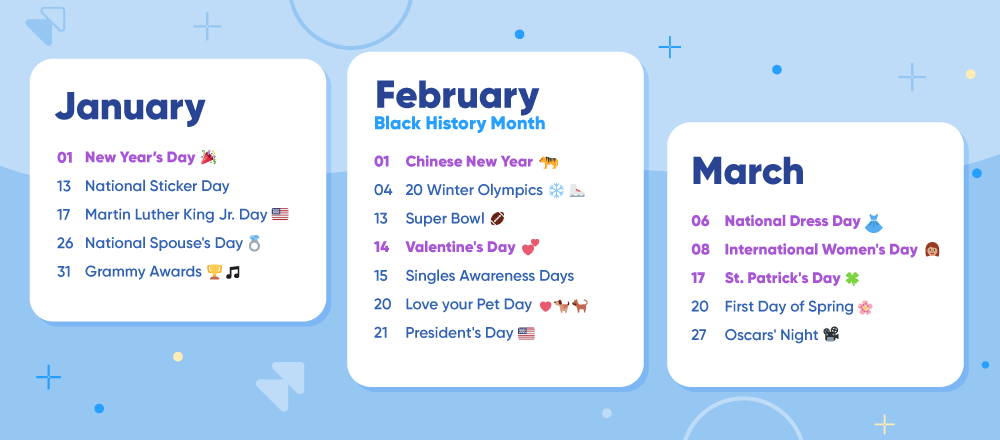 The first three months of the year have more activity than you believe. Make sure you update your designs for your print-on-demand products and do well-thought research about product trends related to the most important holidays.
? Dates you shouldn't miss
New Year's Day
Grammy Awards
Chinese New Year
Super Bowl
Valentine's Day
International Women's Day
Oscars' Night
? What to Sell
Event Days: Think about products that can be used for the event day. A popcorn maker sounds like the perfect gift for Oscars' Night!
Special Holidays: How about adding matching designs or lovely quotes for Valentine's Day? And what about football-related products that any fan could enjoy during the Super Bowl?
Ecommerce Holidays for Q2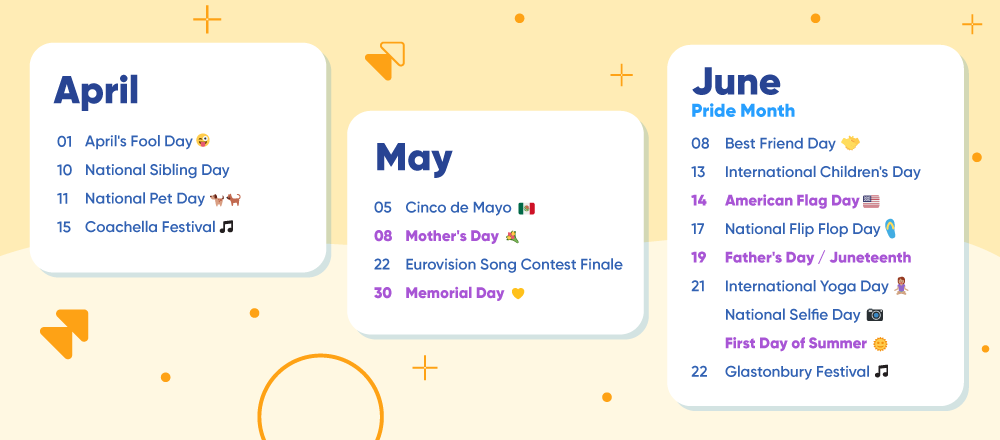 The second quarter of the year is filled with important dates you can join in by increasing your products catalog and improving your advertising strategies.

Take notes and consider all your possible audiences!
? Dates you shouldn't miss:
Mother's Day
Father's Day
Pride Month
National Pet Day
? What to Sell
The queen and king of the home deserve trendy products. So do product research on time to add best-selling products for Moms and Dads.
If you're into the print-on-demand business, cute quotes for mom and dad jokes will work wonderfully.
And, of course, don't forget to add rainbows and unicorns for the LGBTQ+ community!
Ecommerce Holidays for Q3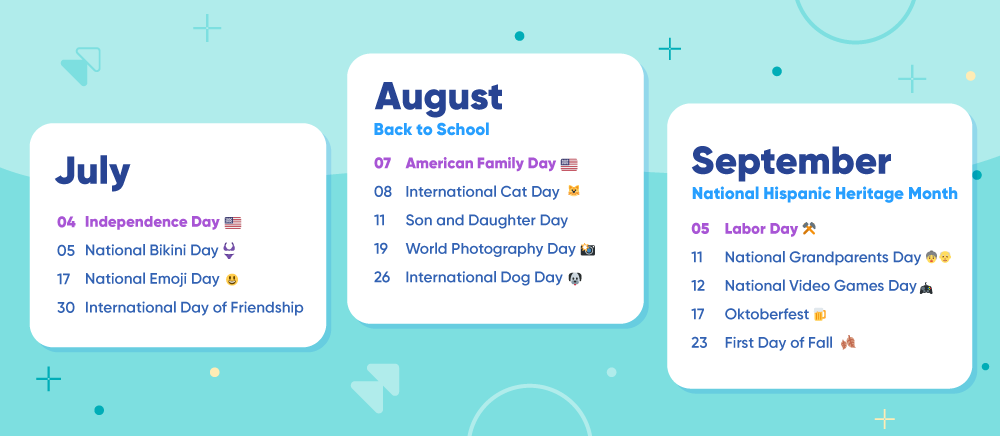 You must think that July, August, and September are low in sales opportunities, but you can find gold if you dig well enough. We suggest you keep in mind the following holidays.
? Dates you shouldn't miss:
Independence Day
Back to School Season
First Day of Fall
? What to Sell
Fall is the redecorate season for excellence, so think of home decor products and designs.
During Back to School Season, although children need new clothing and school supplies, don't forget about the parents! Making this season easy for working parents will work wonderfully for your sales.
✍️ Pro Tip: Don't add products for holidays that are not relevant to your business! For example, if most of your customers are from America, preparing your store for Independence Day is a must. Otherwise, you should ignore the holiday.
Ecommerce Holidays for Q4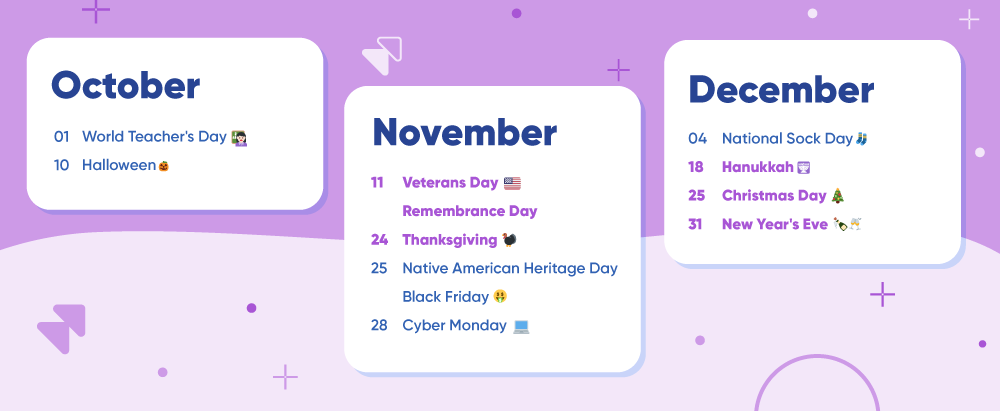 And here we are again! The last three months of the year are filled with important holidays and sale seasons you know already. But just in case you need, go grab a pencil!
? Dates you shouldn't miss:
Halloween
Veterans Day
Thanksgiving
Black Friday / Cyber Monday
Christmas Eve
Christmas Day
New Year's Eve
? What to Sell
Costumes, comfortable clothing, toys, tech gadgets…name a product, you'll need them all for gifting season!
Are you ready for another successful year?
Starting an ecommerce business and maintaining it is not an easy task, but when you have the right partner, you can achieve anything.
We offer a wide range of print-on-demand products and keep updated our dropshipping catalog so you can easily add trendy products to your store.
Stay tuned for our seasonal selling guides, and enjoy a new year full of sales!