The Pinterest Tag works by tracking the activity of users as they interact with your ads on Pinterest. The valuable information generated by the tracking tool allows you to maximize both your conversion rates and your Return on Ad Spend (RoAS).
Audience Insights – Track the actions of users on your website and learn how to target your audience better.
Enhanced Match – The ability to trace back a successful conversion to a responsive user for enhanced analytics.
Advanced Visibility Features – First-party cookies are created for your domain to better view and analyze the incoming traffic from Pinterest.
Pinterest Tag for Individual Campaigns
Verify your domain to start using Pinterest Ads
Configure your Pinterest meta tag on your Chip's Dashboard, so Pinterest can verify your domain and allow you to use Pinterest Ads.
Step 1: Log into your Pinterest business account and click "Claim domain."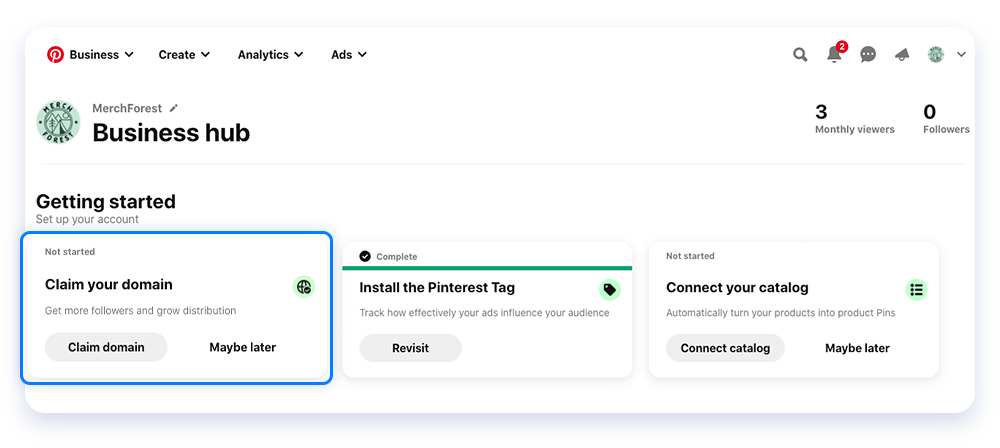 Step 2: Click "Claim" from the left-side navigation, and then click "Claim" next to Websites.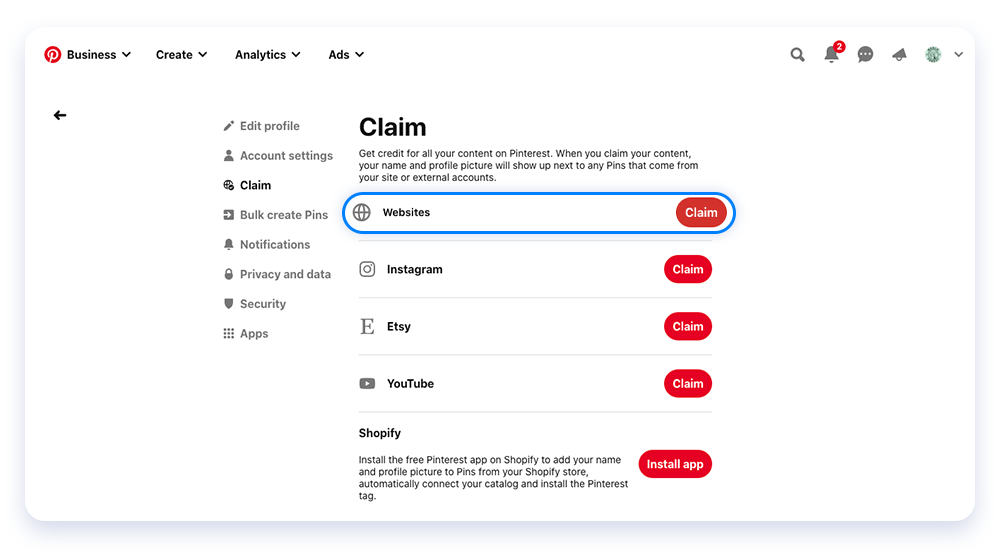 Step 3: Click the text in the box below Add HTML tag to copy it, and click Continue.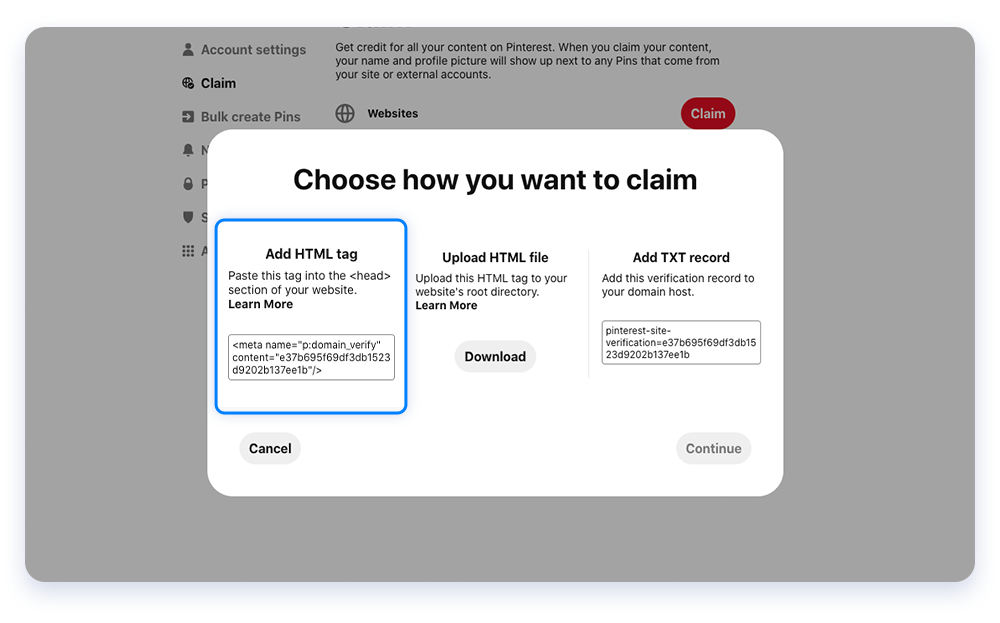 Step 4: Go to your Chip account, and click Domains, then Details, and finally Settings and enter your Pinterest HTML tag into the box and click "Save Changes."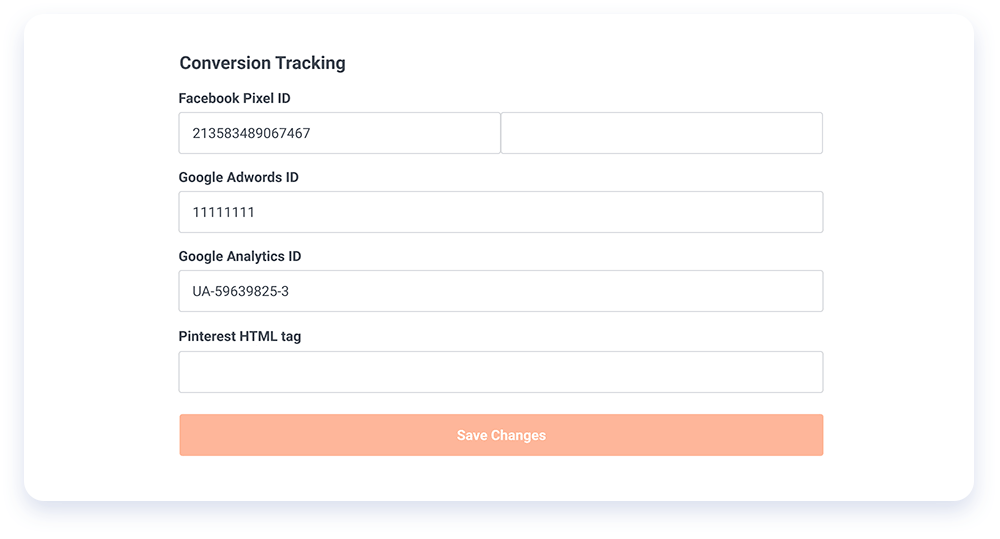 Step 5: Go back to Pinterest, enter your website URL into the box, and then click "Verify."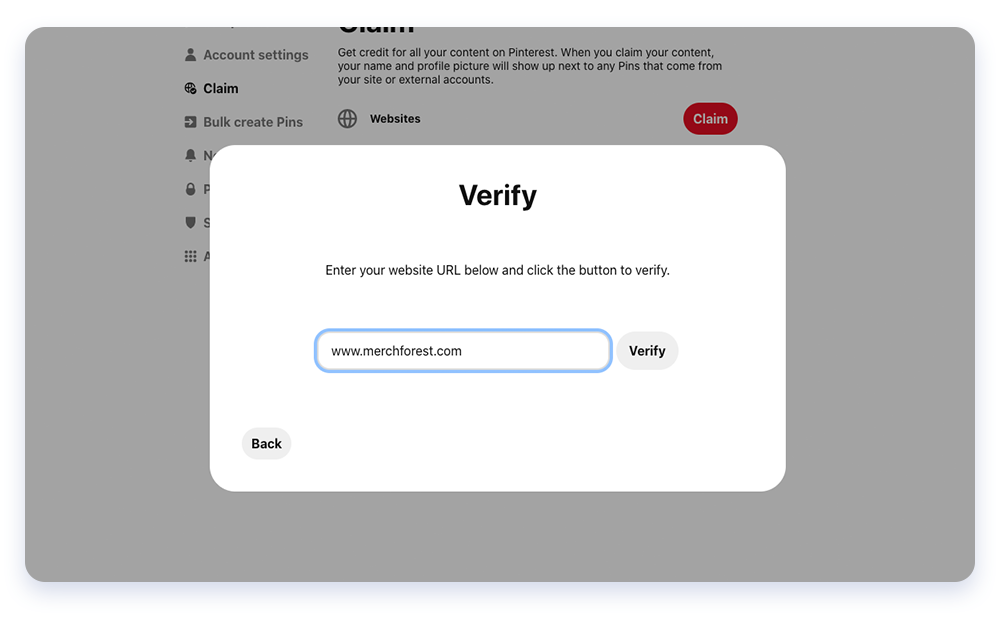 Step 6: After you click "Verify," Pinterest will automatically check for the HTML tag and claim your website. You'll receive an update in an hour.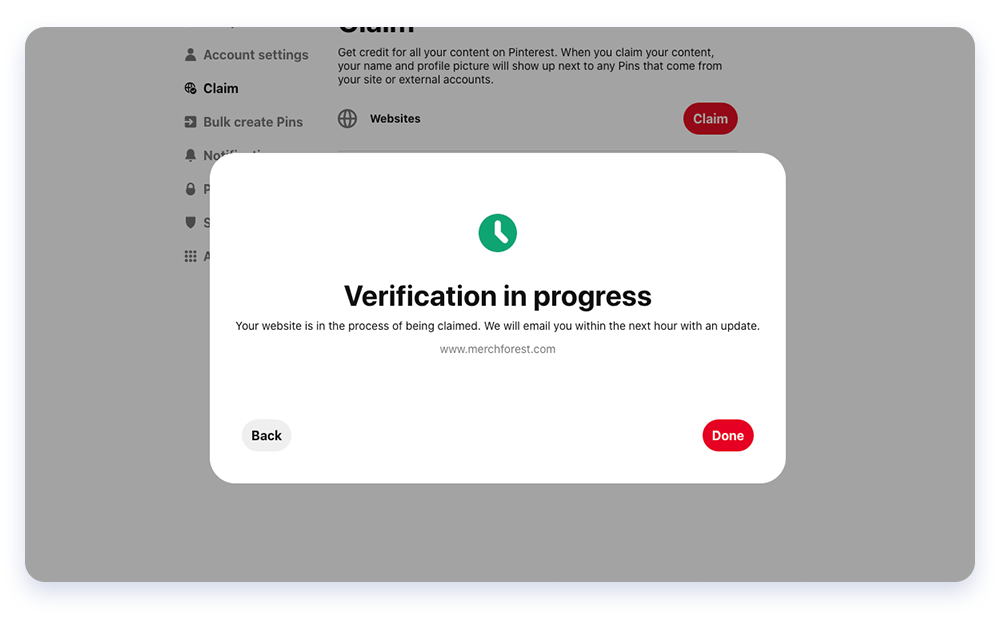 Scale Success on Chip with the Pinterest Tag
Not everyone makes a purchase after seeing something for the first time. Learn the art of conversion and draft up a winning sales campaign with improved insights that track users even without a purchase made.
The additional visibility features allow you to track users who view your ads, make a purchase, and target and direct your ads to other users who match similar interests.
The Pinterest tag generates valuable insights. The user completes one of nine different actions: Page visit, view category, searches, add to cart, checkout, watch a video, sign-ups, leads, and custom events.
Users can manage the Pinterest tag at the Pixel helper add-on menu. Once the pixel ID is inputted, it will be fully supported for the product list page, campaign buyer page, shopping cart, checkout, and order confirmation.