Expand your selling potential with Chip's seven embroidered products! Mix and match 15 different thread colors to create your own premium embroidery designs.
Embroidery is a unique process
Unlike traditional printing with ink, embroidery machines use a needle and thread to stitch the design onto the garment. It's important to keep these differences in mind when designing.
Designs are limited to 15 distinct colors
Our embroidery machines can hold 15 spools of thread. For the best results, please only use the pre-approved 15 hex code colors below. During campaign creation, our system will convert your designs to only include these colors.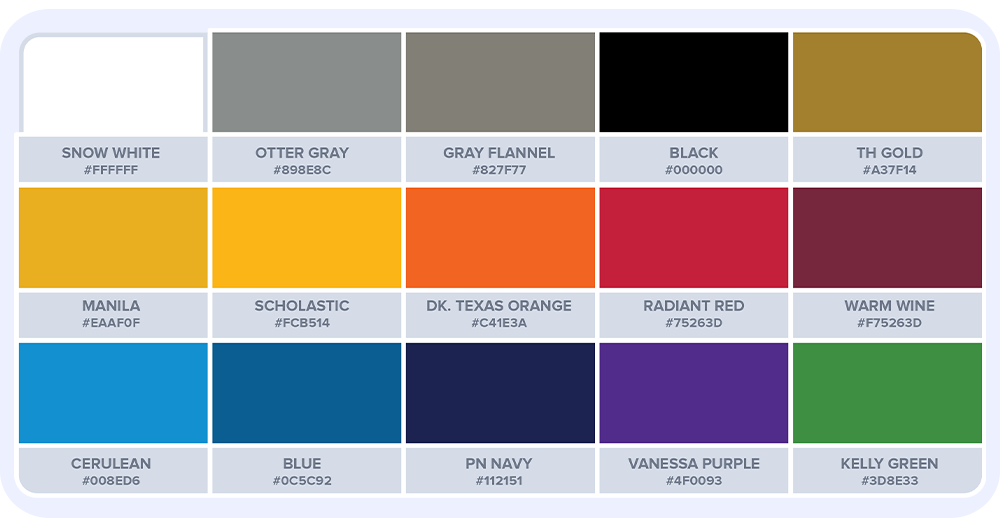 Embroidery products have limited print areas
The maximum print area for hats and beanies is 2.5 x 5 inches and the maximum print area for jackets, polos, dress shirts, backpacks, and sling packs is 3.5 x 3.5 inches. Please refer to the product chart for embroidery artwork templates.
Guidelines for Embroidery Design
Here are six important rules to help you create amazing embroidery designs that get approved:
1. Avoid small text

To ensure that your design has legible text, artwork must have a minimum font size of 14pt (height of 5mm). In addition, your designs can only have a maximum 15 characters per line.
2. Avoid small details

Embroidery designs are created by a needle and thread, which causes some detail limitations. Your designs should not include thin lines, intricate details, or too many colors.
3. Avoid gradients

Gradients are great for screen print but cannot be reproduced by embroidery. Instead, use color-blocking to achieve a gradient effect.
4. Avoid distressed designs
Distressed designs create multiple gaps and jumps that are difficult for the embroidery machine. Please fill in all distressed designs with a solid color to avoid complications.
5. Avoid using photographs

Photographs contain hundreds of colors and are very difficult to convert to only 15 thread colors. We recommend that you change your image to a vector-style graphic for embroidery.
6. Avoid using negative space

Designs with too much negative space can result in pinched and scrunched fabric. We recommend that you fill negative spaces with a solid color (such as black or white) to avoid this problem.