From birthdays to Christmas, the occasions to deliver a good present are endless, and finding an extra special gift can be stressful. At Chip, we focus on giving you the best tools and features to help you grow your business, and this time we partnered up with the best on the market for customizing products: Customily. Help your customers create unique and thoughtful gifts by learning how to use our new integration in your store and watch your sales numbers soar!
Getting started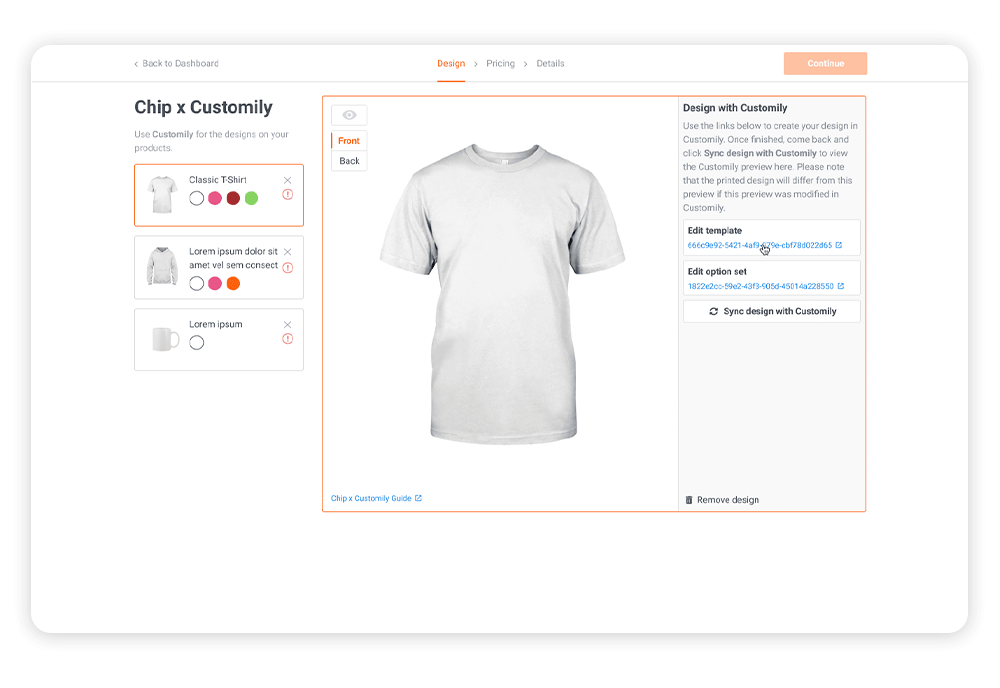 Sign up to try Customily here and we will contact you with the next steps to get you started in your Customily and Chip journey!
Once you've created your Customily account, the Chip team will have to approve it. After approval, you'll see two new tabs at the top of the campaign creation product selector in your Chip account: "Design with Chip" and "Design with Customily." All you have to do is select Design with Customily to embark on the new Chip and Customily experience!
Note: Only Customily templates and option sets that the Chip system automatically creates in your account via campaign creation will be usable on Chip.
Terms to know
Template: What you will use to create designs in Customily via Chip.
Option set: Options selected by you to set up the different options the buyer will have available to choose from, such as personalized text, image upload, and artwork customization. Learn more about creating option sets here.
How does Customily work on Chip?
Customily is an online product personalization tool that will expand your customers' possibilities for personalizing your designs. This partnership will let you create designs with Customily starting in the Chip dashboard. Then, you'll alternate between the Chip dashboard and the Customily platform in an easy-to-understand process that will get your design ready in no time!
Keep reading for a step-by-step guide on how to use Customily on Chip.
Chip x Customily for Sellers
To use Customily on Chip, create a campaign like you normally would.
When you get to selecting products, choose the tab "Design with Customily."
Select your products and add colors before continuing. Note that you will not be able to add more products or colors after this step. When you're done, click "I've finished selecting colors and products."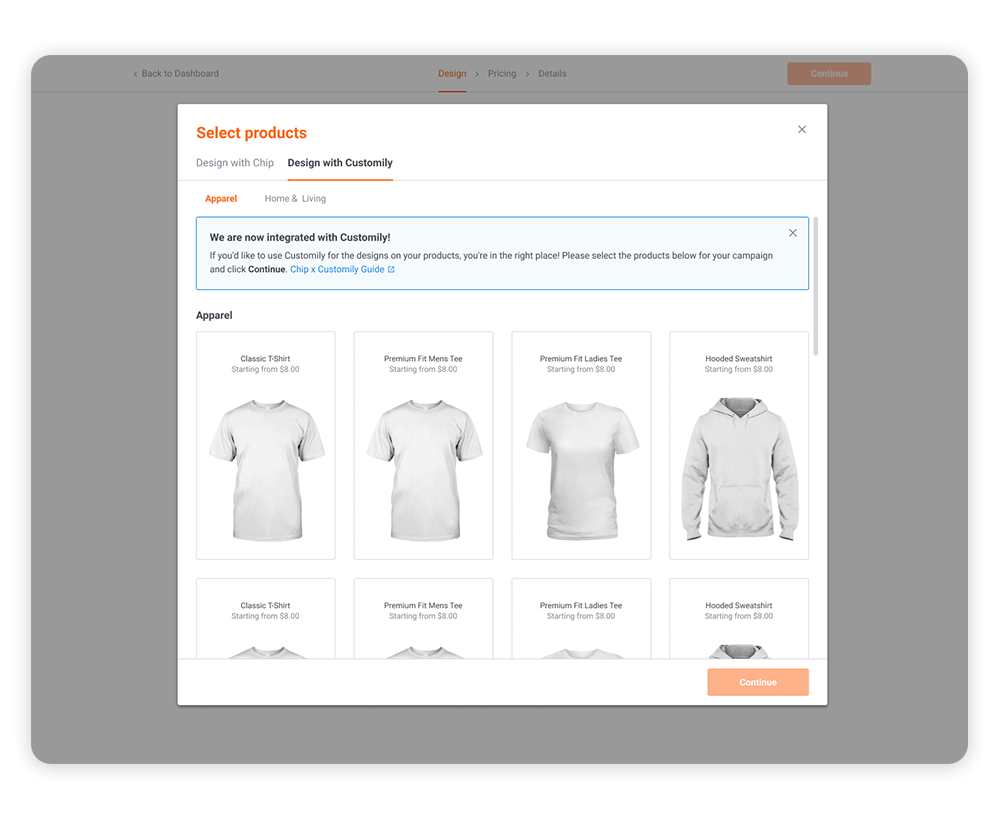 Click "Create template and option set" for Chip to generate these items for the product side on Customily.
Click on the "template" link, which will take you to the Customily platform.
Add your design on Customily, then click "Next."
Once you're back in Chip, click "Sync design with Customily" for your design to appear on the product.
Update your option set by clicking on the link.
Once that is completed, your design is ready for both Chip and Customily! For products with multiple sides, repeat steps 1-8 for each side.
Chip x Customily for buyers
64% of Americans are willing to spend more on personalized gifts, especially in the categories concerning home décor and clothing. And this percentage goes up to 70% when it comes to millennials. Also, according to Business Wire, the global personalized gifts market is to reach $31.63 billion by 2021, an opportunity that you don't want to miss!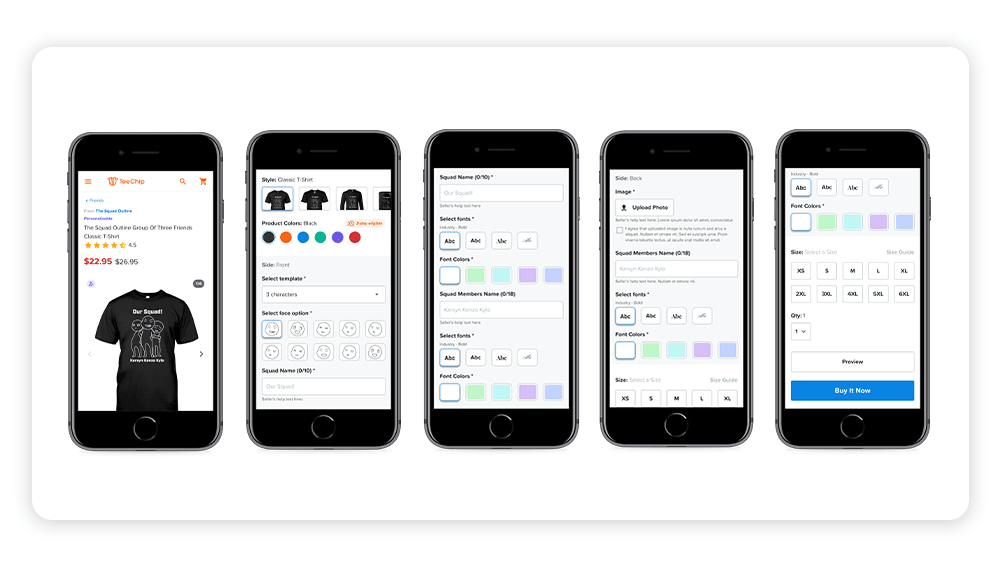 Your customers will be delighted to see the option sets they have to personalize your designs. With Customily, they can customize so much more than personalized text. They will be able to change details like hair color, skin color, facial expressions, or even adding their own images. This will expand the alternatives of designs you can create for them significantly; the possibilities are endless!
Chip x Customily playbook for sellers
To help guide you through the product creation process with Customily, we created a special Chip x Customily playbook that solves most of the questions that may arise when starting your journey with our new personalization experience.
Moreover, if you have any issue related to Customily, you can look into the Customily Help Center for answers or reach out to Customily directly for help.
There's no denying that customized products can make great gifts and that people like to buy something that is unique. Are you ready to grow your sales to new levels with Chip x Customily?