Facebook has established measures to promote authenticity and legitimacy for anyone wishing to run ads about social issues, elections, or politics. At ChipAds, we have created Premium accounts that have gone through the complete Facebook authorization process and have the required disclaimer to run these ads.
We want to share some pointers that we have tested and found helpful when running them. Of course, you can always double-check this information in Facebook's documentation. And remember, your ad review on Facebook's side can take up to 72 hours for this category.
What does Facebook consider a Political and Social Issues ad?
If an ad you want to run falls into any of these cases, it is considered political or social:
Ads about a candidate for public office, a political figure, a political party, or advocates for the outcome of an election to public office.
Ads about any election, referendum, or ballot initiative, including "go out and vote" or election campaigns.
Ads about social issues anywhere the ads are being published like guns or immigration in the US. We recommend checking the complete list of social issues by country.
Ads including a product or service that contains social issue advocacy messaging on the product itself. (E.g. a t-shirt with "We demand equal rights for immigrants" printed on it)
What type of copy and images does Facebook allow?
This is, without doubt, a tricky subject. We'll provide specific pointers of what is usually approved by Facebook.
Content that Facebook allows includes:
Ads with political content advocating for a specific political figure or party.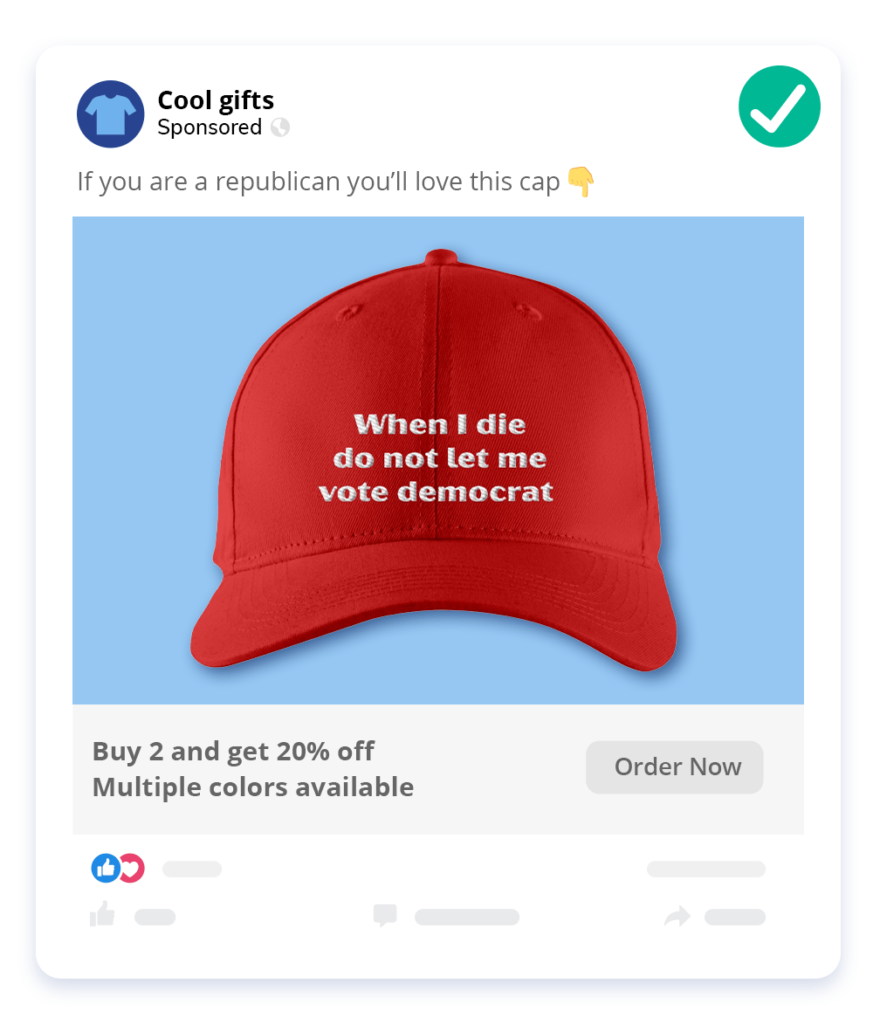 Ads talking about social issues that do not spread false information.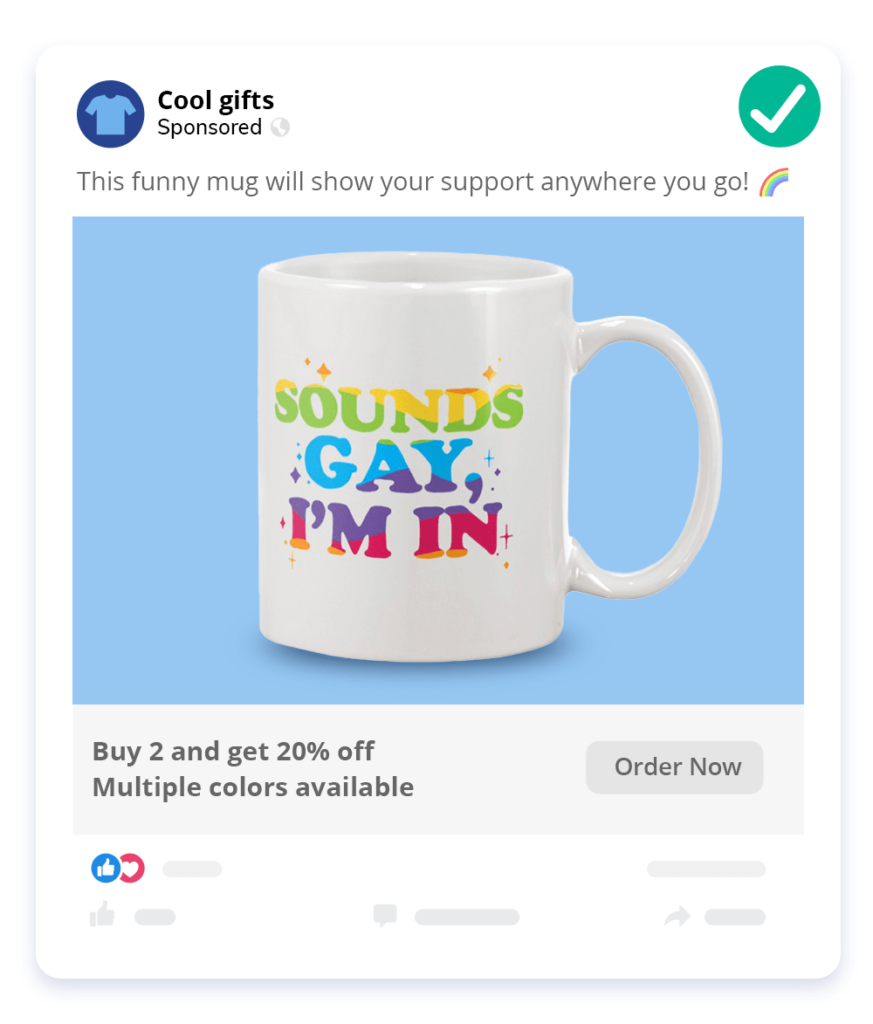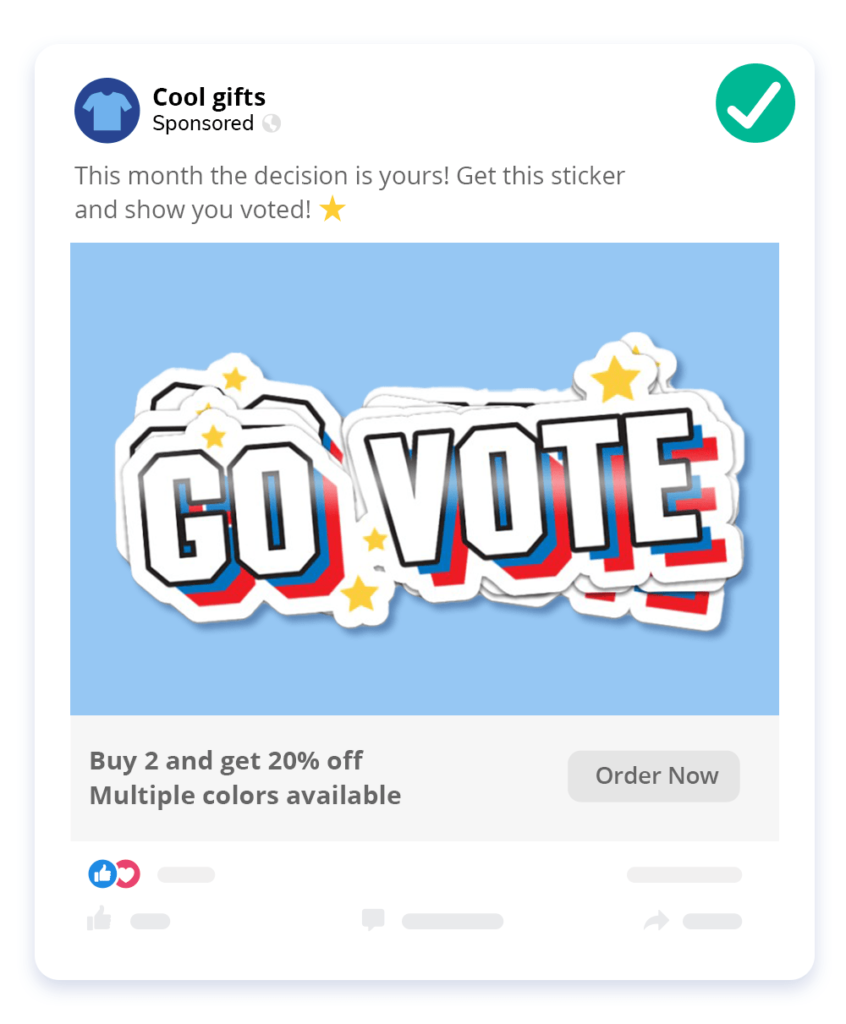 Ads with cartoons, memes, and names of political figures.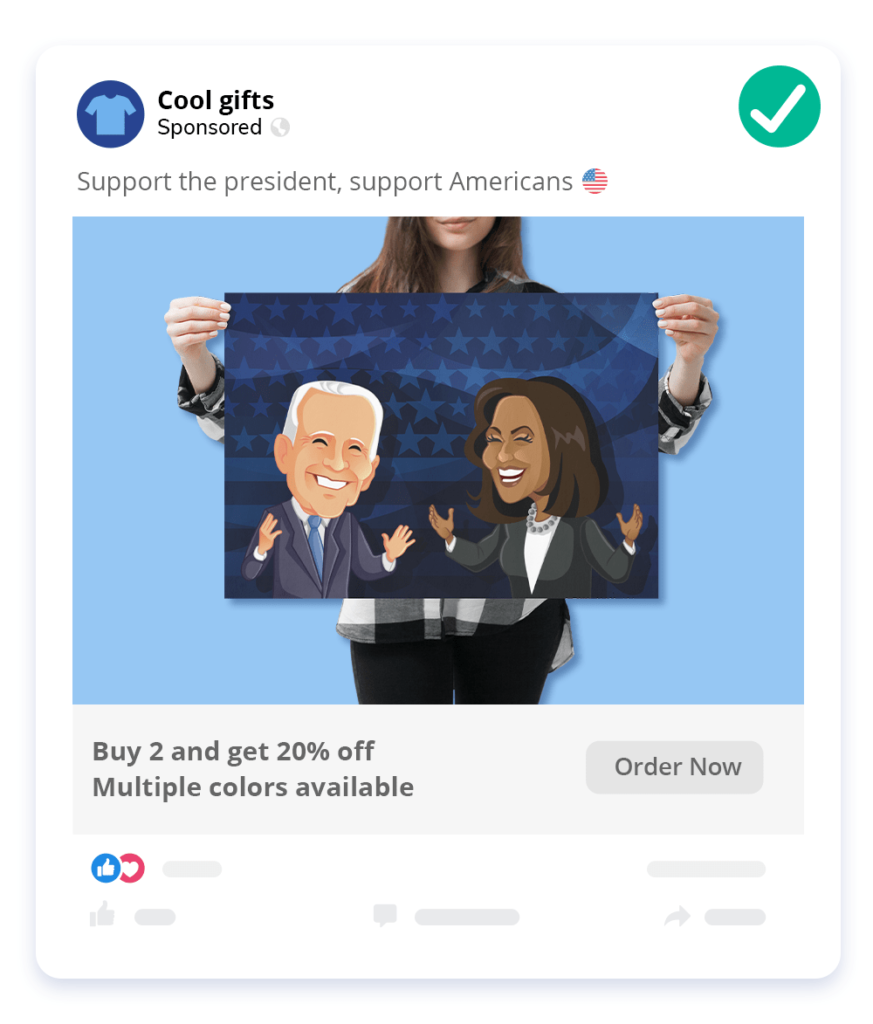 Ads about political figures. Make sure they do not contain profanity, demeaning or violent content.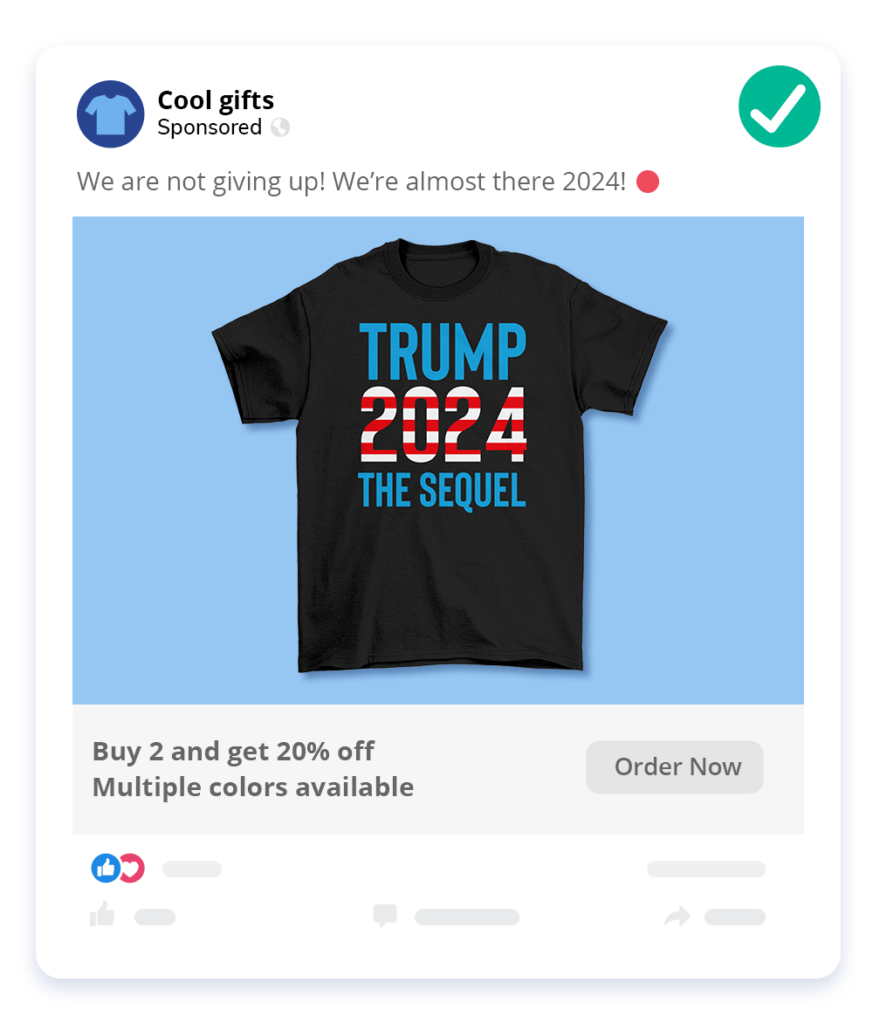 Content that does not follow Ads Policies includes:
Ads that imply voting is useless or tell users not to vote or take part in a census.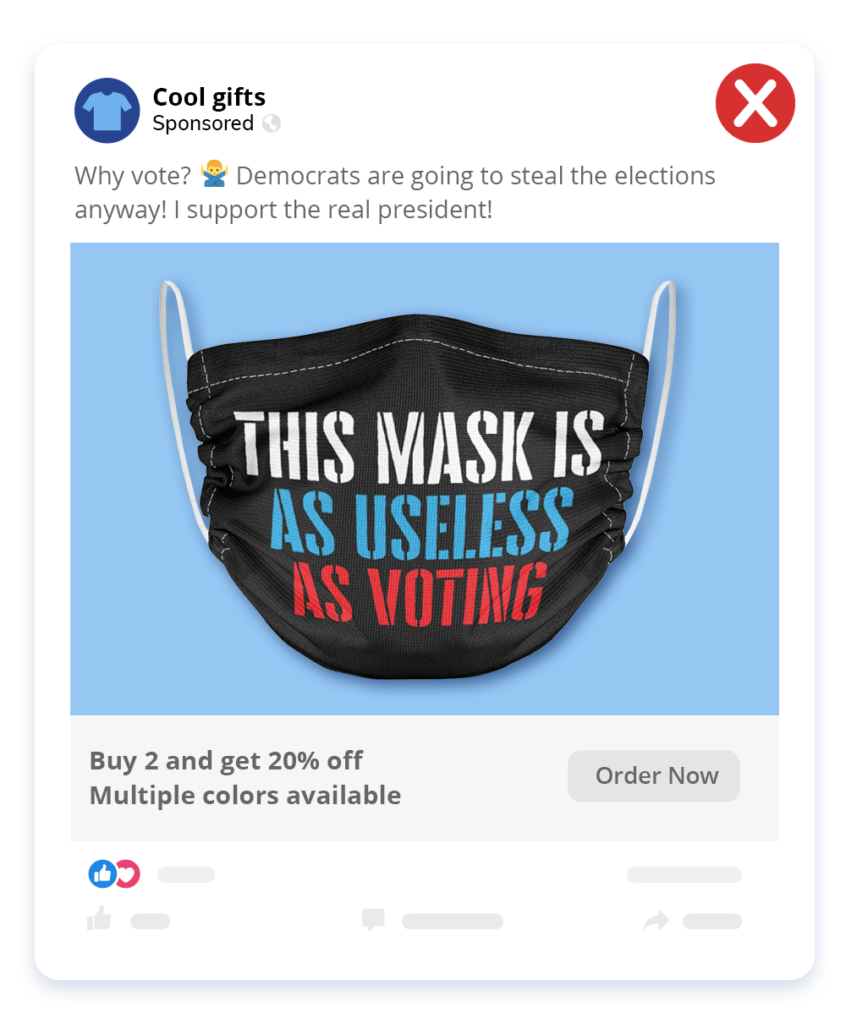 Ads that delegitimize any lawful method or process of voting as illegal, inherently fraudulent. Also, avoid ads that imply elections will result in a dishonest or corrupt election administration or outcome.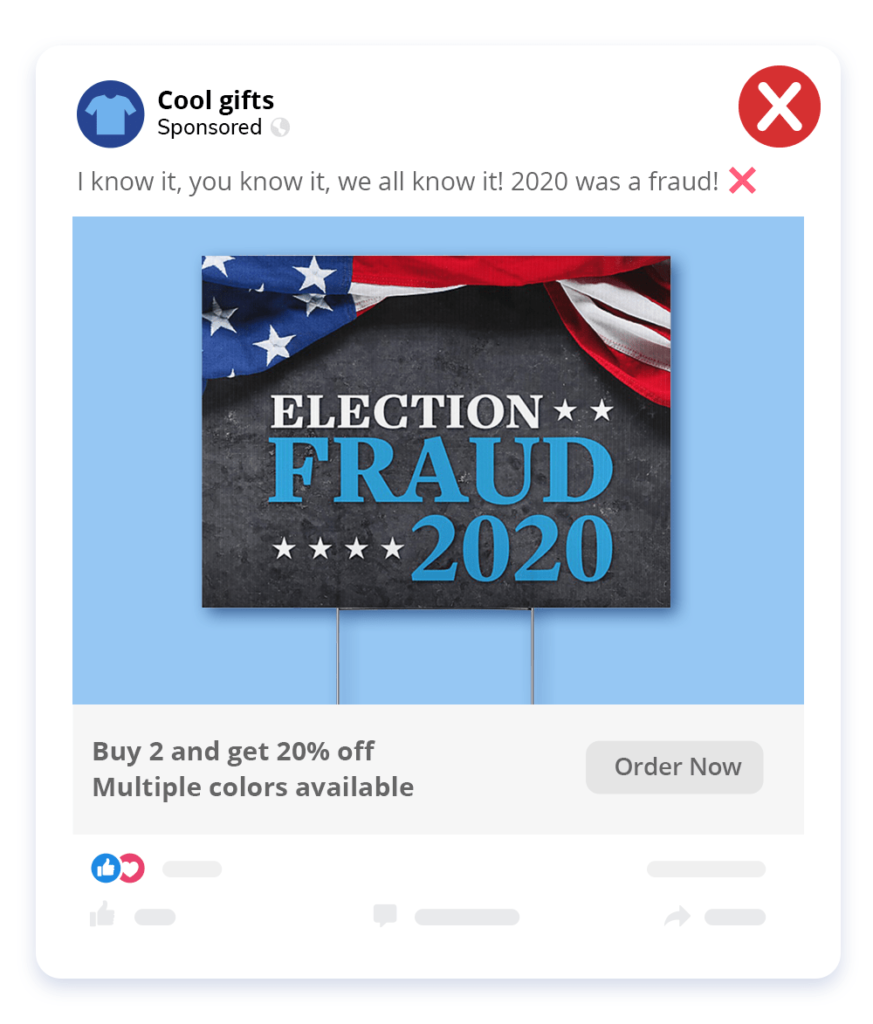 Ads that disqualify an election or categorize the results as fraudulent or corrupt because the result can't be determined on the final day of voting or before ballots are received, and votes are lawfully counted.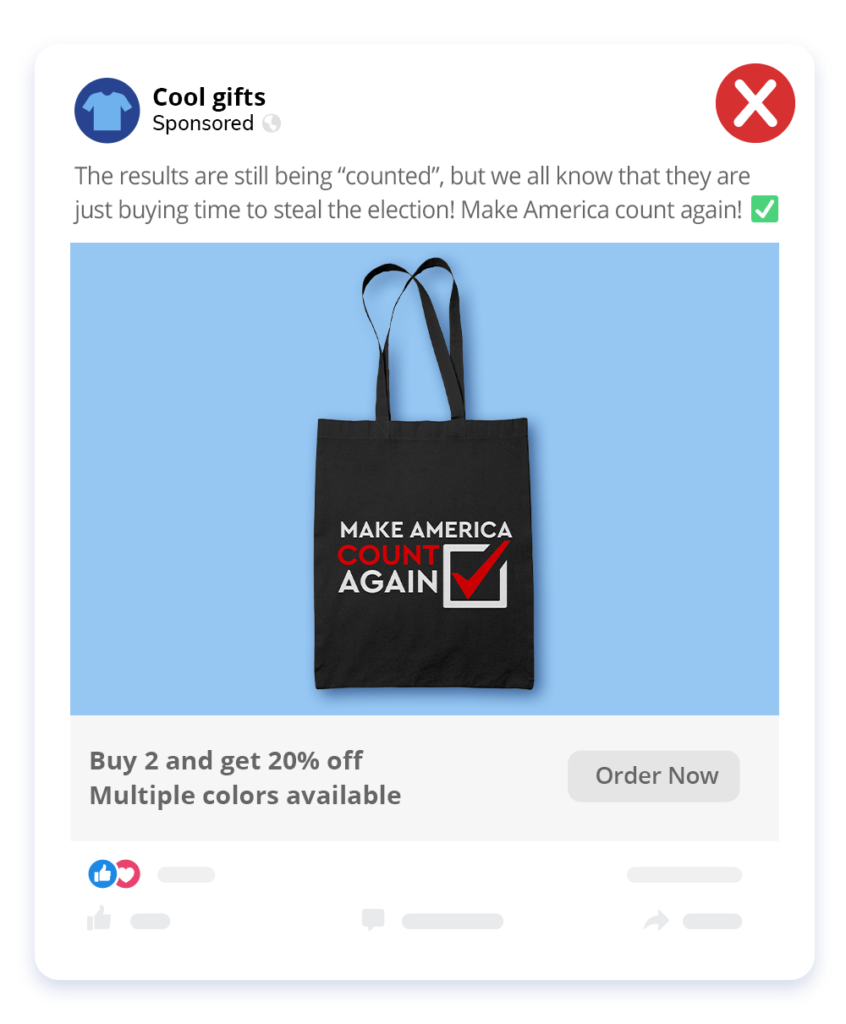 Ads that claim voter fraud is widespread and/or alters the outcome of elections and/or results in a fraudulent or corrupt election.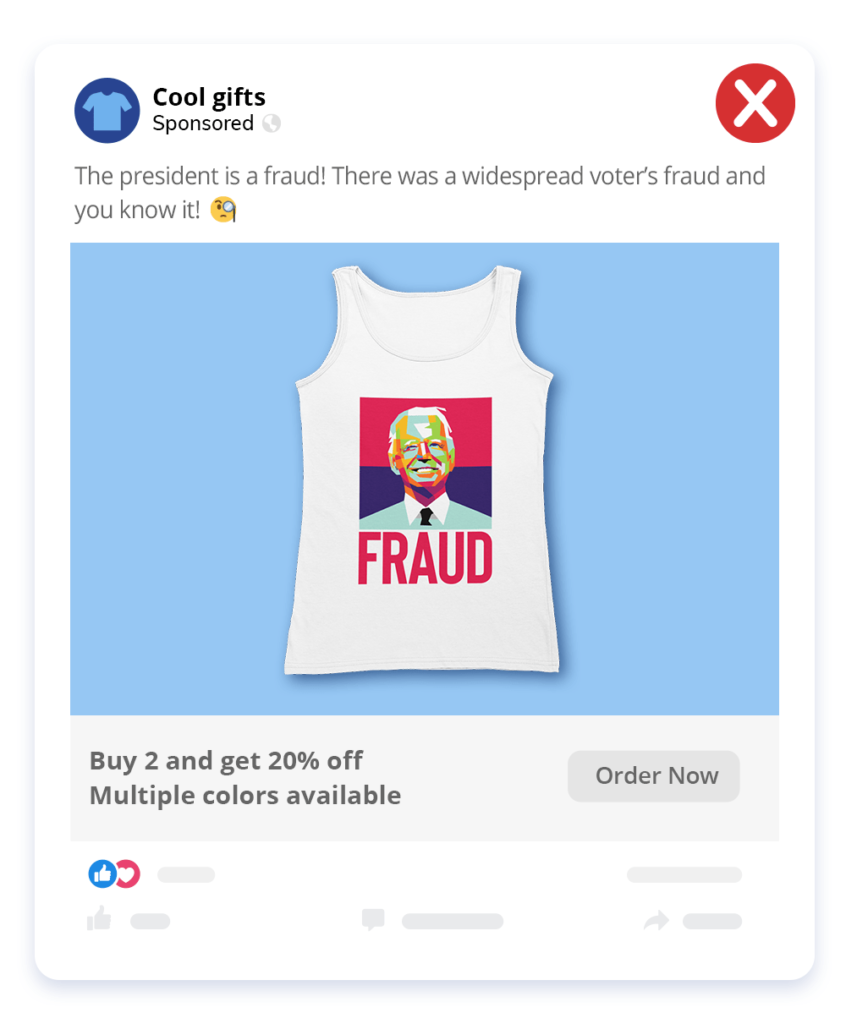 Ads that claim the election date or the mechanism for electing the president can be changed in ways not permitted by a country's set of laws.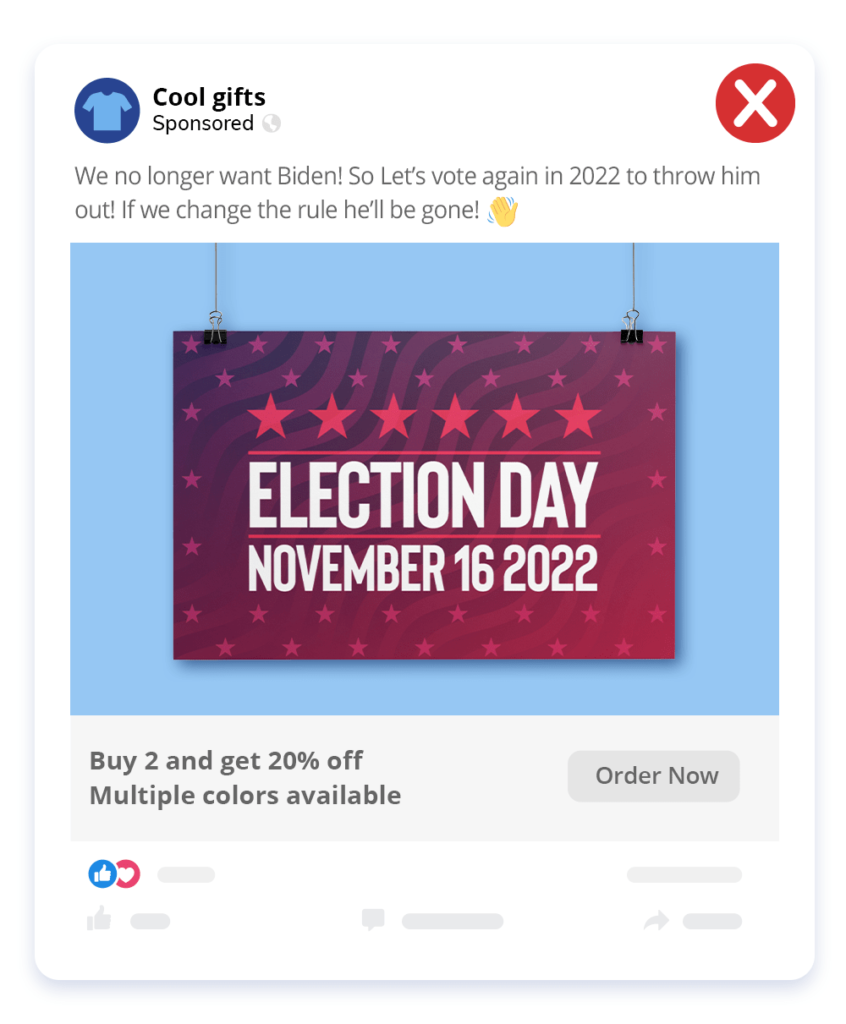 Ads with premature claims of election victory.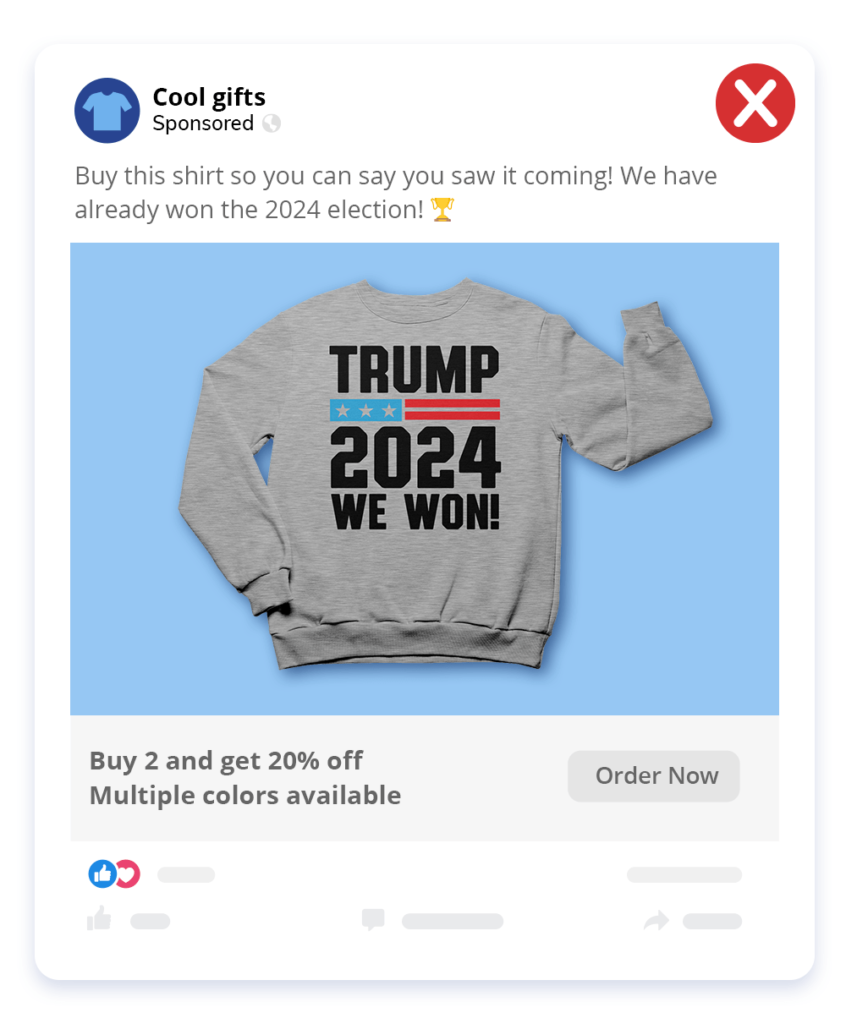 Ads that are inconsistent with health authorities on how to safely vote.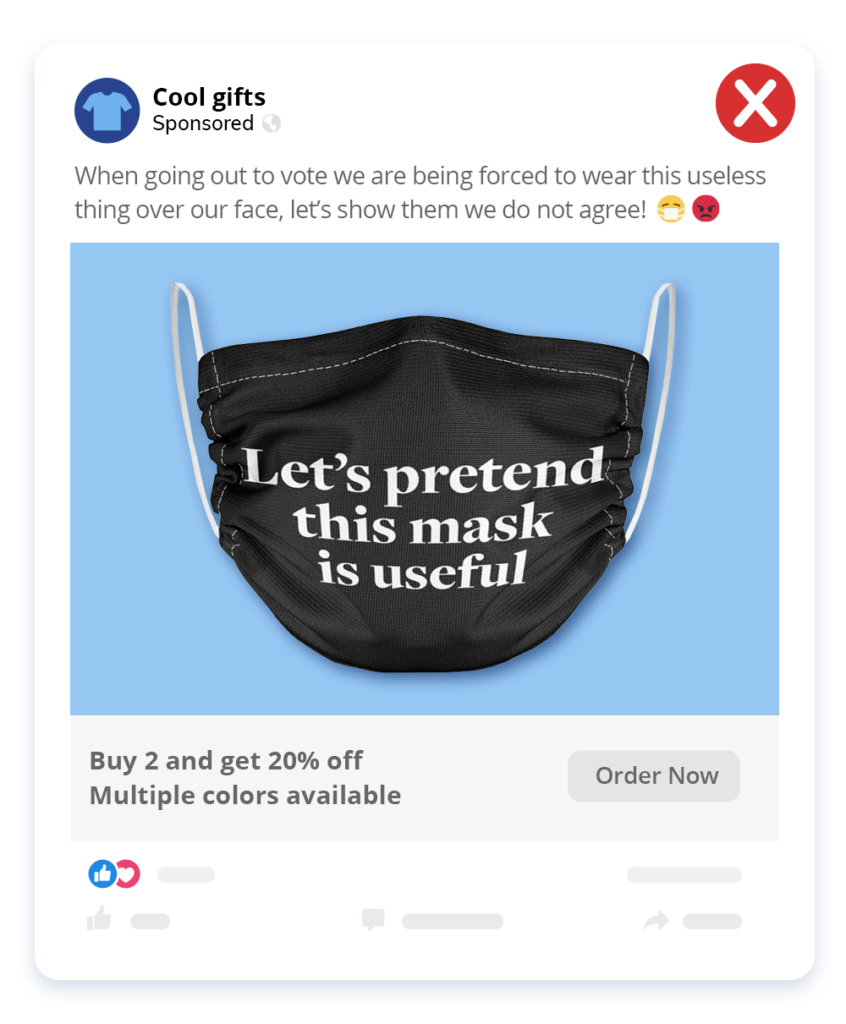 Ads that state that the current elected president is not the "real" or "rightful" president.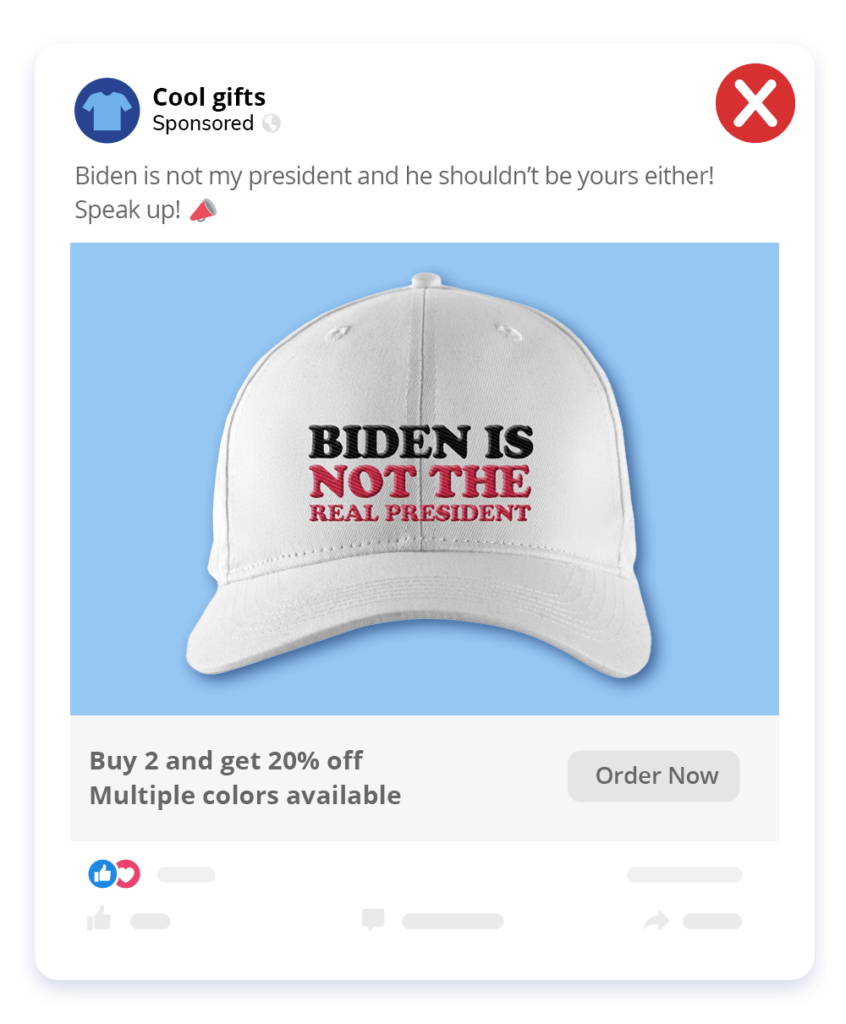 What type of targeting is allowed?
Ads targeting has three main components: age, location, and interests.
Age: People that are at least 21 years old.
Location: Only the US location is accepted within ChipAds. There is a restriction specifically for Washington state. Ads must not run in nor target the state of Washington when the ads relate to Washington's state or local elected officials, candidates, elections, or ballot initiatives. In addition, ads must not run in or target the state of Washington when the ads relate to Seattle legislation.
Interests: Political and social interests like Donald Trump or Feminism are allowed.
If you are not familiar with targeting within ChipAds, we recommend reading this blog.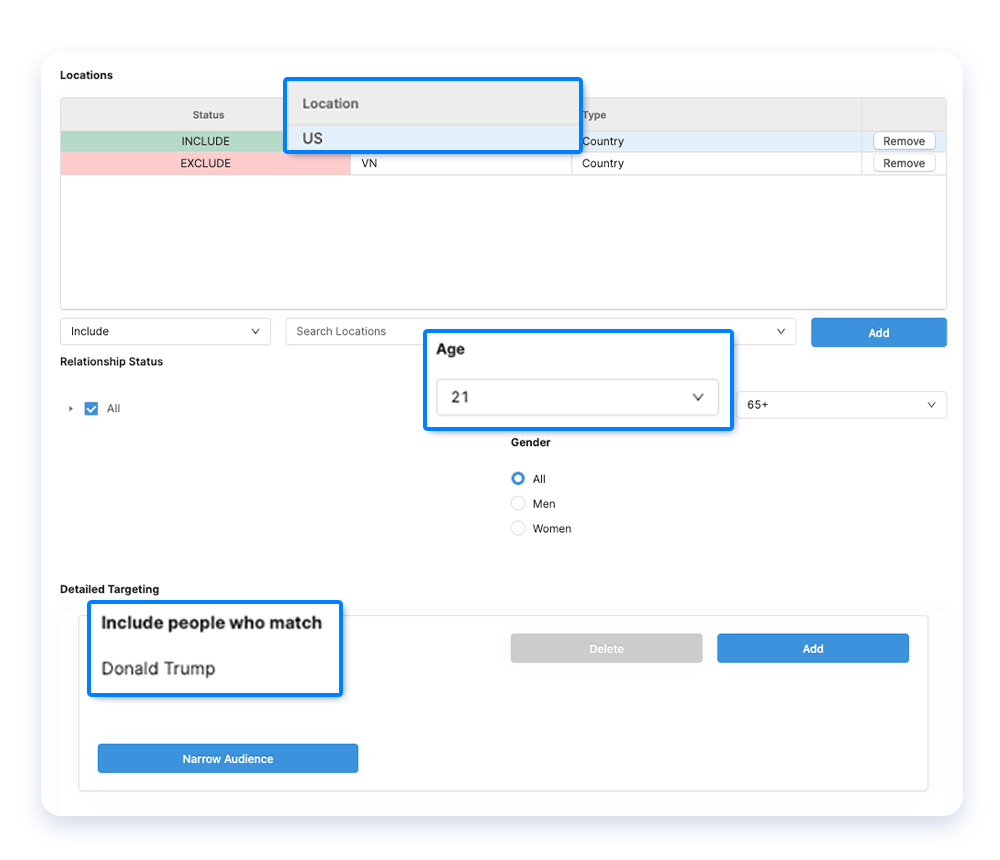 What about other policies?
You must remember that it doesn't matter the type of ads you are running; you should comply with all ads policies and community standards. We always recommend double-checking that you are complying with all policies, for example:
Confirm all your claims are correct.
Best Practices for Creating these Ads
Taking everything we just mentioned into consideration, here are some final tips for creating this kind of ads.
Stay away from messages that imply elections were fraudulent or that false claim results.
Do not advertise content that contradicts guidelines established by health organizations, like saying "masks do not work".
Avoid messages that contain profanity or violent content.
With this blog on political and social issues ads, you should be ready to create complaint ads, so go for it! Start advertising today with ChipAds.