A traffic campaign drives interested people to your Facebook ad. While the goal of this campaign is not to convert, it will help a lot with building brand awareness and establishing yourself as a business.
With ChipAds, creating traffic campaigns is easy. We'll walk you through each step so you're fully aware of how to best optimize your traffic campaigns.
How to create a new traffic campaign
On your ChipAds dashboard, click on "Create New Campaign"
Choose Traffic campaign objective and your ad account
Designate a campaign name and the spend cap (remember that the minimum spent must be $100 USD). You can also name your ad set here or later.
Click "Create"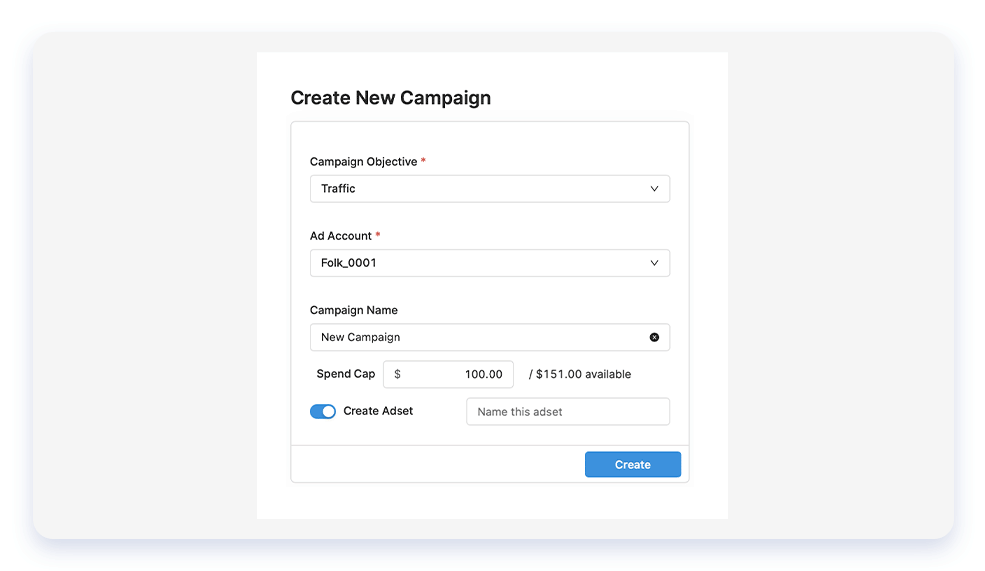 A new window will appears with the legend: "Are you sure you want to create a new campaign?" Click in the "OK" button
The campaign will now appear in the dashboard. If you want to change some campaign settings, click on "Edit."
How to create an adset

From Edit Campaign, it's easy to create a new adset. Just click on the dropdown menu and select the "New Adset" option.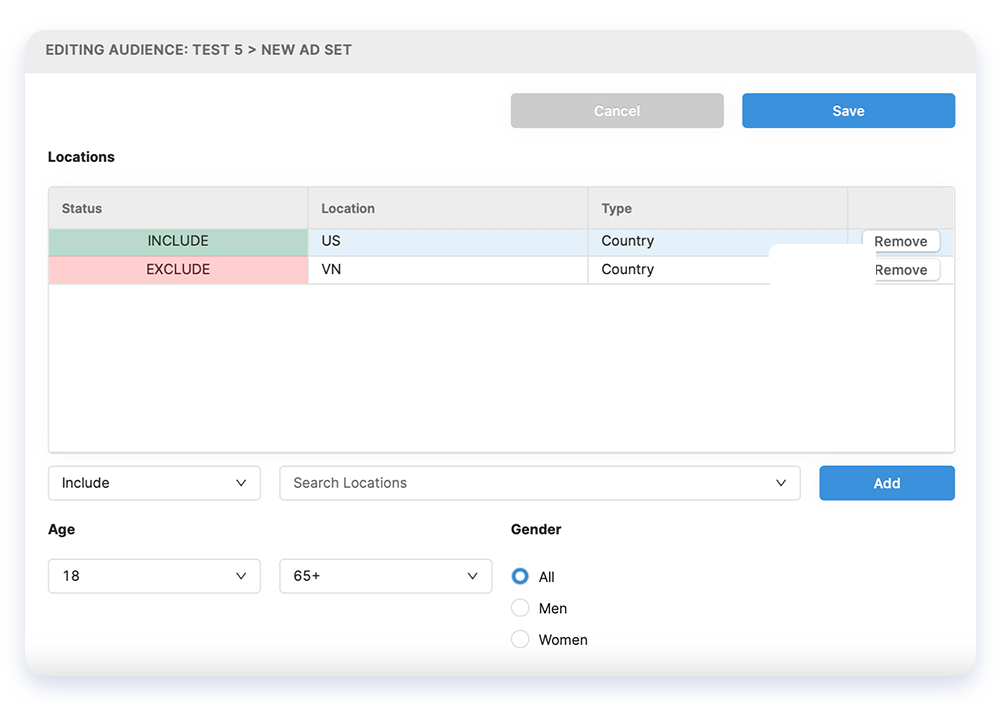 A new section will be displayed on your screen with the option to edit your adset, like:
Changing your adset's name
Creating a schedule for your ad set with a start and end date
Adding your spend limits with a daily maximum and minimum price to optimize your budget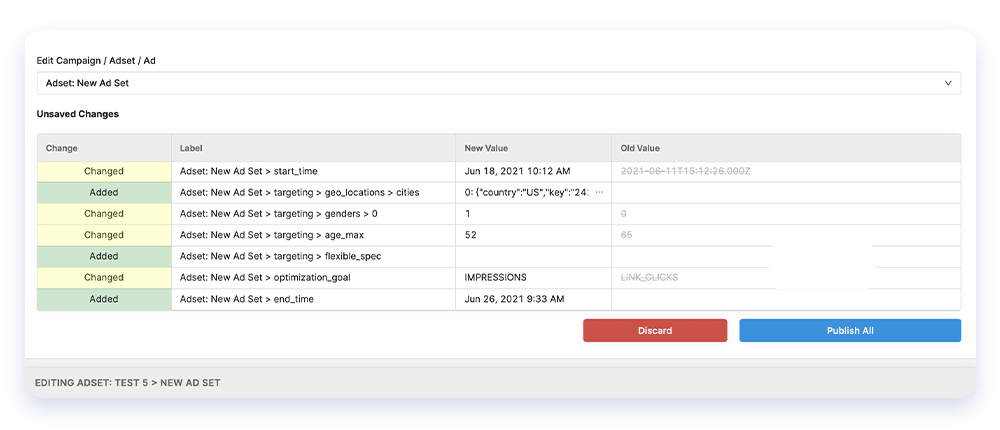 Audience details
Click on the "Edit audience" button to define your audience details. This includes the locations where you want to show your ad, age and gender of your target market, plus more detailed targeting demographics, interests, and behaviors. You can also exclude people you do not want your ads to reach. Don't forget to save your audience details!
Business objective
A business objective is the goal of your ad. You can choose from Impressions, Link Clicks, Conversions, and Landing Pageviews. For traffic campaigns, select Link Clicks or Landing Pageviews for the best results. You can also choose an attribution window of one or seven days to reach your target audience in different ways.
Ad placement

Decide where you want your ads to show according to your campaign objectives. Set the placements where you want your ads to be shown according to your campaign objectives. There are plenty of options, so make sure to choose the right ones for your traffic campaign.
How to create an ad

After you finished creating your adset, the system will return you to the main Chip dashboard page. Click Edit again to get to your campaign and choose "Create New Ad" from the dropdown menu. From here, you can start designing your ad:
Choose a new ad name
Upload an image
Add the primary text, a headline, a description, your website URL, a display link, and a CTA button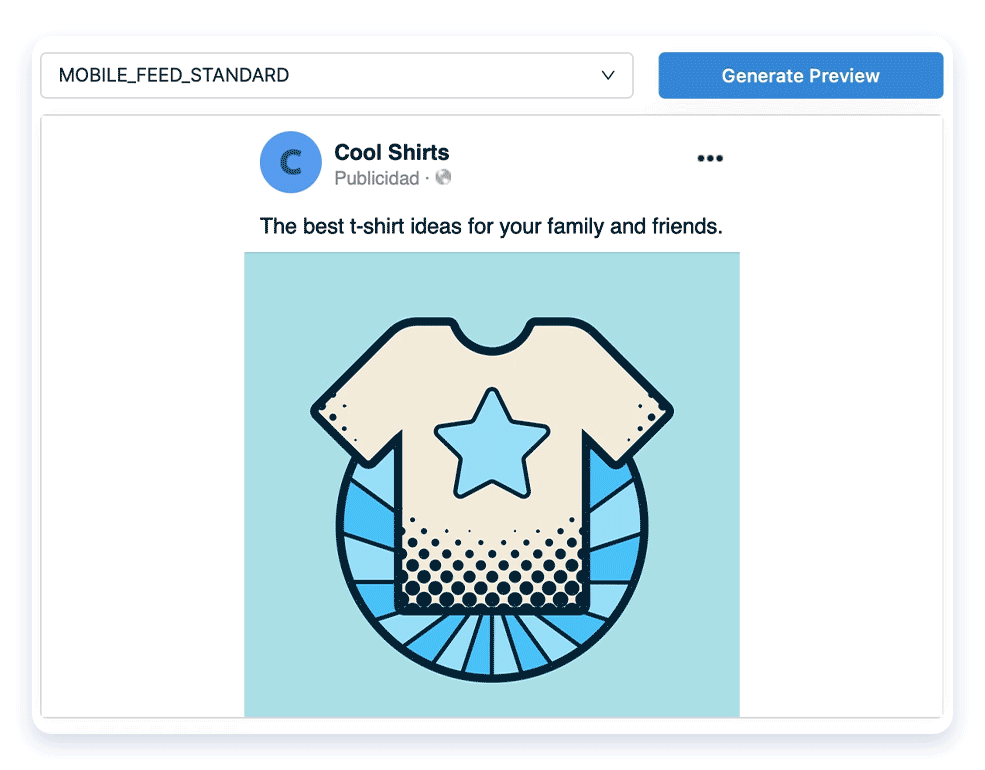 Once you finish creating your ad, click on the "Generate Preview" button to see how it will look when published. Finally, click on the "Publish All" button to save the changes.
That's it! Your ad will start running according to the date you chose. Remember that you can edit your ad as many times as you want by simply following the same editing process.