Facebook Ads are sellers' go-to marketing tactics, but it's not all it's cracked out to be. It's common for Facebook ad accounts to get disabled, an issue sellers have long been dealing with until now.
Chip has created a genius and reliable Facebook Ads tool so sellers don't ever have to worry about getting an ad account disabled again.
What ChipAds can do for your business
Achieve record sales by making your product advertising as visible as possible! With ChipAds, you can create powerful Facebook ads instantly. The best part is you don't even have to own a Facebook account.
Thanks to 100% U.S.-based ad accounts and payments from U.S.-issued credit cards, sellers will get better ad performance, work with higher ad spend limits, and achieve better reach.
Before you jump in, make sure you go through our checklist:
Have a Payoneer account.
Be ready to make a minimum USD $100 deposit. Please wait 24 hours for your deposit to be reviewed before you can start using ChipAds.
Sign up using the same email address associated with your Chip seller account.
Important notes:
Facebook Ads can only be run with custom-domain-only campaigns.
Payment can only be made with Payoneer at this time, with a minimum $100 USD initial deposit. All ad spend is prepaid.
Chip will assign each seller a pixel ID and a Facebook Ad account.
As a result of the iOS 14.5 changes, campaigns with the Conversion objective require a domain that needs to be verified by ChipAds. To get started, please contact our support team on Telegram @chipadssupport as soon as possible and allow 24 hours to review your Payoneer payment and enable your Conversion campaigns. After, you will be provided with a domain and alias to set up your campaigns.
Note: Due to the new iOS changes, please allow an additional 72 hours to make any changes to your campaigns. For conversion tracking, a Facebook Pixel will be automatically assigned to your domain by ChipAds.
How to create a ChipAds account
Create an account here. Sign up with the email address associated with your Chip account.
Deposit with Payoneer Deposit. Currently, ChipAds receives payment through Payoneer's adfairypayoneer@scalablepress.com account. Please note "ChipAds - [your Chip email used to register ChipAds account]." Remember to take a screenshot of the successful payment notification screen.
Set up your billing and payment information by going to your dashboard > Manage Billing > Create Payoneer Deposit*. To start creating ads, you must make a minimum deposit of USD $100. This step is mandatory.
Enter your Payoneer Transaction ID and upload your receipt.
Submit your Payoneer Deposit.
*Currently, ChipAds receives payment only through Payoneer. If you're new to Payoneer, visit the site to create an account.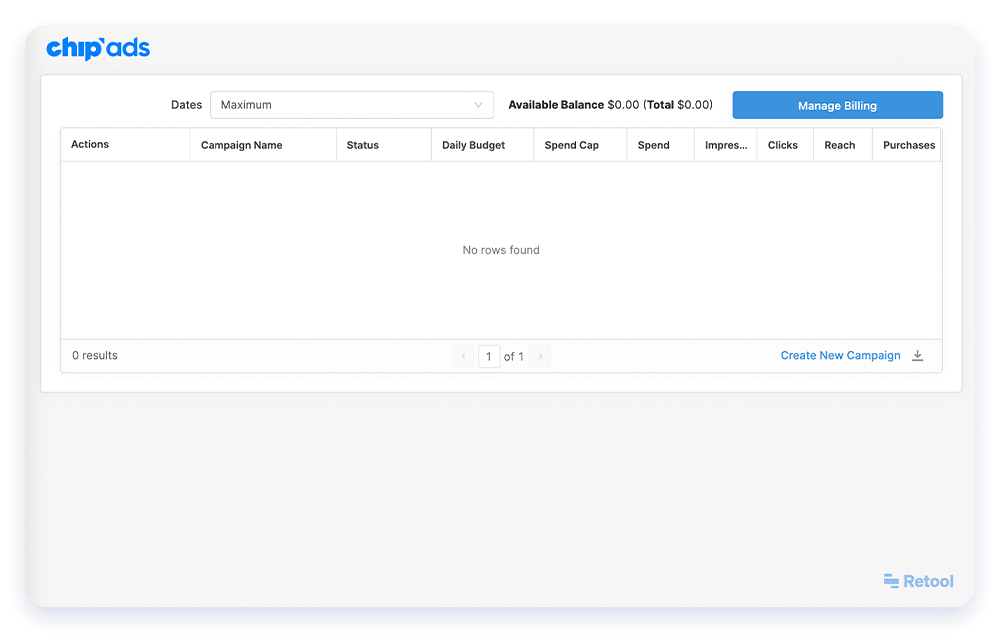 Conversion campaign requirements
If you plan on running Conversion campaigns, you'll need to submit the domain information in the registration form to help you to create a domain alias. The ChipAds team will install and verify the domain alias on your ChipAds account. Learn more in the following section.
Domain requirements
As a result of the iOS 14.5 changes, campaigns with the Conversion objective require a domain that needs to be verified by ChipAds. Once you have deposited in your account, contact our support team on Zendesk as soon as possible and allow 24 hours to review the Payoneer payment to enable Conversion campaigns. 
As a seller, you can choose your own domain alias. We recommend selecting an alias that is linked to the domain name. For example, if your domain name is animalthreads.com, a good domain alias would be shoppanimalthreads.com. Alternatively, the ChipAds team can also help you to choose the domain. Learn more about domain aliases here.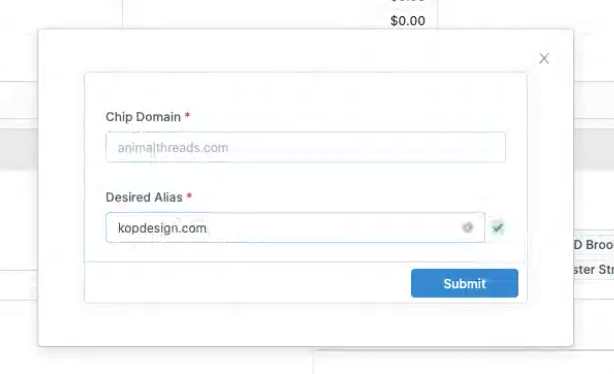 Once you choose the alias, the ChipAds team will check if the domain is available. If it's not available, we'll suggest a close one that is available. Finally, the team will install and verify the domain alias in your ChipAds account.
Payment methods
Funding your campaigns is easy!
Types of transactions
Sellers can find transaction information by going to the Manage Billing page. Here's a breakdown of the types of transactions that occur within ChipAds:
Payoneer: Contribute funds to your Payoneer account to fund all ads. Your deposits are subjected to getting approved or rejected by the Chip team.
Internal: A promotional credit from Chip.
Facebook: An ad campaign that has been created and funded (status will always be "Held")
Top-up Funding and Spend Cap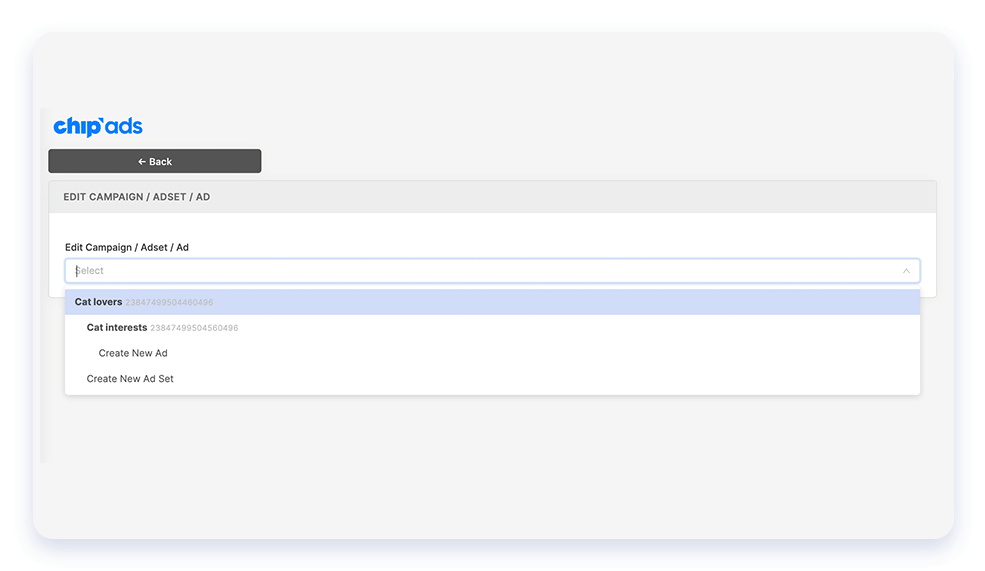 It's possible to control the funds available for individual ads. Sellers can top up their funds with a minimum $100 USD Payoneer deposit at a time.
Top-up your ad funds by selecting the Ad Campaign and updating your spending capacity at any time.
Create and manage your ads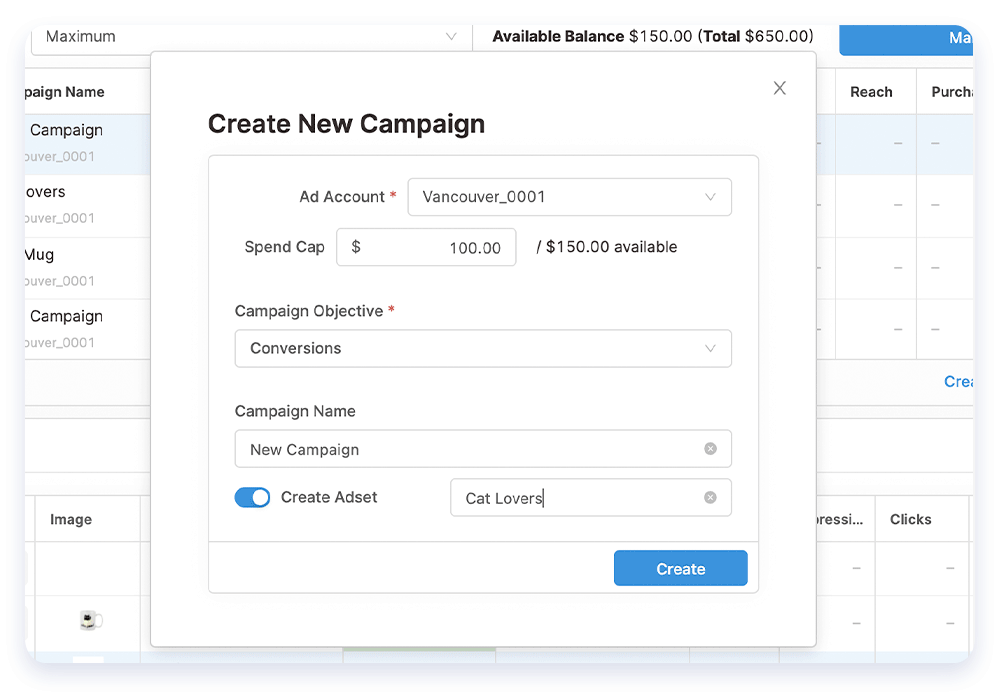 Sellers are in charge of creating and managing all of their ads from the intuitive ChipAds dashboard. Just like in Facebook's Ads Manager, you can create campaigns, ad sets, and ads all in ChipAds.
Check out our How to Create and Manage ChipAds blog post to learn more about creating and managing ads.