Creating and managing your ad campaigns is easy with ChipAds! Sellers, say goodbye to dealing with a seemingly endless cycle of disabled ad accounts.
Stable Facebook advertising is finally attainable. Now, you can create and manage Facebook Ads without even needing a Facebook account.
Monitor your ads' performance insights and data in real-time. First things first, though, learn How to set up your ChipAds and navigate the dashboard in our helpful blog post.
Campaigns vs. Ad Sets vs. Ads
When it comes to Campaigns, you need to be clear on the goals you want to achieve with your ads. First, figure out if you want to create a Traffic or Conversion campaign. Traffic campaigns are optimized to drive interested people to your site, whereas Conversion campaigns are optimized for purchases.
Now, onto your Ad Sets. This part includes defining the audience you'd like to reach, choosing your ad placements, determining your ad spend budget, and setting a schedule.
Last are the actual Ads. This is where you will enter your ad creative and copy to make your ad stand out from the rest. Now is your opportunity to really make your ad come alive!
How to create a new campaign
Click "Create New Campaign," then select an Ad Account.
Enter a Spend Cap (min. USD $100). You must have available funds in your account and can change this amount later. We advise you always to have extra funds available in your ChipAds account to avoid ad disruption.
Set a Campaign Objective.*
Name your Campaign.
Create and name your Ad Set. If this is your first ad, you must do this step.
Complete your ad campaign by clicking "Create."
*Note: Campaigns with the Conversion objective require a domain that needs to be verified by ChipAds as a result of the iOS 14.5 changes. To get started, reach out to our support team on Telegram @chipadssupport as soon as possible and allow 24 hours to review your Payoneer payment and enable your Conversion campaigns. After, you will be provided with a domain and alias to set up your campaigns.
Please allow an additional 72 hours to make any changes to your campaigns. For conversion tracking, a Facebook Pixel will be automatically assigned to your domain by ChipAds.
How to fund your ads
Fund and monitor your ads' performance by selecting the Ad Campaign you want to manage.
Here, you can:
See the amount spent on any ad campaigns under the "Spend" column.
Update your ad campaign's spending capacity anytime.
Pause an ad. The remaining balance will stay for that ad.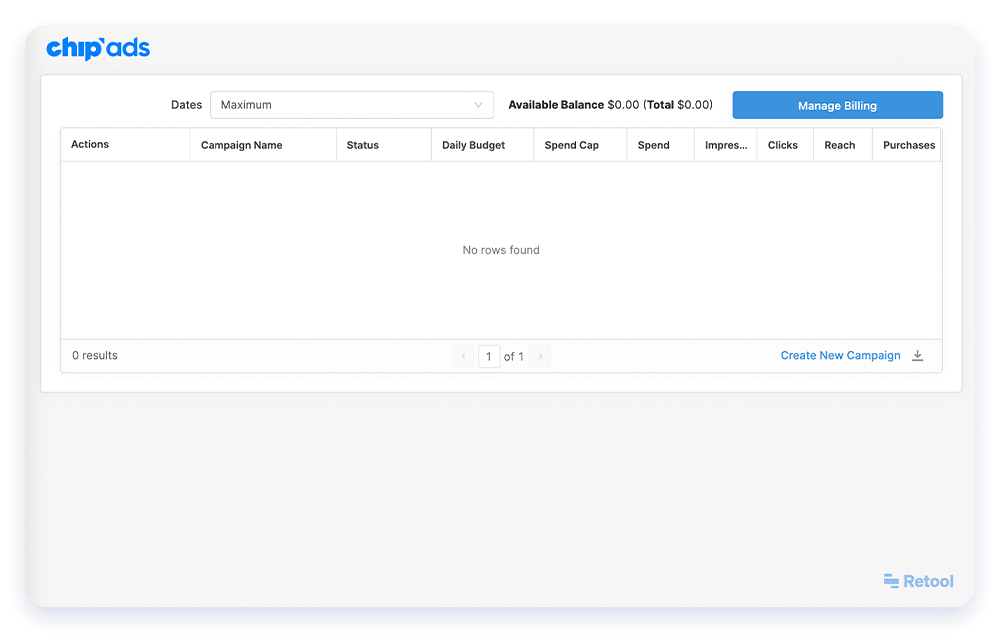 Terms & Conditions
Please note that:
Your custom domain must not have IP infringements.
24 hours moderation review for new ad creative: graphic, link, text
Strictly follow Facebook Advertising Guidelines. If your ad campaign is disabled/ removed by our team, any amount that not spent your money will be back to your balance
If your ad campaign is disabled or removed by Chip, any remaining balance in that ad campaign will be added back to your account.
If your ads don't comply with Facebook Ads policies, they won't pass ad moderation and won't be published.
Other than creative changes (graphic, link, text), any other campaign, ad set, and ad changes will be approved instantly.
Increasing ad spend without changing creative assets will be approved instantly.
Agency fee applied: 3% of total ad spend.
Account deactivation and removed campaign rules
An ad campaign that hasn't complied with FB and ChipAds regulations will immediately be taken down without warning.
An ad account will be Immediately banned if a trademark violation is intentional.