Welcome! Every week, we'll be sharing the latest Dropship updates and bug fixes right here. Click below to share your thoughts and vote on the next features we build.
For all other questions, reach out to us at support@chipchip.app.
November 25 - December 16, 2021
Dropship transaction rate updates
We released updates to our dropship commission transaction rate earlier this week to reflect our actual costs in fulfilling orders. We made this decision based on risks and historical data of costs that include customer service, returns, exchanges, payments, chargebacks, etc.
This change will allow Chip to keep taking care of everything for you at a minimal cost, so that you can focus on what really matters, selling more!
The transaction rate will depend on four factors:
Product rating
Store rating
Product value
Product category
The good news? The transaction rate can now be as low as 6.5%! And you'll be able to predict the transaction rate based on the factors mentioned above. But you don't have to worry about it, the new transaction rate will show up in your dashboard when you import a product.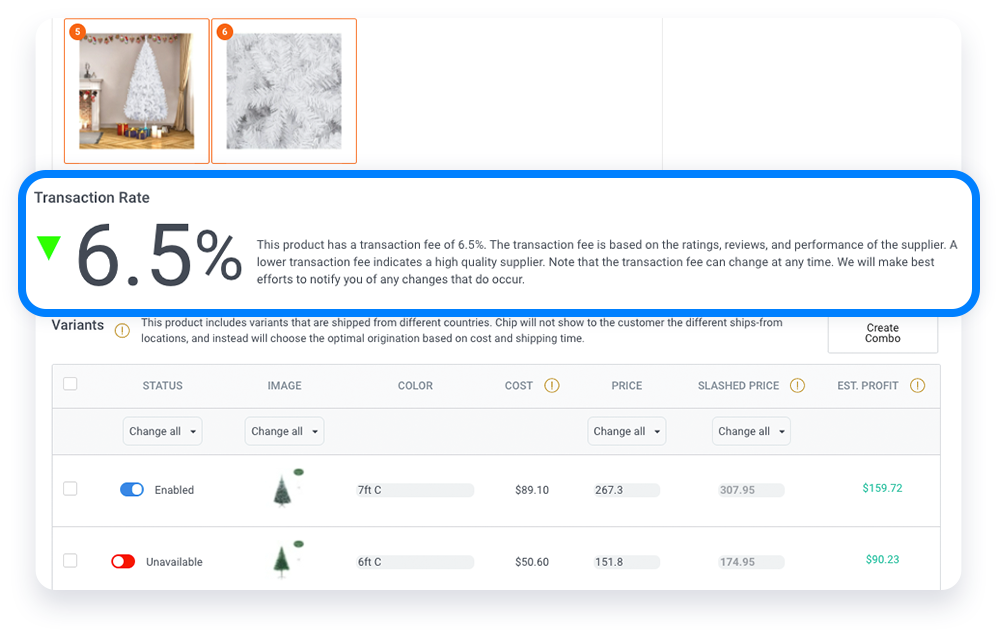 For example, importing products with a 95%+ store rating and 4.5+ product rating could get you a transaction rate of only 6.5%. As long as the product value is under 50 USD and the product is not in the shoes, clothing, or electronics categories.
✍️ Pro Tip: Import products with a store rating of over 90% and a product rating of 4.0 stars or more to get the lowest fee from Chip!
P.S. Don't forget to check out our Dropship catalog, updated weekly to get you the latest scoop on the most trending dropship products you can sell.